You May Want to Eat at Chinatown's New Burger Bar Daley
A smash burger bar with one beef burger is pretty serious.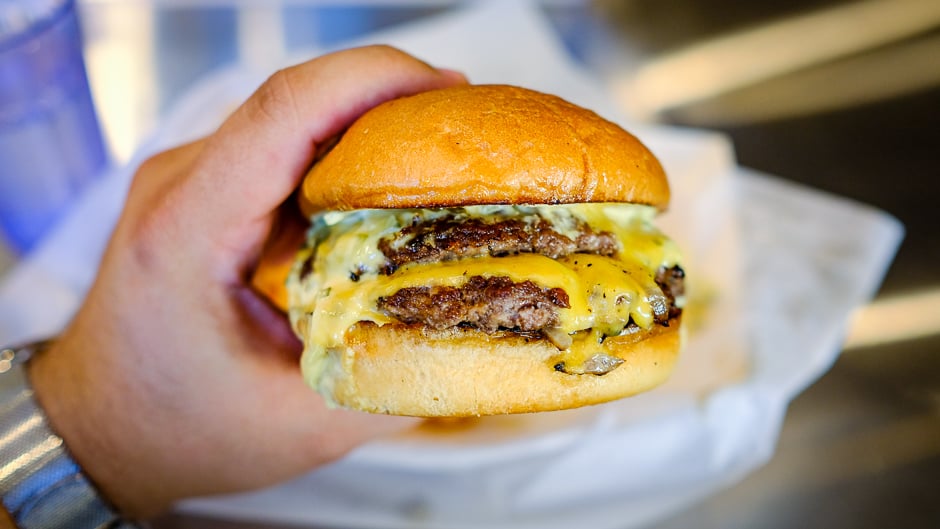 Before we get started, you should know that I stand with Danny Meyer when it comes to the great burger debate between In-n-Out and Shake Shack.
At the latter, each burger patty has a defined crust and even crispier edges. Melting American cheese holds it all together in an airy Martin's potato roll that's buttered and grilled before meeting a dollop of tangy Shack Sauce. Tuck in and you're hit with juicy, flavorful, freshly ground beef that's rumored to be a closely guarded ratio of sirloin, chuck and brisket.
Before you know it, you've devoured an entire burger and you're seriously considering a second.
Imagine my excitement, then, when I heard that a spot called the Daley just soft-opened in Chinatown with one focus: smash burgers made with fresh Kunoa Cattle Co. beef. The menu is simple: beef burger, Beyond Meat vegan burger, crinkle fries, shakes, shots and drafts. At the bottom, there's a combo called The Man on Five ($25).
"What's that?" you scratch your head and ask. Not for the faint of heart, Man on Five is the entire menu: a double-down burger, fries, milkshake, beer and shot. "It's sort of a challenge," says Daley owner Danny Kaaialii.
I'm hungry but not in the mood to hurt myself, so I opt for a double-down burger ($11) with fries ($4) and a shake ($5). Kaaialii hands me a cup and points to the corner where a soft-serve machine sits. It's self-service. That's like giving me the keys to a Porsche and letting me go on my merry way — it's just reckless.
Right now the machine is dispensing a burnt orange, molasses and malt shake. Despite the ingredient list, it's rather flat with a singular note of molasses. It's not my favorite but it does make for a suitably icy-sweet complement to the hot and salty crinkle fries, which I like to dip in from time to time. Aaron Lopez of Mid-late Summer Ice Creamery will be rotating flavors on a regular basis and I'm looking forward to giving others a try.
Sitting at the bar, I watch as my burger is prepared. I take a bite and smile. A classic smash burger unencumbered by veggies or extra toppings is one of life's simple joys, best enjoyed in silence. Here, the Kunoa grass-fed beef speaks for itself amid layers of buttery caramelized onions and tangy special sauce. For a moment, my brain forgets we're still in Hawai'i.
I can't help comparing the Daley burger to a ShackBurger because this is the closest thing Honolulu has to one. Both are prepared using the same smash-and-scrape method, provide the same beefy satisfaction, and are served with crinkle fries. Between us, the Daley gets bonus points for using local beef. Cheehoo!
After Encore Saloon, the Daley is Kaaialii's second restaurant in the same 133-year old building on the corner of Nu'uanu and Hotel. The smallest of the ground floor establishments, it packs a lot of charm with painted brick walls, industrial steel counters and a giant hood that towers over the open galley. From outside, the warm lighting and scent of searing beef form a compelling invitation to step in.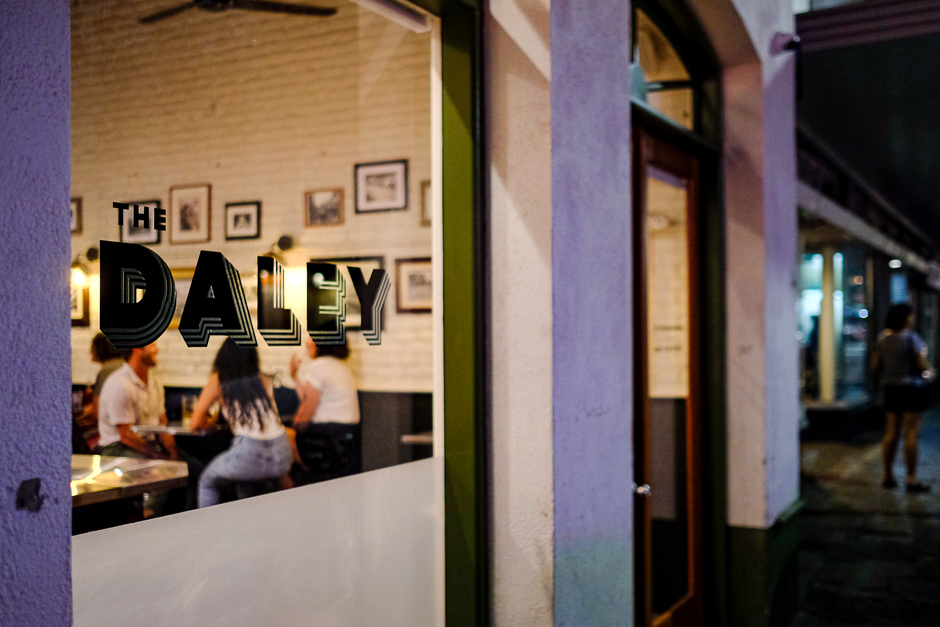 The only thing I'm not entirely sure of is the connection with the restaurant's namesake, Richard J. Daley. The six-term mayor of Chicago was often referred to as the Man on Five because his offices were on the fifth floor of City Hall. More interestingly, he was a longtime leader of the Hamburg Athletic Club, which was one of many social clubs that populated the city. Part-political party, part-gang, it eventually gave rise to Daley's political career.
Hamburgs. Richard Daley. The Man on Five. Is it all coming together now? I'm still not sure.
What I am sure of is that I stand with both Dannys when it comes to burgers and The Daley is worthy of visiting on the daily.
Open 11 a.m. to 8 p.m., Monday to Saturday and 11 a.m. t0 6 p.m. on Sunday, 1110 Nu'uanu Avenue, @thedaleyburger