New Zealand-Style Meat Pies in Kaka'ako Are the Buttery Hug Your Soul Needs
Mam's Meat Pies turns out classic pot pies—but can you get your hands on one?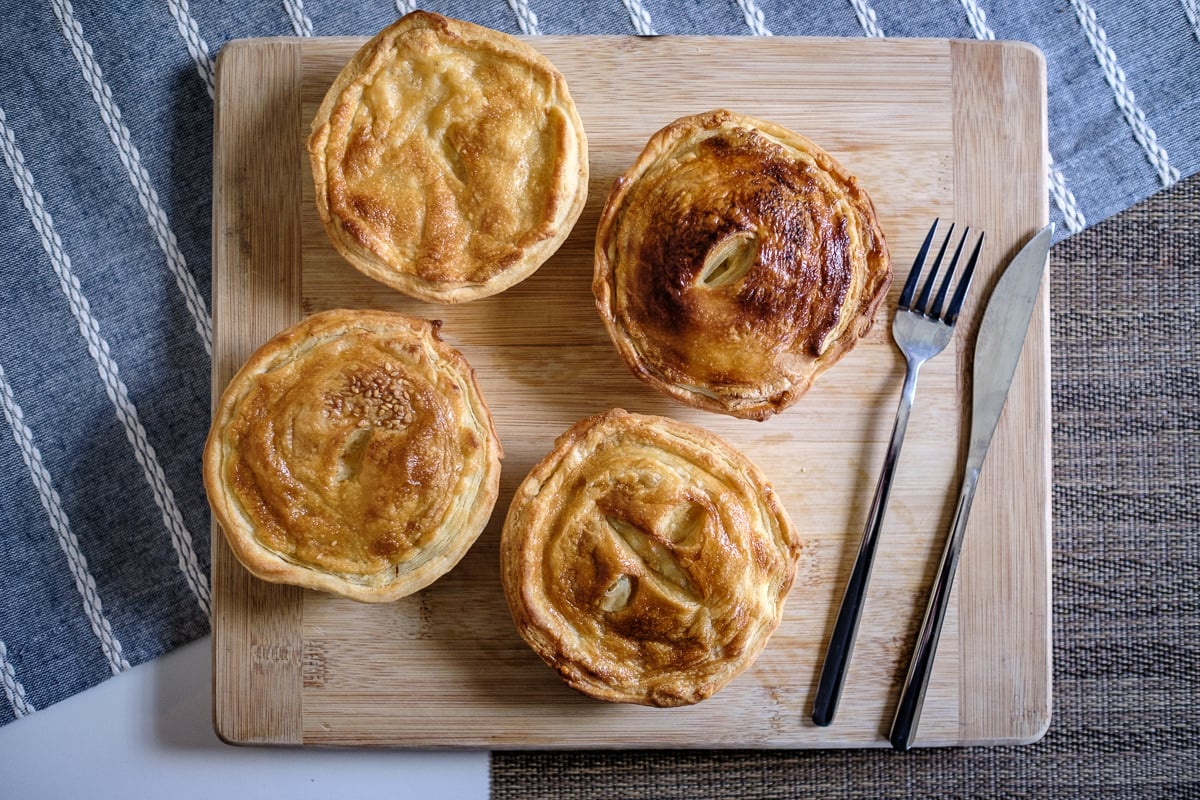 My cravings change as often as the wind blows, yet I always find myself seeking comfort in a pie. Sweet, savory, sliced or handheld, the buttery crusts hold more than just fruity or meaty fillings. Pies are reassurance that you won't be left hungry; when you receive them from a special person, they overflow with love. At least that's what I feel when I tuck into a meat pie from Mam's Meat Pies in 'Ohana Hale Marketplace.
Mam's is easy to find in the maze of kiosks—use your nose to follow the scent of butter to the left of the stage at booth 40. If you're early enough, you'll find sisters Malerie Feagai and Ana Lui-Yuen loading their warmer with a fresh batch. There are four fillings to choose from: the original with minced beef and cheese, a fancier option with steak and cheese, the herbaceous chicken and mushroom, and a breakfast classic with bacon and egg. They're $8 each and one pie is enough for a hearty meal.
---
SEE ALSO: Smashed Hawai'i Is the Newest Smash Burger to Hit Honolulu
---
The pastry is remarkably buttery with so many flaky layers, it deserves praise all its own.
The bacon and egg is the lightest of the lot but it shouldn't be overlooked. If you're a fan of breakfast Hot Pockets, you will find this pie incredibly nostalgic. I like the flecks of green onion and that you'll find more scrambled egg than cheese, making it rather neat to eat.
The chicken and mushroom pie is earthy with the comforting essence of rosemary throughout. In addition to a creamy garlic sauce, it has a touch of white cheddar cheese that binds it together. And while the steak and cheese sounds like it could be the best of the bunch, it's a little bland in comparison to the mince and cheese, which is my favorite.
The mince and cheese is profoundly meaty, held together with aged white cheddar and the sheer will of a pale gravy that pairs well with the rich, layered crust. I can attest that this pie will keep you full for hours. I should also note that the pies chill well and can be warmed to an ideal state in your toaster oven as it preheats to 400 degrees. Feagai says she's been receiving requests for frozen pies and is working on this. Until then, they're sold warm and ready to eat.
---
SEE ALSO: Ice Cream Pies by the Slice Are a New Thing in Chinatown
---
Mam's started selling pies on Instagram in February; pop-ups at OHM began in April. Since July it has become one of the busier stalls at the marketplace, selling close to 200 pies a day, five days a week. Most days, they sell out right after lunch. The pies are an homage to the sister's Kiwi mother Marrianne, who is known in the family as Mam: She introduced the pastries to her children while raising them in South Auckland.
Meat pies are near and dear to Kiwis and Aussies and are part of their national identities. If you ever want to get acquainted with your surroundings Down Under, find a neighborhood bakery and order up a meat pie with a flat white. If you find yourself at OHM and in need of warm hug, order up a Mam's meat pie and everything will be OK.
Open daily except Sunday and Wednesday from 11 a.m. to 4 p.m. or until sold out, 333 Ward Ave. #40, @mamsmeatpies