Ice Cream Pies by the Slice Are a New Thing in Chinatown
For pastry chef Heather Lukela, a one-time side hustle has turned into her very own pie shop.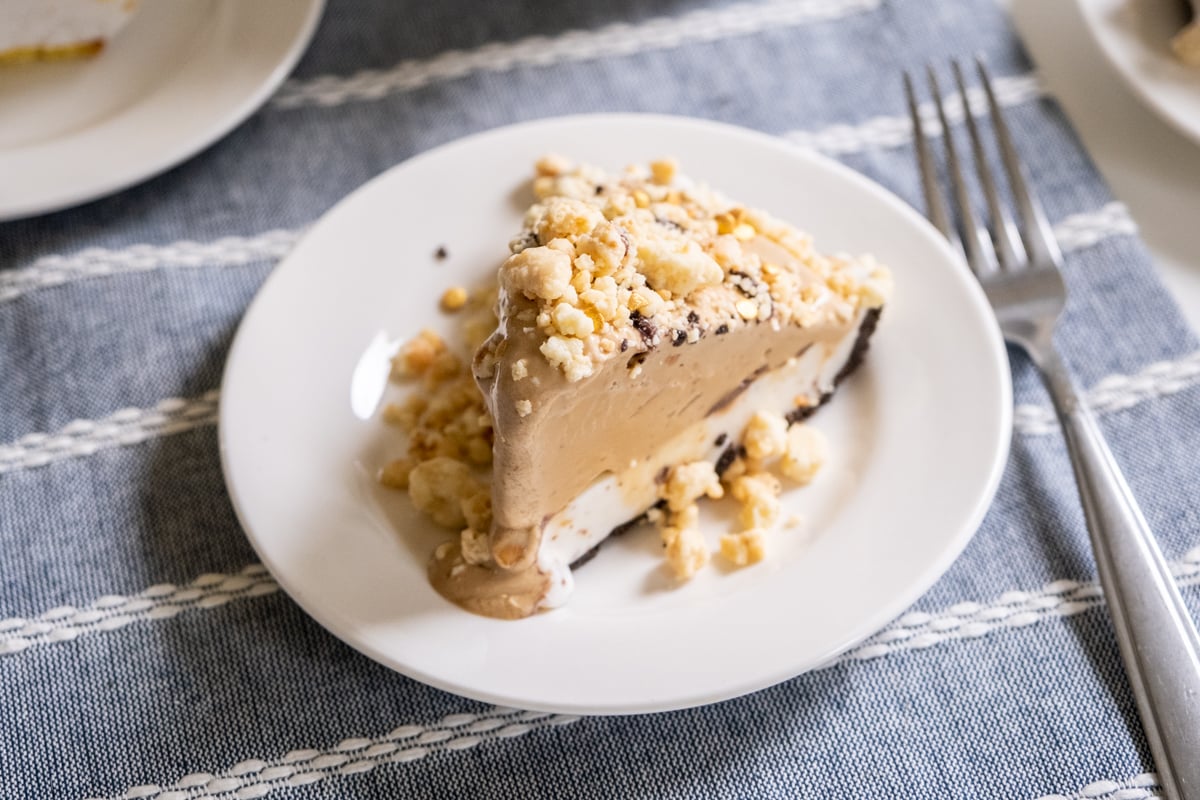 When it comes to cake or pie, my fork goes straight for warm, buttery, fruit-filled pie. But add ice cream to the mix and the lines blur. So what if I told you about a pie filled with ice cream and cake? You'd scream, right? Well, that's what I did when I heard about the Strawberry Shortcake ice cream pie ($7.50) from Slice by HB Baking, Heather Lukela's new pie shop inside Jolene's Market.
Strawberry and birthday cake ice creams are layered in a sugar cookie crust and topped with Fruity Pebbles cereal and glittery sprinkles. It tastes of rainbows made with pure sugar, or what I imagine it's like to bite into a unicorn.
---
SEE ALSO: Try These New DIY Gelato Cakes from Kaimukī's Via Gelato
---
Slice opened this month alongside the lobster rolls, grilled cheese sandwiches, fries and plate lunches of Jolene's Market at Chinese Cultural Plaza. The pies reflect Lukela's background as a pastry chef at The Kahala Hotel & Resort. While there she started HB Baking as a side hustle in 2019 to supply desserts to restaurants like XO in Kaimukī, where you might remember her pre-pandemic ice cream pies and cakes. Furloughed during the pandemic, Lukela began to pump out pastries, ice cream pie slices and custom pies through her Instagram and pop-ups at Keiki 2 Keiki in Mō'ili'ili. She grew a fervent following and the side hustle became her main hustle.
When XO chef-owner Kenneth Lee noticed a vacant stall at Jolene's Market, he inquired about the space and asked Lukela if she'd like to expand her business. With the help of pastry chef friends like Rachel Murai Alvarado (@bakingforfunsies) and Gino Ojano (@goginogo808) and her husband chef David Lukela, Slice by HB Baking was brought to life.
Whole pies (one flavor $50; half-half $54; all flavors in one, $58) require a 48-hour advance order, but $7.50 slices are available all day. The Snuggy Bear, a holdover from her XO dessert days, is the most popular of the six pies and two Baked Alaskas—an Oreo cookie crust mounded with English toffee and coffee almond fudge ice creams. Lukela, who makes the ice creams herself, garnishes the pie with a salted milk crumble that brings the sweetness back to earth.
---
SEE ALSO: This Waikīkī Oasis Has Pasta, Roman Sandwiches and a Crack Seed Sundae with Mochi Crunch
---
Inspired by the flavors of New Years Day in Japan, the Strawberry Fobby is a bit tamer with its senbei cracker crust filled with nutty black sesame and strawberry mochi ice creams. The bits of mochi add to the varied textures of a crisp crust, buttery kinako crumble and creamy filling.
I'm a fan of Butterfinger candy bars so I find the Caramel Banana Butterfinger extra comforting. Reminiscent of sweet banana and peanut butter toast, the Butterfinger and banana dulce de leche ice creams turn one of my favorite breakfasts into dessert with a graham cracker crust and salted peanut crumble.
Other pies riff on flavors, like matcha green tea Oreos with white chocolate puffed rice, and Rocky Road cookie dough with chocolate-covered corn flakes.
The Baked Alaska is a classic, if rare, fine dining staple. I try the Tropic Thunder with mango sherbet and coconut crunch ice cream atop liliko'i sponge cake. The tropical fruity flavors come together under a beautifully piped topping of lightly torched meringue. The other Baked Alaska, called Sexual Chocolate, combines white chocolate raspberry and chocolate truffle ice creams with red velvet cake.
---
SEE ALSO: This Is the New Luxe Local Ice Cream We've Been Craving
---
Lukela plans to add more pies and pastries as specials to the core menu, which can be previewed (and drooled over) on the shop's Instagram.
I'm probably repeating myself when I say that it's refreshing to see chefs and other kitchen talent carving out new niches in the local foodscape after the pandemic handed them an ultimatum. Watching the organic growth of businesses like HB Baking from side hustles into main gigs is just inspiring.
Open Tuesday through Saturday from 12 to 8 p.m. and Sunday from 12 to 5 p.m., 100 N. Beretania St., (808) 202-8601, @slicebyhbbaking