This Is the New Luxe Local Ice Cream We've Been Craving
Sage Creamery sells out so often, we recommend signing up for new flavor notifications.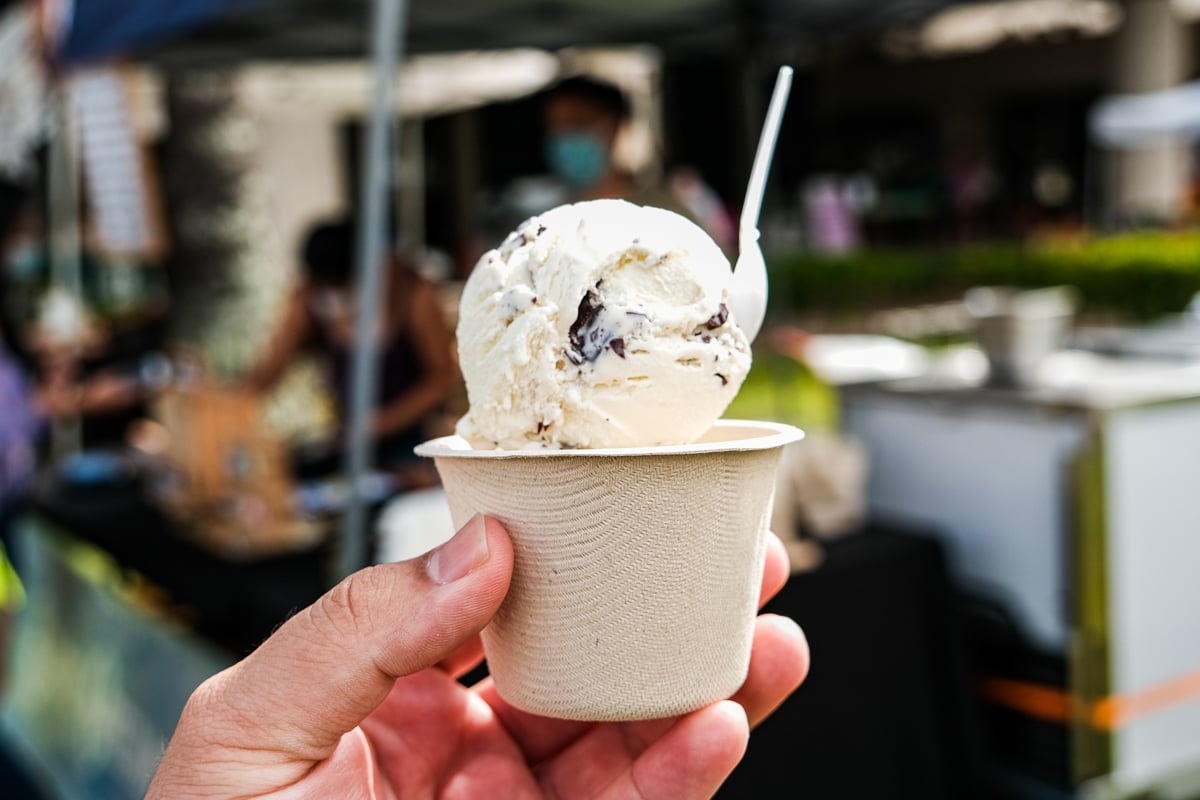 Lā'ie vanilla beans. ChadLou's coffee. Mānoa kiawe honey. I've been waiting for months to share these premium ice creams crafted by my high school classmate Zach Villanueva, and now I can, because Sage Creamery is green placard-official.
Here's the scoop: You can find Sage at the Hawai'i Farm Bureau's Honolulu Farmers Market on Wednesday at the lawn fronting Blaisdell Concert Hall and the Sunday morning Mililani Farmers Market. Four classic flavors will be available each week in scoops ($5 single, $7.50 double) and $12 pints, with a rotating special flavor of the week.
A recent week's special was Minty Bitties and oh boy is it good. Super rich mint ice cream with lots of chocolate bitties to crunch on.
---
SEE ALSO: Heavenly New Flavors From 4 of Our Favorite Hawai'i Ice Cream Makers
---
Villanueva is an ice cream wizard who can churn local ingredients into some of the best ice creams you've ever laid your lips on. He's been crafting homemade ice cream for friends and family for five years. In May he began selling it on Instagram, taking pre-orders through direct message and accepting payment on Venmo. I scored a pint of Strawberry Fields after I missed out on his first run of the Essentials Pack ($35), which also included North Shore Vanilla and Paniolo Hot Chocolate.
He dropped it off at my house with a sample of his popular vanilla ice cream. I took one bite and knew this underground operation wasn't going to stay underground much longer. If you're familiar with the texture and richness of Häagen-Dazs, prepare to be shook. Strawberry Fields is like sipping a thick strawberry milkshake at a '50s burger counter. North Shore Vanilla uses organic vanilla beans grown in Lā'ie and has a depth of flavor you just don't get with mainstream brands. I'll honestly never look at vanilla the same way.
---
SEE ALSO: How Hawai'i Farmers Markets Are Keeping Shoppers Safe
---
When you nail classic flavors like these, you can do just about any flavor well.
On another run, Villanueva brought a Vietnamese coffee flavor made with beans from ChadLou's Coffee Roasters in Kailua. It has an extra rich texture with hints of dark roast coffee, mocha, toffee and sweet condensed milk. I dropped off a pint to my sister and she and her fiancé devoured it that night. You're welcome, sis.
---
SEE ALSO: HONOLULU Staff Favorites: The 12 Best Frozen Treats for a Boiling Hot Day
---
My personal favorite from Sage is cookies and cream. The base blends organic cream and Oreo cookies with bits of crumbled cookies churned in for good measure. It flashes me back to childhood.
Every month or so, Sage releases new flavor packs. The most recent pint set ($35) celebrated the Fourth of July with three flavors highlighting minority ethnic groups. Kunnu aya is a Nigerian beverage made with tiger nut milk and cinnamon; it tastes like horchata living its best life. Dulce de leche, or milk candy, is caramel with a touch of cream and is delicious with a sprinkle of sea salt. Kurogoma, roasted black sesame, is nutty and probably the least sweet and most sophisticated of Villanueva's flavors.
---
SEE ALSO: What I Found at Pālama Market: Brown Sugar Boba Ice Cream Bars
---
My digestive system is selectively lactose intolerant—if the dairy isn't somehow like the milk and cream I found on trips to Japan and New Zealand, I can't handle it. Sage's organic, hormone-free dairy has no ill effect on me. I can't say this will be true for the entire lactose-intolerant world, but I'm happy.
So why bring a personal hobby to market in the middle of a pandemic? To Villanueva, it was more like why not: He created Sage in tribute to his late brother Daniel, who regretted not starting a business of his own before losing his battle with cancer two years ago. A bittersweet reason, but a passionate one. The proof is in the ice cream. Villanueva sells out of his limited release pints each time, so I've signed up for his notifications. At one time I had 12 pints from Sage in my freezer; I'm making room for more.