What's Reopening in Honolulu for Families
We have the details on new reservation systems, time limits, safety procedures and discounts at more than a dozen favorite places for families.
Updated May 15, 2021.
You've planted the garden, baked bread from scratch, opened every old birthday art and science kit stacked up in the corner and downloaded innumerous apps. Let's face it. We all need something new, or at least new-to-us-now, to do. Fortunately, most of our local family centers are slowly reopening. (MyGym in Hawai'i Kai and the Art Explorium have decided to close permanently.) All have new safety procedures including, for many, no more walk-ins.
Under the current city guidelines, all places require groups be five people or fewer and masks are required. Some businesses have reopened with even more stringent requirements of the types of masks that are allowed.
Here is our list of when some of your favorite places are opening and what you need to know. So pack your masks, hand sanitizers and water bottles and get going.
---
Bay View Mini-Putt
Reopened Friday, Sept. 25
The golf courses are open but the zip line will not be running. The course recommends making reservations to reserve your time slot.
Open Wednesday and Thursday from 9 a.m. to 5 p.m., Friday through Sunday 9 a.m. to 8 pm. 45-285 Kāne'ohe Bay Drive, (808) 247-6464, bayviewminiputt.com
---
See also: ⛳ We Tried It: Mini-Golf Courses on O'ahu
---
Bishop Museum
Reopened Thursday, Sept. 24
Safety measures changed in September. Everyone older than 5 will have their temperature checked at the entrance and must wear masks that cover both the nose and mouth: bandannas, shields without masks, gaiters and masks with valves will not be allowed. The number of visitors will be limited to 500 people. Tickets can be purchased online for two time slots, 9 a.m. to 1 p.m. and 1 p.m. to 5 p.m. Look for additional activities outside in the Native Hawaiian Garden and the Great Lawn.
9 a.m. to 5 p.m. daily. 1525 Bernice St., (808) 847-3511, bishopmuseum.org, @bishopmuseum
Consolidated Theatres
Reopened Ward, Mililani, Pearlridge and ʻŌlino at Ka Makana Aliʻi on Friday, Sept. 25
Four theaters will open with two empty seats assigned between each party. Masks will be required the entire time and audiences must show up 30 minutes before showtime. Concessions will be closed, although you can buy food to-go for 20% off when you show your same-day ticket stub at takeout.
Dole Plantation
Reopening Thursday, Nov. 12
The maze, train, gardens and grounds open for the first time since the plantation closed its doors in March. Temperature checks will be taken at the entrance and online ticket sales are on pause for now but you can still get a cup of Dole Whip (for 15% off with kama'āina discount). The plantation will also close every Wednesday for deep cleaning.
$7.25 for kama'āina and military adults, $6.25 for kids. Kama'āina receive 15% off all store and cafe purchases. Open 10 a.m. to 4 p.m., Tuesday through Thursday. 64-1550 Kamehameha Highway, Wahiawā, (808) 621-8408, doleplantation.com, @doleplantation
---
See also: 🍍 Our Guide: Dole Plantation
---
Hawaiʻi Children's Discovery Center
Reopened Saturday, Sept. 26
Reservations are required through the website for 2-hour time slots on Saturday and Sunday, and 3-hour time slots on Wednesday and Friday. The Kids Café will be takeout only. Register now for the Halloween event and you can pick up an $5 activity kit to make pom-pom owls, bird feeders and spiderweb weavings.
Open Saturday and Sunday from 10 am. to 3 p.m.; Wednesday and Friday from 9 a.m. to noon. 111 ʻOhe St., (808) 524-5437, discoverycenterhawaii.org, @hawaiichildrensdiscoverycenter
---
See also: 🌈 We Tried It: "Your Rainbow World" Gallery at Hawai'i Children's Discovery Center
---
Hawaiian Mission Houses
Tours will be available Tuesday, Friday and Saturday by reservation only. Groups will be limited to five people, larger families can call for arrangements. Masks will be required and people will have to use hand sanitizer before entering any homes. No more than six people will be allowed inside the gift shop at one time. You can also try one of the museum's perspectives tours, including a Native Hawaiian one done all in 'Ōlelo Hawai'i, will be offered virtually once a week.
Open Tuesday, Friday and Saturday from 10:30 a.m. to 2:30 p.m. 553 S. King St., (808) 447-3910, missionhouses.org
Hawai'i State Art Museum
Reopened Oct. 12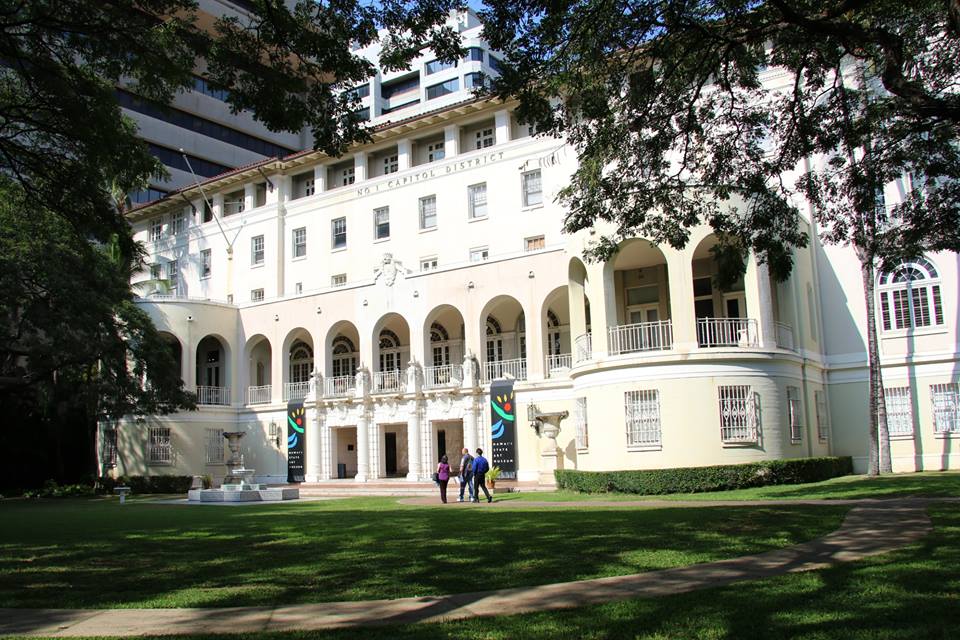 Details of the new guidelines will be released soon. Masks will be required and you will need to check-in in case there is a need for contact tracing.
250 S. Hotel St., (808) 586-0900, hisam.hawaii.gov,@hawaiistateartmuseum
Hawaiian Railway Society
Reopened Saturday, Sept. 26
The trains were back on track in 'Ewa in the fall. Saturday and Sunday rides will be limited to 50 people each and seats will be assigned. You will need to call ahead for reservations. All rides will be 90 minutes nonstop. The popular ice cream tour restarted as well.
91-1001 Renton Road, 'Ewa, (808) 681-5461, hawaiianrailway.com
---
See also: 🚂 We Tried It: Hawaiian Railway Society Train Rides in 'Ewa
---
Honolulu Museum of Art
Reopened Oct. 1
The museum will continue the hours it set in July and free entry for local residents on Friday evenings from 4 to 9 p.m. Admission is free for all kamaʻāina on Family Sundays, the third Sunday of every month.
Open Thursday and Sunday from 10 a.m. to 6 p.m., Friday and Saturday from 10 a.m. to 9 p.m. 900 S. Beretania St., (808) 532-8700, honolulumuseum.org,@honolulumuseum
Honolulu Theatre for Youth
Tenney Theatre will not reopen this Fall for keiki shows. Instead, the always kid-focused group will take their shows to schools and other groups. HTY will create traveling tours of The Musubi Man and The Stories of Oceania. The group hopes to be able to stage a holiday show later in the year. In the meantime, you can watch episodes of "The HI Way" on YouTube, try activities for parents and kids and see HTY's list of online resources to teach your keiki about Black Lives Matter.
(808) 839-9885, htyweb.org, @honolulutheatreforyouth
Honolulu Zoo
Reopened Thursday, Sept. 24
Anyone older than 5 must wear masks. Groups should be five people or fewer. The Keiki Zoo and Manyara Bird Sanctuary are closed while the playground and water fountains are off-limits. Bathrooms and the concession stands are open. Read the zoo's safety procedures here. The Twilight Tours will resume on May 22, 2021. Read our tips for the after-hours visit here.
Open Wednesday through Sunday, entry will be allowed from 10 a.m. to 2:30 p.m. with the zoo closing at 3:30 p.m. 151 Kapahulu Ave., (808) 971-7171, honoluluzoo.org, @thehonoluluzoo
Keiki and Plow
Open for private playgroups
The usual u-pick days are paused for now. Instead, the Mohr family's farm is open for private reservations only. For $100, groups no bigger than 10 can play outside, visit the farm animals and use the picnic facilities. You can add on the option to pick fresh produce. Masks are required for everyone 5 years and older.
587 Pakala St. (808) 208-2740, keikiandplow.com, @keikiandplow
---
See also: 🌱 We Tried It: Keiki and Plow
---
Kids City
Reopened Thursday, Sept. 24
Reservations are required for 2-hour time slots and the 36 spots fill up quickly, especially on weekends. Everyone's temperatures will be checked at the door. Adults must wear masks as well as socks. The new Kids City Adventure in Ward Centre opened in April. Read our tips for this 30,000-square-foot facility here.
Kapolei: 10 a.m. to 9 p.m. Monday through Saturday, 10 a.m. to 6 p.m. Sunday. Ka Makana Aliʻi, 91-5431 Kapolei Parkway, Kapolei, (808) 393-7909.
Ward Center: 10 a.m. to 9 p.m. daily, 1200 Ala Moana Blvd. (808) 888-2700. kidscityhawaii.com, @kidscityhawaii
---
See also: 🎟️ We Tried It: Kids City Hawaiʻi in Kapolei
---
Polynesian Cultural Center
Reopened Jan. 18
Some of the interactive activities will not be available for families when the center in Laiʻe reopens after 10 months closed. Visitors will be able to walk through the Samoan Village and do some activities there but will only be able to see the other areas by canoe. The Aliʻi Lūʻau and the evening show, HĀ: Breath of Life will be running. No discounts on tickets are available at this time.
Open Monday, Tuesday and Thursday through Sunday, 4 p.m. until the end of the night show. 55-370 Kamehameha Highway, Lāʻie, 1-800-367-7060 , polynesia.com, @polynesianculturalctr
Sea Life Park
Reopened March 6
The park opened after almost a year with reduced capacity. Visitors will have timed tickets and should reserve a spot online to guarantee entry. The park is open on the weekends but Dolphin Encounters and the Ka Moana Lūʻau runs on select weekdays.
10 a.m. to 3 p.m. Friday through Sunday. 41-202 Kalanianaʻole Highway, Waimānalo. sealifeparkhawaii.com
Tropics Mini Golf
Reopened Oct. 1
At this time, party bookings are not allowed. But time slots are open every 15 minutes until closing.
11 a.m. to 8 p.m. Sunday through Thursday, 11 a.m. to 10 p.m. Friday and Saturday.98-1101 Moanalua Road, ʻAiea, (808) 200-5331, tropicsminigolf.com


Waikīkī Aquarium
Reopened June 29, closed again on Aug. 20
Aug. 19 update: The Aquarium will close temporarily on Aug. 20. We'll let you know when it does reopen.
Tickets must be bought online before arriving with a maximum of 50 people allowed in the aquarium at once. Face masks are required for everyone older than 2 years. Touch screens and informational kiosks will be turned off. Follow the signs to make sure you are going in the right direction. Find the list of safety procedures here.
9 a.m. to 4:30 p.m. daily. 2777 Kalākaua Ave., (808) 923-9741, waikikiaquarium.org, @waikikiaquarium

Waimea Valley
Reopened Thursday, Oct. 1
The valley opens with new hours in October. You will need to give your name and email address when you enter for contact tracing purposes. Shuttle buses will not run, so bring a stroller or wagon for your kids. The waterfall is open but the number of people who can swim at once will be limited. The café and snack shop will have a limited menu. Bathrooms are open.
Open Wednesday through Sunday, 9 am. to 4 p.m. 59-864 Kamehameha Highway, Haleʻiwa (808) 638-8588, waimeavalley.net, @waimeavalleyoahu
Wet 'n' Wild Hawaiʻi
Reopened Friday, Sept. 25
Groups must be of five people or fewer. The number of people in the park is limited to 3,000, which is about half its capacity pre-COVID-19. You will answer screening questions at the entrance and will need to wear masks with at least two layers of material over your nose and mouth any time you're not on an attraction or eating. Bandannas, masks with valves or others with mesh material are not allowed.
Visit the website for park hours. 400 Farrington Highway, Kapolei, (808) 440-2914, wetnwildhawaii.com, @wetnwildhawaii
USS Missouri, USS Bowfin, Pearl Harbor Visitor Center and Pearl Harbor Aviation Museum
The Pearl Harbor Visitor Center reopened Sept. 1, 2020. USS Bowfin reopened the first weekend in November. Pearl Harbor Aviation Museum opened Nov. 22.
Masks are required at all Pearl Harbor historic sites. Free masks are available at the front desks. Buy tickets online before you arrive or scan the QR code in the parking lot to purchase them through your phone. Fewer passengers will be allowed on each shuttle.
Some concessions at the USS Bowfin Submarine are closed and the museum remains closed for renovations. At Pearl Harbor Visitor Center theater is closed but the USS Arizona will reopen on July 10. Tickets need to be reserved online for one of the 50 seats on each boat. The kamaʻāina family pass costs $79.99 for two adults and as many as four children for unlimited access to the Pearl Harbor Visitor Center's museums, the USS Missouri, USS Bowfin and Pearl Harbor Aviation Museum. You can purchase the pass online.
USS Missouri, 8 a.m. to 4 p.m. daily. (808) 455-1600, ussmissouri.org. USS Bowfin Submarine, 7 a.m. to 5 p.m. daily, (808) 423-1341, bowfin.org. Pearl Harbor Visitor Center, 7 a.m. to 5 p.m. daily, (808) 422-3399, nps.gov/valr. Pearl Harbor Aviation Museum, 9 a.m. to 5 p.m. daily, (808) 441-1000, pearlharboraviationmuseum.org
---
See also: Our Guide: Battleship Missouri Memorial
---
YMCA Honolulu
Pools reopened Monday, Sept. 28
The YMCA is reopening pools for lap swimmers. You can reserve a pool lane two days in advance with the reservation systems opening Saturday, Sept. 26 for lap times on Monday.
Various locations. ymcahonolulu.org
Other openings:
Regal Theatre locations-May 7