We Tried It: "Your Rainbow World" Gallery at Hawai'i Children's Discovery Center
Our kids caught fish in Hanoi, sang karaoke in Tokyo and danced away in Manila at the Hawai'i Children's Discovery Center's remodeled "Your Rainbow World."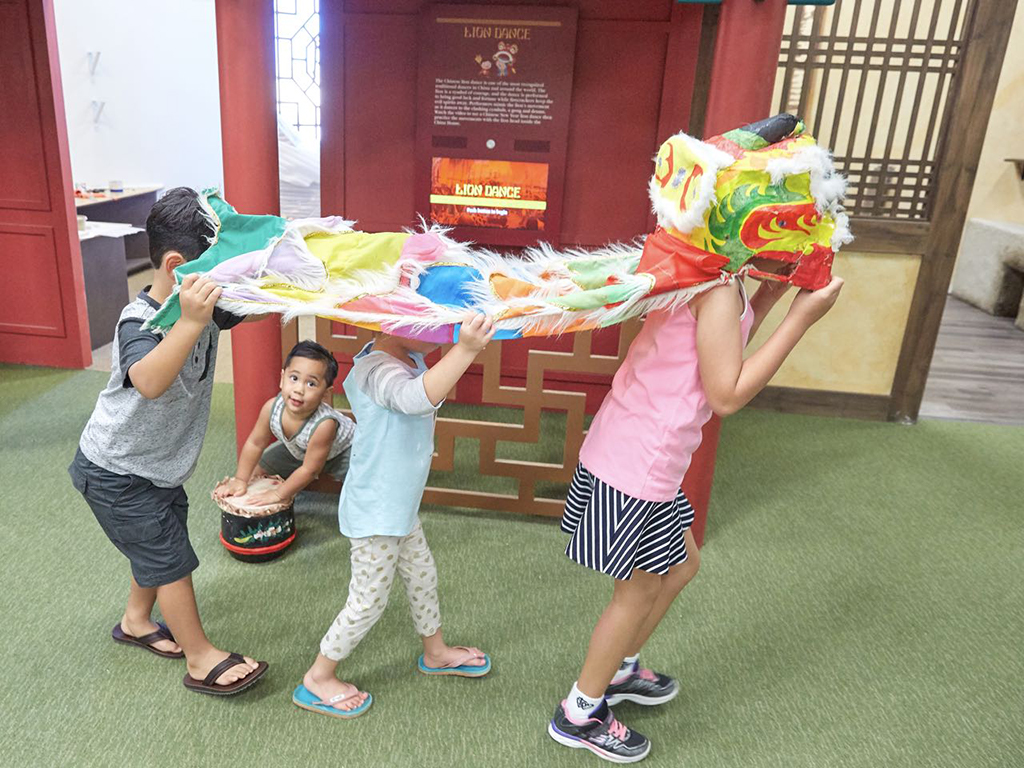 Photo by David Croxford.
Kids get creative with Chinese lion-dancing equipment and a drum at the Hawaiʻi Children's Discovery Center.
What: The newly renovated "Your Rainbow World" Gallery.
Who: Four parents; two girls, 5 and 8; two boys, 2 and 4.
Where: Hawai'i Children's Discovery Center
When: A sneak peek on a weekday afternoon when the center was closed.
Thanks to a kid-loving, anonymous donor, the Hawai'i Children's Discovery Center has renovated "Your Rainbow World" for over $1 million. The gallery, housed on the third floor of the center, for nearly two decades had interactive displays and cozy houses depicting daily life in Japan, the Philippines, Korea, India, China, Portugal and the U.S. Mainland.
Renovations began in March and wrapped up in late April–an eternity for little kids–and the brand-new gallery is set to open this Saturday, May 5, Children's Day. We took four kids, ages 2 to 8, to the center for a sneak peek and were pleasantly surprised.
Here are frequently asked questions we've been hearing from other parents, plus our tips for maximizing quality time with keiki:
What's new at the gallery?
There's an East Asian vibe throughout the Rainbow gallery, including a Vietnam-inspired home where kids can tinker with cooking tools and play food. Nearby, kids can don straw hats and costumes and wade across a rice paddy field. The old, wooden boat has been refreshed with brand-new fishing equipment and now sits in an area perfect for picture-taking. Playing on an external wall of the Philippine house is a video of the tinikling dance. Kids can follow along, using two long bamboo sticks. To avoid smashed toes, we suggest having older kids or parents hold down the sticks while little kids jump. Overall, there are multiple new features throughout the gallery. And happy little surprises, including a water mammal.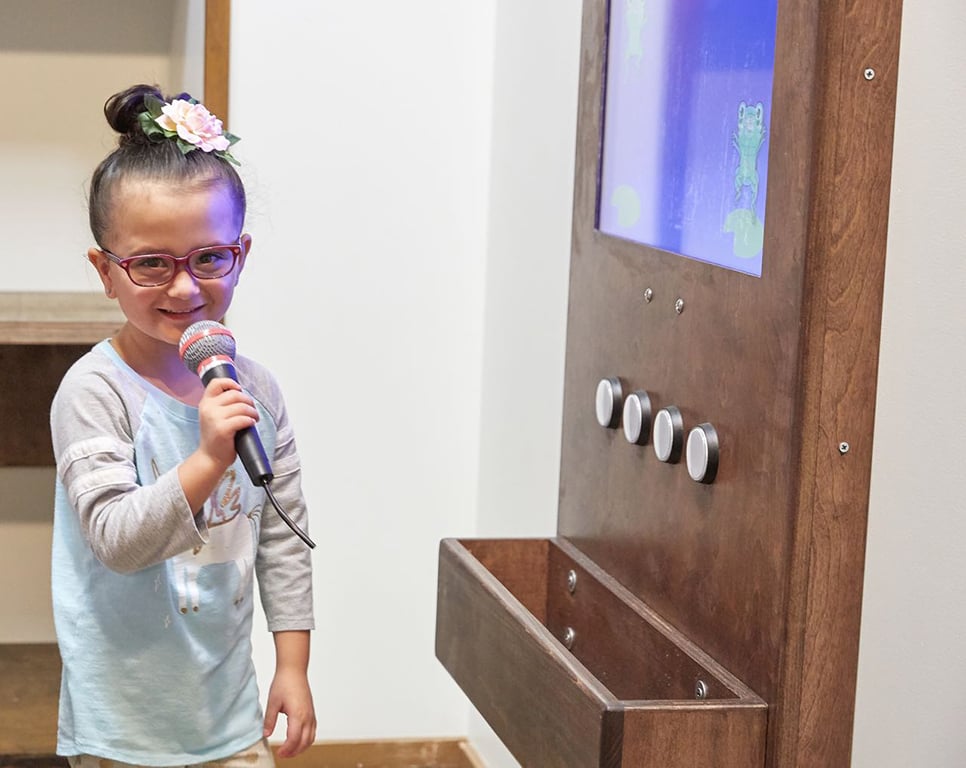 Photo by David Croxford
Grab a mic and sing along to keiki karaoke tunes in the Japanese house.
Was the gallery completely overhauled?
The anonymous donor wanted to focus on East Asian culture, architecture and food. So, the homes of Portugal, India and Mainland USA have been torn down and are presented as interactive displays located in the center of the gallery.
The Japan house hasn't changed. Inside, however, is a new TV screen for kids to sing karaoke while their friends practice eating sushi with chopsticks; the zabuton-covered tatami mats are new. Outside the Japanese garden, our kids were fascinated by the koi-filled pond, until they realized they were staring at faux fish.
The China structure remains untouched but inside are educational activities, including a puzzle of the Great Wall of China. Lion-dancing equipment sits next to a TV screen playing Chinese festival videos. The 2-year-old boy in our group loved banging on the Chinese drum, while the older kids shimmied around the room. And as for the Philippines? We were thrilled to see the yellow Jeepney still parked outside the Filipino sari-sari store. The vehicle continues to be a hit with kids of all ages.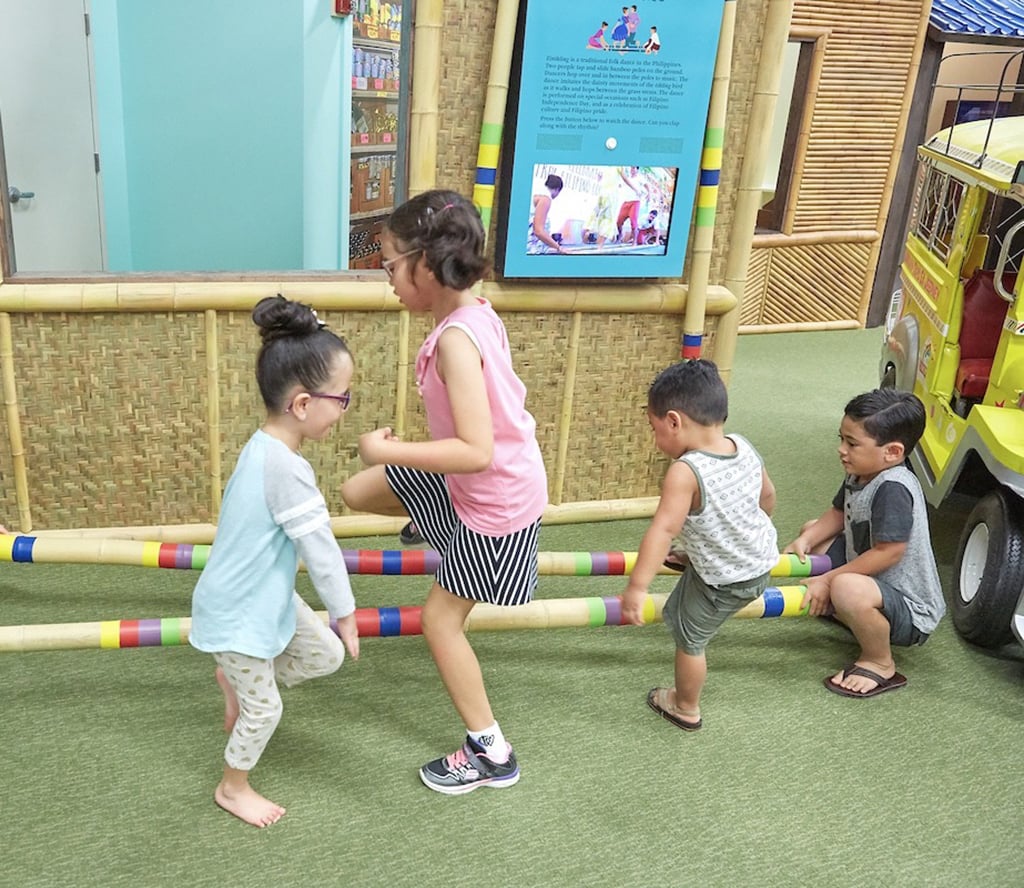 Photo: David Croxford
Kids learn the "tinikling," a traditional Filipino dance using bamboo sticks.
What's the best way to use the gallery?
Adults should disconnect from social media, put away phones and engage in play. (This is advice from Discovery Center staff members, although we couldn't agree more.) Spend time in the brand-new Korea house. Pretend to marinate cabbage and make kimchee with your keiki. Help them choose songs and read lyrics together on the karaoke monitor in the tatami room. Count fish with toddlers in the koi pond. Work on puzzles together in the central play area. Sit inside the wooden boat and pretend to fish with nets. Also, ask grandparents or older relatives to enrich the experience by sharing stories about their own childhoods.
"The Rainbow gallery is here for families to connect with one another, a bridge between the generations," says Loretta Yajima, board chairperson for the Discovery Center.
Our Tips:
Be mindful of times. Arrive in the morning, because you might spend a few hours at the newly renovated "Our Rainbow World," in addition to the other galleries. The Hawai'i Children's Discovery Center closes at 1 p.m., Tuesday to Friday, and at 3 p.m. on weekends.
Dance like no one's watching. Some parents are self-conscious in public. Let go and have fun. Role-play with your kids. Laugh and learn together. Dance like a lion. No one's judging.
Return toys and equipment. The Rainbow gallery has hundreds of props, puzzle pieces, tools and other loose items that can get misplaced. When done, place everything in proper exhibits so other families can use them, too.
Be open to new experiences. The anonymous donor wanted to highlight East Asia, a region represented by the majority of Hawai'i residents. Although some homes were demolished, their cultures still are represented in other areas of the gallery.
Scan the gallery. The exhibits can be overwhelming for little kids. Scan the area first before deciding on which displays to tackle first. Otherwise, you might spend the whole time chasing kids from house to house.
"Our Rainbow World" gallery, Hawaiʻi Children's Discovery Center, 111 Ohe St. Renovated gallery on the third floor opens Saturday, May 5. Center is open 9 a.m. to 1 p.m. from Tuesday to Friday, and 10 a.m. to 3 p.m. on weekends. Free for children ages 1 and younger. Entrance fee from $7 to $12. Closed Mondays. Call (808) 524-5437. discoverycenterhawaii.org