What to eat at HIFF's drive-in movies at Ala Moana this week
Hawaii International Film Festival is playing at Ala Moana Center, Windward Mall and Moiliili's Varsity Building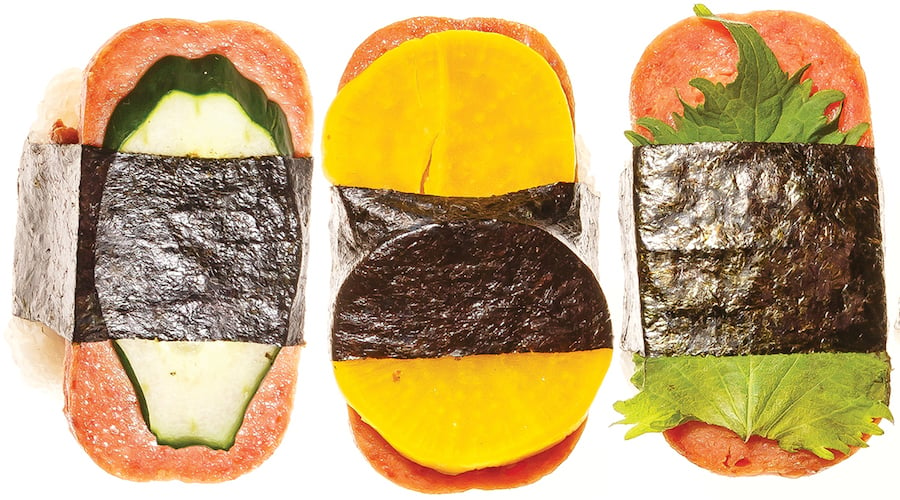 Dinner and a movie out? Thanks to the Hawaii International Film Festival, the old tradition is back. This week is the last week of HIFF's drive-in movies at Ala Moana Center and Windward Mall. For the movies at Ala Moana, you can easily order concessions from your phone and have them delivered straight to your car. Options include our favorite jerky — sweet and salty and spicy like taegu, but made out of, surprise!, mushrooms.
See also: Discover mushroom jerky from Opala Foods at the Honolulu Farmers Market at Blaisdell and Farm Link Hawaii
In addition, you can also bring in food from Ala Moana restaurants (no other outside food is allowed). Here are my favorite options for a pre-movie dinner or takeout tailgate during the show.
SingMaTei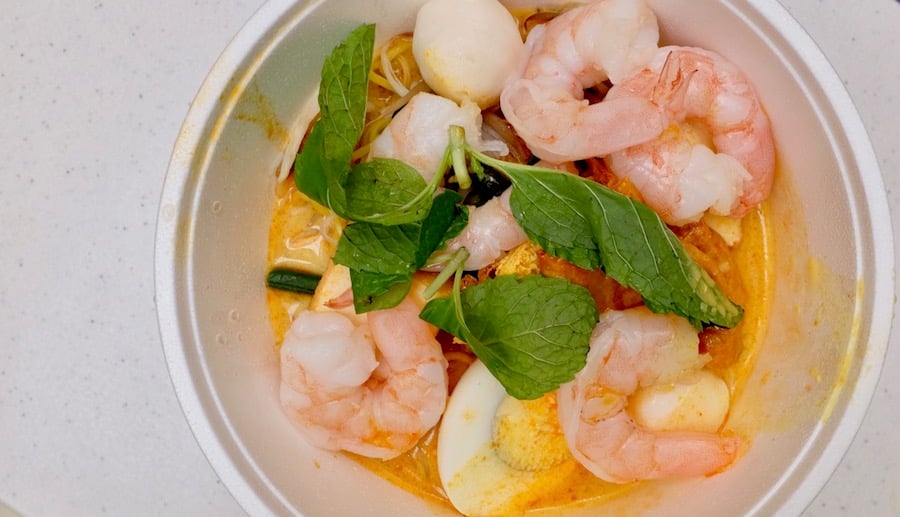 As the weather turned windy and colder last week, newcomer SingMaTei provided laksa comfort. Thin rice noodles and chewy egg noodles mingle in a mild coconut curry broth brightened with fresh basil and mint—add sambal for a bit of heat and zing.
Inside the Makai Market food court
See also: New SingMaTei's curry is a Malaysian delight
Goma Tei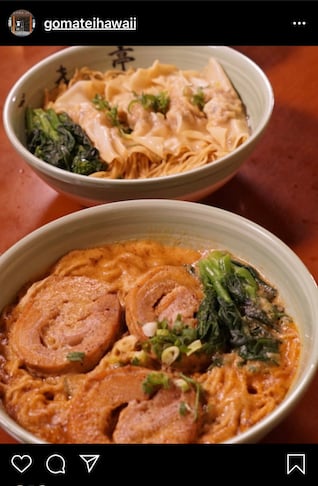 Goma Tei has branched out into brunch recently, but the ramen is still the main draw. For me, it's always a tough choice between char siu tan tan ramen—slabs of rolled pork, braised until tender in a rich, almost creamy sesame broth — or the shredded pork and Sichuan pickle sunho ramen, its sour and spicy clear soup refreshing the senses.
Street level 1, near Macy's
Ahi and Vegetable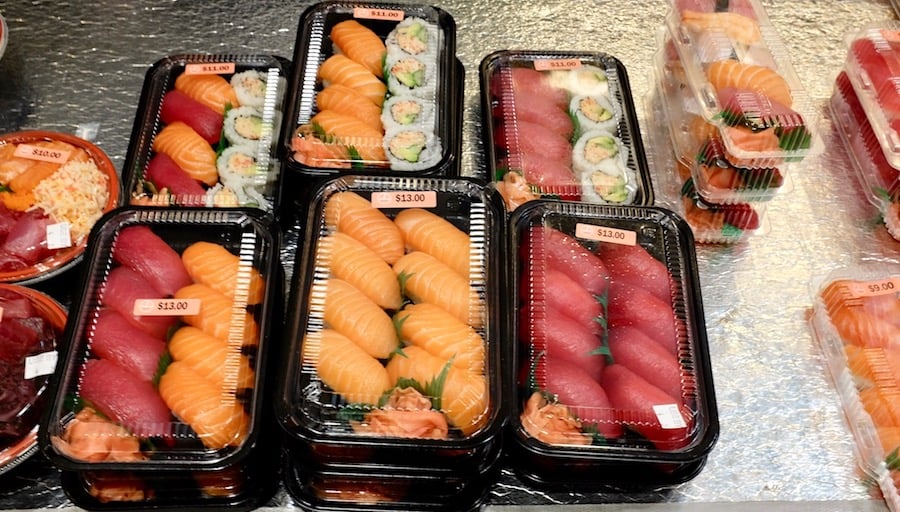 Sushi may be one of the most perfect movie foods — compact, tidy, easily eaten with your fingers and perfect for takeout. At Ala Moana, Ahi and Vegetable is the best option at the intersection of fresh and affordable. Find ahi and salmon nigiri as well as poke bowls here.
Inside the Lanai food court
Iyasume Musubi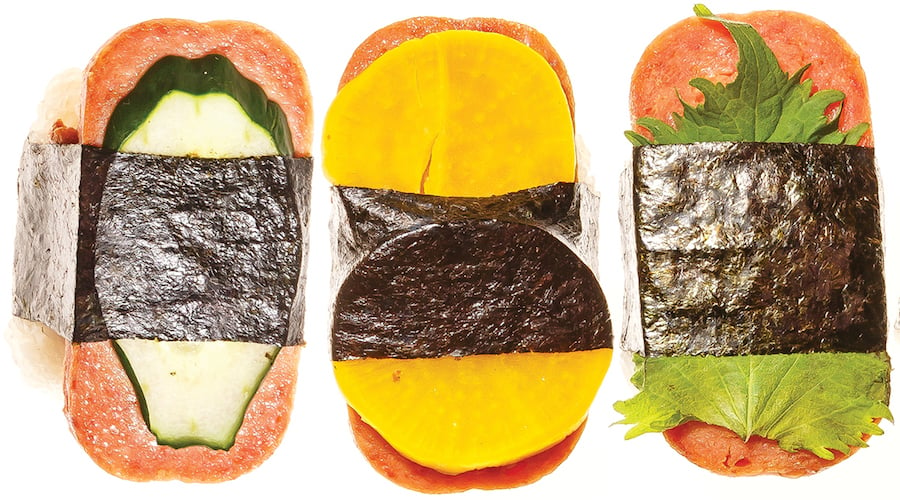 "Eat musubi walking. Running. Even driving. Not illegal, eating musubi in car," says Iyasume Musubi founder Toshiyuki Otake. And now, eat musubi in your car while watching a movie. Missing the beginning of the movie while trying to decide among the options that range from shiso and Spam to unagi and Spam is a real concern.
Inside the Lanai food court
See also: Iyasume makes up to 23 kinds of Spam musubi
Jejubing Dessert Cafe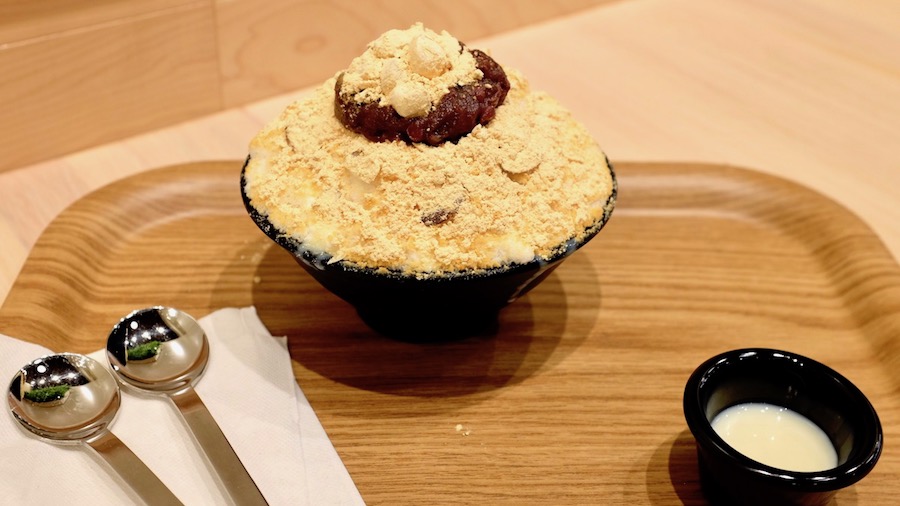 For first dessert, or for a pairing with Abominable, head to the new Korean pat bing soo eatery, where the milk-based shave ice is so fluffy and powdery that it has us longing for our snowboards. The classic, with roasted soybean powder, mochi, sweetened red bean and condensed milk seems at first plain compared to the fruit options, but it's just right in its simplicity.
Street level 1, near Goma Tei
La Palme D'Or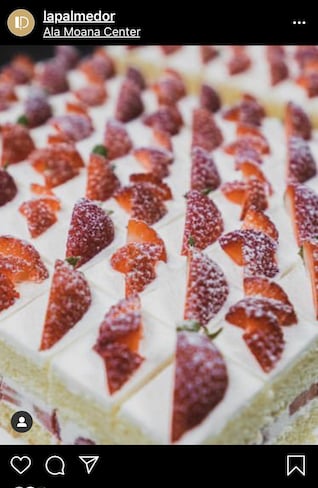 And for second dessert, the one you take in your car, choose from a range of options, including a slice of strawberry shortcake, soft and fluffy in its whipped cream and sponge cake layers, or the fall-appropriate Mont Blanc with chestnut cream around a chestnut paste on almond cake.
Mall level 2, near Lanai food court
Brug Bakery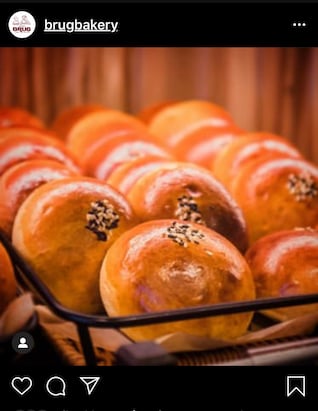 At the end of the night, especially after some stressful moments as in "I'm Your Woman," or the idea of pending parenthood in "Baby Done," I find few things more comforting than some soft carbs, of which Brug Bakery has plenty. My go-to: a simple an pan. Why complicate things?
Inside the Lanai food court