Waikīkī's New Camado Ramen Tavern Serves Up Retro Chic by the Bowl
Solid sides and shave ice bolster an izakaya menu with reasonable ramen and vegan options.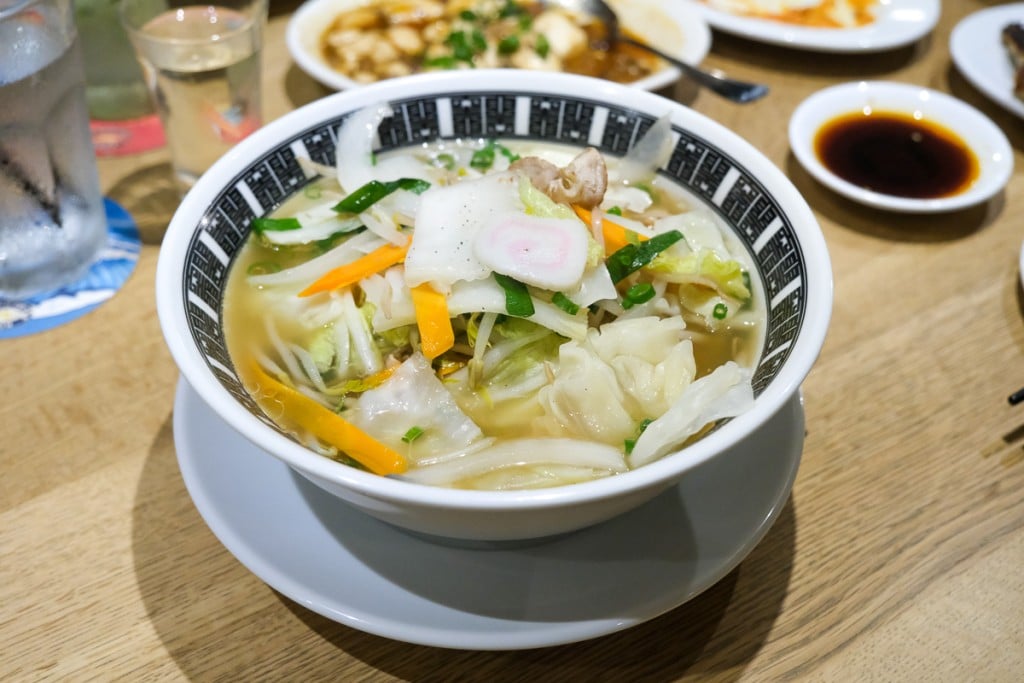 The first episode of Netflix's "Midnight Diner: Tokyo Stories" opens with the Master preparing an order of tan-men. He mounds the humble bowl of ramen noodles with stir-fried vegetables and thin strips of pork simmered in a light dashi. While he admits he uses instant ramen, for tan-men, fresh noodles are better suited.
You won't find tan-men on a menu in Hawai'i unless you're at Camado Ramen Tavern, Tokyo-based Zetton's newest venture on Lewers Street. The retro-chic spot—Zetton's seventh in Waikīkī after Heavenly Island Lifestyle, Aloha Table, Goofy Café & Dine, Zigu, Aloha Steak House and Nature Waikīkī—takes cues from Japanese-style Chinese restaurants called chūka ryōri-ya in the 1980s. Silk noren curtains embroidered with a custom sukajan (souvenir bomber jacket) tiger motif hang over the bar, while large chōchin paper lanterns bob in the breeze over the window booths. The beat of Japanese City Pop fills the background. If natsukashii or nostalgic feelings wash over you, and you're not even from this era, it's safe to say Zetton nailed it.
---
SEE ALSO: How Did a Japanese Restaurant Group Invade Hawai'i Cuisine Without Anyone Noticing?
---
Back to the menu: The chicken-based local veggie and pork tan-men ($16) is one of the soup options at Camado; others include regular and spicy pork-based tonkotsu ($15 to $18.50), sesame-based tantan ($16) and chicken-based shoyu ($14 to $17). Two vegan options, creamy tan-men ($16) and creamy tantan men ($17), are entirely different despite their similar names. Tantan men is a Sichuanese-inspired spicy sesame-based soup garnished with house-made rayu chile oil, seasoned ground pork (or vegan protein), baby bok choy and chile threads. And as Master would prefer, all use fresh Sun Noodle ramen, either straight or wavy.
The tan-men I order during a hosted tasting is served with wavy noodles in a chicken broth that won't weigh you down. Pull after pull, each bite contains a hearty mix of cabbage, moyashi bean sprouts and carrots with strips of pork belly. The noodles, still chewy, fortify the dish with body.
In "Midnight Diner," the tan-men customer confesses to feeling guilty about eating ramen at night but counters it by saying tan-men is good for you because it is full of vegetables. An off-duty taxi driver enters the restaurant and also orders tan-men, but without noodles. Inspired, another customer orders the same thing instead of her usual ochazuke for a guilt-free late-night meal.
Ramen is ramen, but I have to agree with the health statement. Camado's tan-men tastes healthy and, in line with Zetton's philosophy, uses local ingredients when possible, so it is inherently good, right?
My friend goes for the tonkotsu chashu ramen ($18), the priciest bowl on the menu because it includes extra slices of roast pork belly chashu. She also loves pork and it sounds like the porkiest option available. We note the broth to be lighter than we expect, and the slices of chashu are paper-thin but tender and delicious. Normally tonkotsu is a stick-to-your-ribs type of broth made by boiling pork bones for hours and skimming until all that's left is a milky soup full of collagen, but Camado's is noticeably thinner and not as salty. The marinated soft-boiled egg is a star on the roster of toppings, so you'll do well by adding a second to your bowl.
---
SEE ALSO: Is Kamukura the Best Food Court Ramen in Honolulu?
---
As with every other ramen restaurant in Hawai'i, there's more than just noods–Camado Ramen is an izakaya as well, and a good one at that. Fresh pork, shrimp or vegan gyoza ($8 for 5 pieces, $1 more for shrimp), with bronze crusts and supple wrappers, stand out. Though pricey, they're a must-order. The huge takoyaki ($12), surprisingly better than the ones I've had in Osaka, is served in a hot cast iron pan with Kewpie mayo, sauce and bonito flakes waving in the steam. The chunks of octopus are large, but it's the texture of the dough that wins me over—wafer-crisp on the outside with a gooey interior.
We hear from other tables that it comes recommended, but we forget to order the spicy yodare-dori ($12), a "mouthwatering" chicken breast appetizer served over a bed of bean sprouts and cilantro. Drinks include signature cocktails ($12 to $15) with spins on Japanese-inspired flavors as well as a decent sake and shochu selection. Beer, wine and spirit choice are robust compared to other ramen shop offerings.
I'll pass on the mapo tofu ($11) served with lettuce wraps ($2 extra). Let's be honest, mapo tofu is much better over rice than in the palm of your hand. Even by Japanese standards, this mapo lacks the heat and proper seasoning to contend with those you can find at a Sichuan specialist.
---
SEE ALSO: SXY Szechuan: Spicy Is the New Sexy
---
By now you may have noticed a fiery theme that even extends to the restaurant's name, Camado, inspired by the traditional kamado cooking hearth. Zetton's operations manager, Makoto "Mild" Hasegawa, says the hope is the casual menu will draw people regularly, as a family would gather at a kamado.
Aside from the gyoza, something that will draw me back regularly is the kakigōri selection. The shave ice is so good, you might want to order dessert before and after your meal. The four choices cover the classics: Fresh Strawberry with fresh fruit syrup, condensed milk and sweet cream ($8); Tropical Aloha with fresh pineapple and mango syrups topped with sweet cream and li hing powder ($8); Milk Tea Boba with kuromitsu black sugar syrup and tapioca balls ($9); and Matcha and Azuki with green tea syrup, azuki bean paste, mandarin oranges, shiratama mochi orbs with kuromitsu drizzle ($11). The concentrated flavors do wonders to the fluffy ice and are practically mandatory in this summer heat.
Three ramen shops have opened in Honolulu this month: Camado, Kamukura at Ala Moana Center in July and Jinya Ramen in Kaka'ako today, Aug. 22. Among these, Camado has good potential for staying power with its decent prices and items that won't have you regretting a late-night ramen run.
Open Tues to Thurs, from 5 to 12 a.m. (last seating at 11 p.m.), and Fri to Sat, from 5 p.m. to 1 a.m. (last seating at 12 a.m.), with validated parking at Hyatt Centric on Seaside Avenue. 320 Lewers St., (808) 909-8008, @camado_ramen_tavern.hi