Is Kamukura the Best Food Court Ramen in Honolulu?
Osaka's Kamukura Ramen debuts its exceptional "healthy" consommé ramen at Ala Moana Center this week.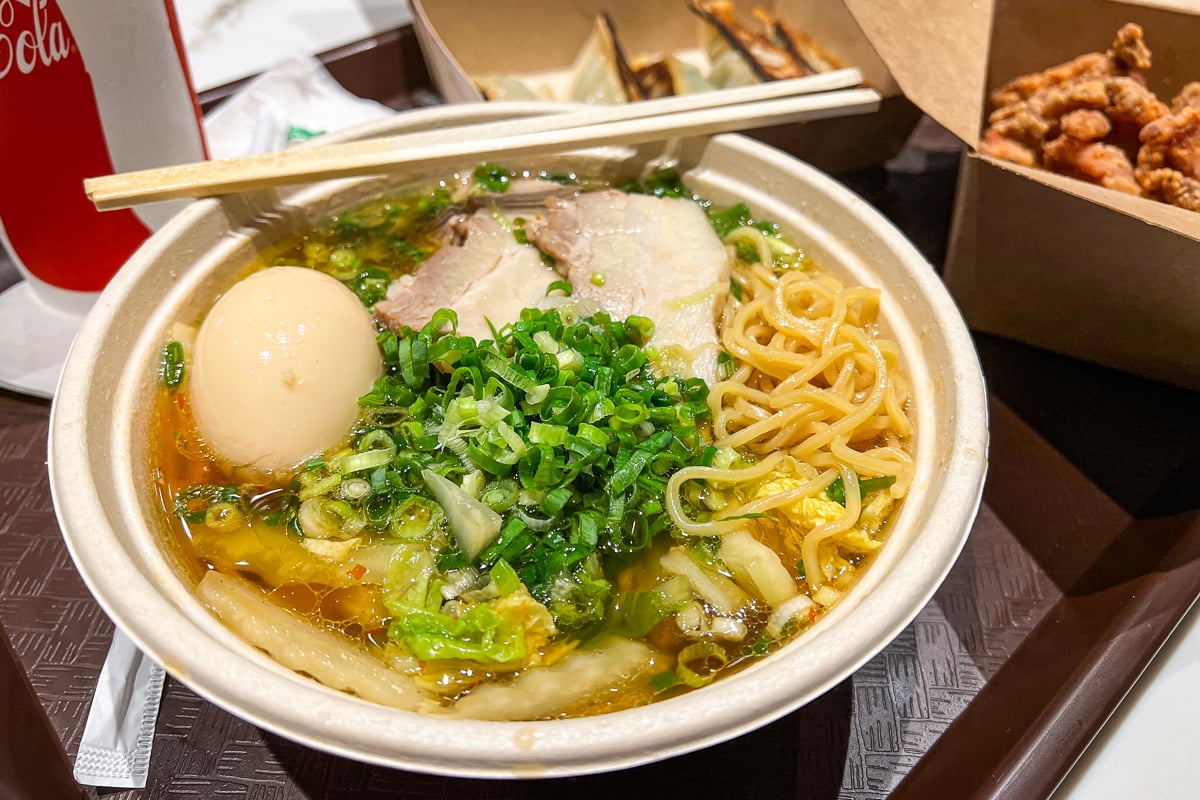 Allow me to be candid: Food court ramen does not set a high bar for noodle soups anywhere outside of Japan. It's just not the same as bowls at standalone shops with U-shaped counters and noren curtains hanging at the entrance. But what if I told you a ramen chain that built its reputation on a healthy and delicious broth just opened its first international location at a food court in Hawai'i? You'd be skeptical—but curious enough to give it a shot.
Boy, did Kamukura Ramen exceed my expectations of what food court ramen could be. Located in the long-vacant Sobaya space in Ala Moana Center's Lānai Food Court, Kamukura hails from Osaka—the port city in western Japan built by industrious people with gluttonous appetites (my kind of people). A second location is slated to open in Waikīkī on the ground floor of the new Lilia apartment tower behind International Market Place.
---
SEE ALSO: Slurp's Up: Onoya Ramen Brings New Age Noodles to Kapahulu
---
Kamukura's origin story is that Masato Fuse, a chef and the former owner of a French restaurant, sought to perfect his ramen so it could be enjoyed daily. He founded his chain in 1986. Today there are over 65 shops, mostly in Tokyo and across the Kansai region.
Kamukura's Oishii Ramen ($13.99) is the chain's signature soup. Its base is a clear broth made in the consommé style with pork and heaps of napa cabbage. Bowls differ in their toppings of sliced pork, roasted pork belly chashu, scallions, seasoned medium-boiled eggs and kim chee ($16.98 to $24.47). Noodles are of the curly variety with a slight chew. When you dip your spoon in, tiny pockets of glistening fat swirl in the broth, yet it is not as heavy as its pork bone-based cousin, tonkotsu. It's clean, refined, subtly sweet from the melting cabbage, and strikingly familiar to those who enjoy motsunabe. I would honestly order a cup of this Oishii broth to sip with dinner any day.
---
SEE ALSO: We Tried Mana Sandwiches, a New Japanese Sando Shop
---
Ramen combinations are also available, but know that they come with a price hike. The combo I ordered, Number 38, includes ramen topped with chopped scallions, chashu and a seasoned egg, plus chicken karaage and a drink for $29.45. *Hands on open face emoji.* For food court ramen? At least serve it in a proper ceramic bowl!
Inflation aside, the combo is enough food for two people to share comfortably, so consider that option if you're minding your budget. You may also want to order the fried chicken karaage, which is incredibly crispy and seasoned to highlight the juicy morsels. If you've ever had a fresh Famichiki from Family Mart, you will love this karaage.
To my order I add a side gyoza ($7.99), which takes a little longer to prepare since it is fried on the flattop. The chewy wrapper hides a porky filling dotted with green chives. It tastes like obachan folded them this morning. Between the gyoza and karaage, it's a tough choice of which is better, but I ultimately deem the winner to be the chicken.
Soon, you will also be able to order beef donburi bowls and other items that often appear on local ramen shop menus. I also spot Aloha and Mahalo boxes with what look to be musubi and onigirazu sandwiches slated for a later date.
Kamukura Ramen might be the best food court ramen in Hawai'i, but it comes with a big catch: You'll need to fork over your whole allowance if you want anything more than soup and noodles. I can't fault a place for putting a premium on their offerings, but if they want us to eat there on the daily, they'll need to implement something closer to Japanese ramen pricing. Until then, this ramen made by chefs with hats will be a treat meal once in a while.
Open daily from 11 a.m. to 5 p.m. (soft opening), 1450 Ala Moana Blvd., Mall Level, @kamukura_usa, kamukura-usa.com