Slurp's Up: Onoya Ramen Brings New Age Noodles to Kapahulu
With its Waikīkī and Shirokiya Village Walk locations closed, Onoya is now a standalone ramen restaurant.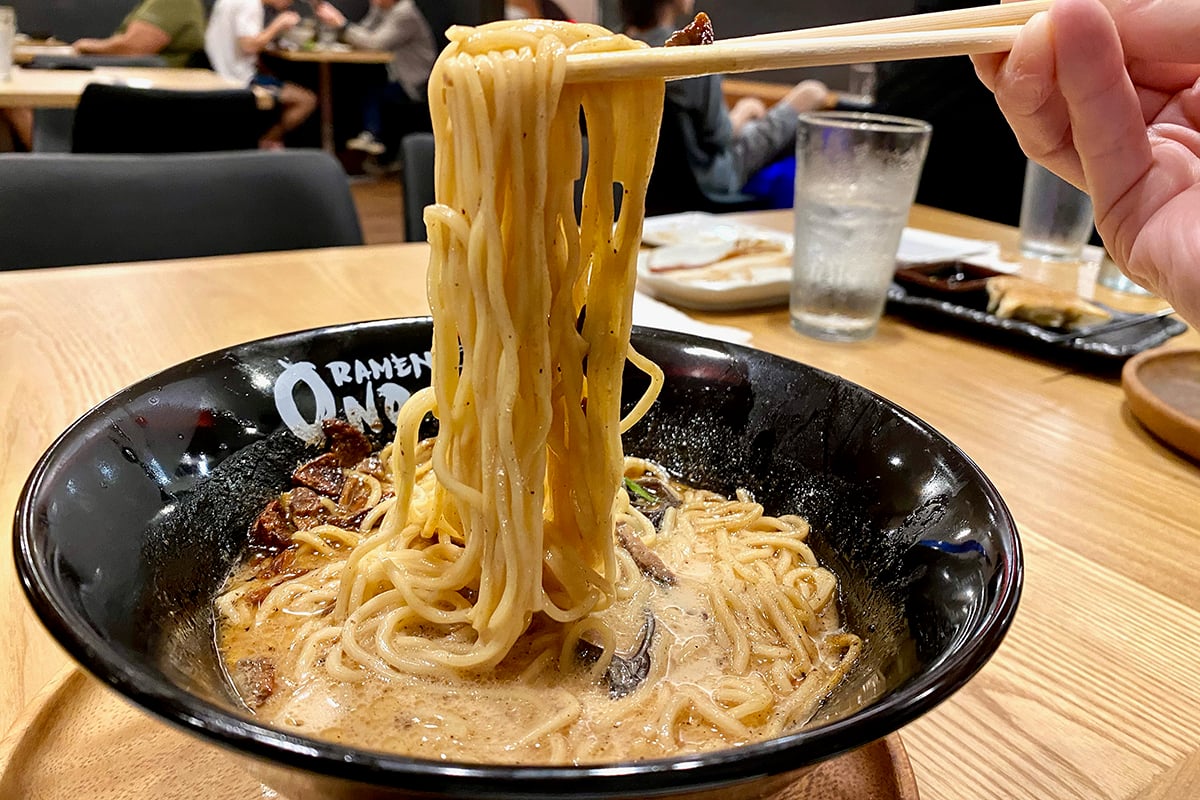 I don't know about you, but these bouts of wind and rain have me craving a comforting bowl of steaming noodles. When it comes to noodles, ramen are my favorite type, making it the perfect excuse to check out Onoya Ramen's new location in Kapahulu.
Onoya Ramen opened on Kapahulu Avenue at the beginning of March after its previous locations in two popular food halls, Waikīkī Yokocho and Shirokiya Japan Village Walk, were shuttered as a result of pandemic restrictions. In a bid to save his business, owner and chef Naoyuki Ono needed a new location and found one in the corner space next to Kapahulu Laundromat.
---
SEE ALSO: Kapolei Gets a New Ramen and Izakaya Spot
---
You may recognize Ono as the owner of Sanoya Ramen, which has been serving reasonably priced ramen and more for over 30 years. Onoya's specialty is tonkotsu ramen with contemporary flavors. During a hosted dinner, our server mentions the broths are made from scratch. And while tonkotsu is traditionally made by boiling pork bones for many hours, Ono uses a special machine to prepare the broth faster and in larger quantities.
The menu has an extensive selection of ramen—yuzu, cheese curry and shrimp wonton, to name a few–and all bowls feature Sun Noodle ramen. You may also customize your bowls by adding toppings and changing the spice level.
Whether you're dining solo or with a group, start with the spicy tuna on crispy rice ($6). A duo of crispy rice cakes arrive topped with spicy 'ahi poke, avocado, jalapeños and an unagi sauce drizzle. The creamy mounds of fresh spicy 'ahi contrast nicely with the crispy rice, and the jalapeños pack the perfect amount of heat.
Chicken karaage ($8) comes with a lemon and well-suited yuzu mayo for dipping. It isn't as crispy as others I've had, but it is generously portioned with tender pieces of chicken.
The Black Garlic Tonkotsu Ramen is a popular choice among customers. Since I love garlic, it's right up my alley. The pork bone broth is laced with garlic oil and topped with fried garlic chips, seared pork belly chashu, bean sprouts, kikurage wood ear mushrooms, nori, ajitama seasoned egg and green onions. The succulent pork belly has a melt-in-your-mouth fattiness and the ajitama is delicious, but the garlicky pork broth is the star of the show. After my first bite I can't stop slurping.
The Tonkotsu Special ($18) is worth the price tag if you're a meat lover. The broth comes with seared pork belly chashu, tontoro chashu, chicken chashu, bean sprouts, kikurage, ajitama, garlic chips and green onions. The broth is flavorful, but it is lighter when compared to my creamier black garlic ramen.
The pork belly and chicken are delectably unctuous but the tontoro chashu is to die for. I've never heard of tontoro before; I'm told it is an extremely fatty piece of pork, richer and more tender than the average slice of pork belly.
Everything really hit the spot, so I'm ordering the same appetizers and ramen bowls on my next visit. Also on my radar: cheese curry ramen, chicken katsu curry and takoyaki. Actually, I think I want it all.
611 Kapahulu Ave., (808) 425-4415, onoyaramen.com, @onoyaramen