Kapolei gets a new ramen and izakaya spot
The ramen is good, but the izakaya dishes steal the show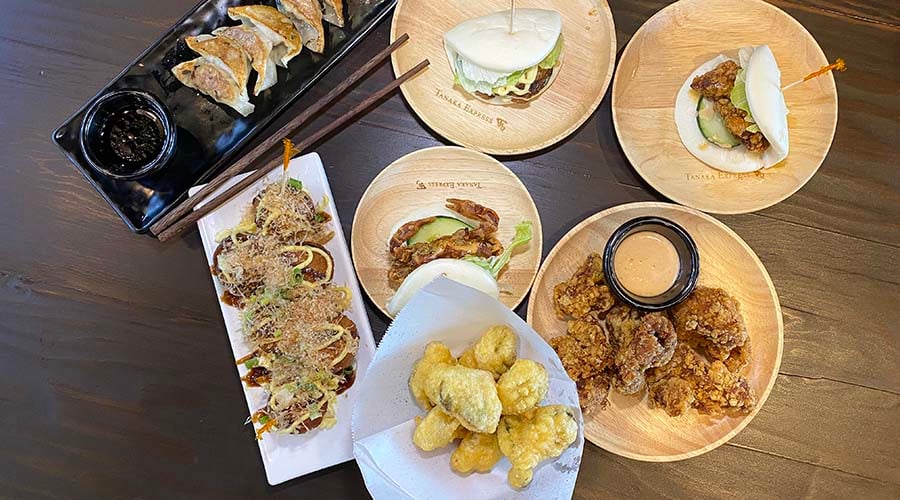 I don't go to Kapolei often but I found myself there twice in the same week for the new Tanaka Ramen and Izakaya.
See also: Our go-to: Ramen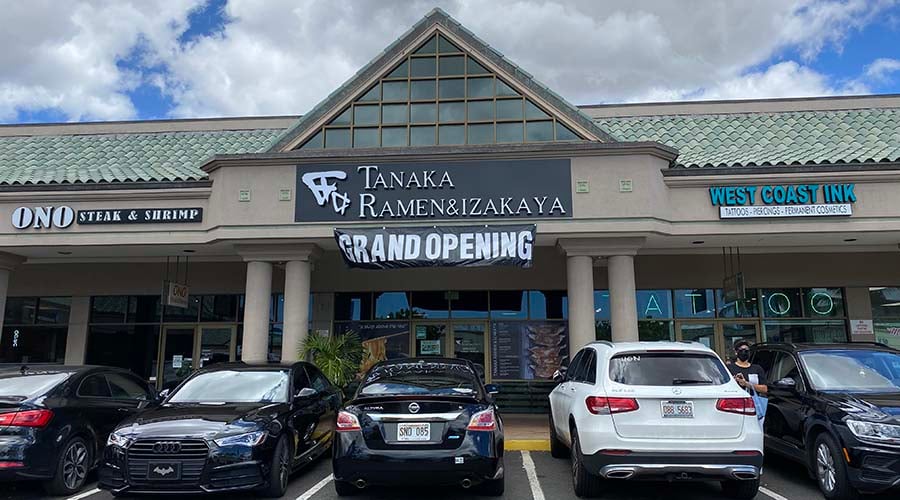 Tanaka Ramen is located in Kapolei Marketplace, which is next to Kapolei Shopping Center (think Sushi Bay). The restaurant opened the same day Oahu's restaurants were allowed to resume dine-in service. Seating is limited to half its normal capacity to allow for social distancing and the full menu is also available for take out.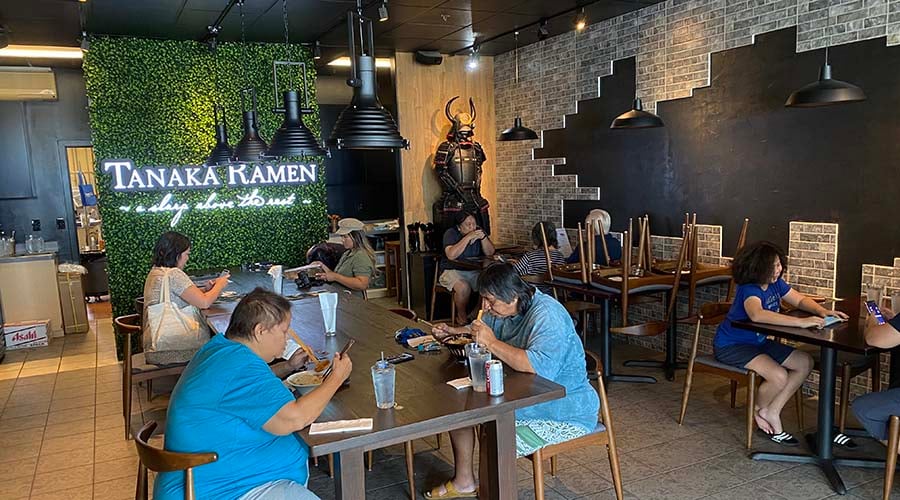 See also: A new ramen restaurant just opened in Kaimuki
Although it sounds local, Tanaka Ramen is a mainland chain with locations in Chicago, Atlanta and College Station, TX. It is not to be confused with Tanaka Saimin, so "izakaya" was added to the name to emphasize the restaurant's small plate offerings. The menu boasts more than 10 ramen bowls with vegetarian, vegan and cold noodle options, donburi (rice bowls) and smaller items like takoyaki, pork gyoza and tempura brussels sprouts.
Tanaka Ramen hosted me on two occasions during which I tried the ramen, donburi and a few appetizers. The ramen and donburi don't disappoint but the izakaya plates are the draw for me.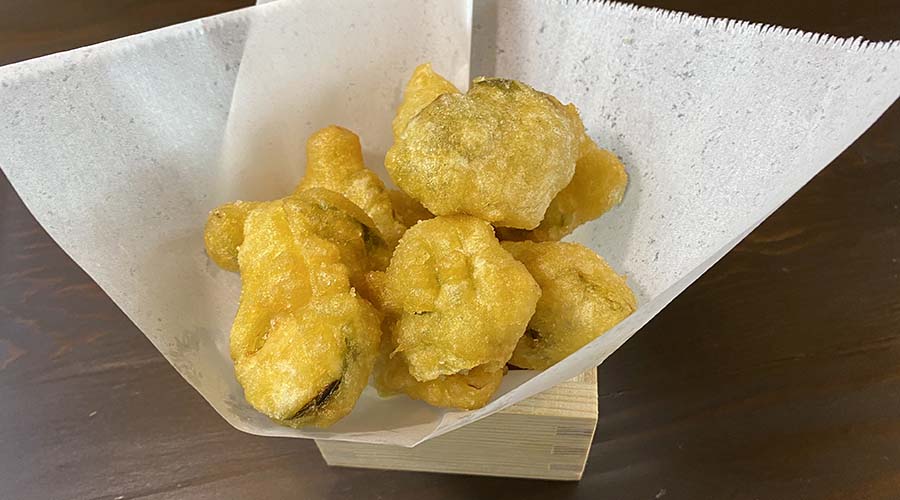 If you only order one item, make sure it's the tempura brussels sprouts ($7.80). These bite-sized morsels are drizzled with white truffle oil, making them 100% addictive. Each sprout is lightly battered, so you won't feel too guilty about indulging in fried finger food. An order comes with about eight pieces so if you're with a larger group, i suggest two orders of these. Of all the dishes I try, these stay on the brain.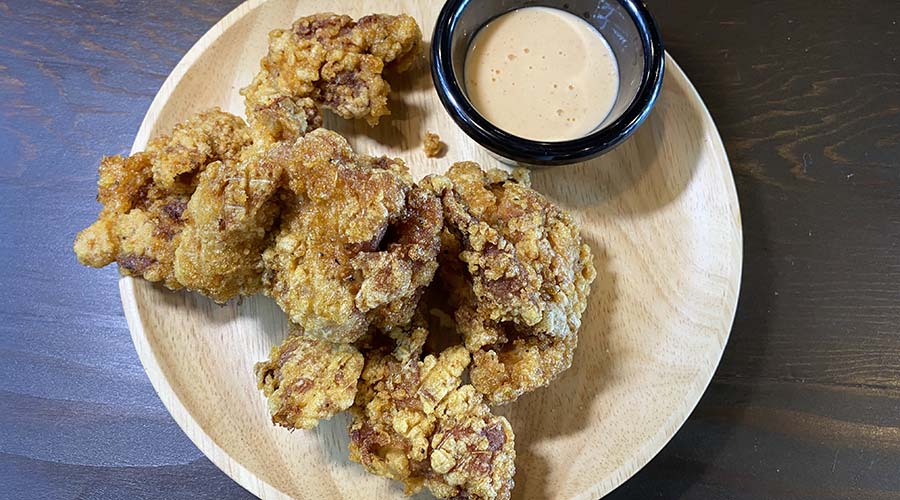 Whether dining in or taking out, I highly recommend the chicken karaage. I ordered some as takeout and I'm pleased they were still crispy and juicy by the time I got home to Moanalua. Surprisingly, the quality remained the same when I tried it fresh at the restaurant. The fried chicken thigh pieces are seasoned with garlic and pepper and served with Tanaka's take on spicy mayo, whose creamy texture and lingering heat complements the chicken well.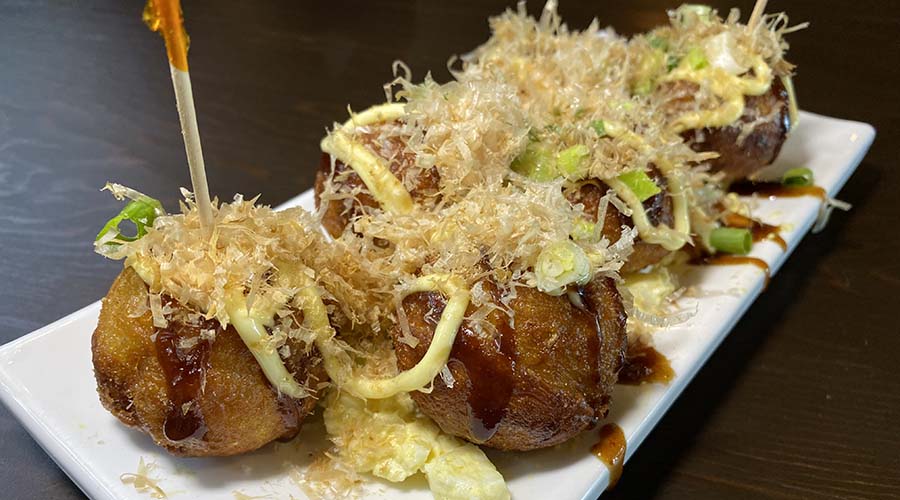 These battered octopus balls are topped with egg tartar, which reminds me of a lighter egg salad, Kewpie mayo, okonomiyaki sauce, green onions and smoked bonito flakes. Each takoyaki contains a noticeable chunk of octopus and the exterior is delicately fried.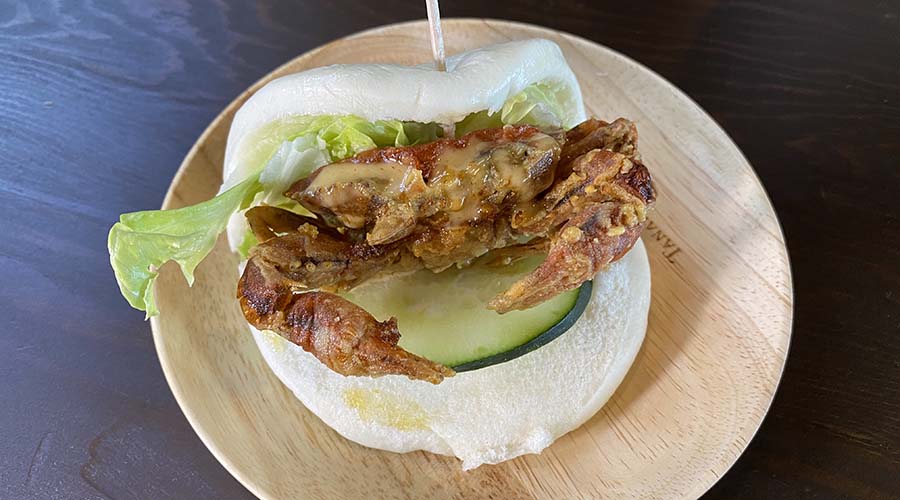 The softshell crab bun is a Hawaii-exclusive because the owner believes it would appeal to locals. A pillowy soft bao bun cradles a generous deep-fried softshell crab, cucumber and greens with Tanaka's homemade bun sauce and spicy mayo. While delicious, it's not my favorite bite – I'd rather get another order of tempura brussels sprouts.
So what about the ramen? Prices are reasonable, ranging from $11.80 to $15.80 a bowl. I tried the create-your-own bowl ($6 base price) where you can select a broth, noodles, spice level and a la carte toppings. Choose between pork, chicken, half-half or vegetable-based soup broths; thick, thin or kale noodles; and mild, medium or hot spice levels. Toppings include chashu pork, crispy onions, seasoned eggs and more. Note: Broth and noodles are packed separately for take-out orders.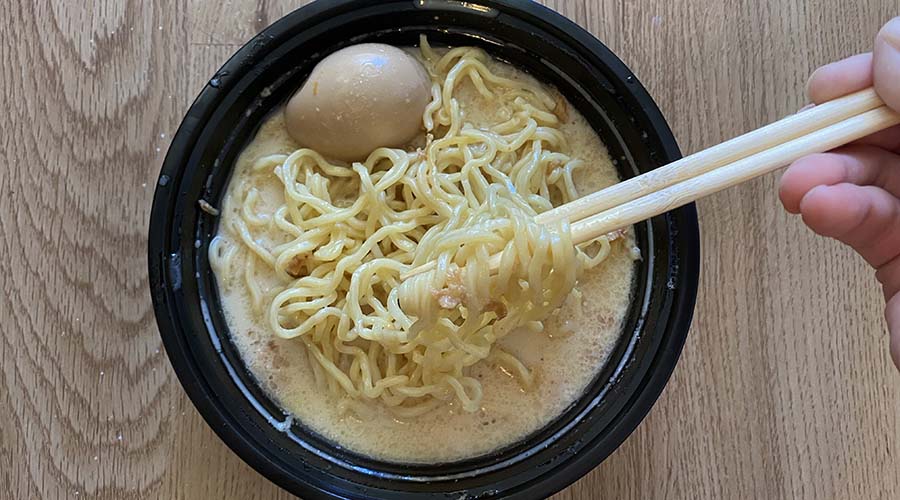 The noodles are made by Tanaka Ramen on the mainland and shipped to Hawaii. I like the chewiness of the thick noodles and flavorful pork broth. If you choose to create your own ramen, I recommend adding on the $2 ajitama (seasoned egg) because it's my favorite part in a steaming bowl of ramen.
It's not the best bowl of ramen I've eaten but it comes in at a reasonable price point.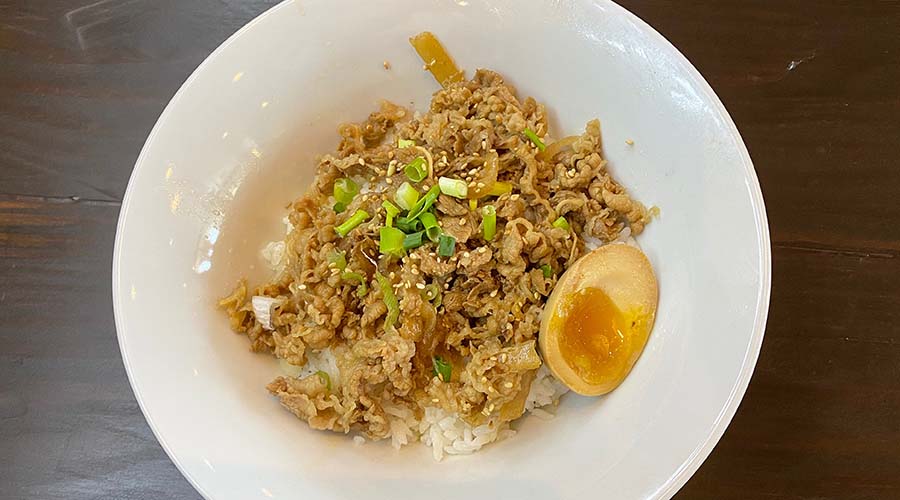 If eating a hot bowl of noodles is out of the question, donburi rice bowls with beef sukiyaki, chicken karaage or Japanese-style curry are a nice alternative. On the mainland, the beef sukiyaki is the bestseller. The bowl has a good amount of flavorful shredded beef and the onions and sesame seeds add a crunchy note. It also comes with my favorite ajitama.
I'll gladly return to Tanaka Ramen & Izakaya to make a meal out of the izakaya plates. Good news for those us who don't live out west: Tanaka Ramen plans to open locations at Ala Moana Shopping Center this summer and at Pearlridge Center in the fall.
Tanaka Ramen & Izakaya
Kapolei Marketplace
1590 Farrington Highway
Kapolei
744-1231
Daily, 11 a.m.-10 p.m.