Our Official Tooth Fairy Poll Results for 2019
Our recent reader poll revealed the value of a lost tooth—and so much more! From going rates to special traditions, learn how this fairy tale ritual is playing out for local kids.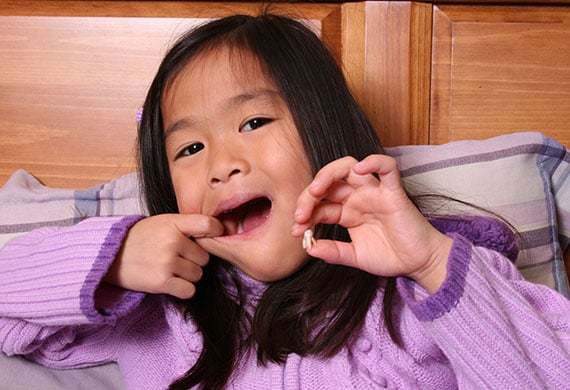 Photo: Getty Images
We recently noted in our Official Tooth Fairy Poll that losing a tooth is a rite of passage for our keiki. It's an exciting time in their lives as they begin to grow into adolescence. Visits from the Tooth Fairy are a thrilling and mysterious part of this experience.
Conducted through the end of May and compiled in mid-June, HONOLULU Family's reader poll helped us track the Tooth Fairy's going rates here on Oʻahu. It also provided plenty of insights into the creative ways local families approach this special time in their child's life.
The Tooth Fairy's Going Rates
Our survey found that the Tooth Fairy leaves cash in exchange for a tooth at 97.5% of the homes she visits on O'ahu. In the rest of the homes we surveyed, she leaves behind unique gifts and goodies—but more on that later.
The Tooth Fairy's average cash gift is $4.31 per tooth in Hawaiʻi, according to our findings. While no grandparents responded this year—90% of respondents were moms, 8% were dads, and 2% were other family members—an informal poll at our offices in 2017 revealed that the Tooth Fairy's payouts tend to increase when grandma and grandpa spend the night. Typically, the Tooth Fairy leaves as little as $1 and as much as $20.
The national average is $3.70, as reported by The Original Tooth Fairy Poll®, sponsored by Delta Dental and conducted in February of this year. We found that the dollar amount often depends on the child's age and whether she's exchanging it for a first tooth or one of the many that follow.
In one Honolulu home, she left $30 for a first tooth!
The First Tooth and Beyond
Here's a result that we found kind of surprising: In some households, the Tooth Fairy's going rate increases as keiki get older, and in other homes, the fairy leaves a larger amount for the first tooth, and $1 for every tooth after that.
In one Honolulu home, she left $30 for a first tooth! Not exactly chump change to a 5- or 6-year-old, since that's typically the age at which most kids lose their first tooth, according to Parents magazine.
In families with lots of kids, she leaves the same dollar amount for every child, every time, regardless of age. When a tooth has been slow or painful to fall out, she's often generous, leaving both a toy AND some money to compensate.
One mom shared the story of how, when her child accidentally swallowed her first tooth, her little one wrote a note to put under her pillow instead, explaining the situation. Always compassionate, the Tooth Fairy wrote back saying that she completely understood, and left her a gift in exchange for her lost tooth.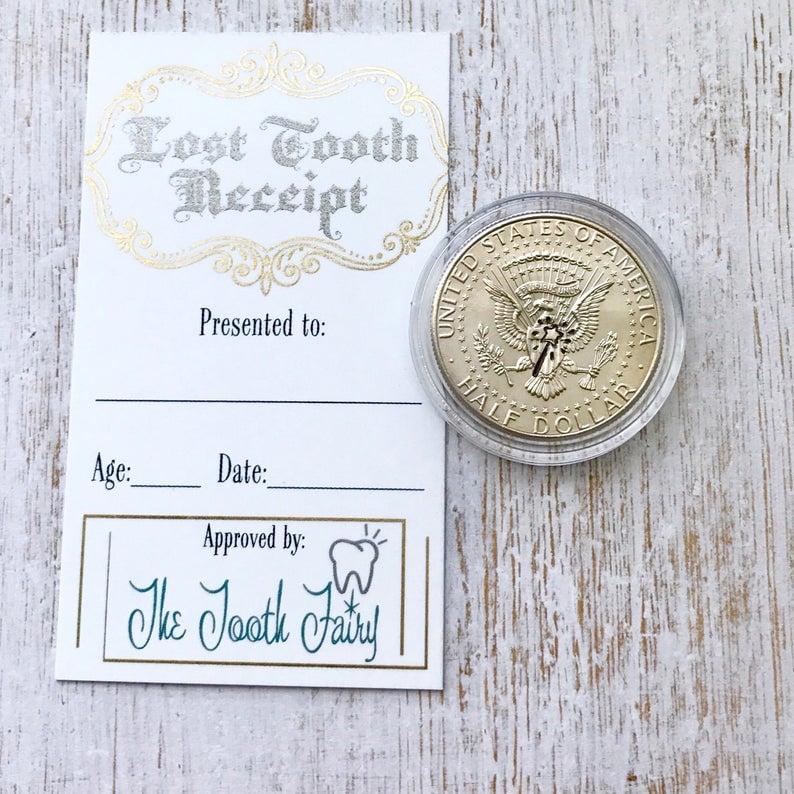 Tooth Fairy Half Dollar Coin
The Tooth Fairy's Creative Gift Giving
In some homes, the Tooth Fairy opts to exchange candy for a tooth, leaving little sweets under the pillow instead of cash. The Tooth Fairy sometimes employs a glittery tooth stamp on the paper money left behind, according to one local parent.
Once in a while, when her schedule permits, the Tooth Fairy will write a handwritten letter, leave a certificate or even a gold Tooth Fairy coin. Some keiki receive a collectible half-dollar or dollar coins.
These are otherwise known as a 50-cent piece or a silver dollar, available online from the U.S. Mint and on other sites (see image, above). Another creative gift that one local family reported was a Sacagawea "golden dollar," a coin that's gold in color that was introduced as a replacement for the Susan B. Anthony dollar in 2002.
Anticipating the Tooth Fairy's Visit
Almost 30% of all respondents shared that an expected visit from the Tooth Fairy makes local kids get to bed earlier than usual. On a scale of 1 to 10, with 10 being the most excited, respondents told us that the level of excitement in their home when a tooth is ready to be claimed is, on average, 7.84.
The Tooth Fairy will be so happy to learn that O'ahu kids typically look forward to her visit.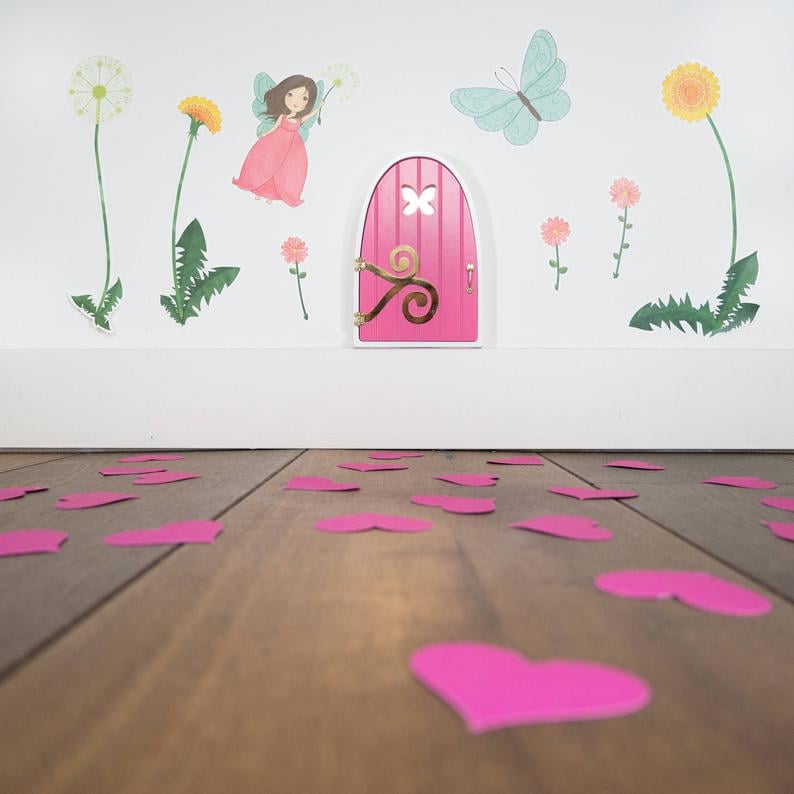 What Are Kids Doing With Their Money?
Here at The Piggy Bank, we recognize the importance of financial literacy and teaching kids skills like saving, budgeting and money management. We were curious to learn what local keiki are doing with their Tooth Fairy money.
One thoughtful daughter gave her Tooth Fairy money as an offering at church, completely unprompted. Another kept half the money at home for spending and put half into a savings account especially for kids at the bank.
We were happy to learn that 66.2% of the kids in our poll are putting their money in a piggy bank, while only 22.1% of them spent their money right away.
One parent shared, "As [my son] ages, I want to stress the importance of putting money into savings," noting that the Tooth Fairy leaves their son more money with the loss of each new tooth.
Enhancing This Rite of Passage
Some parents said that they keep a custom pillow with a pocket for newly lost baby teeth to prevent them from getting lost. Keeping the pillow next to their child's bed makes it easy for the Tooth Fairy to slip in and out of the house, undetected.
In one Hawai'i home, the Tooth Fairy honors a unique and memorable family tradition. One parent shared, "She leaves the tooth! Then the kids take it to their favorite beach, throw it into the ocean and make a wish."
From installing tiny, sparkly fairy doors in their child's bedroom to reading Tooth Fairy books at bedtime, parents can enhance this rite of passage with a little creativity and focus on making it fun and memorable.