The Plan Behind the Humble Okazuya Bentos That Are Now Available for Takeout from Miro in Kaimukī
Hint: There's a new eatery in the works.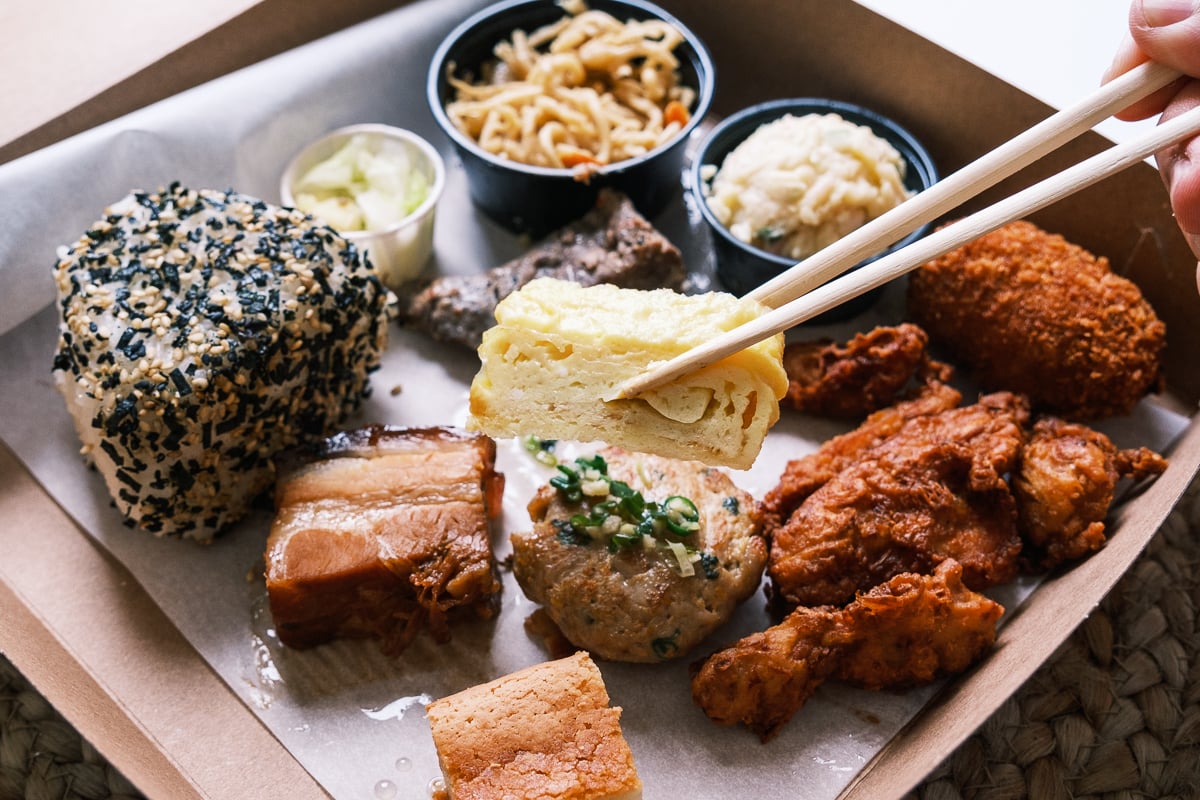 Photos: Thomas Obungen
Building the perfect okazuya plate is an art form that's disappearing as these only-in-Hawai'i delis fade into history. Check out the pans of local-style soul food inside the glass cases, point and nod. Thumbs up if auntie's tongs pick out the prime piece of nori chicken you were eyeing. We each have our favorite spots where we recalibrate our tastebuds after being away from the Islands.
Trendy restaurants come and go but our craving for chow fun, furikake musubis and 'ahi hash patties remains stalwart. Enter a surprising new player: a $14 okazuya bento from Miro Kaimuki whose contents change by the week. The assortment is humble and nostalgic, evoking memories of simpler, happier times. You know, like the not-so-distant pre-COVID past.
---
SEE ALSO: Our Top 6 Okazuya
---
"Not the food we do at Miro but the food we like to eat," read the caption that Miro's Chris Kajioka posted on Instagram. Arrayed on parchment paper in an old-school white box were a furikake musubi, potato salad, yakisoba, beef curry croquette, pipikaula, ginger scallion ahi patty, shoyu hot dog, tamagoyaki, pickled cabbage, mochiko chicken, shoyu pork belly and butter mochi. All for $14—it sold out online in a flash.
I couldn't believe it myself, so I ordered one. The bottom line? If you brought it to me and told me it was from Fukuya, I'd believe you 1,000%. In fact, if anyone is missing their obaachan, the first place you should check is Miro's kitchen. The flavors aren't fussy or chef-y which is a nice surprise to me.
---
SEE ALSO: Chris Kajioka's Stylish Miro Opens in Kaimuki
---
My first bite is the lemon pepper mochiko chicken—salty, crispy and juicy. The musubi, a fist-sized rice ball rolled in salt and nori komi furikake, is a bit dry but hearty. The ginger scallion 'ahi patty is fantastic, incorporating familiar flavors. Potato salad, smooth with specks of vegetables, is decidedly Japanese-style and I dig it. My favorite item is the uber comforting beef curry croquette. The box is missing its shoyu hot dog, which at this point I'm imagining tastes like a Saturday morning after the beach. This bento isn't going to satisfy your Uncle Keoni who works construction, but for me it's a filling lunch with a few bites left for a late afternoon snack.
But the biggest surprise isn't that this is from high-end Miro. It turns out this weekly bento is a preview for an upcoming saimin counter called Papa Kurt's, a partnership between Kajioka and Chef Hui's Mark "Gooch" Noguchi. It's named after Kurt Hirabara, the late Big Island horticulturist and farmer who mentored many rising chefs including Kajioka and Noguchi.
---
SEE ALSO: Here's why saimin is so good
---
Papa Kurt's menu is centered on local comfort: saimin, teri beef sticks and the kind of homestyle charburgers that pair inexplicably with bowls of salty broth and curly noodles. There won't be a full okazuya case, but a version of Miro's bento will be a weekly revolving special.
In the meantime, you can pre-order a $14 okazuya bento online for pickup Wednesday through Saturday at Miro Kaimuki. The second week's bento contained a teri beef stick, Korean-style fried chicken, char siu pork belly, shoyu hot dog, somen salad, ginger scallion tofu, pea and crab potato salad, shio salmon musubi and butter mochi. The first week's early sellout prompted Miro to double output by paring its menu to just the bento and select pastries. As for this week and coming weeks, you can find the contents on Miro's Instagram.
3446 Waialae Ave., (808) 379-0124, mirokaimuki.com, @mirokaimuki