Our Top 6: Okazuya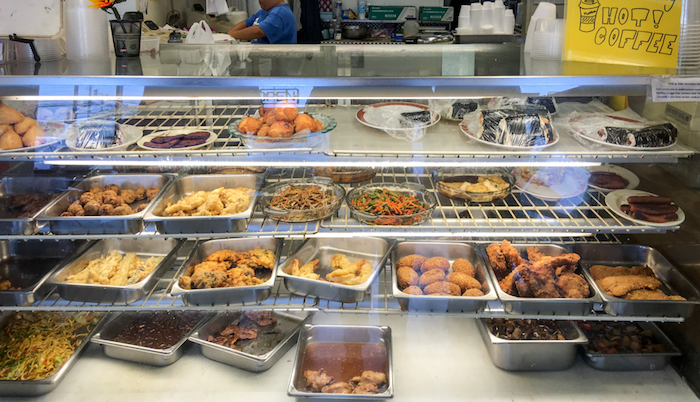 Ahh okazuya. Growing up in the islands, a stop at your local Japanese-style delicatessen meant you got good marks on your report card, were going on a field trip or finally had enough quarters to purchase a super filling snack.
The OG build-your-own plate lunch format of okazuya meant that piece by piece, you could create the exact meal of your heart's desire. From shiso ume musubi and kinpira gobo to shoyu hot dog and fried chicken, comfort food overflowed what in small-kid time seemed like massive platters. The earlier you went, the better the selection – and if you were lucky, they'd even ask which piece you wanted from the display.
We asked Frolickers who love okazuya for their top picks. The results were surprisingly varied, spanning long-established hoods from Waipahu to Kalihi to Moiliili to Kaneohe. Then Thomas chimed in with his hometown fav in Mililani, and Our Top 5 became Our Top 6.
The common denominators? Local-style comfort dishes and memories harking back to hanabata days. In no particular order, here's Our Top 6: Okazuya.

Fukuya Delicatessen
I'm definitely a Fukuya person. I've been going there since I was a teenager, and this was one of the first places I would go to during breaks from college in Chicago. I've since managed to make my daughter Mia equally addicted. We now take her takeout lunch containers and we pick up her "home" lunch there. Her faves: mochiko chicken and teri meatballs.
I've always loved the fried chicken, chow mein, mac salad and shiso musubi. Those are my go-tos. Comfort food to the max and to me, the best in town. — Diane Seo
2710 S. King St. • Moiliili • 946-2073 • www.fukuyadeli.com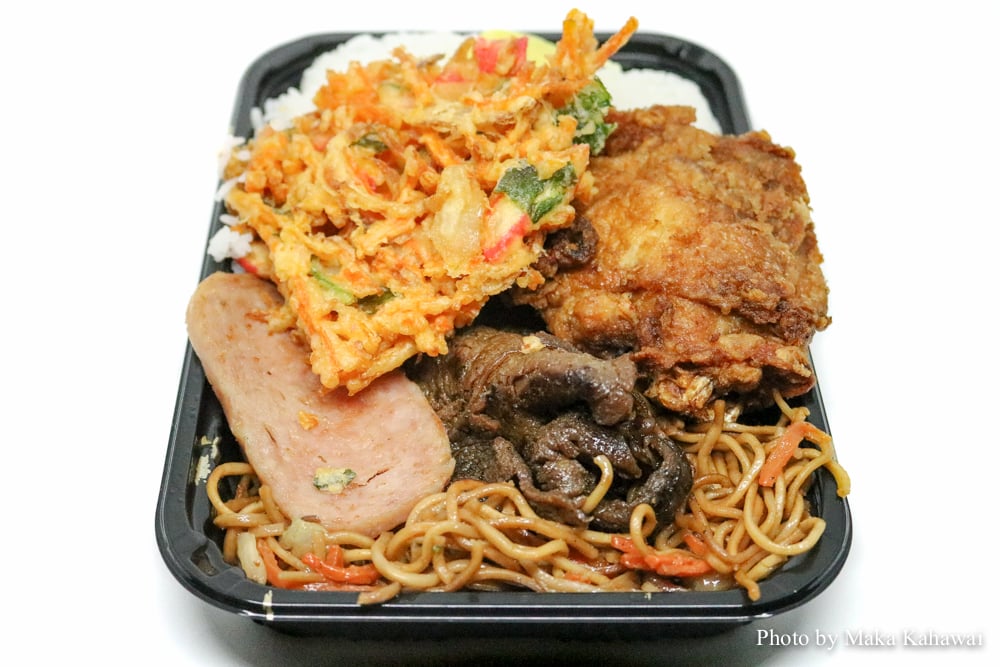 Gulick Delicatessen
There's something about walking into an old-school okazuya place like Gulick — where the look, feel and smell have stayed the same all my life — that makes me wax nostalgic. I have all these fond memories of standing in line with my mom to buy fried noodles and vegetable tempura "nests," and it's probably why I always go for Gulick's Bento #1. Two scoops rice, chow mein, teri beef, Spam, fried or shoyu chicken and vegetable or potato tempura (I always pick vegetable) for just $9. It's cheap for a filling meal and good memories. — Maka Kahawai
1512 Gulick Ave. • Kalihi • 847-1461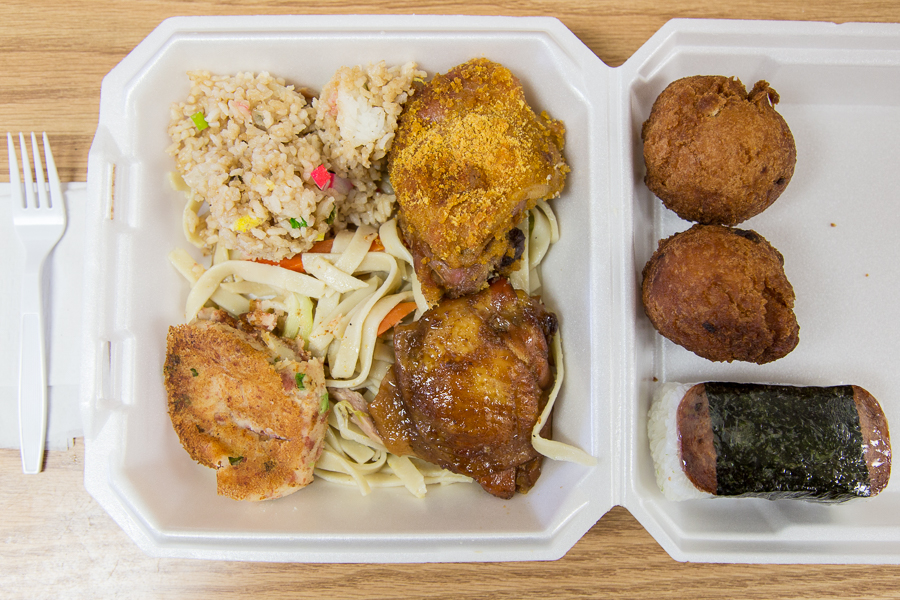 Heights Drive Inn
I like Heights Drive Inn in Aiea Medical Building. Planny nostalgia. I basically grew up there while my mom worked at Hair Direction, the salon a couple doors down. It's super local-style, not like your super Japanese okazuya. They got fried chicken, shoyu chicken, chow fun, andagi. — Grant Shindo
99-128 Aiea Heights Dr. • Aiea • 487-8884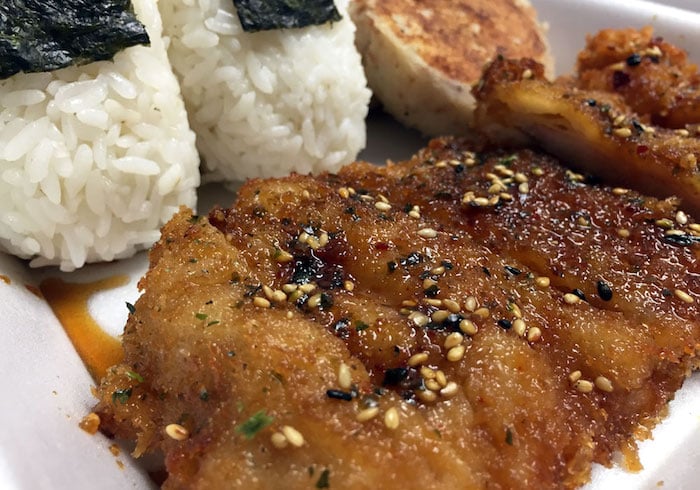 Nuuanu Okazuya
Nuuanu Okazuya is my favorite because there are so many items to choose from. My favorites include the furikake chicken katsu — the saltiness and extra crunch from the seasoning can't be beat — as well as the fried rice musubi and potato hash patty. It's always fun to try something new, but there's SO much stuff in the windows it can be overwhelming. It's terrible for me 'cause I'm so indecisive (aside from my go-to katsu), but you want to see everything that they have in there! — Kelli Shiroma
1351 Nuuanu Ave. • Downtown • 533-6169 • http://nuuanuokazuya.com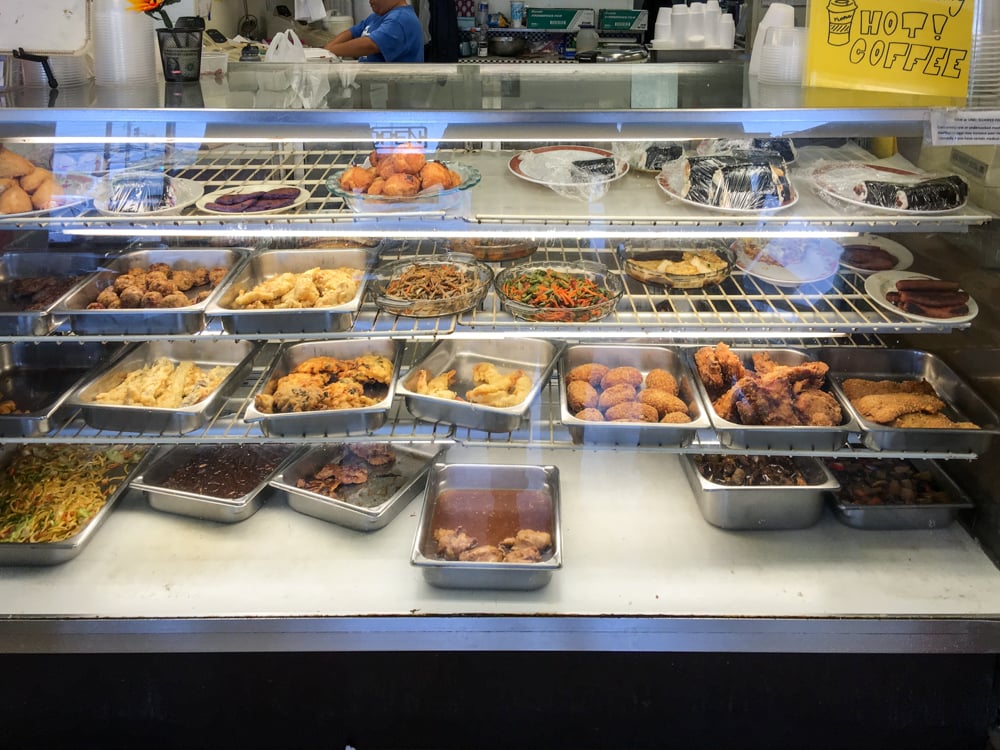 Masa & Joyce Okazuya
I think the best okazuya are "outdated" — they haven't changed for years and the menu items are very comforting and nostalgic. I like that about most of the okazuya that I visit. Masa & Joyce's is no different: The food looks and tastes homemade. No perfectly shaped musubis or symmetrical patties. My favorites are the fried rice musubi and fish patty. — Morgan Kaya
45-582 Kamehameha Hwy • Kaneohe • 235-6129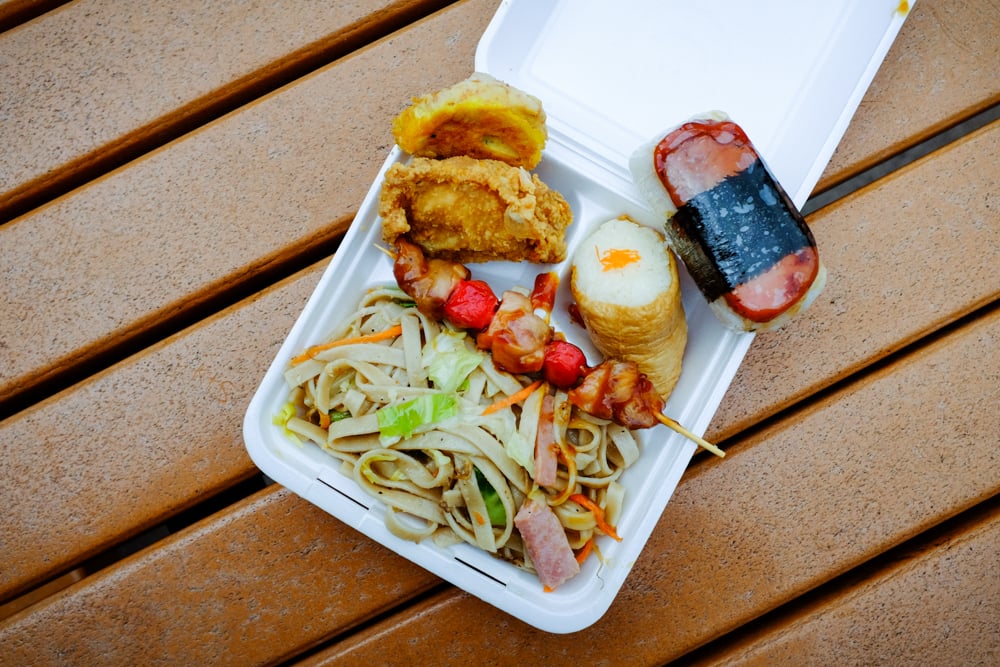 Maru-Hi Restaurant & Lounge
I affectionately refer to Maru-Hi as the "Magic Window." Ask anyone who grew up in Mililani and they'll tell you it's the only legit spot to get musubi and fried chicken to stuff in your bag before catching a movie. My dad used to take me and my sister here on Saturday mornings so we could pick something out for lunch. I'd always get a Spam musubi steeped in tangy teri sauce soaked halfway through the rice, a crispy piece of fried chicken, chow funn and one hot dog. My sister went for the sweet cone sushi, fried chicken and hash patty.
The prices used to be listed on a humble slip of tattered computer paper taped to the inside of the window; today, modern graphics frame the huge pans of food beckoning new generations of hungry kids to the Magic Window. — Thomas Obungen
95-1249 Meheula Pkwy • Mililani • 623-5848