Chris Kajioka's stylish Miro opens in Kaimuki
The James Beard Award finalist revamps the classic restaurant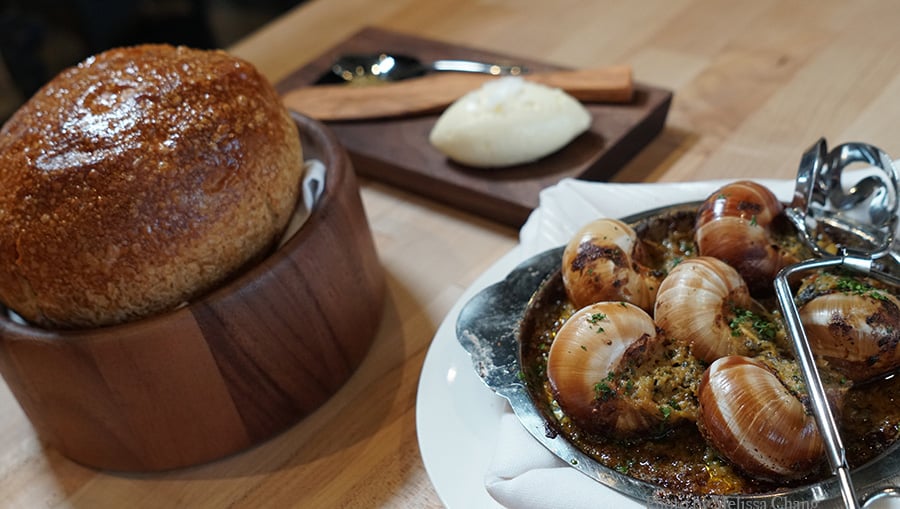 Cafe Miro had been a staple in Kaimuki for 25 years under the helm of owner-chef Shigeru Kobayashi, with solid French-style cuisine and prices that were affordable enough to make it a regular spot for neighborhood diners. We wondered what the menu would become when he sold it last fall, and if it would still be reasonable for casual-smart dining.
Its new owners — a partnership between James Beard Award finalist Chris Kajioka, Michelin-star San Francisco chef Mourad Lahlou, award-winning mixologist Justin Park and businessman Tom Park — gave the new Miro Kaimuki a facelift with an open, contemporary interior. This new layout ended up working somewhat in their favor, now that social distancing is required in restaurants. They do lose some seats, but it doesn't hurt the ambience or make it look empty.
Kajioka brought Mililani boy Trevor Webb onboard to become the chef de cuisine of this new venue, a move that made sense because Webb had worked for him at Vintage Cave and they understood each others' styles and sensibilities. Webb had worked at Los Angeles' Kismet and Animal prior to this, so he brings that experience back to Hawaii.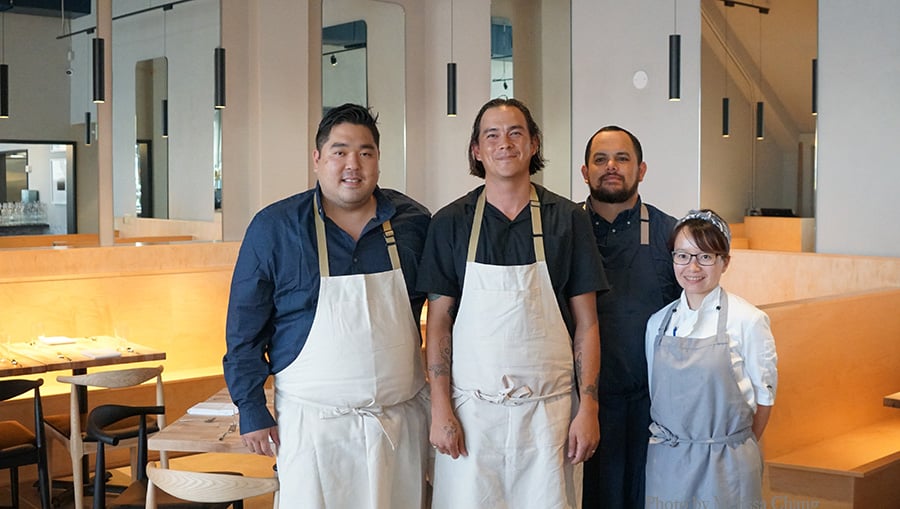 Miro Kaimuki is offering a five-course prix fixe menu for now, and once they're settled in, bar patrons — who need to be spaced apart — can order a la carte items. The set menu is so reasonable, I had to ask a few times if the price was correct even though it was printed right in front of me. Really? Just $65 for a fancy dinner? And only $35 for the wine pairing?
"I wanted to keep it reasonable because this is the neighborhood I grew up in, and I grew up with Cafe Miro," Kajioka explained. He wanted to keep the neighborhood vibe and make Miro Kaimuki a place that people would want to come back to any time, not just for special occasions. I've already gone twice — once for a media preview and again for last night's opening night with a party of six. So here's what you get for that $65, a menu that's an outstanding dining experience as well as a deal.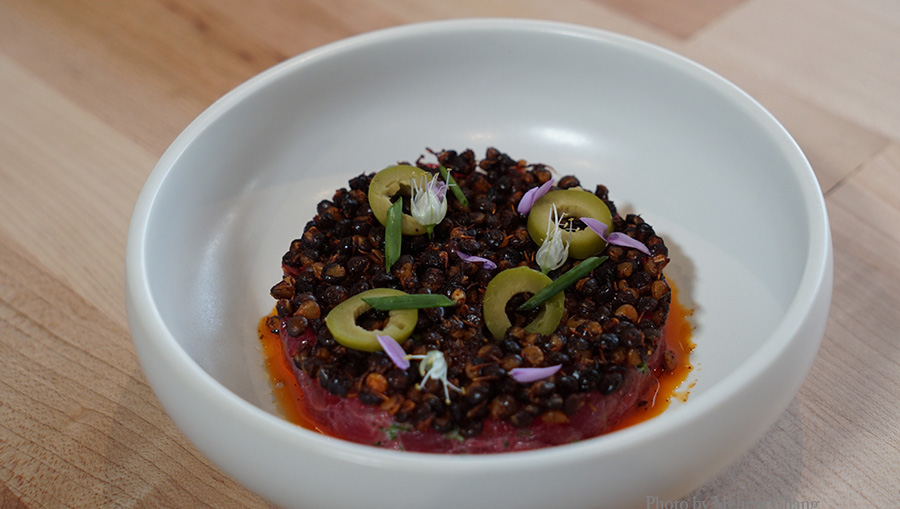 This unique presentation of ahi tartare showcases the fresh fish available to us here, but with flavors and textures from beyond our shores. The crunchy sprouted lentils are a wonderful surprise.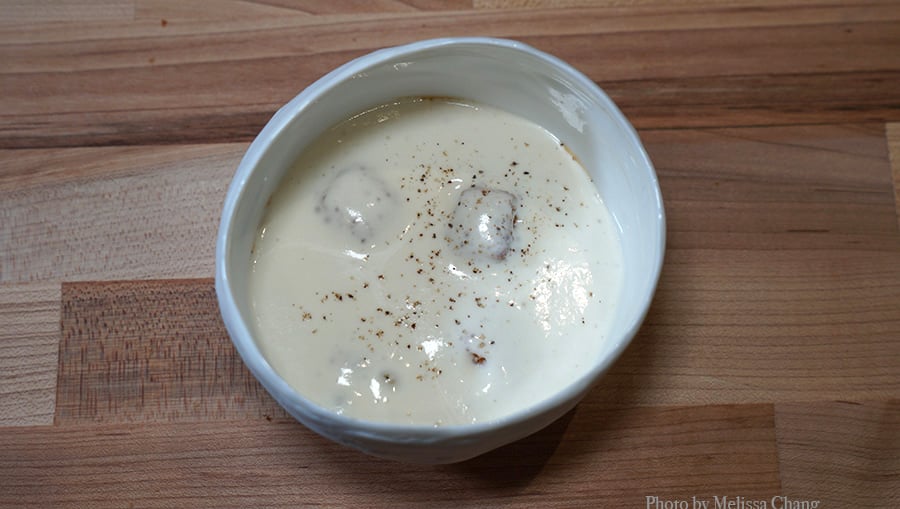 This isn't much to look at, but you'll never forget it. This rich dish is a nod to a dish Kajioka and Webb made at Vintage cave, every fluffy mouthful filled with with intense rich and savory flavors complemented by delicate crunchiness. Webb feels this new incarnation is even better than the original. I'm not arguing.
This dish is good on its own, but if you order the housemade whole wheat loaf (you can see it in my escargot photo) for $5 more, you can scrape every last bit from the bottom of the bowl.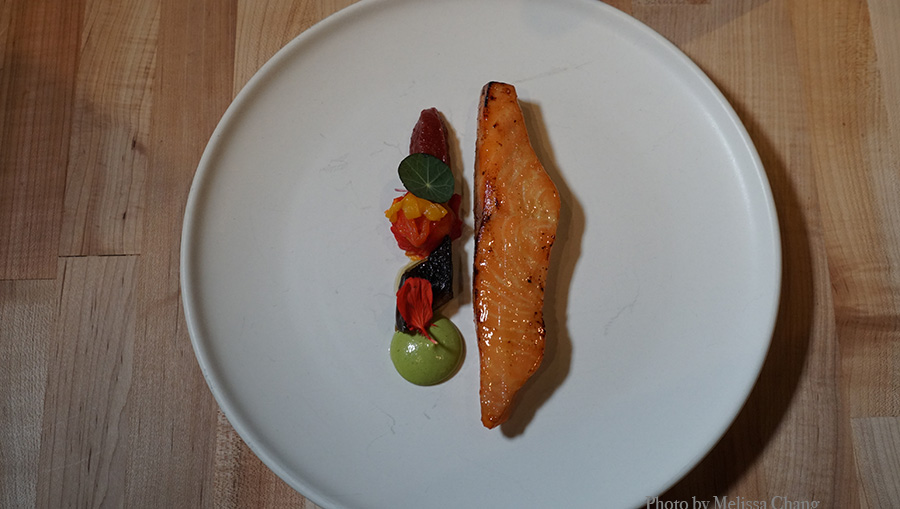 The salmon is so moist, you can practically drink it — the flesh just falls apart on your fork. You're advised to eat each bite with the accompaniments on the side, but work your way up the plate. The dollop of calamansi is probably my favorite. The rest of the accompaniments are a deconstructed ratatouille: eggplant, bell pepper and tomato, making for a tasty progression of flavors as you work your way up.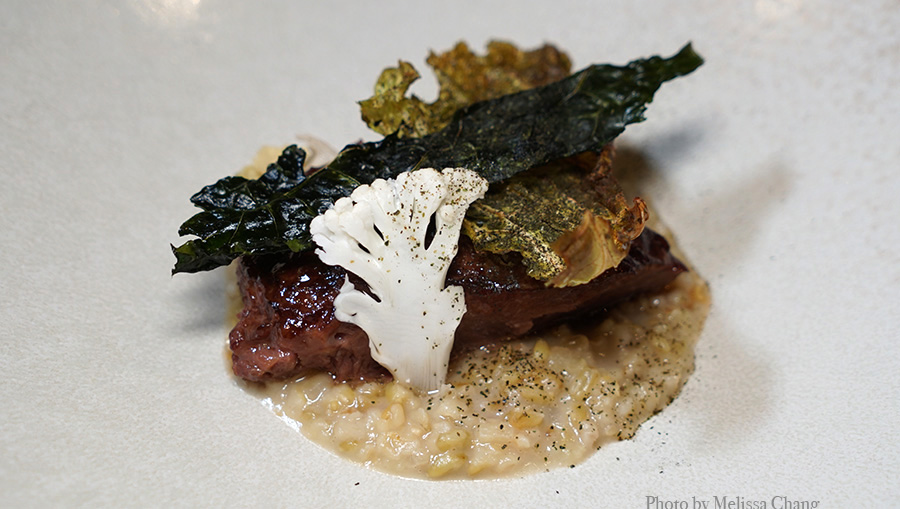 The wagyu beef cheek is served with a fork and knife, but it's so moist and tender that we joked that you only need the knife to shovel more of it onto your fork. It's rich and beefy, but the subtle acidity from the cauliflower helps to cut and balance it.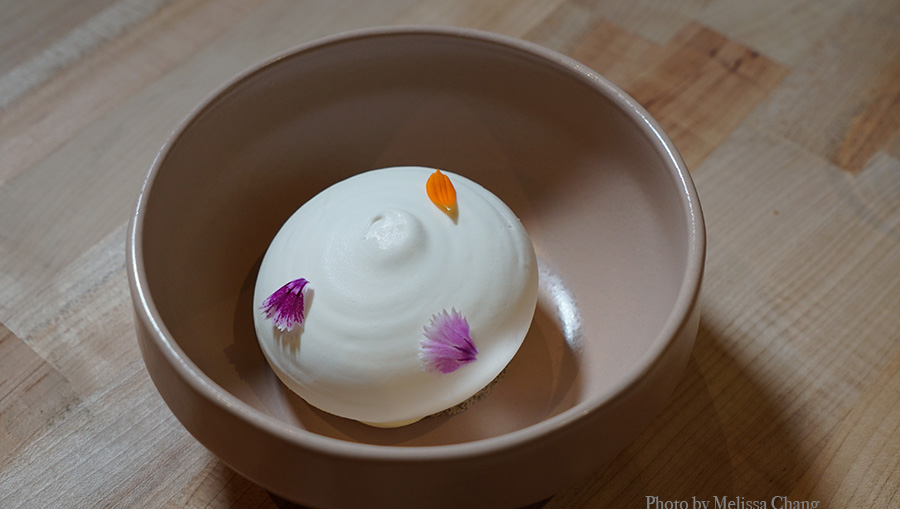 After such a crescendo to the meal, the only way you can end it is with Beverly Luk's light meringue atop a buckwheat sponge, filled with yogurt cream and yuzu gelee. It's full of refreshing flavors, but it's all very light, so you end the evening feeling like your palate has been lifted.
Here are some items we had that are supplements to the menu: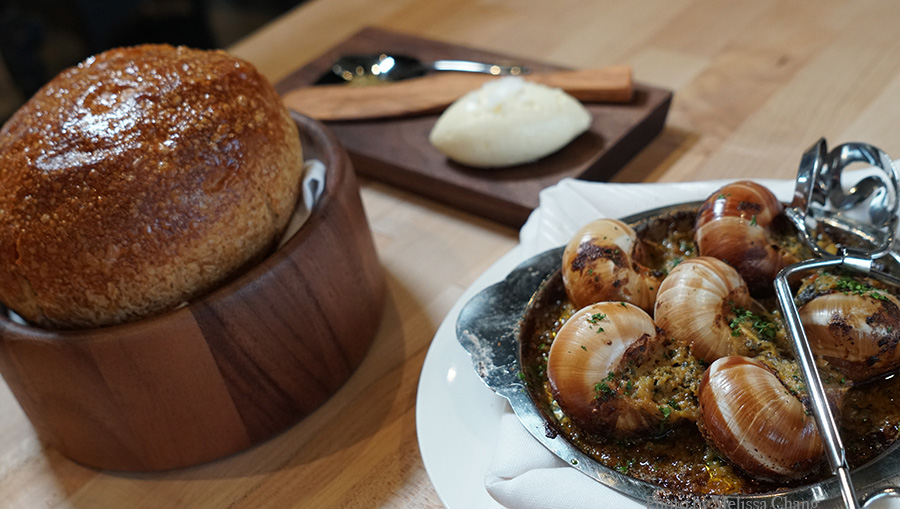 I highly recommend the escargot supplement, which is automatically served with the lovely, steaming hot whole wheat loaf, butter with flaked salt, and marjoram spice crunch. Instead of the usual garlic butter, the escargot is prepared with vadouvan, a French version of curry that's blended with shallots. My only disappointment with this dish is that there isn't enough of that amazing escargot butter to mop with the bread! We pretty much scrubbed the metal plate clean.
The foie gras torchon comes with two brioche toast wedges, which we split with our party of six to just get a taste. Trust me, the prix fixe is so filling, just getting that taste is enough — even if you love foie, as I do. The torchon is draped with a strawberry gelee and accompanied by fresh, seasonal lychee, which is a complementary flavor that you can only get in Hawaii. (Of course, that fruit will change with the seasons.)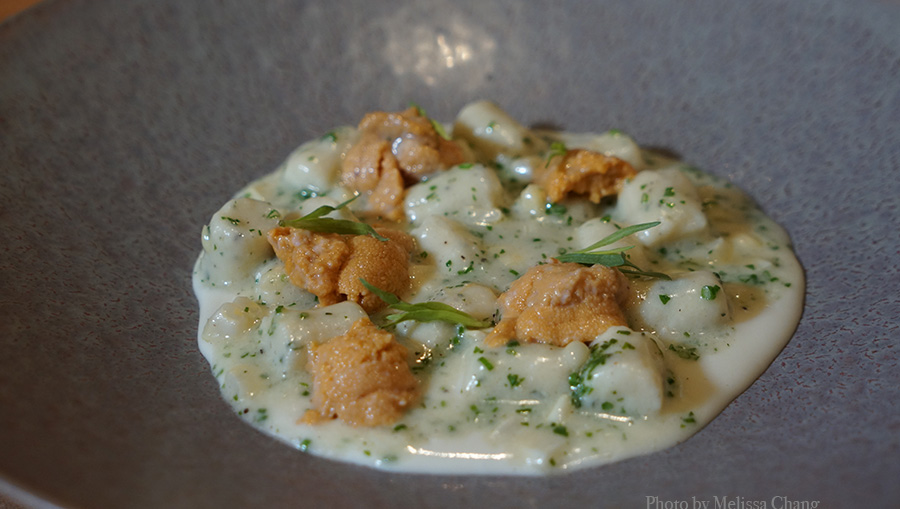 Another dish that you can use to mop with the bread is the gnocchi supplement, made Parisian-style with flour and egg, then served in a parmesan sauce and topped with fresh uni. Yes, this tastes as luxurious as it sounds … the gnocchi can stand on its own, but the uni takes it over the top.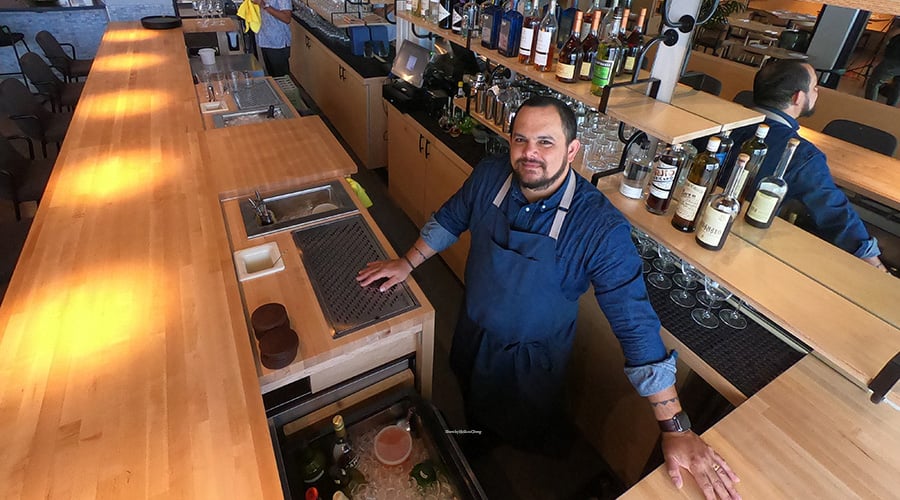 At the moment, Miro Kaimuki is reservations only, but once things get back to normal (or close to normal), they will take walk-ins. Seating at the bar is allowed, with spacing. They plan to have an a la carte menu for the bar, as well. Who wouldn't want to swing by, just to enjoy one of Justin Park's handcrafted cocktails?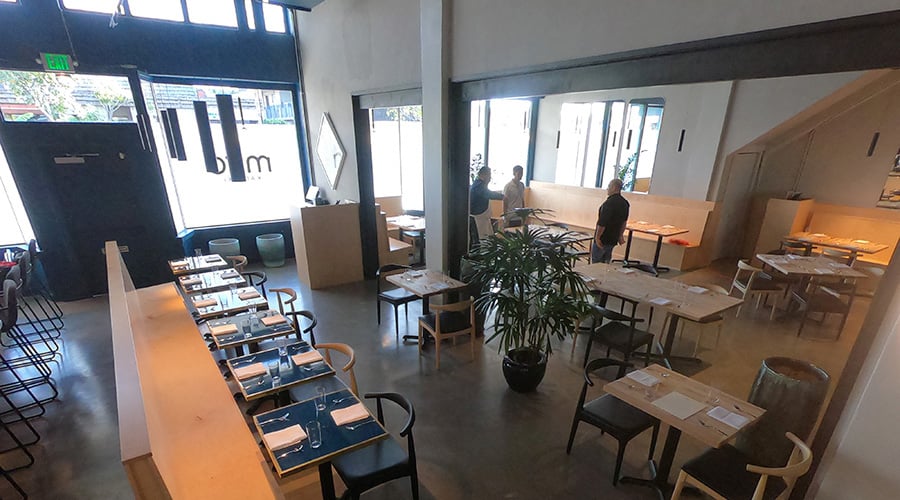 So was it worth the $65? We left stuffed, even the guys in my party last night. Keep in mind that although we ordered the foie gras torchon and the escargot, we split it six ways, so only got a bite. You'll get full even without the supplements. I recommend you order the bread for $5, which splits four ways. (We ordered two, plus we got one with the escargot.) The food and the very special service is easily worth twice as much.
The set menu will change about once a month, and they will use seasonal ingredients to keep things fresh.
Miro Kaimuki is open Wednesday through Sunday from 5 to 10 p.m. Parking is in the back or on the street.
If you've made it this far, I just wanted to share a few concentric circles expressed by Miro Kaimuki. As mentioned, Webb worked for Kajioka at Vintage Cave. Kajioka had worked for Lahlou at Aziza in San Francisco. And I had actually met Kajioka for the first time at Aziza in 2011. I had gone there for dinner with some California food bloggers, and someone from Hawaii tweeted that I should say hi to him. I didn't even know who he was! Here we are, nine years later, and although it blows my mind to see how his career has progressed, it's not unexpected. So I'll raise my Blue Bottle coffee mug to cheer Kajioka as I plan my next dinner at Miro Kaimuki.
Miro Kaimuki
3446 Waialae Ave.
734-2737