The Cookie Lady's Cookies Will Not Be Elevated
A new owner brings The Cookie Lady's crisp and light cookies, born in Waipahu, to 808 Center in Honolulu.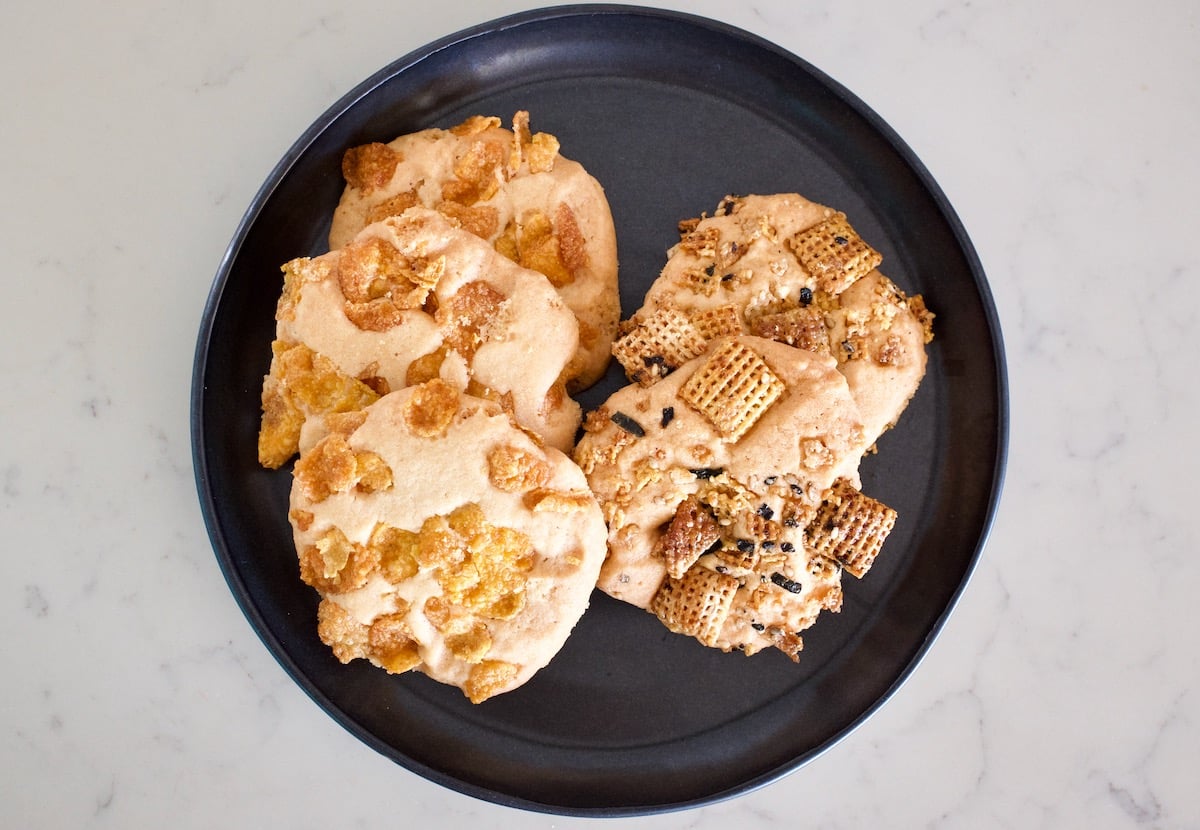 The first time Maiko Ushijima saw The Cookie Lady's cookies, she thought, what a strange omiyage. She was living in Japan at the time and a friend had brought her back the lemon cookies made in Waipahu. "I'm so used to the other type of cookie, like Honolulu Cookie Company, all pristine and nice and all flowers," she says through a translator. Whereas The Cookie Lady's cookies were packaged in bright red plastic bags with a clearly hand drawn cartoon of a lady with anime-big eyes and holding a whisk and spoon. But then Ushijima ate one and thought, "oh my god, this is so good. I was shocked at how tasty it was."
Me too. I happened upon The Cookie Lady's new shop on the third floor of 808 Center when I still hadn't recovered my sense of smell from Covid. The shop is new and bright and open, but the packaging is craft fair material. Like Ushijima, I thought, how weird. And also, the cookies looked like the crispy kind, the kind I normally ignore in favor of soft and chewy cookies. But at the time, with my palate severely diminished, I was craving something crisp and more textural, and so I bought the crispiest of the crisp: cookies topped with furikake Chex mix and those sprinkled with whole cornflakes. And again, like Ushijima, I loved them—delicate enough to almost dissolve on the tongue while also providing a satisfying snap. And then I went back a few weeks later, this time able to taste them fully (lightly sweet and the furikake one just a little salty), and now I can't stop eating them. (Really: I just ate five while typing this.) The Cookie Lady's treats are new to me, but not to plenty of locals, including my colleague Thomas, who says "at one point in my junior professional life, I took TCL cookies as payment."
SEE ALSO: Legit Banh Mi Lands on Top Floor of 808 Center in Honolulu
Ushijima moved to Hawai'i around 2017—nothing to do with cookies, but with her husband for his job. She would drive to Waipahu to buy the treats. And then one day, during the pandemic lockdown, she looked online and discovered The Cookie Lady shop had closed. She might have panicked a little. She tracked down Dale Muramoto, the woman who started the bakery in 2009 with her family's recipes, and found out Muramoto was selling. There were a few other potential buyers, but Ushijima promised, "I want to keep it the way it is. I don't want to dress it up, I don't want to elevate it. I don't want to change the recipe. I'm not approaching you to open a store in Tokyo. I want to keep it as it is. I love the taste and the packaging. I love everything about it." Muramoto saw herself in Ushijima. She sold her the business, and she's still a close advisor. And ok, but Ushijima did change a little: she introduced liliko'i and matcha flavored cookies in addition to the original flavors including mochi crunch, chocolate chip and mac nut, sprinkles, and peanut butter chocolate. But only with Muramoto's blessing.
"She's always watching over the flavors," Ushijima says. "We're just going to keep the style going to the next generation."
$10.35 for 5 ounce package, $4.66 for mini pack. Show your Hawai'i ID for a 10% kama'aina discount. 808 Sheridan Street, Suite 309C, cookieladyhawaii.com.