Tableside Temaki and Oshizushi Arrive at Upstairs Waikīkī
You have until June 1 to book a 10-course omakase temaki dinner for a discounted $65—if you can snag a seat.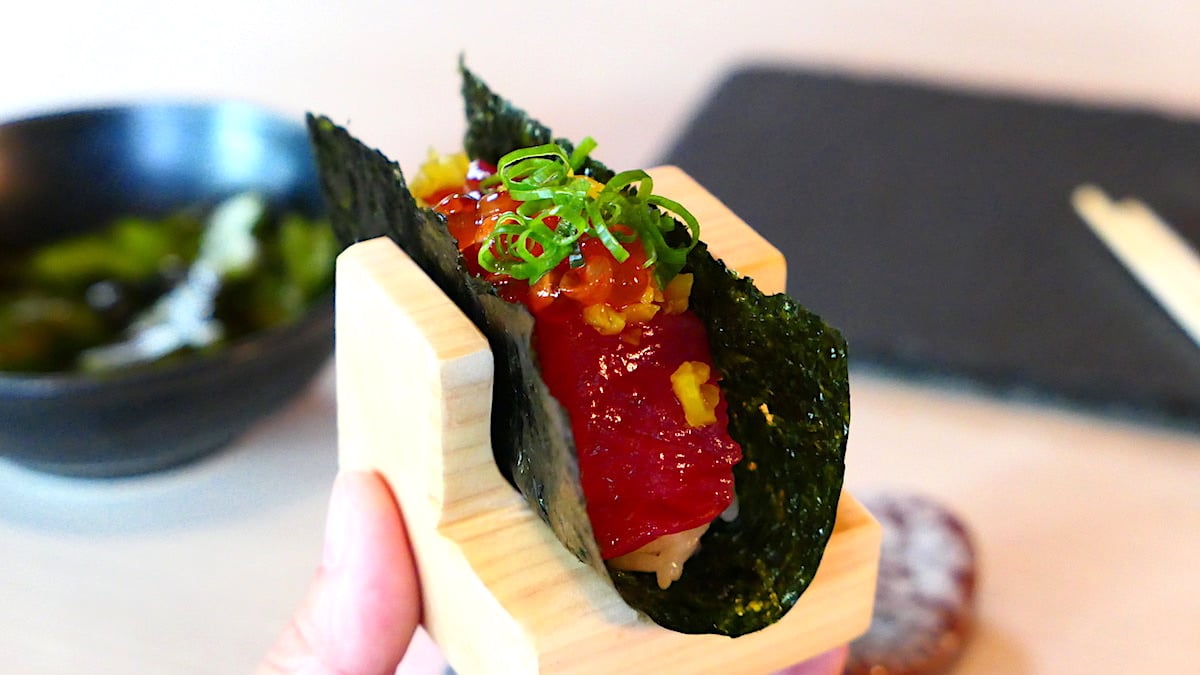 Update: On April 21 Upstairs Waikīkī announced that because of overwhelming demand, it stopped accepting requests for temaki omakase reservations in May; it's still taking reservations for June and beyond.
Good sushi is always exciting. When it's as delectable as it is aesthetic, it's hugely exciting. Scrolling on Instagram one day, I came across a photo of carefully arranged cuts of fish, ikura and pops of green vegetables neatly pressed atop rice. The creation had a feeling of stained glass, its composition beautifully organic. Thanks to @stars_beards_and_diamonds, I found its creator: a Maryland-born sushi chef who trained at Waikīkī's Sushi Sho and is bringing this oshizushi and tableside temaki sushi to Upstairs Waikīkī.
I have a million questions for Angie Lee. Long story short, her fascination with sushi took her to pre-pandemic Tokyo, where she landed a job at Hakkoku in Ginza. The six-seat sushi counter had recently opened after chef-owner Hiroyuki Sato earned a Michelin star at Sushi Tokami. She mentioned this afterward to Sushi Sho's Keiji Nakazawa when she ate at his counter; according to Lee, the sushi master immediately invited her to work for him. She started there in January 2021 and when the chef who prepared Sushi Sho's signature bara chirashi at Upstairs Waikīkī left that restaurant, Lee was tapped to take his place.
---
SEE ALSO: Get a Taste of Sushi Master Keiji Nakazawa's Bara Chirashi for 45 Dollars at Upstairs Waikīkī
---
This is where it gets exciting: Lee is doing much more than Edomae-style bara chirashi at Upstairs. Leaning into her interest in the style of casual temaki served at places like Nami Nori in New York City, she's debuting a tableside omakase temaki menu at Upstairs from tomorrow, April 21. The 10-course meal is available from Thursday to Sunday nights at 5:30 or 7:30 by reservation only. It's priced at a discounted $65 until June 1, when it goes to $85. Also debuting is Lee's eight-piece oshizushi—more on that later.
Lee invited me to sample her temaki over Easter weekend. She arrives tableside with a custom-made temaki cart, assembling each open-style hand roll with precision. My favorites include the 'Ahi Taku Maki, lush ruby red slices atop warm sushi rice sprinkled with marinated ikura, takuan and green onion. A light gloss of shoyu ties the layers together. The sweet 'ahi melts in my mouth, pops of mildly sweet and briny ikura add another dimension, and crunchy takuan completes the story along with a grassy finish of green onion. Another standout is hamachi marinated in calamansi ponzu and topped with a chiffonade of shiso—sometimes shiso can be overpowering but Lee creates a balance that is eye-widening. Another memory: Sweet, creamy lobes of Hokkaido uni are topped with a simple sprinkling of flaky salt. I close my eyes as it permeates my senses.
Two more favorites are the Not So Spicy 'Ahi, which pairs the locally caught fish with a mélange of different spices and the vegetal snap of fresh, seeded jalapeño; and the tara or cod maki. For this Lee uses California wild-caught cod belly, which explains its relative leanness. The ikejime method of paralyzing and blood-letting gives the flesh a fresh, firm texture. The cod is braised in a marinade at a low temperature, then removed intact and torched aburi-style before serving. The balance between the tender flesh, umami-rich sauce and smoky flavor is transcendent.
Lee sampled at least 11 different nori and went with the one whose crunch she liked best. She lightly toasts each sheet, the aromas putting me in a mild trance. In between temaki courses is a marinated Waimānalo TKG egg. I stand in line for an hour and a half every Wednesday for these eggs, so to have one set before me like a precious orange gem is divine. The rich yolk is bathed in a syrupy-sweet soy-based sauce along with a tiny bundle of green onion.
Now back to the oshizushi. It's a technique that originated over 400 years ago in the Kansai region around Osaka. Traditionally, sushi rice is compressed in a special box with a top layer of shiso leaf and vinegar-cured saba or mackerel. The sushi is sliced into perfect rectangles that can be served on a platter, nestled in a bento box or laid in a cradle of nori.
Lee's style of oshizushi grew out of her fascination with the idea, though she wondered if "there was a way to make it a bit prettier." She gives us two: a box of spicy salmon oshizushi as well as a spicy 'ahi style. The toppings are similar, with slight differences. Local 'ahi is treated zuke style—hot water is poured onto fish which is marinated in soy sauce, removed and marinated again. The result is meaty and luscious: a concentration of 'ahi flavor, a lingering note of soft saltiness and a transformation of the fish's texture. Lee includes less traditional toppings like crab, jalapeño, avocado, cucumber, King salmon, marinated ikura and micro herbs. Her oshizushi is layered with the likes of tobiko, more salmon and 'ahi, and for the spicy 'ahi version, chopped and seeded jalapeños. The vinegar in the sushi rice is more pronounced and the texture of each grain is more toothsome. After a few hours the flavors meld together and become even more enjoyable. Lee's eight-piece oshizushi will be available in coming weeks at Upstairs.
---
SEE ALSO: Upstairs Hawai'i Pairs Two of Japan's Best Under One Roof
---
Sushi aficionados will tell you that Lee's status as a female sushi protégé is impressive. And if her style of sushi is a little bit of Edomae melded with traditional fresh kaisen style and tied together with a whimsical spirit, I'm so here for it.
Temaki omakase available by reservation only from Thursday to Sunday at 5:30 or 7:30 p.m. Reserve by emailing Tsukimaki@upstairshawaii.com, 280 Beach Walk, (808) 922-1500, upstairshawaii.com, @tsuki__maki.