Get a Taste of Sushi Master Keiji Nakazawa's Bara Chirashi for 45 Dollars at Upstairs Waikīkī
The rich mix of seafood is normally only available in a $300 omakase at Sushi Sho.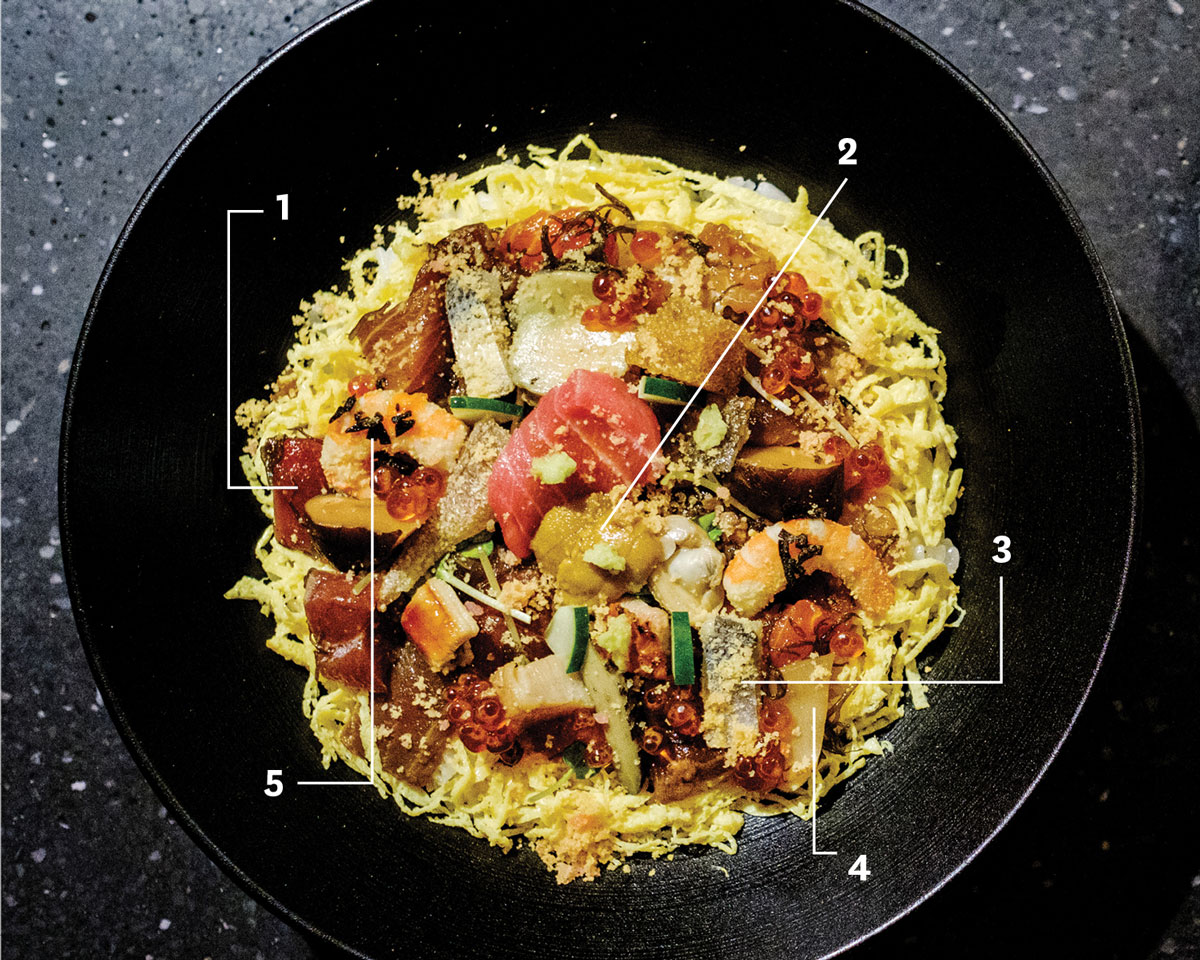 Update: Upstairs Waikīkī closed in late 2021, but as of New Year's 2023 the bara chirashi was still available as a takeout order for $40 at Sushi Sho.
Nestled in a simple black dish is a showcase of Edomae sushi, made using techniques that predate today's practice of serving fresh seafood atop sushi rice. In the world of Edomae, chefs deploy traditional techniques—including fermentation, pickling, curing—to coax optimal flavors from each item. In this realm, Sushi Sho's Keiji Nakazawa is king. Here's a closer look at some of his techniques.
1. Bluefin Tuna Akami Zuke
The lean part of the tuna is aged in ice for five days, heightening its acidity and umami, then marinated in soy sauce. Drawing out the acidity, or sanmi, of bluefin akami makes it a harmonious complement to vinegared sushi rice.
2. Uni
"Uni tastes different depending on season, weather, place and type. We choose the best and then decide which Edomae technique to use," Nakazawa says. "For example, Murasaki uni from Santa Barbara in the cold season—its sweetness is brought out best when it is steamed with kombu."
3. Kohada (gizzard fish)
The silver-skinned fish is cured with salt for one hour to extract moisture, then marinated in vinegar and aged for a week. "Kohada does not taste good when it's raw, boiled or grilled, but its umami fully emerges when we treat it properly with salt and vinegar, adjusting the amounts for the fish's size and fat content," Nakazawa says. "Kohada transforms into an exquisite ingredient only by using Edomae techniques."
SEE ALSO: Upstairs Hawai'i Pairs Two of Japan's Best Under One Roof
4. Kona Abalone
Steamed for three hours in cherrystone clam stock, "Kona abalone becomes very tender and matches better with shari (vinegar rice) when it's steamed," Nakazawa says. "By steaming with a clam stock, we add umami."
5. Local Shrimp
It's boiled then marinated in su-oboro, made when ground shrimp, egg yolks and vinegar are cooked slowly over low heat for well over an hour until all that's left is a tangy, savory powder. This labor-intensive technique is increasingly rare, even in Edomae circles.
$45 for dine-in at Upstairs Waikīkī, 280 Beachwalk, (808) 922-1500, upstairshawaii.com, @upstairshawaii; $40 for takeout at Sushi Sho, 383 Kalaimoku St., exploretock.com/sushisho, @sushishowaikiki
SEE ALSO: 6 Takeout Places for Maximalist to Budget-Friendly Chirashi in Honolulu