Scents of Place Amlou's Home Goods Collection Imbues Your Abode with Aromas That Take Us to North Africa
As the fall season takes hold, we're craving warm, spicy scents that hug us in our cozy living spaces. Enter Amlou.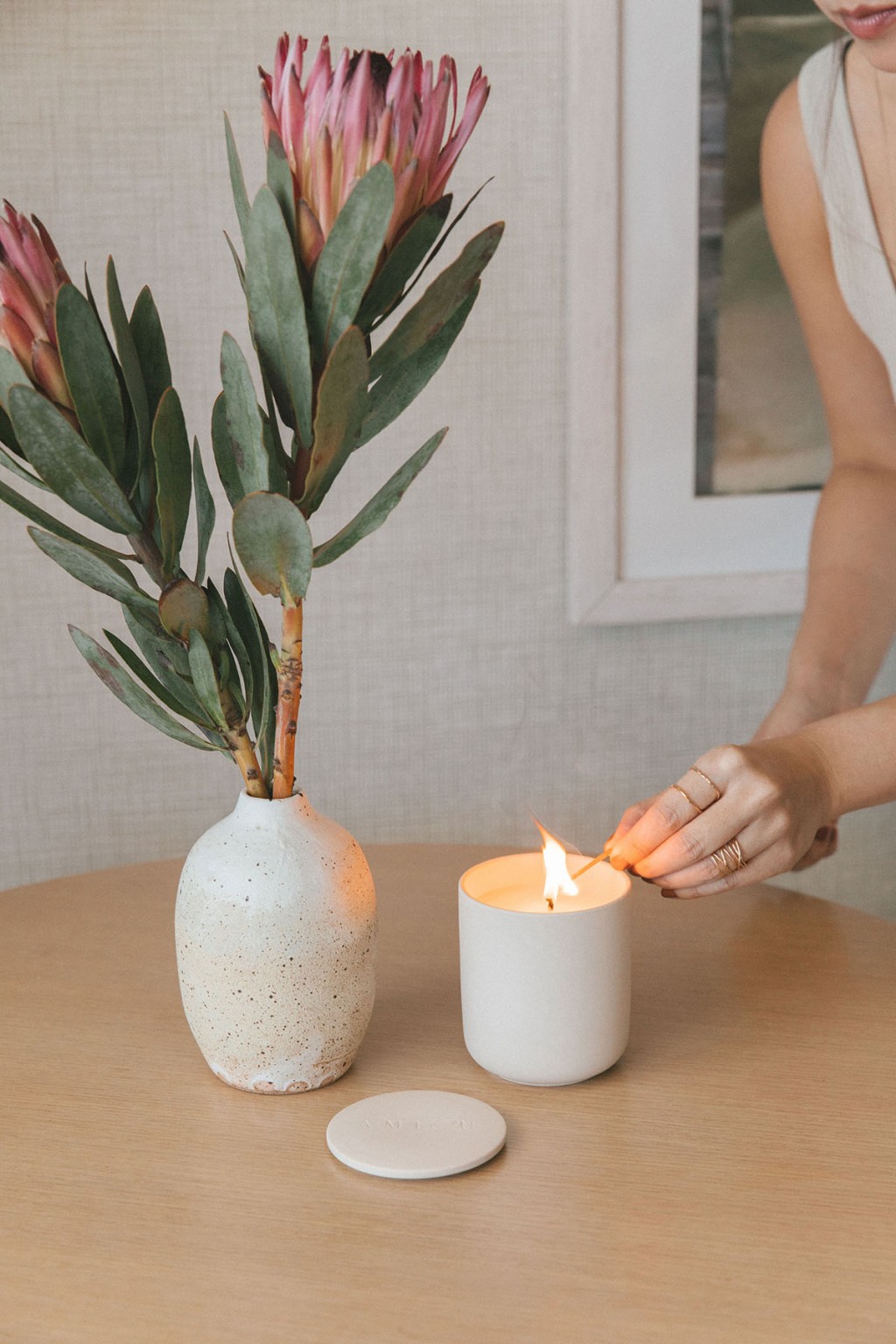 "When I visited Morocco, I was amazed by its rich culture and heritage. Its almond butter, amlou, was delicious. I was told the version I had took hours to grind by hand and required precious ingredients. To put so much passion and effort into something that can be enjoyed by everyone, it was inspiring," says Jennifer Kim.
Kim returned from that trip with amlou, of course, and a dream that she would create something with the same values and quality. Flash-forward two years: The pandemic is here and workers are being laid off, including Kim. "Finding tranquility at home during that time became my goal," says Kim. Kindred spirit Christina Takahashi, who owns Lava Massage and Day Spa, was impressed with her friend's fresh ideas. Last year, the duo (who share the same birthday) became co-owners of Amlou, launching a line of home goods designed to nurture a peaceful place and state of mind.
Amlou's bestsellers are the Desert Bloom and Medina candles. Kim suggests lighting the Medina right before you dip into a bath; the rose, bergamot and blue spruce notes release a calming, woodsy scent. And the Desert Bloom has an energizing aromatic aura of amber, mandarin and patchouli that's the perfect accompaniment to a glowy sunrise. "We make all the self-care products ourselves," Kim says. "Christina has years of experience pouring the candles and soaps by hand."
The grapefruit soap blends a moisturizing mix of goat milk, shea butter and coconut oil with French green clay and mint leaves. Expect a silky lather, a nourishing finish and a slight citrusy scent that lingers. The orange blossom and Moroccan mint hand sanitizers contain 70% alcohol, but also rich argan oil to combat dryness.
The partners' commitment to #womensupportingwomen is evident in their work with other female-led businesses and creatives. "Our masks are made by an expert seamstress—a friend whose job was put on hold due to the pandemic. And artist Merliza Yadao creates our beautiful hand-
woven coasters," says Kim.
Plans include expanding their collection with products inspired by future travels and getting into brick-and-mortars (most of their business is from online sales). But with their original message of embracing calmness, there's no rush. When we speak to Kim, she recalls her serene morning eating amlou toast; she's down to her last spoonfuls of the Moroccan treat. But at least now, she and Wang have their own special Amlou to share.