Sassy Mini Cars and Trucks Spotted in Honolulu
We can't help but stare at these souped-up versions of micro vehicles.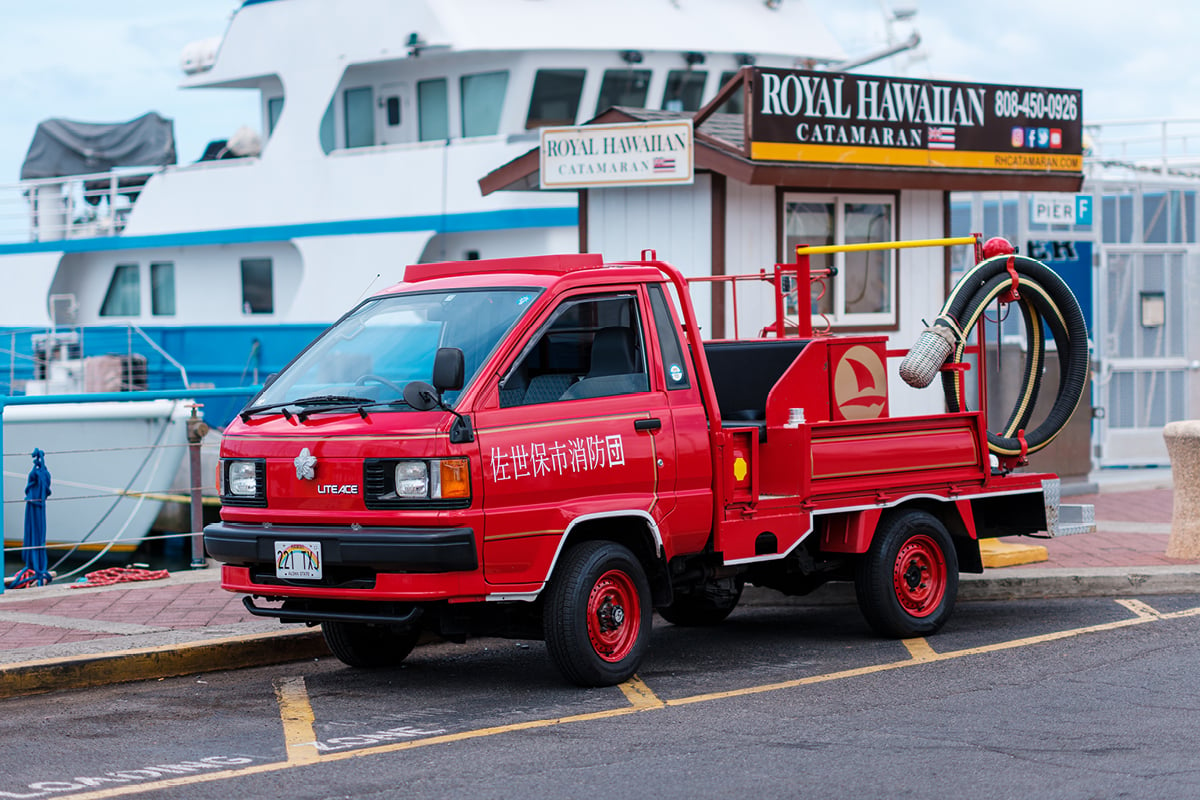 A micro car or truck on the road used to be the object of fascination, drawing stares, "oohs" and "so cute" comments. The hype has since ramped down with so many of these minis now zipping around the city, but souped-up versions are having their moment. Here are three compact cruisers that come in clutch on appearance.
1994 Toyota Liteace Fire Truck
Shane Hiroshi Gibler, Co-owns Royal Hawaiian Catamaran
"I had an early love of unique-looking cars—my dad had a part in that," Gibler says. "So, when I saw this truck, and it had a Sasebo, Nagasaki logo on it, the city I grew up in, I had to have it." He also crushed on the truck's older-meets-out-of-the-ordinary aesthetic. "The windup hose [still on the truck] used to be filled with water from the rice paddy fields to put out fires. The extension on the tail of the truck, where the medical stretcher was stored, is now used as extra seating for tailgating at the beach," he explains. A cushy love seat in the bed is the perfect spot for friends when cruising town beach spots. Gibler's commute from Kaka'ako to Kewalo for work is short but, "I always drive my truck. And, in that short distance, people still flag me down at stoplights, throw out compliments and ask questions. It can be a distraction, but I love it."
---
1995 Honda Street van
Aaron Rideout, Owns JDM Imports Hawai'i
Being the owner of the first business in Hawai'i to legally bring in mini cars and vans from Japan, Rideout has his pick of the lot. One of his selects is an automatic (rarer than you think) Honda Street van that he gussied up with 14-inch rims and covered with a giant rose-gold vinyl sticker. "You have to be pretty secure with your manhood to drive a pink mini car," Rideout admits, laughing. He owns it along with six other vehicles that range from speedy sports cars to slow, slothlike wheels that are more for show. "This four-seater is a not-in-a-hurry car. It's nearly impossible to get a speeding ticket in this van," he says, "but the back seats fold down completely flat, and you're left with a spacious area big enough to fit a mattress comfortably." Eventually, he'd like to put in air suspension and actually paint the car that (manly) rosy hue.
---
1994 Subaru Sambar Kei Van
Marc Contee, Firefighter
Easy on gas—that's the main reason Contee got a minivan. Fair enough, with fuel prices burning holes in our pockets; however, the charming, already-accessorized style of the Subaru Sambar Kei Van did steer his decision to purchase the vehicle. "I've always loved the VW look; it's classic and fun at the same time," he says. The makeover is a nod to VW's love van. Circular headlights, classic chrome grill (sans the VW symbol), two-tone body paint and spacious interior echo the laid-back surfer lifestyle of the '70s. Contee says he drives it to work every day and still keeps the shiny exterior sparkling. "It's way easier to keep clean and wash than my GMC." And, of course, he has a fire extinguisher behind the driver's seat. "My friend told me these cars have a risk of engine fires. Plus, if there's ever a fire by me, I have it."
Mini cars need to be at least 25 years old to be imported and purchased in the U.S.