Quiora Waikīkī's $29 Lunch Set Comes with a Ritzy Rooftop View
On the seventh floor of the Ritz-Carlton Waikīkī, an unexpected deal in an unexpected setting.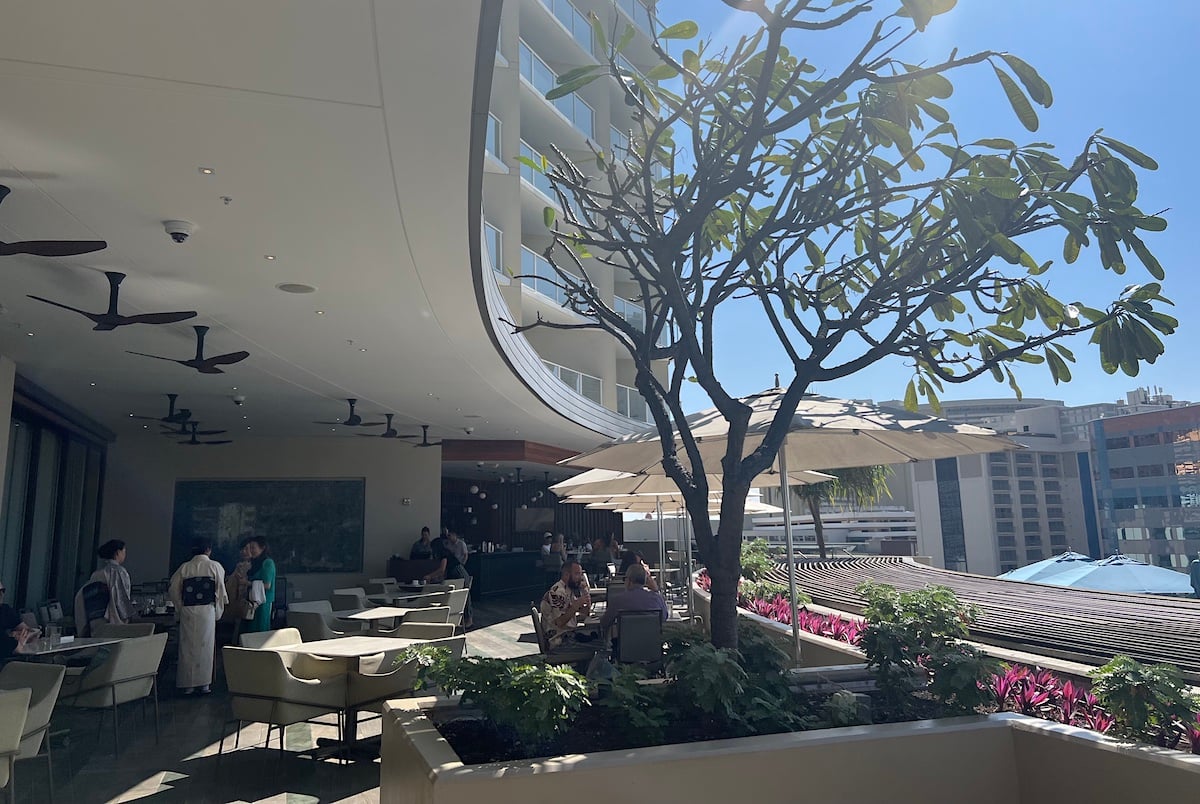 Two of Waikīkī's best-kept secrets are on the seventh floor of the Ritz-Carlton: a three-course lunch for $29, and a soul-soothing view across the treetops to the sea. Both are made more delicious by the improbability of it all—an affordable lunch at one of Waikīkī's toniest properties, and the breezy hush, almost like an open-air cocoon, of being this high above the tourist mecca.
Before I discovered the lunches, my favorite time at Quiora was always pau hana. At the end of the day the view is prettiest: sky glowing pink and peachy over the Fort DeRussy palms, then darkness setting off twinkles of light in the high-rises framing the view. The lunch hour has its own merits: prix fixe menus with starters of soup or salad, three entrée choices and dessert.
I've found that while the soups are standard (currently Italian wedding soup, last time minestrone), salads can be a highlight. The panzanella salad is all texture and juiciness from local cherry tomatoes, cucumber and focaccia cubes crunchy from an olive oil grilling, dotted with the creamy tang of local goat cheese. The grilled fish is my go-to entrée—this month it's hebi or spearfish dressed in a buttery limoncello-inspired beurre blanc made with Buddha's hand from the leeward side.
---
SEE ALSO: Worth the Splurge: Royal Lobster Rolls in Waikīkī
---
If someone is ordering the meatless tomato sauce spaghetti I can't resist the big, pliant Big Island veal meatball that crowns it as an add-on (an $11 surcharge). Other entrée options are a mushroom flatbread and a red wine-braised short rib on truffle polenta($20 more).
Desserts can be hit or miss. The current one is a hit: the lightest lychee panna cotta, topped with a fresh berry compote and a lemony streusel.
---
SEE ALSO: Worth the Splurge: $32 Grill-Your-Own Lunch Sets at Han no Daidokoro
---
It's best to reserve ahead at the website link below. Quiora's regular lunch menu is available at the same time, with starters and mains ranging from $15 to $35. And valet parking at the Ritz-Carlton costs only a tip if you validate your ticket at the restaurant.
383 Kalaimoku St., (808) 729-9757, quiorawaikiki.com, @quiorawaikiki