Worth the Splurge: $32 Grill-Your-Own Lunch Sets at Han no Daidokoro
Complete meals at the posh Kaka'ako yakiniku feature beef tongue or tongue-and-washugyu combos daily.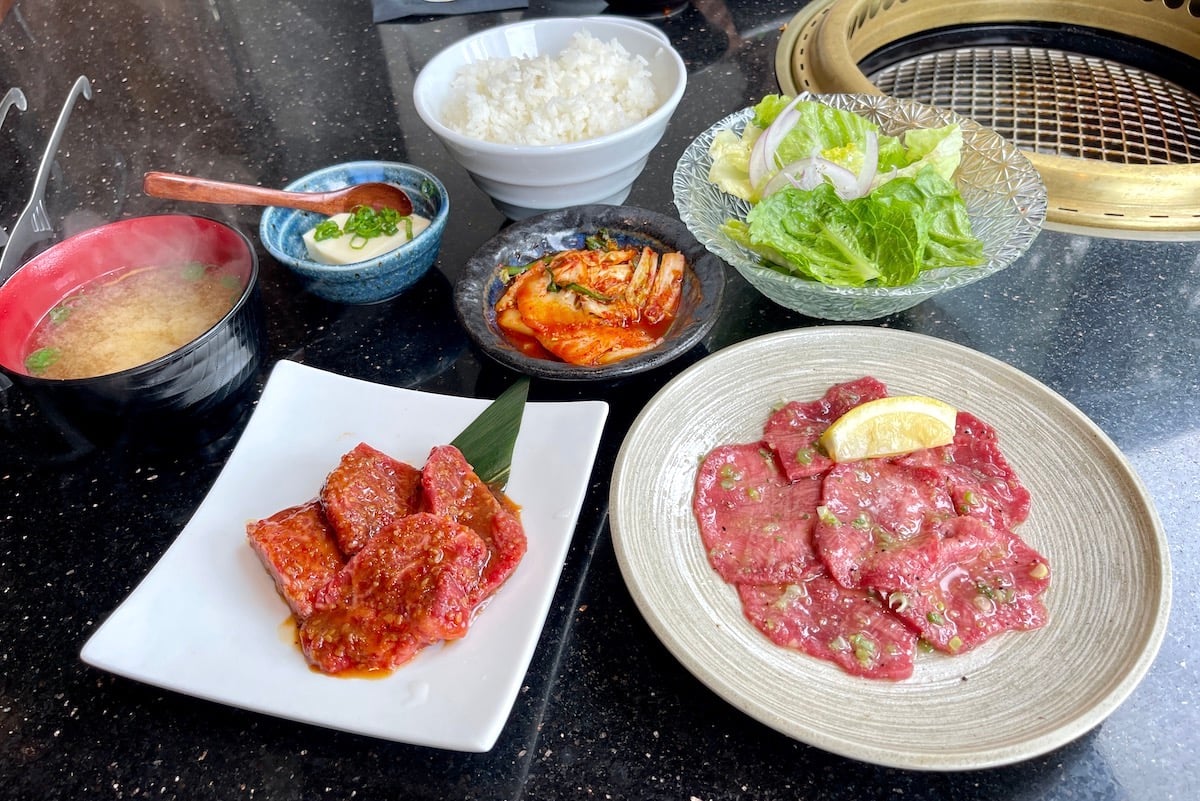 Update: As of late April 2023, Han no Daidokoro had discontinued the $29 and $32 lunch sets.
For the food-obsessed, the mere anticipation of a meal sparks a celebratory frame of mind. Roadside tacos with a bestie, soba and sushi enjoyed solo, barefoot plate lunch after the beach—you get it. Personally, I especially love a treat yo-self lunch moment. Between work and life, ho-hum lunches become the norm, so it feels extra-extra to give myself up to the pleasure of a nice lunch, preferably one with good conversation and no time limit.
A recent discovery is a perfect case in point: Han no Daidokoro lunch sets of $29 for beef tongue and $32 for beef tongue and washugyu. Both come with rice, a side salad, kim chee, miso soup and a small rotating appetizer. I had to ask the waiter if I was reading the menu correctly. I am a serious and devoted lover of all things beef tongue and juicy, fat-streaked cuts of beef. And yes, they come with all the things.
---
SEE ALSO: Worth the Splurge: Royal Lobster Rolls in Waikīkī
---
Other lunch sets at the Kaka'ako yakiniku specialist feature Miyazaki wagyu and washugyu for $49 to $89. You can get a mix of tenderloin cuts or assorted marinated cuts—all of which you cook yourself—or cooked sirloin or bibimbap.
At noon on a weekday, one table is occupied by a group of ladies lunching and another by a large party of young professionals. The vibe is posh and casual. We score a window-side table and settle in with some hot tea. Our server pours some house tare or sweet soy for dipping our soon-to-be-grilled meats. Then comes a chunk of white beef fat to grease the hot grill with. The smell of the melting tallow makes my mouth water, so I go for the kim chee. It's freshly made each day, bright and crunchy with a slight sweetness. Today's appetizer is egg tofu; it sits in a shallow pool of yummy dashi, its custard texture best enjoyed in tiny bites.
When plates arrive holding portions of marinated washugyu and thinly sliced tongue slathered in sesame oil and green onion, the ritual begins. Slice by slice, we lay the meat on the smoking grill, watching their edges curl while fat renders off as they cook. Pro tip: Ask for a side of wasabi and fold bits of it into the cooked meat before dunking in tare—it's not the powdered stuff, but chunky, slightly fruity wasabi made from different parts of the plant, and it's a very good thing. The beef tongue is tender and fresh, a nice chew giving way to a light fattiness. The thick slices of washugyu are divine, perfectly charred with deep, beefy flavor and marbling that melts in your mouth.
Ping-ponging around the table engages us in a delightful rhythm of textures and flavors. It's the kind of meal that invites you to take your time, pausing between bites as the next slices cook and marveling at the tasty time you're having.
---
SEE ALSO: Worth the Splurge: Restaurant Suntory's $42 Seasonal Kaiseki Lunch
---
Of course you can also order extra stuff—one time I got the beef tartare with egg yolk, another time a single nigiri sushi topped with Miyazaki wagyu, and both were delicious. But if I pace myself, one lunch set is just the right amount of food. I'm especially fond of the cup of hot corn tea served at the end. The quality of the Han no Daidokoro lunch sets at this price is hard to beat. I've been back twice for them—and I'm booking another reservation as I write this.
Lunch daily from 11:30 a.m. to 3 p.m., dinner from 5 to 10 p.m., 1108 Auahi St. #150, (808) 517-3229, @hannodaidokoro