Pono Potions Opens a Chic Coffee Shop and Boutique in Honolulu Chinatown
Coffees and lemonades flavored with Pono Potions' local syrups are in their own cafe on Smith Street.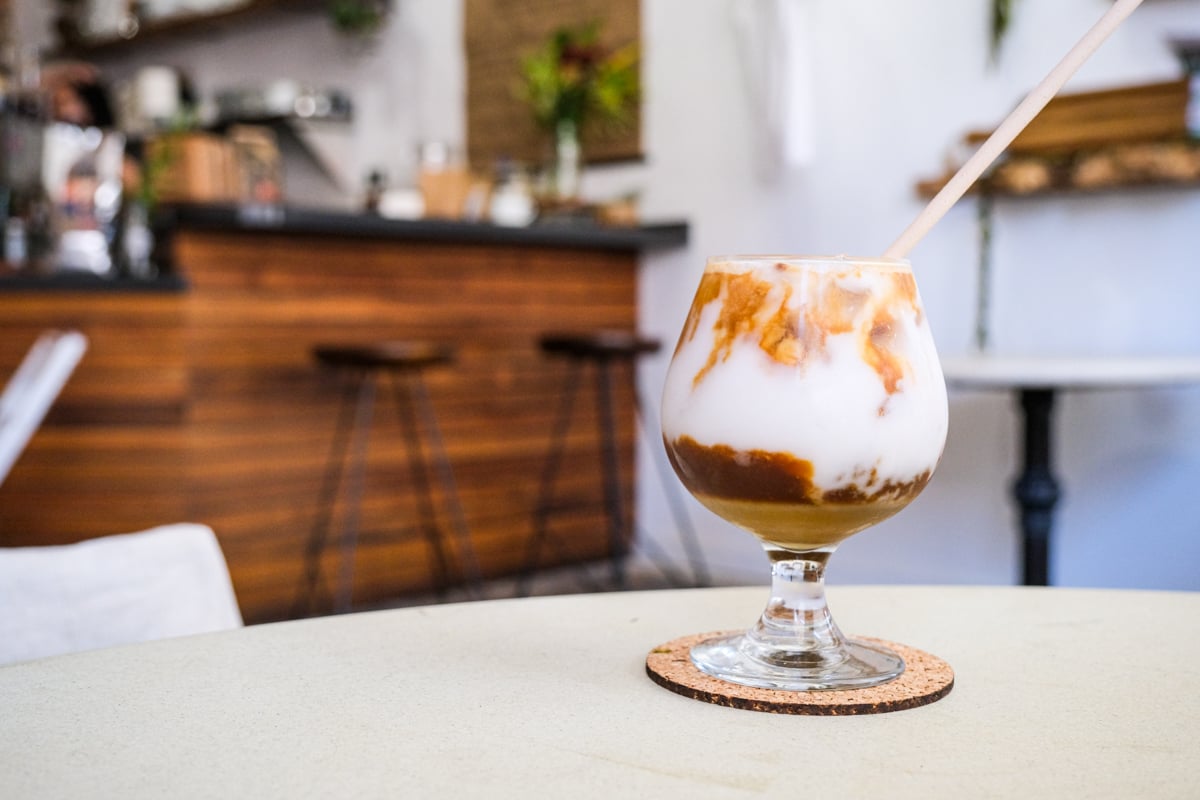 It was about this time last year when I first tried Pono Potions at the Lōkahi Kailua Market. I picked up a sampler pack of syrups made with Ali'i Kula lavender, Big Island macadamias and toasted coconut to add to my lattes and cocktails at home. But it wasn't one of these that had me at first sip—it was the lavender mint lemonade that Pono creator Peter Hessler practically forced on me.
---
SEE ALSO: Farmers Market Finds: Kailua's Chill Lōkahi Market
---
The soothing herbal notes of Kula lavender take the edge off the tart citrus, making for a summery bevy that you'll want a bottomless pitcher of. Now you can have this and much more in Pono's new permanent home in Chinatown. Pō'ai by Pono Potions soft-opened on Smith Street a few weeks ago with a menu of signature lattes, espresso drinks and pastries. The grand opening is set for July 9.
The hand-written menu on a roll of craft paper lists Pō'ai Lattes ($6 each) like the Pauahi, a rich coconut latte flavored with hazelnut and macadamia syrups and garnished with house-made candied macadamia nuts. On another visit, Hessler recommends the Smith St. Sunrise, a captivating oat milk latte accented with Pono's honey ginger syrup. I'd never think to pair ginger and espresso, but it works.
---
SEE ALSO: Find Tlaxcalli's Homestyle Mexican Fare in the Heart of Chinatown
---
For the coffee averse, there's a floral green tea latte called the Maddie 4 Matcha with fresh lemon zest and lavender Pono Potions. Or you can craft your own beverage by adding cow's or plant milk and syrup for no extra charge. Ask the barista for the daily shaken lemonade ($5); it does change daily but always includes citrus, herbs and Pono Potions.
In addition to the drinks, you can also munch on 'Ulu and Kalo Bakery's plant-based, gluten-free pastries. On any given day you'll find their ʻulu maiʻa bread ($5) made with breadfruit and banana, mochi-like kalo brownies ($5) and chocolate chip cookies (three for $4) made with almond flour.
Pō'ai is quintessential Chinatown chic with exposed brick, concrete floors and loads of natural light. The space was actually a storage room for Little Village Noodle House, but you wouldn't know it—or that the bar used to belong to The Curb in Kaimukī. The concrete floors and brick walls make for a nearly deafening experience when everyone's talking, but bring noise-canceling headphones and you'll be fine with a book. Plans are to expand some of the seating outside.
Amid the collection of jewelry and apparel curated by Hessler's partner Michael Cabagbag, I've got my eye on a palaka plant sack and a koa wood bracelet by Kū Kolu Designs. I also should mention that you can pick up bottles of Pono Potions syrups: My favorite, the pineapple 'olena syrup, makes a better version of plantation iced tea than just tea and juice.
---
SEE ALSO: It's Takeout Only (For Now) at The Curb's Bigger, Shinier New Spot in Kaimukī
---
If you get your caffeine fix from Kai Coffee, Bean About Town or Try Coffee at Box Jelly, chances are you may have already had Pono Potions syrups. Prior to starting Pono in 2019, Hessler worked at Moku Kitchen, where he noticed a dearth of syrups that reflected a taste of Hawai'i and developed many of the syrups.
In the last 12 months Pono has gone from selling syrups at the farmers market to distributing them to coffee shops to opening one of its own, with space to support other small vendors. You can truly say that Hessler has come full circle with Pō'ai.
Open Tuesday to Saturday from 7:30 a.m. to 1 p.m., 1119 Smith St., ponopotions.com, @ponopotions