Pig & the Lady's New Menu Restores Its Flavor Bomb Heights
It's the Chinatown restaurant's first menu overhaul in nearly a year and a half.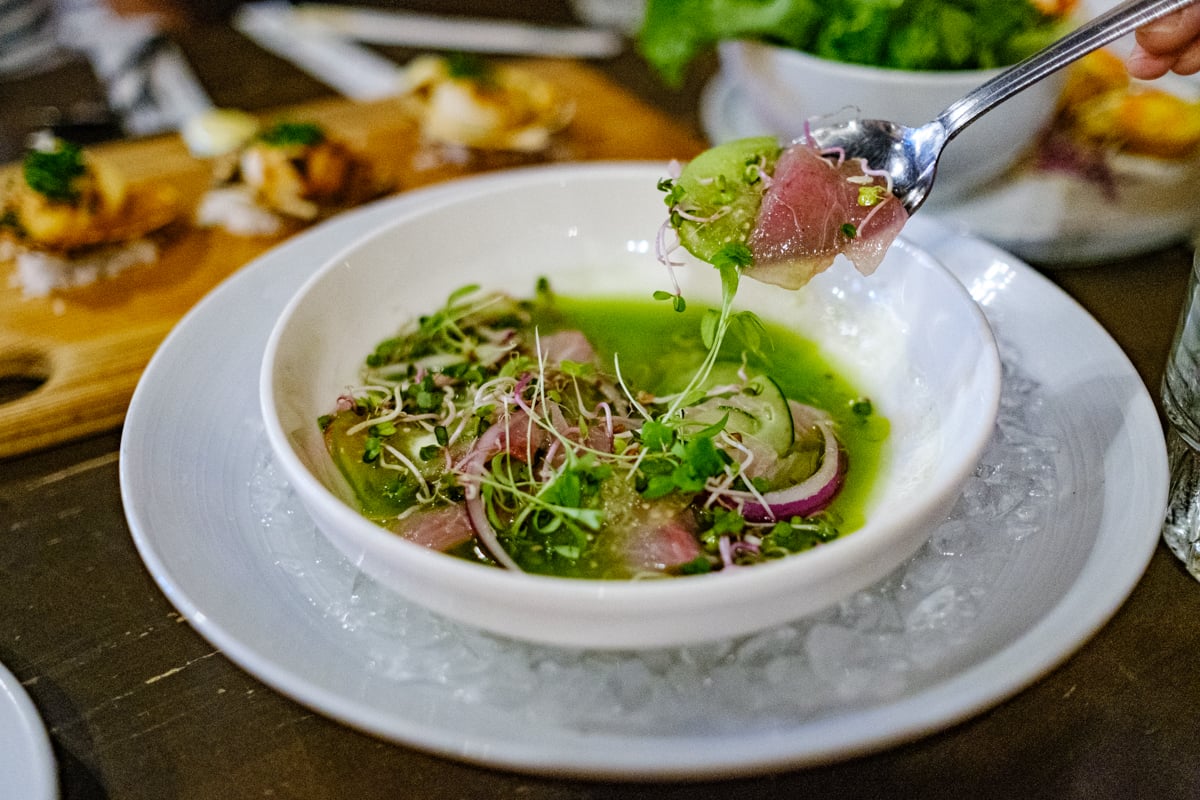 People who go to Chinatown's The Pig & the Lady and order only pho and summer rolls are missing the point. Both are very good, but you can get vastly more noodle soups at sister restaurant Piggy Smalls and at Pig's farmers market booths, where all these bowls were born. The point of Pig is that despite its Vietnamese roots, Viet is only the starting point. The spiraling explorations that end up on your plate can include references to American, French, Japanese, Filipino, Italian, Tahitian, Scandinavian and local cookery, all with a guiding Vietnamese compass of yin-and-yang balance: soft and crunchy, sweet and sour, spicy and salty, hot and cold.
So the text I got from Pig manager Alex Le was short ("Hi Mari, we have a new dinner menu. Please come try it when you can") but significant. Like other restaurants through the pandemic, Pig survived on its takeout business, its menu pared down to spring rolls, banh mi sandwiches, noodles, rice plates and its signature fried chicken. Now the restaurant has overhauled almost its entire dinner menu. That alone is not why I'm writing this—pre-pandemic, Pig revamped its menus almost every season. I'm writing because the new menu is strong. It's vintage Pig, unexpected but just familiar enough, and a reminder of why chef Andrew Le has been worth watching since the James Beard Foundation made him a semifinalist for Rising Star Chef of the Year in 2014. To be honest, I've done more than track his career: I've been eating his food since before the Le family started Pig, more than 10 years ago when he was a sous chef in Chef Mavro's kitchen; in that time I've been taken into the broader Pig family and traveled with them to Los Angeles, Hanoi and Tokyo, where Loan "Mama" Le was my roommate.
---
SEE ALSO: The Pig & The Lady: From Farmers Market Pop-Up to the City's Hottest Restaurant
---
Le is one of my favorite chefs because of his reliably outside-the-box creativity and ability to deliver those yin-yang balances. Three of us familiar with his cooking ran amok at dinner last Friday, ordering five appetizers and two entrées; the Les sent out four more dishes, which the restaurant comped. Here's a look at the strongest recommends on Pig's new menu.
Half of the one-page new menu is given over to shared-plate appetizers. This Kona kampachi "aguachile" ($16) lays slices of sashimi in a zesty, spicy, chilled pickled mustard cabbage broth, with small crunches of radish, cucumber, tomatillo, jalapeno and shiso. It's the first time I've eaten sashimi as soup, with a spoon. This first dish is an eye-opener, literally. It wakes up the palate and primes the mind for more of the unexpected.
Banh khot ($16) is a snack from the streets of Hue, the old imperial capitol of Vietnam where food tends to be more subdued than in the Chinese-inflected north and the tropical south. These turmeric rice-flour cakes are fried, like in Hue; unlike Hue, they're topped with coconut crème and smoked trout roe. You wrap them in lettuce with fresh herbs and pickles, dip in nuoc cham, and they take you to an elevated, re-imagined Vietnam.
---
SEE ALSO: The Pig & the Lady Opens in Tokyo
---
Scallops ($7 each) are familiar but grilled and bathed in an uni-chile satay butter and drizzled with lemon juice, they're irresistible.
Yes, it's a tomato salad ($14). I wasn't excited about this (my tablemates ordered it) but I end up scooping the last morsels off the plate. Big, sweet local tomatoes sit in a bath of burnt strawberry and guava vinaigrette. It's the tofu cloud on top (yes, tofu!), whipped with aged white soy sauce that gives it a completely cheese-like umami, that makes the dish.
Mama Le's chicken liver pate is a collector's item when it appears at the farmers markets. Here, it goes atop toasted baguettes with calamansi jelly, pink peppercorns and fresh rau ram herbs ($12), all creamy and meaty and sweet and crunchy. Of the six appetizers we try, the only one I wouldn't order again is the chrysanthemum and radicchio salad with plums, a salted lemon vinaigrette and parmesan cheese ($12); it's good, but not as memorable as the rest.
---
SEE ALSO: The Pig & the Lady: Not Just a Personal Addiction
---
The high point. Linguine with Manila clams and rau ram herb sausage ($22) carries addicting undertones of shrimp shell stock (the menu lists it as "Hanoi shrimp paste") and occasional sparks of lemon. The deep, fermented shrimp-lemon combination is classic Le, the bites layering multiple umami depths with brightness and meatiness and herbs. Alex Le tells us it was inspired by com hen, an inexpensive dish of tiny clams tossed with leftover rice, chiles and fresh herbs and spooned onto rice crackers, also from Central Vietnam. I had it in a wooden shack overlooking a jungle stream on the outskirts of Hoi An; this buttery pasta is at once familiar and nothing like it at all. This one Le has sent out. We've ordered the squid bolognese spaghetti ($23), which has no meat but does add cured pork fat to the tomato sauce, but for me the combination of cooked ground squid and crispy dried squid overtakes the other flavors.
At $65, the bone-in short rib is the most expensive thing on the menu, but none of us can resist the description ("slow-roasted then glazed with a savory fish sauce and black pepper caramel"). If you want something that's overtly but not quite Vietnamese, get this—it comes with jasmine rice and is enough for a meal for two big appetites, three average eaters or, with other dishes, shared among four or more. Wrapped in lettuce with the standard pickles and herbs, slathered with a fermented hot sauce and dipped in nuoc cham, the fatty ends dissolve on the palate amid tartness and vegetal crunches; the firmer interior slices are tender and elevated by the glaze. We're all full already but all our stomachs make room for multiple bites of this.
Longtime Pig fans will recognize what just happened: Pig's spirit is back. Andrew Le would text me later, "I wanted this menu to be a statement that we got through COVID times. It was a long road to shift the direction for Chinatown back to what it is now."
Open Tuesday from 5:30 to 8:30 p.m., Wednesday to Saturday from 11:30 a.m. to 3 p.m. and 5:30 to 8:30 p.m., 83 N. King St., (808) 585-8255, thepigandthelady.com, @pigandthelady