Pig and the Lady: Not Just a Personal Addiction
The origin story of one of Hawai'i's hottest restaurants.
The Pig and the Lady is the best newish thing at the farmers market. I totally wasn't expecting that. And it's not as if you might not have heard—it's been popping up there at least six months and is Yelp's top-rated eatery in Honolulu.
But you see, I got my introduction to its Honolulu Farmers Market booth when Melissa Chang, a non-soup person by nature, texted me to come help her finish her bowl of chicken pho. And if you've ever asked me for a pho recommendation, you know I don't eat pho here, or anywhere outside Vietnam, because I can't.
In Saigon I got used to long-simmered stocks served with fresh cuts of beef sliced off never-refrigerated haunches hanging just out of traffic range in front of open-air restaurants. Those restaurants only served pho, and even those that specialized in chicken pho never impressed me to the degree I'd fallen in love with fresh beef pho.
So I figured I was doing Melissa a favor. I found her sitting unexpectedly at rib height, on a chair set up alongside Pig and the Lady's booth. No other booth had—or for that matter, has—a dine-in setup for customers, a comfortable touch that makes you feel invited for more than your usual farmers market errands. Her bowl of noodles had long since sogged up in the broth, but to be polite, I set down my shopping bag, and with Andrew Le (the Pig) sloshing in fresh soup, dipped in my spoon.
I wasn't prepared. Rich, well-rounded and with a familiar sweetness (fried shallots?), that spoonful was nowhere near the vapid poultry broth I was expecting. But in that instant the hot broth, the heavy bag of vegetables at my knee, the crowds streaming by shot me back to Vietnam.
"Oh my God!" I yelled. "This is just like Cho Ben Thanh, when you finish your shopping and you sit down for a snack!"
Le's mom heard me. She's from Saigon and knows the huge central market. "Yeah!" she yelled back.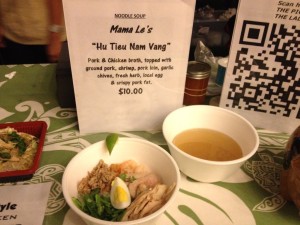 I went back the next week. And the next. Every week, a different noodle soup: hu tieu nam vang, totally different from the Saigon-style pork and dried shrimp hu tieu I loved from a cart that an ancient man and his daughter rolled up to Tran Hung Dao Street in the late afternoons. But again, complex with an unexpected sweet edge, and bursting with flavor.
Bun rieu, a tomato-rich soup of minced paddy crab and shrimp whose homemade quality brought back memories of Thuy, the housekeeper at the guesthouse where I lived my first year. A southerner from the Mekong Delta, Thuy learned the northern dish from my money-obsessed Hanoi landlord, whom we both came to despise. When I left the guesthouse, Thuy came to live with us, and by the time I left Vietnam three years later, I had no closer friend than Thuy. But she never made bun rieu again.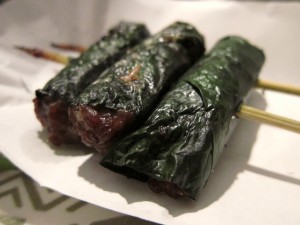 Bo la lot, minced beef, garlic and seasonings rolled into betel leaves and grilled over coals. The scent of this alone now tells me where Pig and the Lady has set up at the market. The first time I smelled this, I was riding home from Vietnamese lessons on the back of a motorbike driven by Anh Hai, the 90-pound former South Vietnamese Army soldier who daily delivered me through the anarchy of trucks, motorbikes and bicycles that Saigon calls traffic.
"What's that?" I asked.
Anh Hai peered through the swarm of motorbikes and spotted the small hibachi wafting delicious aromas from a corner. "Bo la lot," he told me. I'd never heard of it. He laughed. "Ngon lam!"—So delicious!
Every week Pig and the Lady's menu changed, every week the flavors drawing vivid memories of the people and places that filled my Vietnam. But there were differences in taste that weren't accounted for by Le's use of local meats, herbs and veggies.
At that point I went around and cornered him by his latest vat of soup. I knew Vietnamese cooking wasn't his specialty, but that at his five-course Pig and the Lady pop-up dinners at Hank's Haute Dogs, and even as a sous chef at Mavro's, Le was executing elegant, contemporary riffs on traditional Vietnamese ingredients and dishes. I was curious about his vision for Pig and the Lady.
"It's totally my mom's recipes," he told me, "the way she made these dishes when we were growing up, but to my taste. MY taste."
I got it. A son's homage to his mom, a five-diamond kitchen chef's return to culinary roots, a farmers market experiment that took off. The booth draws constant and growing lines at the Wednesday Honolulu, Thursday Kailua and Saturday Kapi'olani Community College farmers markets. Each week's menu of one noodle soup and grilled beef-(or pork)-in-a-leaf has turned into more and more dishes. I think I counted eight last week.
The crew has grown as well, starting with Le's brother Alex, then Mama Le's sister, Andrew's girlfriend and a hired worker. Last week the booth was crowded with all of the above plus Andrew's sister, Allison, and his dad at the grill. And the dine-in counter running along one side is now an entire neighboring tent whose tables and chairs fill quickly and stay full.
It's a sustained and impressive rise. Le is introducing his home-style repertoire to an audience that until now has mainly been exposed to pho and spring rolls. More weeks than not, there's a new dish—hu tieu my tho (dry noodles tossed in a crab-rich sauce), xoi (sticky rice, savory with lup cheong and chicken), canh chua (sweet-sour soup with fish, tomatoes and pineapple), banh xeo (savory eggless crepes with pork and shrimp), com ga hoi an (herby chicken rice with fried shallots), cari chay (vegetarian curry), bo kho (beef stew with baguettes), bun bo hue (spicy beef noodle soup), bun mang vit (duck noodle soup with bamboo shoots), thit kho (pork belly simmered in coconut juice), cu cai nau xuong (spare ribs simmered with daikon)—all familiar street foods, exotic to most in Honolulu and exciting whichever way you look at it.
This entire story makes me happy. But like all good stories, it leads up to something that's bigger and more satisfying than even this upward trajectory, which I've run out of space to tell you. One day, though, I will.