Meet Hawai'i Pastry Chefs Beverly Luk and Michael Moorhouse
These innovators from Nami Kaze and the Mauna Kea Beach Hotel have been baking some of Hawai'i's best desserts for years.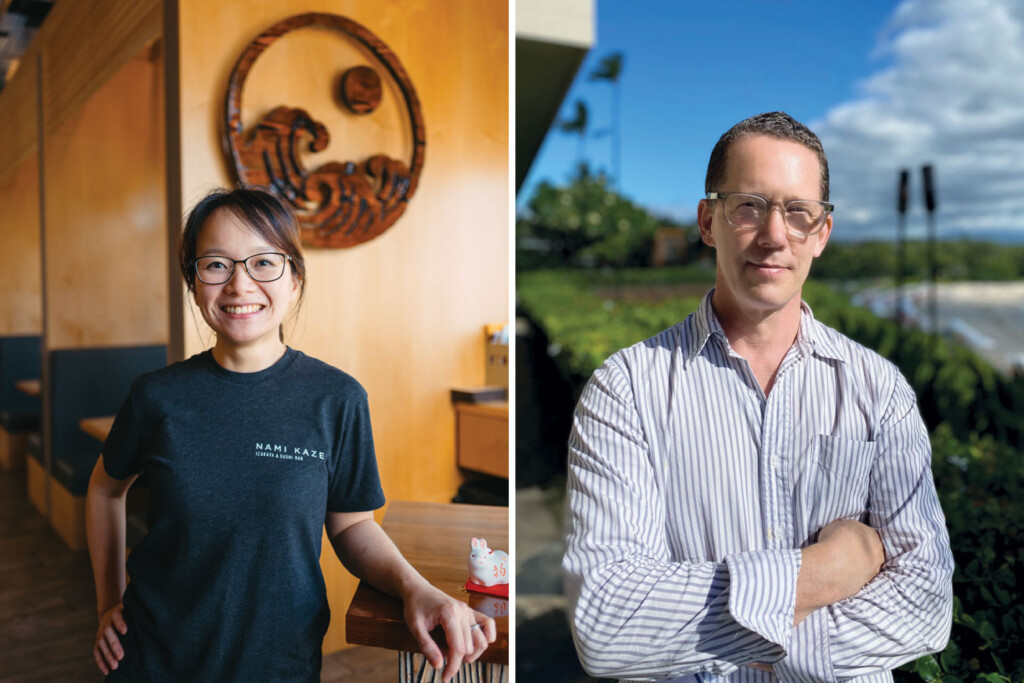 Beverly Luk, Pastry Chef at Nami Kaze
This is not how it's supposed to happen," Beverly Luk says, thinking back. It was her first culinary competition at Kapi'olani Community College and her team had lost. "I get very upset, because the team is not the everybody-wants-to-win kind." They were not, in other words, like Luk, so driven to win that she enrolled at KCC for another degree just so she could compete again. The second time, she had a more motivated team and led as captain. But they still lost, by a few points. You can sense her frustration, even seven years later.
Luk emanates a frenetic intensity and brims over with ideas and ideals. After service at Nami Kaze, she sets her version of a lemon meringue pie in front me—a jar of tart semifreddo paved with meringue and spiked with shards of crisp pastry—and, later, a plate of soft sesame cacao nib cookies as she tells me of the Asian bake shop she hopes to open within a year. She started her culinary career later than many, at age 28, so she says she needs to make up for lost time. Since graduating from KCC in 2016, she has been a line cook and pastry cook at MW Restaurant, the pastry chef at Chef Mavro, and the opening pastry chef of Miro Kaimukī and the revamped Kaimana Beach Hotel. Last year, she opened Nami Kaze with her husband, Jason Peel.
She started on the savory side of the kitchen, but found pastry is "what I want to drill into; I want to dig a hole into it," she says. "Cooking is cooking is cooking but the precise part of pastry, the chemistry part just makes sense when I do it. Pastry is something that is ridiculous when you think about it because it's always the same thing—it's egg, flour, dairy. But making this"—gesturing at the lemon meringue pie—requires "the same ingredients as bread. It's just a different ratio of everything. And that's what gets me—the possibility of something so humble. I don't have to bring in truffles to make it better. I don't have to bring in uni to make it beautiful." All the ingredients, she says, can be found in most home pantries.
Luk was born in Hong Kong and grew up in a family where "food is something that needs to be good." She left the metropolis at 17 to stay with relatives in Blaine, Minnesota, where classmates would ask her if she had a TV back home, if she had ever had soda. She wanted out after a year, and following a connection to Honolulu, enrolled at Hawai'i Pacific University and then KCC. "I have a very weird way of looking at college," she says. For her, it wasn't simply the path to a degree, but an opportunity to explore. She took classes in business, finance and marketing, but also French, music and calligraphy.
After years of searching for the "uniqueness that is me," she says, "I think cooking is something that is me because the skill and knowledge is something that you cannot take away. It's not something that everybody can do even if you have a degree." In a previous job involving paperwork and computer work, she says she felt "like anybody can replace me. But cooking, and eventually, pastry—this is what only I can do." Case in point, the coconut cake she created for Hau Tree—an elegant affair of whipped white chocolate ganache and soft vanilla chiffon soaked with dark rum syrup—hasn't quite been the same since she left.
---
SEE ALSO: Nami Kaze's New Izakaya Style Dinner Is One of Honolulu's Best
---
Now, at Nami Kaze, she bakes the bread for the burgers ("because one thing I really hate is when I have a burger, the bottom bun is always," she motions with her hands everything falling apart), and the bread for the French toast and the house bread at night. Because of a shortage of workers, she's had to fill in on the hot line, too, so she hasn't been able to expand the dessert menu the way she's wanted to. But in the coming weeks, she plans on debuting desserts like a Kaua'i mud pie with kūlolo caramel and an opera cake lightened with hojicha and kinako. "I want to make something that people want to eat every week," she says. To do so, she blends creativity with nostalgia—nostalgia is the base that piques people's interest, and creativity is what holds it. But ultimately, "the food I like to make is simple. You don't have to bring a dictionary with you to understand the food that we present." She says that's probably why the dining room is full of more "aunties, uncles and grandmas" than tourists, even as Nami Kaze gains national attention.
---
SEE ALSO: James Beard Semifinalist Nami Kaze Is Launching an Omakase Dinner
---
"I want to be in the community, be part of the community," she says. She's referring to the diners as well as the employees: She and Peel, a former culinary instructor, have set up Nami Kaze as a teaching kitchen. The community also includes their suppliers. "I'm not from here, so I'm not attached to local just because it's local," she says. "To me, helping local is good people helping good people to bring good quality products. If we don't support them, they cannot support you. They're gonna give up and we won't have fun stuff anymore." Fun stuff like roselle from Ahiki Acres that Luk turns into preserves for desserts and drinks.
We've been talking for more than two hours, but it feels like Luk could keep going. For one, there's the Asian-style bakery she wants to open, with offerings like a laksa or beef stew pan, takes on the curry pan, and shokupan filled with coconut custard. She's yet to finalize a space for the bakery, and despite all the delays with Nami Kaze, she's confident that she can open it within a year. And she's constantly turning over in her head what things could look like. She wants everything to be better, whether it's work ethic, how people are treated, how restaurants are run, the texture of the cookies in front of her. "People will say you're dreaming too big. But if I don't dream big, I cannot go big."
1135 N. Nimitz Highway, (808) 888-6264, namikaze.com, @namikaze.hi
---
Michael Moorhouse, Pastry Chef at the Mauna Kea Beach Hotel
Michael Moorhouse is very particular about crème brûlée. He insists the ramekins are filled with custard all the way to the brim. "Nothing makes me more crazy than ordering crème brûlée and it's not filled to the top and you get that ledge of burnt sugar," he says. He tells his pastry team: "Let's show good pastry work—we have something really simple here, and you can't really hide anything. Do it well and people will be impressed. Or I would. I would be able to sleep at night."
When he joined the Mauna Kea Beach Hotel in 2021 as the executive pastry chef, the crème brûlée was flavored with māmaki and it was just "all right." He brought it back to the basics, infusing it with vanilla beans grown nearby and serving it with preserves of local fruit—when we talk, it's blackberries grown in Volcano.
A classicism marks Moorhouse's work. When he first started working with desserts—filling in for a pastry chef on vacation in a restaurant in suburban Philadelphia—he was drawn to the "tradition of classic pastry work," he says. "It's rich and it speaks to me. It's really cool to be part of that, to be able to make a really good pâte à choux or crème brûlée." He's followed the tradition for more than three decades, through some of New York City's most celebrated kitchens, including Aquavit, Tabla, and Alison on Dominick Street, where he stayed for six years, the longest single stretch at any one place in his itinerant career. He garnered the attention of Dan Barber, who tapped him for the opening team of Blue Hill at Stone Barns.
While he spent the first part of his career in restaurant pastry kitchens in New York, upon moving to Hawai'i, where the best-paid pastry jobs are in hotels, he worked as the pastry chef at The Kāhala Hotel & Resort and the Halekūlani. In some ways, working in hotels—with their emphasis on delivering luxury and comfort—aligns with his style of exacting simplicity. You can see it most clearly on Manta's menu at the Mauna Kea, with its chocolate soufflé, a Joël Robuchon recipe made of just chocolate, sugar and egg whites, delivering a clear, clean chocolate flavor; a Japanese-style rare cheesecake made with local goat cheese, set on a spiced cookie disk, and with a bit of strawberry jelly and reduced balsamic vinegar.
In 2018, he and his partner moved to Hawai'i Island thinking they might open a bakery in Hilo. But short on funds, Moorhouse began baking for the farmers market at Cooper Center in Volcano. He started out with fruit tarts and cookies and brownies. Someone asked him to make cannoli. He didn't have a mold for them, he replied. The customer brought them to Moorhouse. So he started making cannoli. And then croissants, rolling out the dough by hand before investing in a manual sheeter. That opened the door to all kinds of laminated doughs—puff pastry crusts cradling flans and quiches, butter and chocolate croissants, and savory and sweet Danishes. He rolled the scraps to make cinnamon rolls.
"All of that on a folding table in our living room," he says. Oh, and bread, too. He bought a double deck pizza oven and powered it with propane tanks in the yard, producing French bread, semolina bread with olives, rye bread, focaccia, ciabatta. At the height of his farmers market stand, he made 30 different items a week. It was proof of what drew him to pastry in the first place: "the alchemy of making something really tasty and beautiful and that you can take the same ingredients in different proportions and different [techniques] and have something different."
Of his farmers market time, he says, "It was a total hustle, it was great—it was some of the best work that I've done." But in the midst of the pandemic, he needed some stability. So when Mauna Kea came calling, Moorhouse said yes. The work is still diverse—hotel work often maximizes a pastry chef's breadth of skills. Desserts that fall into Moorhouse's purview: the petite welcome loaf of banana bread for guests, the recipe dating back to the hotel's opening in 1965; the dessert buffet table at the resort's lū'au that feeds up to 350 people; the soufflé and crème brûlée and other desserts at the fine dining restaurant Manta; popovers for the restaurant by the golf course and bread pudding katsu for the casual beachside restaurant, which require faster pickups; catering one-offs that might include chocolate sculptures. All this with a team of just six.
It means not everything can be made from scratch, like the breakfast pastries for the breakfast buffet, but in areas where he can, such as with Manta, he digs in. He buys fruit when it's in season: 50 pounds of Keitt mangoes at a time, 100 pounds of lychee, a couple of hundred pounds of white pineapple. Soursop, tangerines, grapefruit, blackberries, all grown on Hawai'i Island. A lot of it goes into sorbets and ice creams and fresh fruit tarts. Sharwil avocados just came into season and he's still mulling how to use them in desserts. "All that's exciting to me," he says. "We have all this amazing stuff—let's treat it with the respect that it deserves."
62-100 Mauna Kea Beach Drive, Waimea, Hawai'i Island, (808) 882-7222, maunakearesort.com
---