Mindblown: Da Only-in-Hawai'i Loco Moco Burger at Wahlburgers
Da one ting I never expected from one big Mainland chain.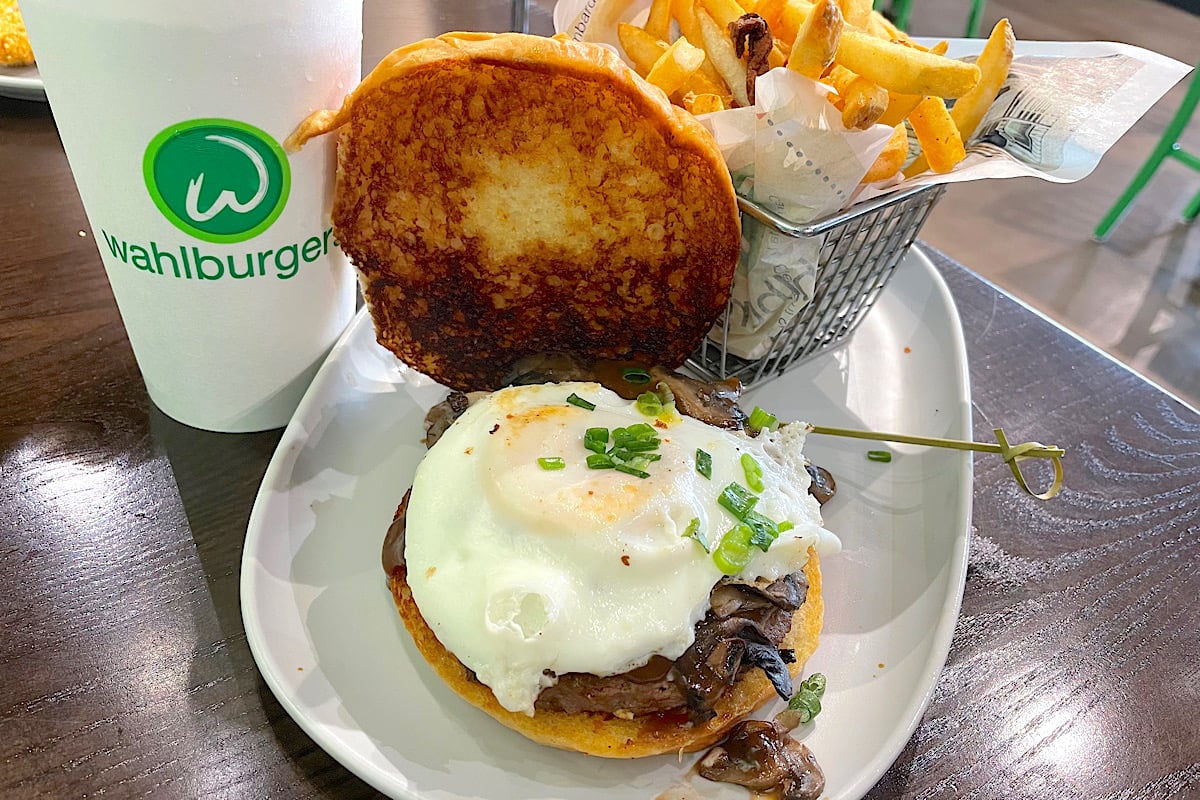 Mindblown uncovers unexpected finds in unexpected places—dishes so good, they tweak our perspective.
My friend Joy of Crafting, aka OC16 TV's Joy Shimabukuro, went Hawai'i Island for visit and came back talking about dis popular ting in Hilo called one Gravy Burger.
"Wot dat?" I wen ask. I imagined wuz gravy in between two buns. Kinda like how small kid time we used to make mayo sandwiches.
"No, it's a hamburger in between two buns with gravy on it," she explained.
"Like one hot turkey sandwich?" I asked, making one quizzical look.
"No, it's not gravy all over. There's just a little gravy and it's on the inside of the bun."
Aftah annoying da extremely patient Joy with 10,000 questions, I kinda had one mental picture of wot dis ting looked like. What I didn't ask was how come she nevah just take one picture!
Anyhow, da oddah week I wuz talking stories with one young man from Hilo. He went by da name Beb. He wuz talking about his crypto savings and da NFTs in his meta house and da Nike x Takashi Murakami collab. All dat stuff wuz going ova my head so I changed da subject and asked him about da gravy burger. He started rattling off all da places that had. So I asked him wea get da best one. Without hesitation he said Koji's Bento Korner because theirs is like one loco moco gravy burger. Next I wen ask da kid's faddah. He no could remembah when da gravy burger first started or who started 'em, but when I asked wea had his favorite, he said, "Hamburger is hamburger. Gravy no belong on hamburgers unless it's hamburger steak."
---
SEE ALSO: Chancing da Loco Moco Burger and Loco Moco Dog
---
I nevah realize gravy burgers wuz so polarizing. And I no could get that image of da loco moco gravy burger from Koji's outta my mind. If da gravy burger's been around for that long, how come it's not really catching on on O'ahu or anyplace beyond Hilo really? At dis point hardcore Frolic readers might remember that I reviewed Mahaloha's Loco Moco Burger back in 2019. It's still on top their menu. But I no tink of theirs one as one true gravy burger. I tink of 'em more as one novelty variation of loco moco, where it simply answers da question of what would happen if we took out da rice and used bread instead.
So I resigned myself to da fact that I would nevah have one gravy burger of any kine until da next time I went Hilo, and who knows when that would be. I realize I could just order one burger from Zippy's or somewhere and get one side order of gravy, but for some reason it's not da same if you gotta put your own gravy.
Da next day our family wuz going shop at Ala Moana Center an'den eat at Lahaina Chicken to support dem cuz Chick-fil-A wen open up right next door. We thought that wuz really kinda unz. Like da big chain trying for put my favorite local fried chicken joint outta business. But when we went, da food court had absolutely no seats no place. Our best shot at sitting down to eat wuz eating someplace else. Da family decided on Wahlburgers and I reluctantly went along. I not really one fan of big chain places li'dat.
---
SEE ALSO: Best Fried Chicken: Our Top 5
---
We got to Wahlburgers and I no could believe my eyeballs. On top da menu had Loco Moco Burger! With gravy inside! Wuz just like da one I had been tinking about. I wuz in total shock. Wuz like I manifested 'em with my mind, brah. I asked da guy working there if dey have Loco Moco Burgers at all da Wahlburgers and da guy said, "Only in Hawai'i!" I nevah even have to tink what I wuz going get. Fate had already decided.
So Wahlburgers' Loco Moco Burger ($12.95) get sauteed mushrooms, slivered scallions and one sunny-side egg on top one beef hamburger patty, all inside one Hawaiian bun. Underneath da egg get just da right amount of brown gravy. And underneath da patty get teriyaki sauce! I wuz all like, Whaaat?!
Aftah studying 'em I thought, K, it looks appealing and conceptually it seems like would fly. But dis wuz one continental kine chain. Someting gotta be wrong, right?
Ho, I got one big wop yo' jaws. Dis Loco Moco Burger, she go! I like how dey kept da gravy and teriyaki sauce separate, cuz I could taste both elements. (Trust me. One time I tried mixing teriyaki sauce with brown gravy for see if would taste good with hamburger steak. No 'ono.)
Wuz very well thought out and perfectly rendered. Egg and burger cooked just right. Da sauteed mushrooms really elevated dis burger to da next level. Even da slightly sweet Hawaiian bun wuz da perfect choice.
So much cheffy tinking went into Wahlburger's Loco Moco Burger that I tink it has one chance of being accepted into da lineage of Hilo gravy burgers. From da way Beb described Koji's one, I tink he would love dis one too. And dey managed for put gravy AND teriyaki sauce in da same burger. Such genius!
All da foodies who stay curious about Hilo's gravy burger, and 'specially Koji's Bento Korner's loco moco gravy burger, well, you no need go Hilo. All it took for get 'em here wuz one big chain restaurant from Massachusetts. #nomonomoono
1450 Ala Moana Blvd., (808) 470-4850, @alohawahlburgers
Lee A. Tonouchi is a longtime Frolic contributor whose plays and books, written entirely in pidgin, have won national awards and recognition.