Broke da mouth: Chancing da loco moco burger and loco moco dog
Has da loco moco apocalypse arrived at Mahaloha Burgers?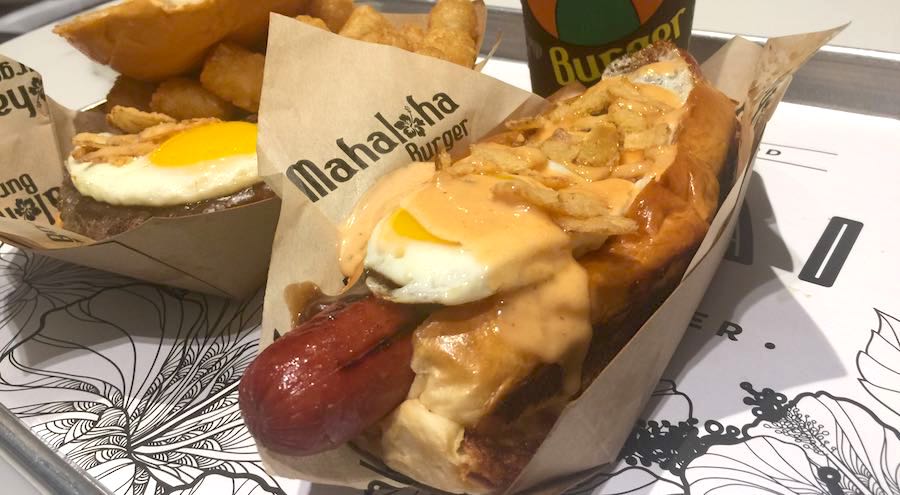 Our gang wuz at The Lanai food court at Ala Moana and we wuz all taking story, having fun. Everybody went for choose their food and I came back with my loco moco burger and loco moco dog from Mahaloha Burger. That's when one of my friends exclaimed, What da heck is that!? And one noddah person razzed me little bit, Ho, TWO dinners!?!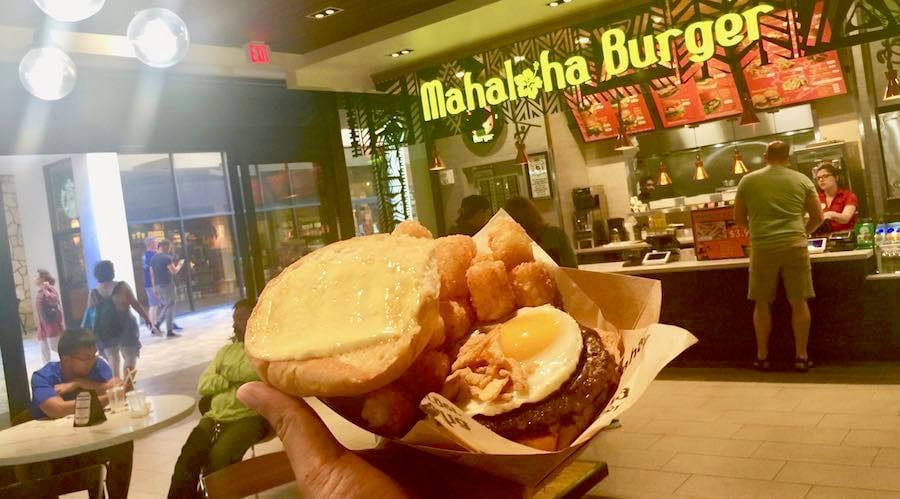 Before I started eating, I tried asking if anybody wanted for try either of my two tings, but nobody wanted. They all said wuzn't real loco moco das why. I also had my doubts. Hamburger and hot dog are two quintessential American foods. When you Americanize our beloved loco moco, would it still retain its "LOCO-identity"?
When I did my Frolic writeup on 3 offbeat loco mocos you gotta try, it wuz met with some resistance. Purists wuz fearful our beloved local loco moco wuz going come like da poke bowl on da continent where people just make freestyle-anykine and put some random seafood on one bed of salad, trow on some corn, edamame, pineapple and macadamia nuts, sprinkle Flamin' Hot Cheetos on top, and call 'em poke.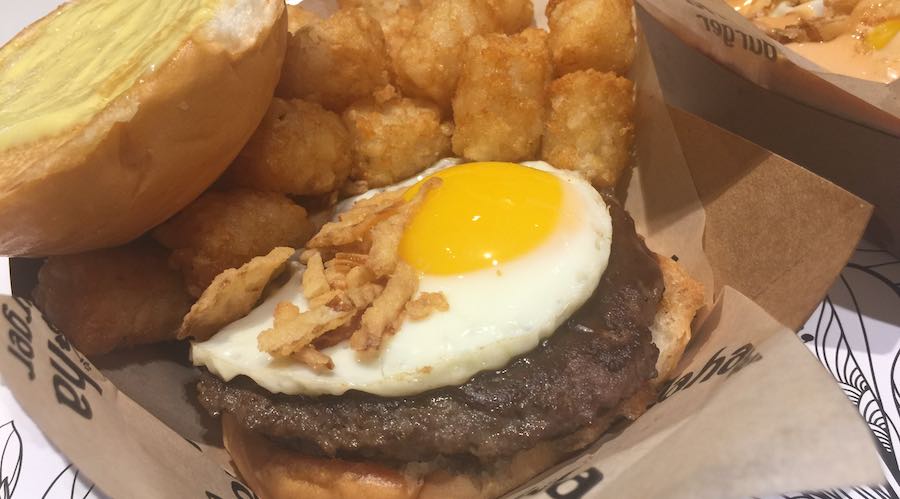 I gotta admit though, Mahaloha's loco moco burger ($7.45) wuz visually impressive. It had da gorgeous sunnyside egg like one real loco moco. Had da hamburger patty AND gravy like one real loco moco. I wuz wondering how they wuz going handle that gravy component, cuz if wuz too watery then da bun would just come soggy, but da gravy wuz super thick so it adhered really well to da patty. Basically this wuz like one real loco moco, but instead of rice it came in one bun.
Da sign said da patties wuz "Homemade with Big Island's all Natural, Grass-fed, Hormone and Antibiotic free beef." I asked da girl if their burgers had fillers inside and she said nope. I know beefy people love all-beef patties, but to me straight-up beef can be kinda dry sometimes. This one, if wuz dry, you couldn't tell cuz of da gravy plus da two sauces. On da top bun had their French-mayo sauce and on top da bottom bun had their signature Happy sauce. Happy sauce is like thousand island, da girl said. When you bite into 'em, da egg runs, da juices all intermingle and you top that off with da crunch from da crispy onions inside, ho, wuz so delish.
I asked da girl if da hot dogs in da loco moco dog ($7.45) wuz all beef and she said yup. I dunno why I asked. I guess in my mind, since it wuz beef, that made it a little less weird, maybe? Like it's similar to one beef patty, but just in da shape of one beef cylinder. Da next question I asked wuz if they used Big Island beef for their hot dogs too. I wish, said da girl. She said they get their hot dogs from Costco. I not sure if she wuz supposed to tell me that. Lol.
In concept, this one wuz very much like da loco moco burger. Had da same sunny side egg, brown gravy and crispy onions. But instead of two sauces, it just came with da Happy sauce. I loved da taste of da dog itself. Wuz nicely grilled and slightly charred and it reminded me of da kine lunch wagon hot dogs my faddah used to get for me after we went beach. This one wuz really good too!
So, da verdict? I think you gotta go into this with one open mind. If you think of these as hamburgers and hot dogs flavored like loco moco, then I think you going be extremely pleased.
And you remembah at da beginning, how everybody wuz making fun of me? Well, after seeing me fully loving my TWO dinners, they all wanted for sample SOME, they said. Already had all my germs and everything, but they ended up cleaning house. You ate ALL my food, I pointed out. Their response? Oh, we thought you wuz pau.
My advice? If you go Mahaloha's, nevah mind going with da gang. Mo' bettah you eat there by yourself. #flyyourfriends #nomonomoono
Waikiki
2233 Kalakaua Ave.
Kailua
143 Hekili St.
Ala Moana
1450 Ala Moana Blvd.