Best Fried Chicken: Our Top 5
Since no mo' no Chicken Alice, these five picks are Lee Tonouchi's next best choices.
Update: Hanalei Chicken Co. at Pearlridge has closed.
I just like start off by saying that my one true fried chicken love is/wuz/always going be Chicken Alice.  Though this local fried chicken joint closed down in da 90s, I still get fond memories. I can still remembah that batter, reminiscent of Pioneer Chicken, but slightly Korean kine spicy. When we find good food we like for share 'em with those we love, right. Das why my faddah took me to da Pearl Kai Chicken Alice, back when dey used to get da food court overlooking Pearl Harbor. An'den later on when I went college, I found myself taking my girlfriend at da time to da Kapi'olani location for share my love of Chicken Alice with her. She later came my wife.
During da course of my extensive and intensive local fried chicken analysis, I found that I had to be very specific with my language when asking friends wea get da best Hawai'i fried chicken. I figured da Hawai'i part wuz clear enough, but yet, I had specifically say I wuzn't looking for big chain kine chicken places. An'den I thought da term fried chicken wuz self explanatory too, but apparently not. Cuz my friends wuz telling me go hea and go dea, but come for find dey wuz talking about what I consider to be various sub-categories of fried chicken. For me, when I talking fried chicken, I talking da kine bone-in fried chicken. I not talking chicken karaage, boneless Korean chicken, garlic chicken, chicken katsu, or da kine chicken nuggets, brah. While those are technically all chicken and all fried, those wuzn't da kine I wuz looking for. And just so dea wuz no misunderstanding, I also eliminated wings. Cuz while dey do have bones, I felt that wings (drumettes included) could be one whole noddah sub-category as well.
---
SEE ALSO: Is Popeye's Chicken Sandwich Worth All the Hype?
---
While I had really hoped to include some mom-and-pop okazuya kine fried chicken in my list, dey just couldn't make da cut. It's hard for fried chicken das been sitting out for couple hours for go toe to toe with da kine places that make 'em fresh to order. Even though in my heart, I kinda knew this already, I still had for do my due diligence. I followed up with all kine crazy leads. Construction guys sent me to obscure convenience stores, but lotta times da chicken ended up just being OK. I learned that for da construction guys, for dem, wuz more about getting da best deals. I would've thought that da internet would've made my job easier. But I discovered that great Yelp reviews no necessarily mean much. I found myself disappointed quite often at da places with da most internet buzz.
An'den I just wanna conclude by saying da world wide web is kinda evil. Not only did it send me on so many wild chicken chases, it also enabled da creation of da most heinous fried chicken ever. Imagine my delight when I found one place that said they had Chicken Alice Chicken. However, upon investigating, I found that it neither looked, nor tasted like Chicken Alice as I remembered it. So I asked dem if dey used to eat at Chicken Alice too. And to my surprise, dey said NO! Dey had nevah tried it. Dey said dey just got da recipe off da internet. I wuz in disbelief. Cuz I dunno how dey can tell if dey made ʻem good or what if dey nevah even tried ʻem before. Wassup wit dat?!
---
SEE ALSO: Here are Honolulu's OTHER Fried Chicken Sandwiches
---
Da Chicken Alice recipe is out there, given to her beloved followers by Chicken Alice herself. Maybe one day, I'll find that one place that can recreate her magic. Until then, enough about living in da past. It's time for move on to da present. And more importantly, it's time to forge new food memories with my children.
So with that said. . . AURITE, hea's my top five.
No. 5: Hanalei Chicken Co. (closed)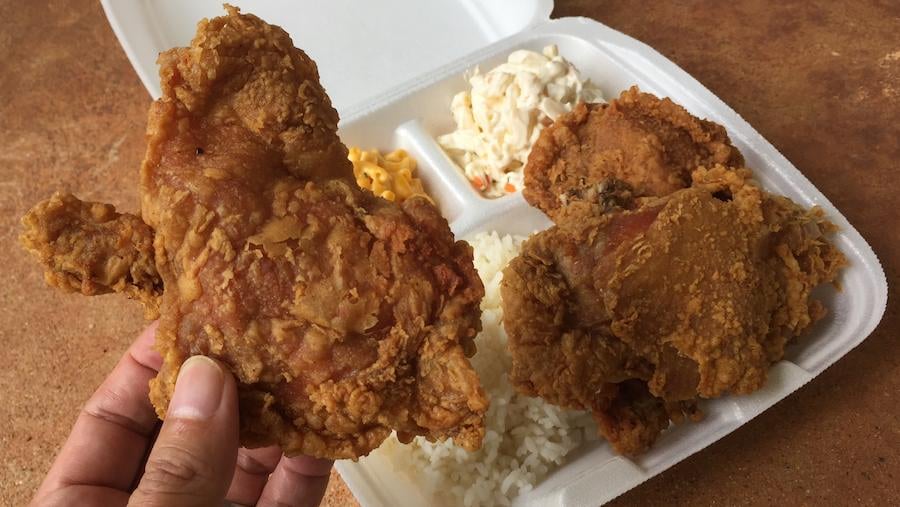 I admit, this last slot wuz da most difficult to fill. I questioned whether I wuz tasting correctly, cuz Hanalei's not even known for their fried chicken. Da cashier told me they sell way more roast chicken than fried chicken.  Hearing this only made me even more unsure about this choice. So I decided to enlist da tastebuds of my cousin Kevin who's also one lover of fried chicken. Wuz funny, cuz he nevah even know about this fried chicken and his house is less than 10 minutes away. Das how un-famous this fried chicken is. But after sampling it, he loved it even more than me. So I had to figgah out why it's good. I guess it works because of its deceptive simplicity. It doesn't have super fancy batter or secret spices. An'den, das when it dawned on me. Hanalei Chicken is actually my dream chicken. It's what I had hoped to find when I first started this assignment. Cuz it tastes like lotta okazuya fried chicken only it's made fresh to order. Cooked to perfection and basic. Yet basic's not one bad thing, cuz basic done well can actually be quite sublime.
Pearlridge Center, 98-1005 Moanalua Road, (808) 488-3788
No. 4: DB Grill / Café Duck Butt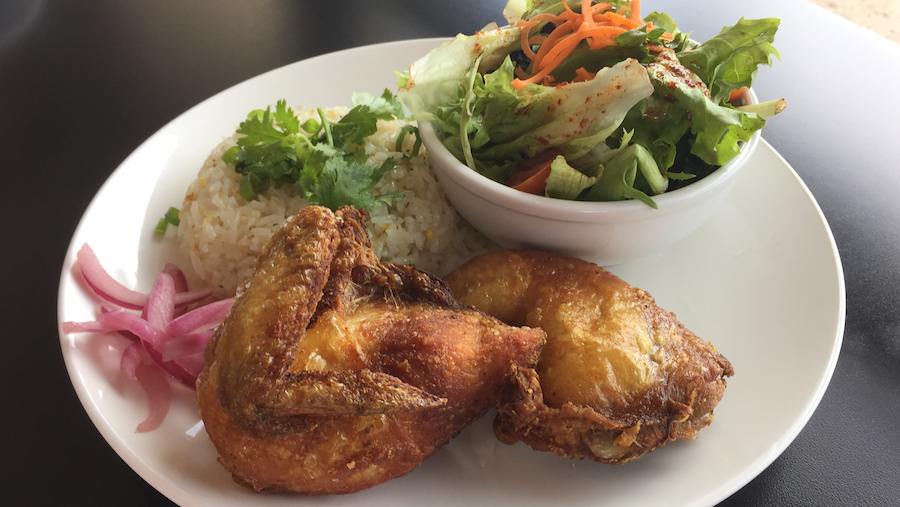 I'm one simple guy. I usually no do froufrou. But for da sake of fried chicken I had for sample this one cuz all my foodie friends wuz saying I gotta try 'em. Luckily da price wuz not bad. Wuz my first time eating this, so I wanted make sure I wuz eating da right one. So I asked da manager if this Duck Butt Chicken at DB Grill is da same as da one at Café Duck Butt in town. He assured me it was exactly da same. "We don't tweak it or anything," he said. Aftah sitting down, me and my dining companion did a whole Abbott and Costello skit about what I was actually gonna be eating. Cuz it's called da Duck Butt Chicken. So wuz this da best-tasting chicken, because it's actually duck? Turns out it's neither duck nor regular chicken. It's one "fried dry rub cornish hen." And I had to Google what that is exactly.  Essentially it's one fancy way of saying, expensive baby chicken. I gotta admit my froufrou fried chicken, wuz quite tender. And da skin wuz quite crispy. I wuzn't expecting to like it. It's one interesting gourmet take on traditional comfort food. (P.S. I thought that wuz one flower on my plate, brah.)
Kapolei Commons, 4450 Kapolei Parkway, #560, (808) 376-0885 and 901 Kawaiaha'o St., Kaka'ako, (808) 593-1880
No. 3: Shiro's Saimin Haven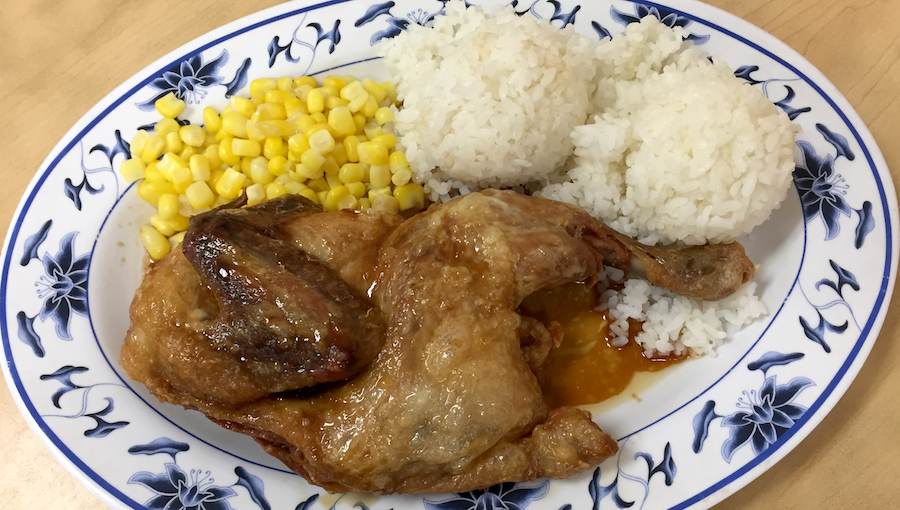 I always thought it wuz so cute how this old, gray-hair teacher guy I used to know, Mr. Mizusawa, how he would always stop by someplace on his way home to pick up dinner for his wife and sons. Seemed like more often than not he wuz gonna stop by Shiro's to pick up da fried chicken. I remembah him saying how much his family all loved da sauce, which I thought wuz odd cuz when I used to eat Shiro's fried chicken as one kid, da ting nevah have sauce. But I thought, Oh, maybe dey changed da recipe. Since I wuz doing this fried chicken assignment, I decided to investigate.
I found out had two kines. Dey still had da Shiro's Original Crispy Chicken half broiler das "kachikachi crispy," an'den dey had Mizusawa man's variant, Shiro's Original Hula Hula Chicken, which is da same like da regular one, but with teriyaki sauce on top. I read up on 'em and discovered da secret to its tenderness. It's a special two-step cooking process. First dey steam 'em, den dey fry 'em up to make 'em crispy. That way da ting doesn't come out dry. I wuz worried it might lose it's crisp when they put da sauce on top. But nope, wuz crispy and exactly as advertised, "teri-yakking good." Mizusawa man would often jokingly wonder if his wife fell in love with him cuz of his looks or his brains. Now I know da answer. She fell for him, cuz he chooses good food das why.  LOL.
98-020 Kamehameha Highway, Waimalu, (808) 488-8824 and 91-919 Fort Weaver Road, 'Ewa Beach, (808) 689-0999
No. 2: Zippy's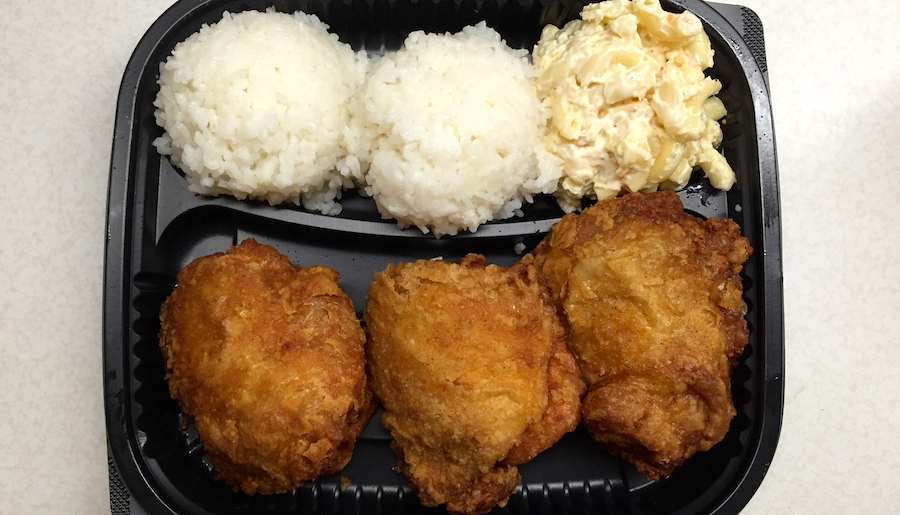 Some foodies probably going give me lotta flak for this choice. But I stand by it, cuz whether you like it or not, Zippy's fried chicken sets da bar. It's da common fried chicken denominator for Hawai'i local people. If you wanna assess da quality of somebody's fried chicken, da first question you ask is, "So what? Bettah than Zippy's?" But because it's all ova, we kinda take Zippy's fried chicken for granted. Kinda like Grandma's cooking. Lotta times we no really appreciate how good Grandma's cooking wuz until she passes away. Similarly, lotta local people no really appreciate Zippy's until dey move "mainland." Das when dey realize how good they had it. Zippy's fried chicken wuz so juicy with one batter that's perfectly crisp, as opposed to overly crunchy like you eating cereal. So distinctive that Zippy's fried chicken wuz, cuz no mattah how much dey search, dey just can't find anything like it. I seen 'em happen countless times. Soon as these expatriates come back for visit, I ask, "Are you gonna go Zippy's?" Come for find out dey went already!  Straight from da airport, brah. And each time I ask, "So what you wen order?" Da majority of da time, da answer's da same.  Da fried chicken plate of course.
Multiple locations, zippys.com
No. 1: Lahaina Chicken Co.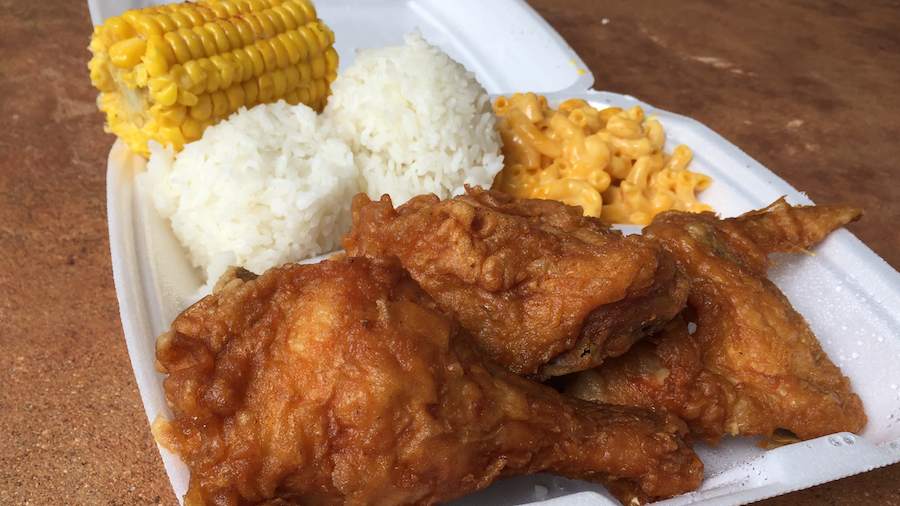 I tink this is hands down da mostest bestest Hawaiʻi fried chicken available today.  I discovered this amazing chicken several years ago, but for da longest time before that, I nevah even know this place had fried chicken. Cuz at da Ala Moana Food Court, inside da glass case of Lahaina Chicken Company's front serving counter, dey only showcase their roast chicken, roast pork, prime rib, along with all their sides. It wasn't until my friend told me for look at da back counter that I saw their fried chicken hiding behind their servers. Da batter's kinda reminiscent of Pioneer Chicken, but a little less greasy. It's one untextured batter, almost like beer battered chicken, but not puffy. So 'ono and you get nice size pieces, but still it's small kine pricey. Worth it, but.
If you want da ultimate proof of how awesome this chicken is, lemme share with you this little tidbit. At first I thought it was odd that Lahaina Chicken Company has another location inside the Honolulu airport. But then I figured out da genius of having it there. I noticed that lotta neighbor island residents, when going back home time, they would just stop at airport Lahaina Chicken to bring back chicken. So convenient. No need hunt down manapua when get Lahaina Chicken right dea. See, my proof that local people love it — Lahaina Chicken has achieved … omiyage status.
Ala Moana Center, 1450 Ala Moana Blvd., (​808) 946-4588 and Daniel K. Inouye International Airport – Hawaiian Airlines Terminal, 300 Rodgers Blvd. (808) 834-7610, yummyhawaii.com