In Chinatown, Thuong An Lac, Honolulu's Only Vietnamese Vegan Restaurant
This hole-in-the-wall serves a diverse (and vegan) menu of classic Vietnamese noodle soups and dishes.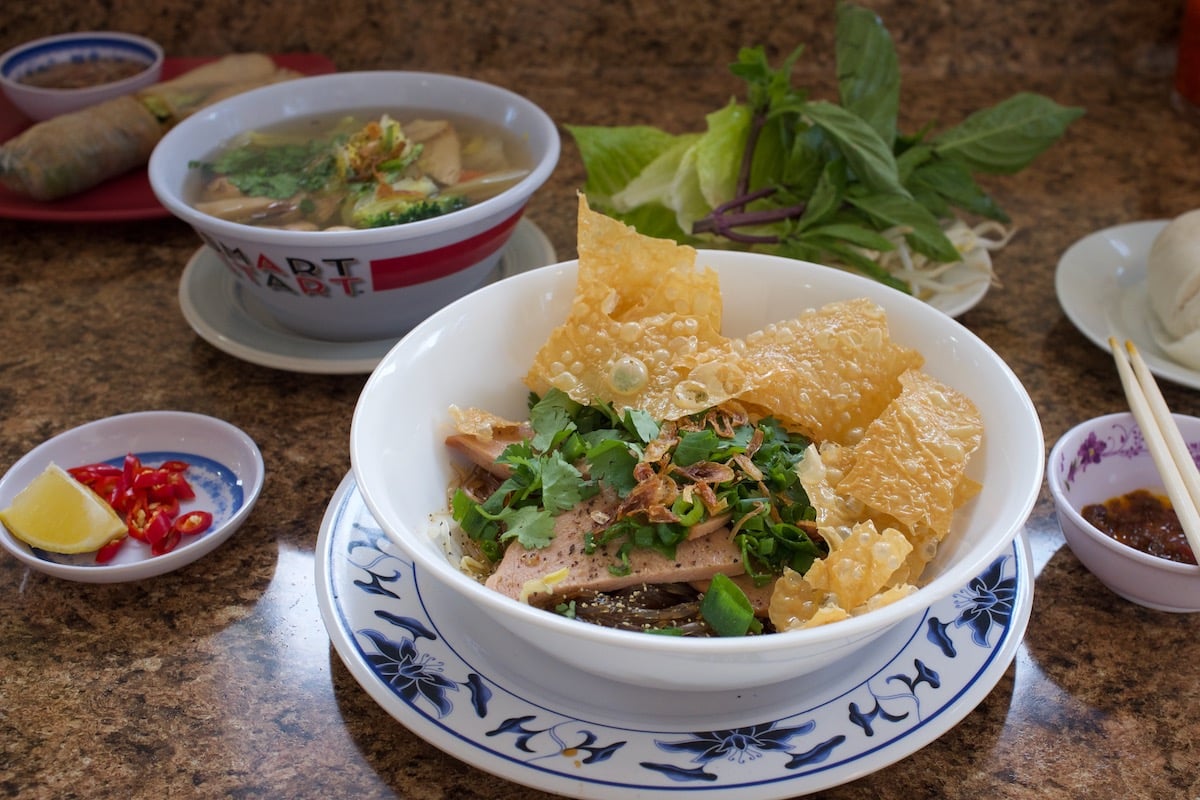 I walked into the new vegan Vietnamese restaurant, and the first thing I saw on the menu was pork chop and meatloaf. I was confused—was I in the wrong restaurant? Were there only some dishes that were vegan? All throughout the menu, I saw crab, ham, fish. And then I spotted it, on the corner of a page: "all dishes are entirely vegan."
These days you can get vegan pho at The Pig And the Lady and The Ripple of Smiles, and many Vietnamese restaurants have a vegetarian section of the menu, catering to both modern trends and Vietnamese Buddhists eschewing meat. But at Thuong An Lac, which translates roughly into "perpetual peace and contentment," it's all vegan. So there's a housemade soft and fluffy bao ($4) loaded with carrots and cabbage and a hu tieu noodle soup ($13) that's usually made with pork and shrimp, but here garnished dramatically with crispy sheets of fried tofu skin and a faux ham that's a shockingly good stand in, smoky and salty and not unpleasantly spongy. It's my favorite noodle soup here, where it's served with a clear broth on the side loaded with broccoli and mushrooms. Underneath a separate bowl of glass noodles is a shoyu-based sauce. There's a lot going on, plus another plate of bean sprouts and Thai basil and lettuce. I dump in a bunch of veggies and pour the broth over it all to tame it.
SEE ALSO: Going Vegan Is Hard. These Two Cafés Helped a Meat Addict Transition
Vegan restaurants often fall into two camps: vegetable-focused, and meat imitative (think chik'n wings). But Thuong An Lac straddles the two, mixing variously textured soy and plant proteins with plenty of fresh herbs in the Vietnamese tradition. The bun rieu ($13), usually a tomato and crab noodle soup, comes with fluffy tofu clumps in the broth and a plate heaped with herbs including thinly sliced banana blossoms, curlicues of ong choy stalks, mint and bean sprouts. There's a lovely attention to detail at the restaurant, down to the pandan-infused water and iced tea.
The broths tend to run a bit on the sweet side, which I fix with a squeeze of lemon—you might need to ask for another. And there are no less than four different types of chile condiments to doctor your soup with, from sliced tiny red chilies that pack an intense punch to a chili salt to the minced lemongrass paste. I wouldn't say it all replaces the flavors of meat, but rather, provides a welcome distraction in its absence.
Phuong Nguyen, who has been eating vegan for decades, opened Thuong An Lac about half a year ago—when I visited over the Lunar New Year weekend, the tiny, tucked-away restaurant across from O'ahu Marketplace was filled with Vietnamese diners. A line stretched from the takeout window outside. It wasn't exactly a scene of peace and contentment. But no one seemed to mind at all.
Open daily from 7 a.m. to 4 p.m., 135 N. King St., Chinatown, (808) 888-8997, @lacthuongan