Have Drinks at Eleven, Foodland Farms Ala Moana's New Cocktail and Whiskey Bar
Past the produce aisle is a new spot for cocktails and toast with 400 Rabbits and a world of ideas in a glass.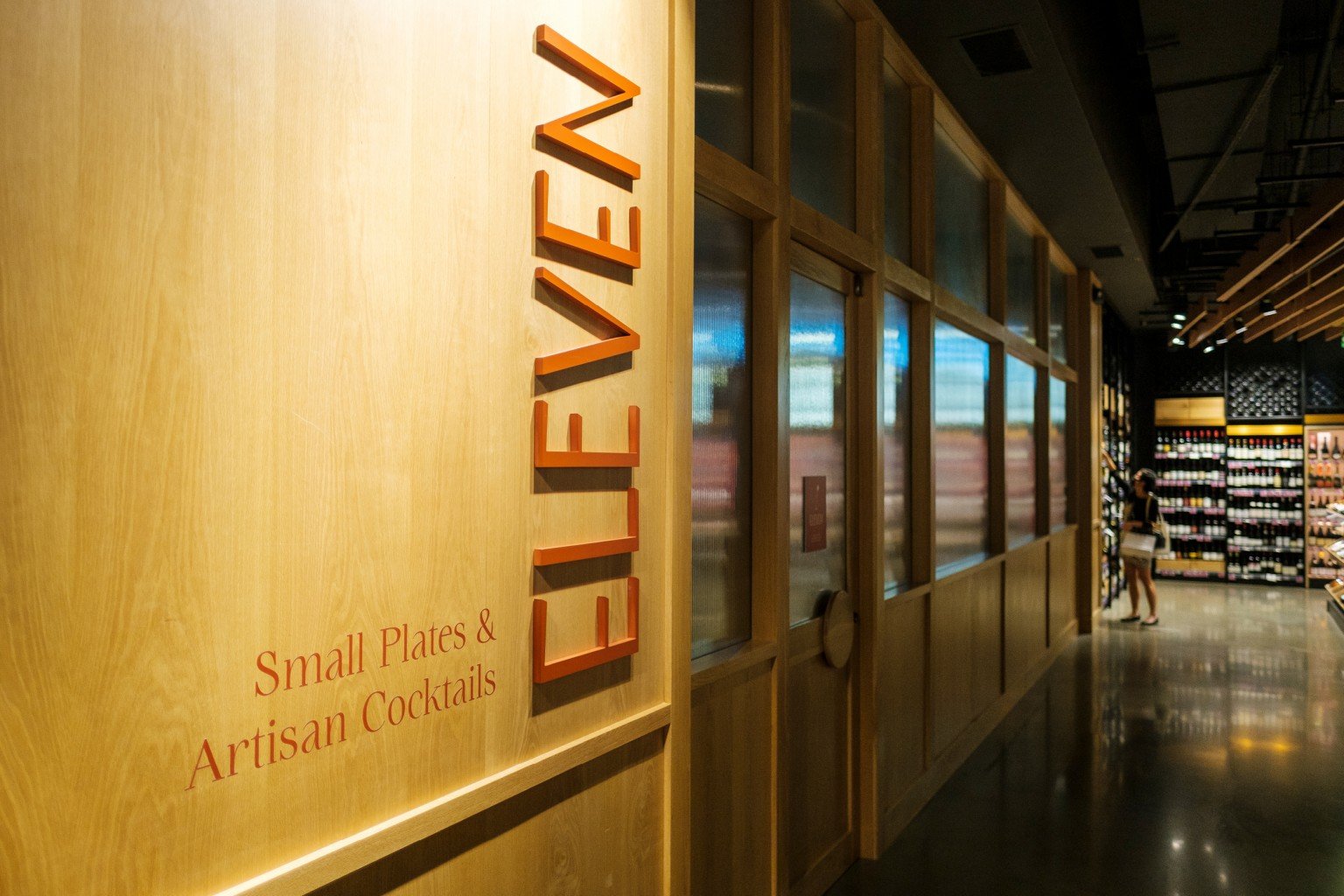 I needed lettuce. That was the deciding factor behind my third visit to Eleven, the new cocktail and whiskey bar inside Foodland Farms Ala Moana. I'd already been twice for this assignment; I didn't need to go again. But given Eleven's opening in December just ahead of surging COVID-19 case counts, I'd ditched plans to come with friends, opting instead for quick solo visits—and discovered that I like drinking cocktails alone. Plus, there was the lettuce.
Minimalist and modern, Foodland's latest foray outside its traditional supermarket core sits just beyond the cash registers in the chain's flagship store. It's on the opposite side from the popular R. Field Wine Co. bar, where you can park your shopping basket and order a glass of wine with charcuterie. Eleven is not that kind of place. Aside from faint lettering that reads "Small Plates & Artisan Cocktails," nothing tells you there's a bar behind the opaque glass walls. Inside, Japonesque light fixtures drop from high ceilings, and windows behind the bar look out onto Pi'ikoi Street. More than 90 whiskeys line the shelves, some of them allocated, from the U.S., Scotland, Japan, India and other countries. Eleven offers them in nine preparations ranging from neat to Manhattans and the most Instagrammed choice: smoked with applewood, a glass cloche lifted tableside to release smoky tendrils swirling around the drink.
But I'm here for the cocktails. There are 13, enough to satisfy a range of preferences. A colleague who experimented with home pickling full-time for a week loved the vinegary Pickled Garden ($13), made with Svöl aquavit; for me it's a tad too bitter with the botanicals of the house-made shrub. Another who favors martinis nodded her approval of the Islay to London ($15), a good balance of Tanqueray No. 10 gin and Laphroaig 10-year single malt whisky. Perched at the bar, I'm realizing after six cocktails in three visits that my own preferences, which veer toward smoky and citric, vary wildly with my mood. On cheery days I'm partial to the Hemingway daiquiri ($13), whose fresh citrus greets first and balances the Kōloa rum and maraschino liqueur. On aimless days I might start with a Kaka'ako Mule ($11), whose ginger beer invites guzzling but which is better sipped for its notes of fresh cantaloupe and pineapple and nice bite of serrano chile. A day of focused efficiency might call for the gin-and-herb-balanced Negroni Bianco ($15), which leads to the cocktail I'm curious to try next, Ce Soir ou Jamais ($16), which combines gin and cognac with apricot liqueur. Foodland corporate mixologist Matt Rosskopf says it's heavy on the alcohol; with a name that translates as "tonight or never," you'd expect nothing less.
The most buzzed-about of his cocktails is the esoterically named 400 Rabbits. At $19 for a 1.5-ounce pour, it's also the most expensive and the most complicated to make. The small batches take two to three days and feature Tequila Fortaleza, yellow chartreuse, cacao liqueur, fresh orange and lime juice, clarified goat's milk and rooibos tea. Rosskopf named it after an Aztec legend in which the 400 rabbits born to the goddess of alcohol represent 400 ways to get intoxicated. Which is why the cocktail gets buzz—different drinkers taste different things. "All I taste is chocolate," a colleague says, perplexed. For me it opens with citrus and spice, like a holiday candy tempered with tequila, and finishes on a gentle note of chocolate. This is a delicious dessert cocktail.
Foodwise, there are bar snacks and toasts. Full stop. This is one way Foodland distinguishes between two bars in the same store: At the R. Field wine bar, you can order pūpū, sandwiches and hot dishes from a menu or bring and eat any prepared food from the rest of the store; at Eleven, you can eat popcorn, chips, nuts or loaded toasts (whatever other decision you make in this life, get the bacon fat popcorn). I've eaten six of the seven toasts and the reality is better than it sounds. Five I would order again, especially the butter-poached shrimp on brioche ($12), a light dish of tender bay shrimps with celery, lime, tobiko roe and pea tendrils on a smear of tarragon crème fraîche; the generously topped sake-cured salmon on pumpernickel ($12) with coriander cream cheese and everything seasoning; and the za'atar roasted beets on rye ($9) with bits of feta, toasted pumpkin seeds and a hint of honey. The only toast I wouldn't repeat is the one servers recommended on all three visits: the Ho Farms tomato on ciabatta ($11) with tomato jam, bacon and Tabasco-Worcestershire aioli; this one is just the sum of its parts.
Against the spate of cocktail bars that have opened in Honolulu since last summer, Eleven is easy to place. It's not posh; and the food isn't prepared by chefs from Michelin-starred restaurants (hi, Podmore and Bar Maze), or themed (that's you, Heyday and EP Bar). It skates in a space between worldly and accessible, the direction Foodland has chosen to compete in a new world order that pits it against Costco, Whole Foods Market, Walmart and Target. And Eleven, named for the much smaller Foodland that closed at Ala Moana Center in 2014—it was the chain's 11th store—is, of course, Hawai'i's only cocktail bar in a supermarket. Which is so convenient when you need lettuce.
1450 Ala Moana Blvd., (808) 949-5044, elevenhnl.com, @eleven.hnl