Chinatown's New Listening Bar Melds Chill Music and Cocktails
Don't think of EP Bar as Honolulu's newest cocktail bar—here, quality sound reigns supreme.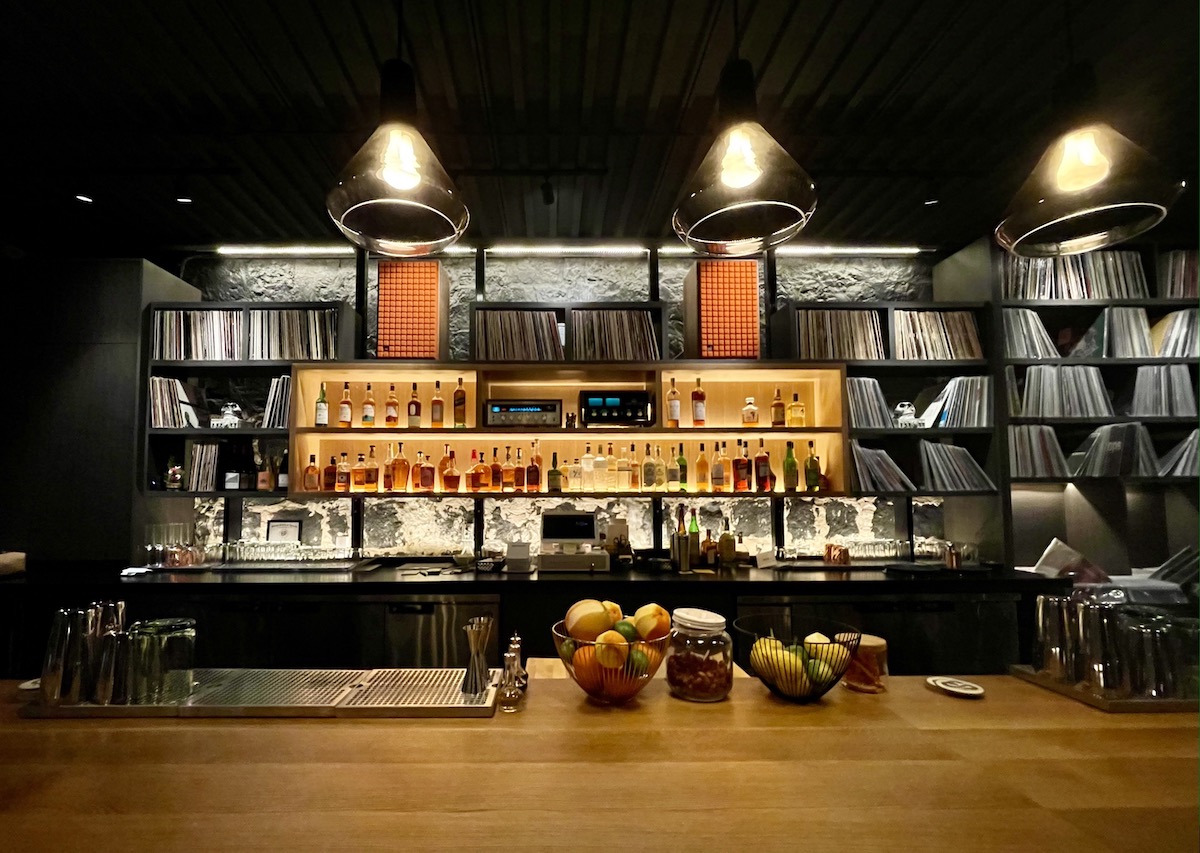 The new Chinatown location of Morning Glass Coffee has a secret: Right behind the coffee bar is a listening bar. To the right of the pastry case is a walkway with the word "bar" spelled out in penny tiles—follow it to the end and you find yourself in what feels like a superhero's rock-walled hideout. Welcome to EP Bar. Nearly two years after its first post on Instagram drew anticipation from music geeks and booze hounds, Honolulu's first and only listening bar officially opened on Jan. 4.
EP refers to extended play records, which contain more than a single song but fewer than an album—a modest collection that's often more affordable. EP Bar was inspired by listening bars in Japan, where they've been an institution since the 1920s thanks to Tokyo's Meikyoku Kissa Lion. In the last decade, intimate hideaways where audiophiles gather for warm sounds, good whiskey and a collective love for music have been popping up worldwide. When EP Bar owners Ryan "Tunda" Miyashiro, Chris Nakano and Daniel Ng found themselves in Shibuya's iconic JBS discovering new vinyl tracks over good whiskey, the idea for EP Bar began to spin in the heads of the local entrepreneurs.
Like most listening bars, EP Bar has a lot of records (almost 3,000 so far) and a lot of ways to imbibe. Part of the menu is dedicated to highballs created in collaboration with cocktail maestro Justin Park of Bar Leather Apron and Bar Maze. We try the Pauahi St. Highball ($14), a Roku gin-spiked version of EP Bar's lavender lemonade. The citrusy, floral gin plays nicely with the combination of fresh lemon and lavender, making it go down dangerously easily. Bartender Sam Trusty tells me the Kyoho Highball ($16) is the most popular of the slender drinks. Glenmorangie 10 is layered with bright citric acid pulled from green Kyoho grapes, then softened with elderflower and finished with bubbly soda water. I have never had a single malt scotch cocktail that I've truly enjoyed—until now. The brightness from the green grapes balances the scotch, opening it up and complementing its peaty flavor. The lychee-esque elderflower lends just enough sweetness for a round and delightful finish.
Mala Sangre ($15), created by Trusty, is a mix of mezcal, Cynar (an Italian amaro made from artichokes), chile agave, mint and lemon. The result is refreshing and tasty, like an everlasting gobstopper of a cocktail. The bitter, syrupy notes from the Cynar find balance with lemon and agave, allowing the smokey agave to shine. Even though I'm craving a more noticeable heat, the Mala Sangre is my new go-to drink. More intriguing is Trusty's EP Bar Old Fashioned ($12), a type of cocktail I wouldn't usually order. It's a blend of sugar, bitters and black-sesame-fat-washed Evan Williams Bonded bourbon. Yup. The fat wash yields a creamy mouthfeel, and the oaky bourbon has a strong sesame overtone and a nutty finish trailing notes of roasted coffee beans. I'm not an aficionado of Old Fashioneds, but the combination is scrumptious.
For now, EP Bar's small list of snacks includes a meat and cheese plate ($23) and beef jerky chips ($5). The plate comes with a generous stack of toasted Breadshop city loaf (bonus points for not having to fight your bestie for the last slice). The beef jerky, from Wu Tang Jerky, is thicker and fattier than your average crispy version, with a seriously beefy flavor.
I'd intended to pop in, say hi and congrats and have a swift drink and snack. Instead, between cocktails, I find myself declaring to a friend moonlighting behind the bar, "I live here now." In a corner, veteran Chinatown DJ Chris Kam (@djdelve) plays song after song that makes the room groove, each one settling in before melting into the next. For music lovers, the experience of EP Bar is good for the soul.
1150 Nu'uanu Ave. Unit A, (808) 753-9720, epbar.co, @ep.bar