Farmers Market Finds: Indian-Inspired Snack Wraps in Kailua 
Kama'āina Kati Roll wraps up pork belly, chicken tikka and masala paneer in grilled roti flatbreads.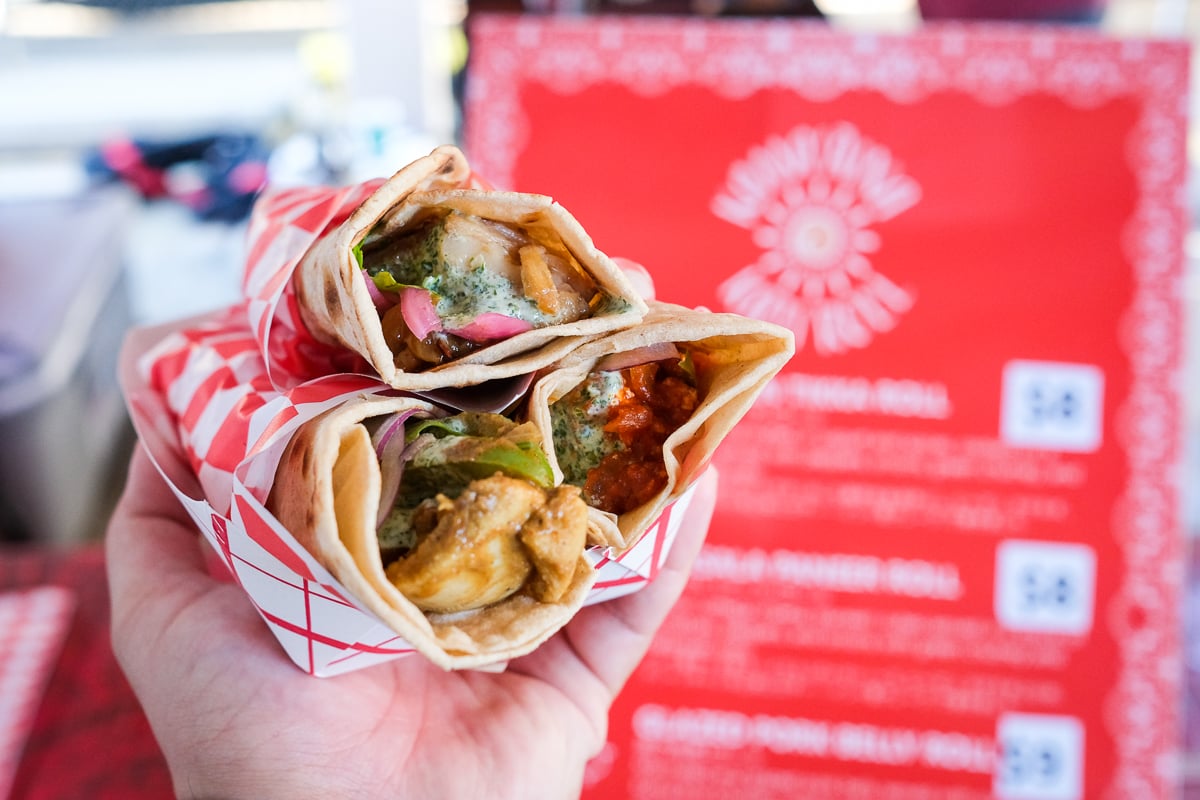 Farmers markets are breeding grounds for food innovation and some of Hawai'i's most successful restaurants. Frolic's series spotlights some of these 'ono finds.
What: Roti flatbread wraps with chicken, pork belly or paneer cheese
How much: $8 to $9
What market: Lōkahi Kailua Market, 340 Uluniu St., Kailua
Vendor schedule: Sundays from 9 a.m. to 1 p.m. Note: They're off this week, restarting on Jan. 30
Instagram: @kamaainakatiroll
When it comes to Indian food, it's all or nothing. You either order chicken tikka, palak paneer, lamb biryani and garlic naan—and end up with three days' worth of leftovers—or you get nothing at all. More often, you just need a taste to satisfy your craving for a spicy curry and a buttery flatbread.
Is it really too much to ask for?
No, it's not, now that Kama'āina Kati Roll answers that call on Sundays with snackable kati rolls. The street food originated in the eastern Indian city of Kolkata, where hawkers wrap paratha flatbreads around skewers of grilled meat. Kama'āina makes their Indian-inspired burritos with grilled roti wrapped around fillings of chicken tikka, braised pork belly and masala paneer with slicks of pineapple and mango chutney. Did your mouth just water? Because mine sure did.
Husband and wife Matthew and Erika Galarneau were quick to notice this gap in O'ahu's food offerings when they found themselves missing one of their favorite haunts in New York City: the Kati Roll Co. They missed it so much, they tell me, that they sought to replicate the comforting wraps at home after moving to Hawai'i with their toddler in tow. For Matthew, O'ahu is home; for Erika it's closer to her native Tokyo, but still a big change from living in the Big Apple.
Kama'āina's most popular kati roll by a wide margin is the chicken tikka ($8). Marinated overnight in yogurt and spices and grilled, it's a familiar flavor profile to those who enjoy Indian cuisine. The roll also has bell peppers, red onions and a line of herbaceous green chutney. The spice is mild by Indian standards, but it sneaks up on you after a few bites.
The masala paneer roll ($8) wraps up Indian-style cottage cheese cubes in a richly spiced tomato sauce with peppers, onions and green chutney. It's not as substantial as the chicken tikka roll, but its flavor and textures make it just as interesting.
The glazed pork belly roll ($9) is Kama'āina's deluxe offering with tender chunks of sweet braised pork belly with pickled onions, pineapple and mango chutney and green chutney. It may not be of the Indian persuasion, but it is delicious and works well on the roti.
The Galarneaus plan to expand their limited menu with a rotation of monthly rolls. They both work full-time at Downtown office jobs, so weekends are their only time to play with this pet project. The Sunday schedule and steady flow of customers at the Lōkahi Kailua Market make it the perfect venue to scale up their business.
After splitting the three rolls, my friend and I are satisfied but they are so good, I secretly want more. I'm setting some boundaries for myself this year, so my kati roll craving will just have to wait until next Sunday.
---
SEE ALSO: