Chirashi Bowls Where You Least Expect Them in Honolulu
You won't find these seven takeout bowls at sushi bars or restaurants, but many are worthy of them.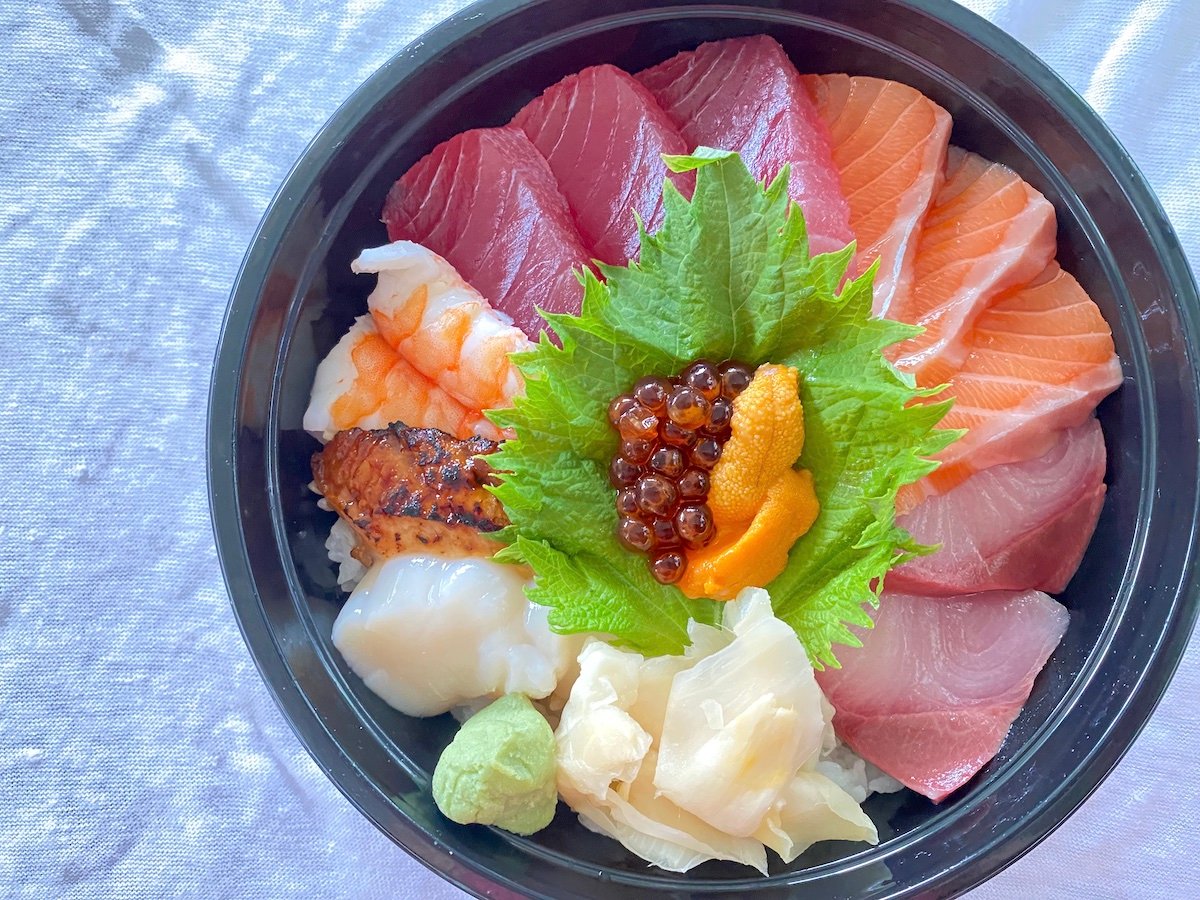 Note: Contents and prices were current as of the original date of this post and may have changed.
I'm in love with chirashi. It's a recent obsession: I was running around in a frenzy of errands when I spotted a rare mid-afternoon chirashi bowl among the chilled bentos at Nijiya Market. As I wolfed it down in the back seat of my car, its goodness halted my chopsticks—deep red slices of akami of maguro, smooth and sinew-free; silken crunches of akagai and other shellfish from Japan; a generous mound of ikura. The rice, even cold, was sweet and lightly, perfectly seasoned, every grain distinct.
It's now a mission of my food life to relive those moments, in places outside sushi bars. Chirashi, in my opinion, is for lunch; at a sushi bar I want the leisure and surprises of omakase. Happily, I have yet to find a chirashi bowl I don't like. If slices are thin, I don't care, as long as they're interesting and fresh. And where I used to crave adventure from a bowl of chirashi, reveling in anything that wasn't the usual 'ahi, salmon and hamachi (because why, Hawai'i? Why, living on reef-fringed islands surrounded by seasonal seafood, do we eat the same few things all year?), now I've come to appreciate these, too. A bowl of chirashi without 'ahi, salmon and hamachi lacks an elemental Hawai'i-ness.
---
SEE ALSO: 6 Takeout Places for Maximalist to Budget-Friendly Chirashi in Honolulu
---
You'll find these seven bowls in food courts, poke shops and yes, a supermarket. They range in price from around $10 to $24; whether you find them worth the price is a conversation for you and your own chirashi tastes.
Nijiya Market
The one that started it all—and for the remarkable supermarket price of $9.99. This one caters to Japanese tastes. Since my favorite thing to eat in Japan is seasonal sashimi—whatever's swimming in the seas off Hokkaido in late April, for example—this one takes me to a very happy place, thin slices and modest rice portion notwithstanding.
Multiple locations, @nijiyamarket_hawaii

---
Take's Fish Market (closed)
Take's slicing can be homey, which is a draw for me. The tiny counter inside the Moanalua 99 food court (formerly known as 99 Ranch Market) is a mom-and-pop operation and unfailingly friendly. Rice is cooked and seasoned to Japanese standards, another plus, and the dashimaki egg roll is made as it is in Japan, by flipping a thin sheet of whipped egg over and over on itself as it cooks. But my favorite aspect of Take's $10.99 chirashi bowls is the vertical tasting of 'ahi akami, chutoro and nakochi, small pieces scraped off tuna ribs. It's a respectful and delicious treatment of the fish.
1151 Mapunapuna St., (808) 834-8485
---
Paradise Poke
Chirashi bowls at poke shops carry thick slices of the favorite local trifecta of 'ahi, salmon and hamachi, and sometimes, as at Paradise Poke, a scoop of ikura that makes sushi lovers swoon. Slices of tako and dashimaki egg roll round out the toppings on this $20 bowl.
1613 Nu'uanu Ave., (808) 260-4580, paradisepokenuuanu.com, @paradisepokehi
---
SEE ALSO: Garlic Shrimp, Musubi, Lemongrass Kalbi: There's Way More than Fish at Paradise Poke
---
Fish & Rice
Another Japanese-inflected chirashi bowl, the crowning glory of this one ($17) is the supple piece of softly grilled unagi dressed in soy-forward tare, everything absolutely fresh. Tucked in the modest food court of a Korean grocery, Fish & Rice boasts a sushi chef from OG izakaya and sushi bar Imanas Tei.
1670 Makaloa St., (808) 367-0863, fishandricehawaii.com
---
SEE ALSO: Find This Tiny Sushi Counter Inside a Korean Supermarket
---
Mama Kim's
You don't have to go luxe at Mama Kim's. The regular chirashi bowl ($17) has generous slices of translucent 'ahi, salmon and hamachi, plus dashimaki egg roll and shrimp. But where there's a deluxe option ($24), I'm taking it, and my reward is the addition of grilled unagi, sweet scallop, ikura and luscious lobes of uni. One of the best chirashi discoveries of my quest.
1481 S. King St., (808) 260-4109, @mamakimshawaii
---
SEE ALSO: Mama Kim's Fresh Sushi and Poke Bowls Spice Up Kāheka
---
Maguro Brothers
Maguro Brothers sells poke, sashimi and chirashi bowls in Chinatown at lunch and Waikīkī at dinner, all takeout. This $12.65 bowl is a hybrid—'ahi, salmon, hamachi and tako are all local favorites, but rice and portion size hew to Japanese standards (the large chirashi offers more of the above for $5 more). That's because brothers Jun and Ryo Tsuchiya, born in Japan, have been catering to local tastes for years (remember their Sakura restaurant on Waialae Avenue?). Super notable: This chirashi comes with real wasabi—not fresh, but the real thing—which adds to the seafood a fruity, fleeting, nuanced sting.
Multiple locations, @magurobrothershawaii

---
'Ahi & Vegetable
You find the thickest slices in chirashi bowls from poke restaurants; at 'Ahi & Vegetable, they're too big to fit in my mouth and chew normally. This $18.95 bowl is an easy, filling find if you're in Kalihi or at Ala Moana Center. Of note: A choice of white, sushi or brown rice; and ikura, golden tobiko fish roe and boiled choi sum, a surprising complement with salinity and dark leafy green depth.
Multiple locations, @ahiandvegetable