Mama Kim's Fresh Sushi and Poke Bowls Spice Up Kāheka
Bowls of slimy neba neba, garlicky torched scallops and poke with freshly prepared kim chee bring life to this corner of King Street.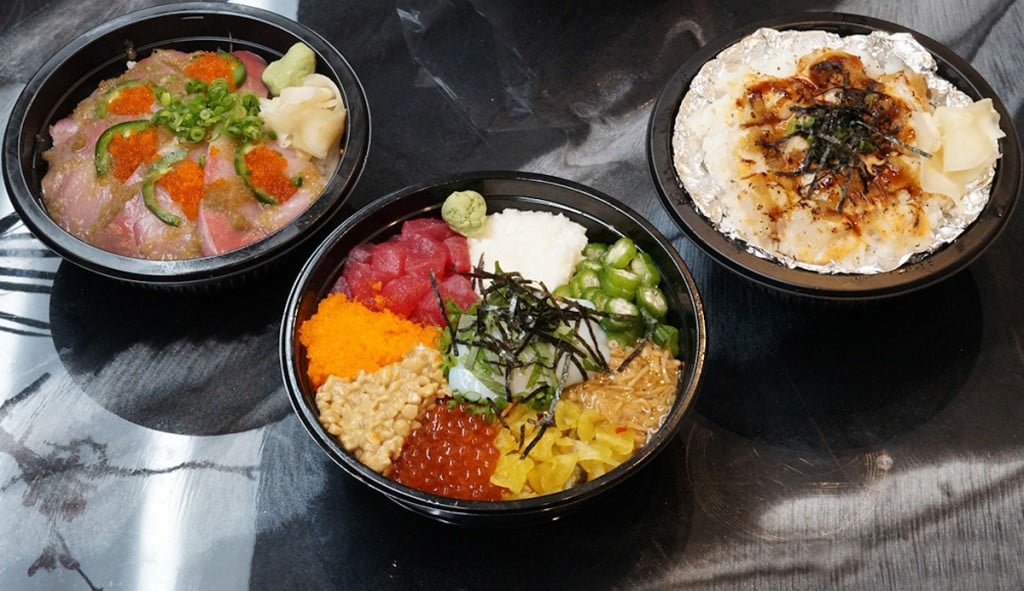 Hawai'i loves poke bowls, right? I don't know who was more excited to discover that a new poke shop opened in my neighborhood: me, or my building's security guard. Located in the Kāheka Professional Building, Mama Kim's does offer poke bowls—more on that later—but you really should start with their fresh sushi bowls for something different.
---
SEE ALSO: It's Not Poke or Sashimi: Here Are 6 Other Ways Uncooked Fish Is Served in Hawai'i
---
Most people will go for familiar flavors found in the Spicy Tuna Deluxe ($12) or Hamachi Jalapeno ($13), which are also quite affordable. In addition to wasabi, I like that you can add spice to your fish in different ways to make it a more contemporary experience. I also love the scallop bowl ($14), which is mixed with garlic aioli, torched, and then topped with their house-made garlic onion sauce, green onions, and unagi sauce. Other people must love it, too, since several of those bowls pass me as I eat.
If you're on a low-carb program, they offer a Korean sashimi salad (often labeled as hoe deop-bap at Korean restaurants). It's composed of diced 'ahi, salmon, and hamachi with tobiko, ikura, radish sprouts, cucumber, onion, Korean shiso and nori, all atop a bed of shredded romaine lettuce and rice. This is quite a deal at $15 since I often see it for $20 or $25 elsewhere.
My absolute favorite, however, is their Neba Neba bowl ($15). "Neba neba" is slang for "slimy" in Japanese and it has all the slimy favorites: natto, okra, nametake mushrooms, and yamaimo (mountain yam). They're taken to a new, deluxe level of flavor and texture with diced 'ahi, takuan, green onions, ikura, tobiko, and a slow-cooked egg. My natto-loving friends have been flocking to Mama Kim's since I posted about it, and if you love neba neba bowls, this is probably the best one in town. It has the slime and funk of natto, but the other ingredients give it a beautiful, fresh, bright flavor and texture, with the umami from all the eggs. Even my natto-hating friend ate it and uses the experience to brag to people that he's eaten natto.
---
SEE ALSO: Try Upscale Sushi in 'Ohana Hale Marketplace at @Sushi
---
Now, if you're a die-hard poke bowl lover, you can choose from about nine different kinds of poke to build your own bowl. It's $11.95 for one choice, and $13.95 for two, and the fish is diced and mixed right in front of you so you get the freshest flavor. I love that the four crunchy toppings are free since other poke places only allow one or two. Of the poke, I recommend the Kim chee 'Ahi poke since Rosa Kim makes the kim chee herself almost daily.
Speaking of which, you can also buy kim chee by itself to eat there or take home. Everyone has their own signature way of mixing their kim chee, and hers has notes of sweetness, heavier salt and a lot of heat. I'm going to make a grilled cheese sandwich with the tub I bought!
Rosa Kim has been preparing food and cutting fish for 20 years, so every made-to-order bowl is full of super fresh ingredients. Her daughter, Soonie, has been in the food industry for many years as well. Both women point to say the other is the real "Mama Kim."
Mama Kim's is open Monday through Friday from 10 a.m. to 3:30 p.m. and 5 to 7 p.m.; Saturdays from 10 a.m. to 7 p.m. Parking is on the street.
1481 S. King St., (808) 260-4109, @mamakimshawaii