At Last, Sunset Texas Barbecue Is Opening in Kaka'ako Sept. 1
Central O'ahu's venerable smokehouse will also have a limited run of barbecue at its new smokehouse this weekend.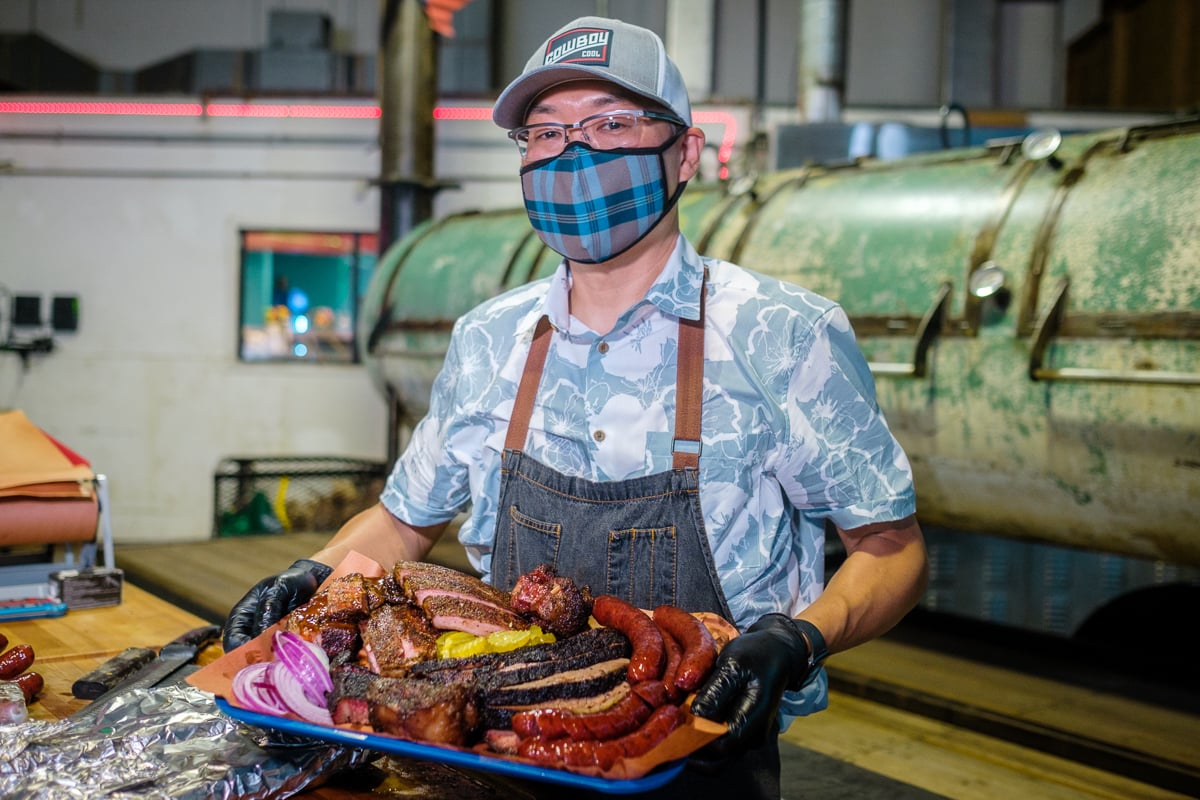 "Nice floppiness," James Kim of Sunset Texas Barbecue says as he unfurls a quivering brisket onto a cutting board. It's been resting like a newborn swaddled in butcher paper after 14 low and slow hours in a 1,000-gallon smoker named Piccolo. A gorgeous black bark encrusts the Creekstone Farms primal cut; a quick stroke of Kim's knife reveals its blush pink interior, glistening with juices. A gentle squeeze coaxes out more for the camera.
Windows frame most of the action in the smoke pit at Sunset Texas Barbecue's new Kaka'ako home on Cooke Street, which soft-opens Saturday, Aug. 28 (check Instagram for details). The official opening is set for Wednesday, Sept. 1. The site of the former This Is It Bakery is a perfect fit for Kim's growing operation, with good ventilation and ample space for dine-in tables and equipment. It even has room for Sunset's large food truck, the three smokers that supplied its Wahiawā location with brisket and ribs, and Piccolo, an oxidizing custom-built smoker that holds upwards of 40 briskets at a time. And there's dedicated parking.

---
SEE ALSO: Barbecue Alert: Wahiawā's Sunset Smokehouse Is Expanding to Kaka'ako
---
By Labor Day, Kim expects to park a third 1,000-gallon offset smoker in the pit, effectively tripling his daily output from what it was in Wahiawā. Painted Ferrari red, it's named Kamehameha, a nod to the energy attack in the Dragon Ball Z anime and the monarch who united Pae ʻĀina o Hawai'i, the Hawaiian islands. If you made the trek out to central O'ahu only to be met with sold-out signs, you'll have a fighting chance now.

With the expansion to Kaka'ako, Kim is taking his offerings to new heights. He now prepares and cures his own beef sausages with the leftover trimmings from his Black Angus brisket. The links soak up mesquite smoke like sponges and have a savory quality rarely found in store-bought sausages. Plans for undeniably Texan jalapeño cheddar links are in the works, too. Other specials up his sleeve include barbecue oxtails, an Asian spin that Kim claims is not as gamey as barbacoa beef cheeks, but just as rewarding with pockets of gelatinous tendon, melting fat and shredded beef.
Barbecue pork belly, a staple in Korean cuisine, gets a smoky treatment that renders it tender and luscious. The vinegary sweet barbecue sauce cuts the fattiness and melds with a beautiful dark crust of salt and black pepper. These morsels melt in your mouth and send your eyes rolling to the back of your head.
In addition to new barbecue items, Kim and his team plan to add more sides like "Voodoo Pickles," their take on Korean jangajji, soy-pickled onions and peppers, which pair up well with fatty cuts. Sides of crisp red onion, house-made butter pickles and Kings Hawaiian rolls are enough to suggest DIY sliders with the various cuts of meat.
---
SEE ALSO: O'ahu's Best Texas-Style Barbecue Is in Wahiawā
---
It's hard to believe that Kim, an engineer-turned-pit master, has only been working on his smoke since arriving in Hawai'i in 2016. The Texas native was raised on backyard barbecue, but it wasn't until joined his wife Modesta in Hawai'i that he became obsessed. He started in a small panel van parked at the Sunset Beach Texaco with little batches of beef brisket, pork ribs and the occasional beef rib, and his reputation grew with his following.
Soon, national best barbecue lists from sites like Travel and Leisure and Money recognized Kim's brisket. Invitations to participate in local street food events gave many townies their first taste. In 2019, Alan Wong invited Kim to participate in the Hawai'i Food & Wine Festival's barbecue event, where he will be making a repeat appearance later this year.
The Wahiawā location will remain on hiatus while the Kaka'ako smokehouse gets up to speed. For fans in urban Honolulu, getting the best Texas barbecue in Hawai'i meant driving over 20 miles in each direction. Now that it's in town, the challenge for me will be finding the means to go more often. I'm OK with that, especially if Kim is slicing up some fatty brisket.
$26 to $34 per pound
Open Wednesday to Sunday from 11 a.m. to 6 p.m. (or until sold out), 443 Cooke St., sunsetq.com, @sunsettxbbq