O'ahu's Best Texas-Style Barbecue Is in Wahiawā
Fatty smoked brisket and fall-off-the bone ribs at the Sunset Smokehouse truck.
"Here, have some of this," says James Kim as he leans out of his food truck to hand me some burnt ends. The craggy bits of black gold are coveted by barbecue lovers; they jiggle with the slightest movement. Kim has been working on this 'cue for 20 hours. "First ones in line get the goods!"
This was April 2018, my first taste of Sunset Smokehouse's authentic Central Texas barbecue. A friend had raved about the most magical brisket he'd ever had—it was from a truck parked at the Sunset Beach Texaco (hence the name). Sunset Beach is a pretty far drive for anything, let alone Texas barbecue in Hawai'i. But I've driven from Makakilo to Kahuku for barbecue brisket plates, so what was there to lose?
It turned out everything I'd tried up until that point didn't hold a flame to what Kim was pumping out of his smoker.
In May 2018, I reported that the truck had relocated to the former Molly's Smokehouse in Wahiawā. In fact, Kim purchased the building and renovated the space so he could serve out of a restaurant. Not only is Sunset is a lot closer than before, this makes Wahiawā home to O'ahu's best Texas barbecue. Period.
I now gladly make the drive from my home in Makakilo for Kim's life-altering barbecue.
If it's your first time trying Texas barbecue, start off with the smoked brisket. Kim sources his beef from Snake River Farms, which means he's using American wagyu. The results from this extremely marbled cut are extraordinary.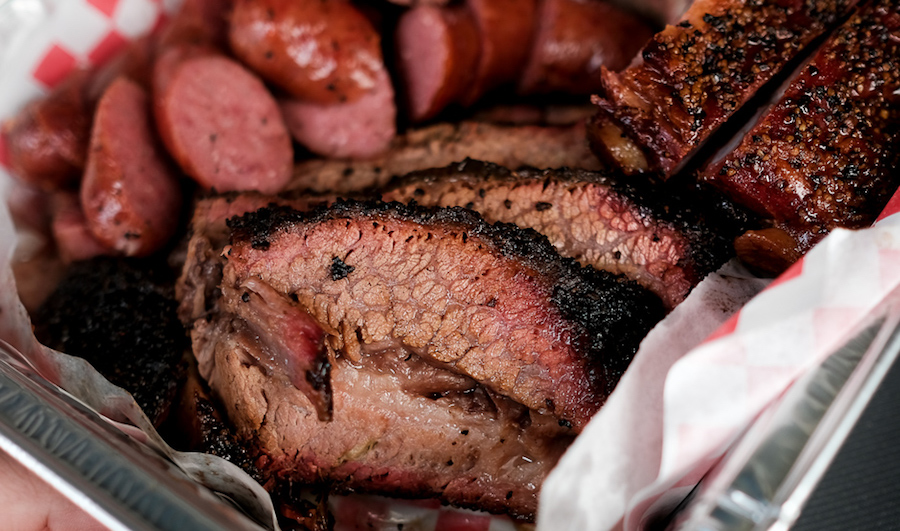 Given the choice of lean or fatty brisket ($28 per pound), I'm always game for the latter, but a mix of the two provides different experiences. The texture of the lean brisket has more bite; the flavor of grass-fed beef flows through the fattier cuts. You'll notice the smoky, bark-like crust and signature smoke ring, the result of being infused with mesquite (kiawe) for upwards of 20 hours.
---
SEE ALSO: 2020 Hale 'Aina Award Winner: The Beginner's Guide to Korean Barbecue
---
The brisket is Kim's pride and joy. Still, he'll tell you that it's a work in progress.
His Berkshire pork spare ribs ($24 per pound) are smoked for 12 to 15 hours and practically slip off the bone. They are massaged with a simple dry rub and placed straight into the smoker. Read: You won't find a lick of sauce on these racks. I wasn't missing any and for a saucey person like myself, that's rare.
The smoked beef sausage links ($6 each) are also a must-order. They're best with sides of mustardy potato salad and spicy pinto beans and should be enjoyed in the same bite. Trust me, it works inexplicably well.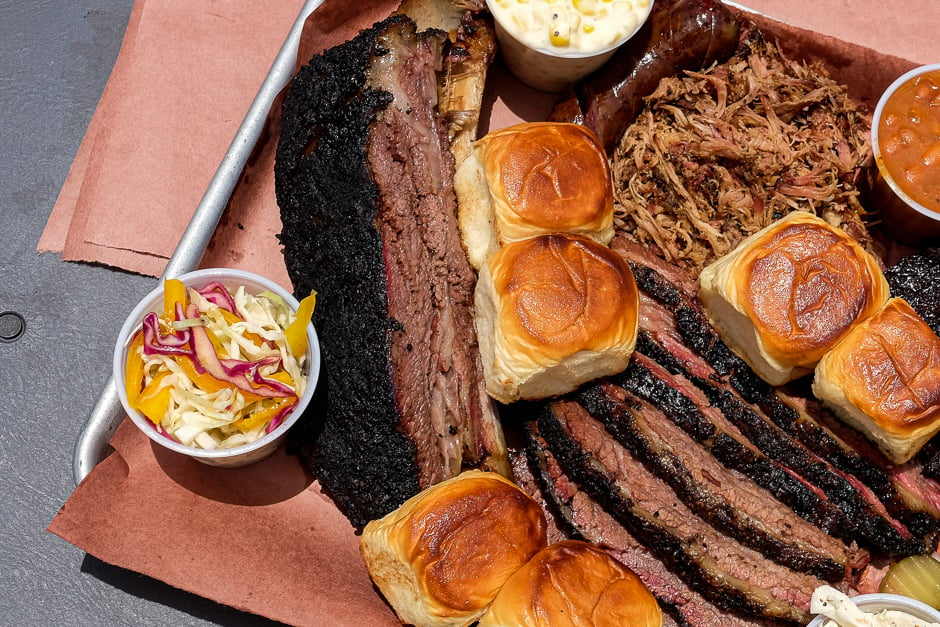 On weekends Kim has 1.5-pound beef ribs ($45) that often sell out within the first hour. One 10-inch rib is enough for a small family (and they won't need any teeth). This is best enjoyed as a slider on a King's Hawaiian roll with a sliver of white onion and a pickle.
If you're bringing the whole ranch with you, I highly recommend going full send with The Shiner, a sheet tray with a beef rib, a pound each of brisket and spare ribs, a half-pound of pulled pork, two beef sausages, all of the sides and eight sweet rolls. It's supposed to feed four or five people but is enough for more than six.
---
SEE ALSO: Black Sheep Cream Co. Brings Its Unicorn Poop to Wahiawā
---
Kim, who grew up in central Texas, learned the ways of the pit at family gatherings and from eating at Austin's many barbecue establishments. After ending a long corporate contract, the business consultant yearned for authentic barbecue. He moved to Hawai'i to be with his wife, Modesta, a local girl, and in a mighty career switch started Sunset Smokehouse in 2016 with a white panel van and upgraded to the fully customized rig you see parked out front today.
Kim plans to expand his hours but with a young family and the time it takes to smoke meat, this is all he can handle right now.
Open daily except Tuesday from 11 a.m. to 3 p.m. or until sold out. (808) 476-1405, 23 S. Kamehameha Hwy, sunsetq.com