A perspective on being a Black female business owner in Hawaii
Kauai-based caterer Gida Snyder shines her light for women of color to find their way in the food industry and why she's glad to be listed with other Black-owned busnesses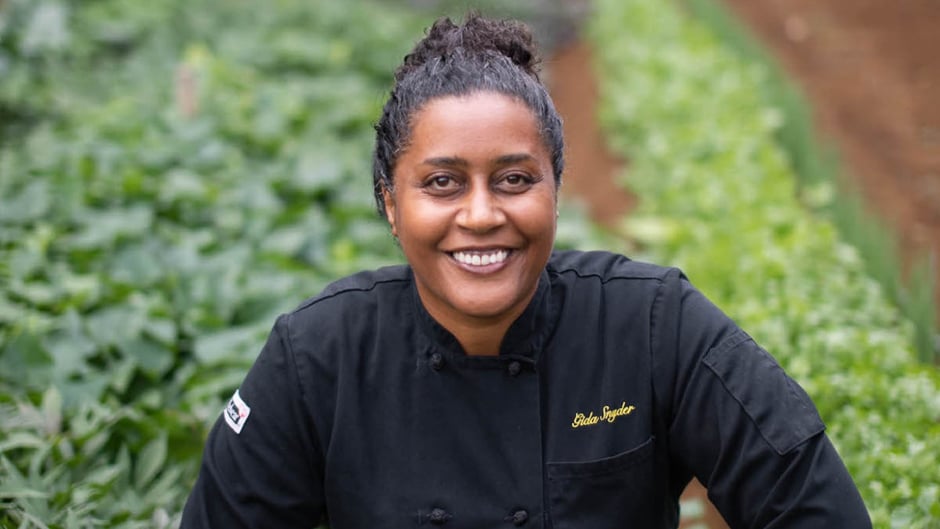 This is part of a series on perspectives from Black food-business owners in Hawai'i on honolulumagazine.com. 
HONOLULU MAGAZINE: What's your culinary background?
Gida Snyder: I have been cooking professionally for 13 years now. I went to Kapi'olani Community College for culinary school and when I was there, I had some opportunities to travel and cook in a few different places, including in France—about three years in a row while at school, I would go there for harvest time and cook. And I did an externship at Blue Hill at Stone Barns in New York. For a time, I was a cheesemaker at Naked Cow Dairy and did pop-ups on the farm. I also started cooking in retreat centers, on Moloka'i mostly, and that's what blossomed into becoming a private chef. For a number of years, I would go to Moloka'i for six weeks at a time and then back here to Kaua'i, where my grandmother lived until last year, when she passed away. Here, I happened upon Adam Watten and Collin Darrell doing these pop-up experience called Hanai—it was 100% local down to the fats and the sweeteners—and I was like, Oh my god, this is my tribe, these are people doing what I'm so excited about. They ended up opening a store here, and the whole premise of that was 100% local. We spent about a year building out the space, and I would be in the kitchen preserving things, because that's my passion, and making sure that we're not wasting the food that's coming in—it's such a bounty during the harvest seasons. Ultimately, it did not succeed as a grocery store. But just prior to it closing, a friend of mine was leaving the island and asked me if I would like to take over her catering business for private planes. That translated into getting a kitchen space of my own, and from there, a line of syrups made with all local fruit. Obviously, with COVID, the catering is pretty much done for the time being, and so at the moment I'm really making a go with scaling up Slow Island, a product line made with Hawai'i-grown ingredients.
See also: Want to support black-owned eateries? Here are 32 in Hawaii
HM: What's your ethnicity?
GS: My ethnic background is super mixed. On my mother's side I'm American, like white America, and Indian and Portuguese. My grandmother is from Goa, which was a Portuguese colony of India. My father, who I'm not connected to, is African American and Native American Seminole from Florida. So yeah, I've got a big ol' conglomerate of ethnicities happening here. I identify as a Black woman, which is by choice and not by choice.
Of course, in terms of numbers in Hawai'i, we're teeny tiny—I thought I knew all the Black people here, and then I went to the protests and not only was it just this overwhelming amount of support, coming from everybody you know, but it was also a moment where I said, Oh my gosh, there's community here that I didn't know existed. And all of these lists of Black-owned businesses all over the state—it's awesome, it's opened my eyes.
HM: When you said you identify as Black by choice and not by choice, what do you mean?
GS: I grew up in New Mexico, in the mountains with my white mom and my white stepdad. I grew up a hippie, and my stepdad had worked in civil rights in the '60s, joining newspapers and marching in the South. And so there was a solid foundation for not feeling anything even akin to racism when I was very little. And it was only when moving out of the mountains that I was starting to have interactions with people where assumptions were made or names were called. I was like, what the heck's this? It didn't occur to me that I was being bullied for my race. It wasn't until I was a teenager that I understood it to be racist actions against me. At which point I really had to sit with myself and figure out how I identify, because I did not grow up with a strong tether to the Black side of my family. But my skin tells another story. The world will identify me as a Black woman, and I need to be proud of myself as a Black woman and understand what that even means. When I moved to Washington, D.C. when I was just turning 18, I pretty much got a crash course in what it means to be Black in America. I had no reference point at all, you know, and I got off the plane in D.C. and I was a Black woman in America, and I experienced all of those sort of tropes when you think of people being inadvertently or advertently racist toward people of color. I had white people cross the street if I was on the same side of the street. I was like a country bumpkin in the city. I just had no idea. I still don't know my father's side of the family, but it certainly reminded me of what we're dealing with, of trauma passed down through generations.
Especially in the past several weeks with some of these videos coming up, where the anguish you feel, thinking about it or watching it, goes beyond visceral—a sense of grief and despair, to the point that I can't get all the way through the video of George Floyd's death. I can't do it, you know, my body won't let me do it. And I had read a poem that a friend of mine wrote about his experiences growing up as a young Black man. It just triggered me, and I literally spent the entire day just crying. I can't imagine anyone wouldn't be floored that'd we'd be having this conversation in 2020 still because this kind of inhumanity is unfathomable, and we keep doing it, and the possibility is always there.
Talking about it is awesome—I think that that's what people need to do and not talking about it is almost part of what's brought us here, assuming that the problem will fix itself or assuming that there's nothing that a person can do, or taking the tactic of, "I'm a good person and I know that I'm not racist so therefore my work here is done."
HM: What's your experience with racism in the food industry?
GS: I went to culinary school with a handful of young Black men, but no Black women—there's almost no representation. I mean we have a population of 3% Black people here so the likelihood of there being a large volume of Black women in culinary here is unlikely to begin with. But if it's racism of white people against Black people, I don't feel that in my day to day here.
On the Mainland, there's definitely more of a relegation of brown people to lower-ranking positions in the kitchens. So you have these chefs like Dan Barber who talk about social justice and environmental justice and all of these things all the time. And if you're in their kitchen, you will almost never see a brown person in a position of power on the line. The people who are in the chef positions are all white. However, some of the extremely skilled positions in like butchery and pasta-making are being executed in the back by people of color. But there was definitely a feeling of hierarchy, a feeling that despite the skill levels, the likelihood of any one of those chefs ever moving to a position of prominence in that kitchen wasn't even on offer.
And then let's talk about pay and pay rates between the ranks—that's not equitable. So part of the reason why I'm not in restaurants is because I hated that lifestyle—I thought it was pointless. If you are passionate about food there are other ways to be able to express your passion, so I've looked for those ways. And one of the things that I want to do with my experience and my position is to be a beacon for women of color who want to do something in food that isn't necessarily, you know, climbing your way up through the ranks of men.
Young women who might be interested in going to culinary school need to know there are alternative pathways to express your creativity, other than being the next chef de cuisine at a hotel. So with my business, Slow Island, one of the things I'm trying to do when I get established is to create a mentorship program. I think what I do with food preservation and catering are interesting avenues for culinary. When I was in culinary school we did not spend a lot of time exploring that—the curriculum was primarily focused on restaurants and hotels.
HM: You had mentioned the Black-owned businesses lists—how are they important to you?
GS: I had actually reached out to someone to see if he wanted to be promoted on one of these lists and he said "No, local people support me anyway." I was like, that's totally fine. And I was talking to someone the other day saying they were hesitant at first about the lists—it's the idea that someone would support you specifically because of your race. This was something I thought about for about two seconds and I realize that it's part of my ethos, as a human, as a chef, as a business owner. Yes, I'm going to talk politics in business. Yes, I'm going to talk race and issues in business. My ethnic background, my training, my understanding of the world is absolutely a part of the brand. So for a second there when all this was happening and then people asked, "Hey do you want to be on this list of Black-owned businesses," I had to think about it, and then say, yes. Put me on the list and count me, like doing the census. If only to help spread a message.
If they don't know we're here, we're not counted, and I think that goes for the vocal nature of this set of protests. The fact that quiet contemplation and quietly kneeling didn't get us anywhere, you know, and now we're at a point where if yelling and kicking and screaming in some fashion is what it takes, I mean, it's really a time that that needs to happen.
It's a really cathartic time. Aside from being scary and painful and sad and infuriating. I think we spend most of the time suppressing all our emotions and just staying in our lane, so to speak, so that we don't have to take in all of the inputs and figure out how to process them, and like, being so quiet in our individual spaces for this period of time sort of broke down all that. And so, if we're gonna step out of our lanes, let's all step out and actually move this shit forward.
This interview has been edited for clarity and length.