10 Restaurants Are Creating 26 New Dishes for Honolulu's July 10 Natto Day Takeout Dine-Around
We're celebrating 10 years of Natto Day feasts in Hawai'i with all kinds of savory, sweet, slime-licious creations.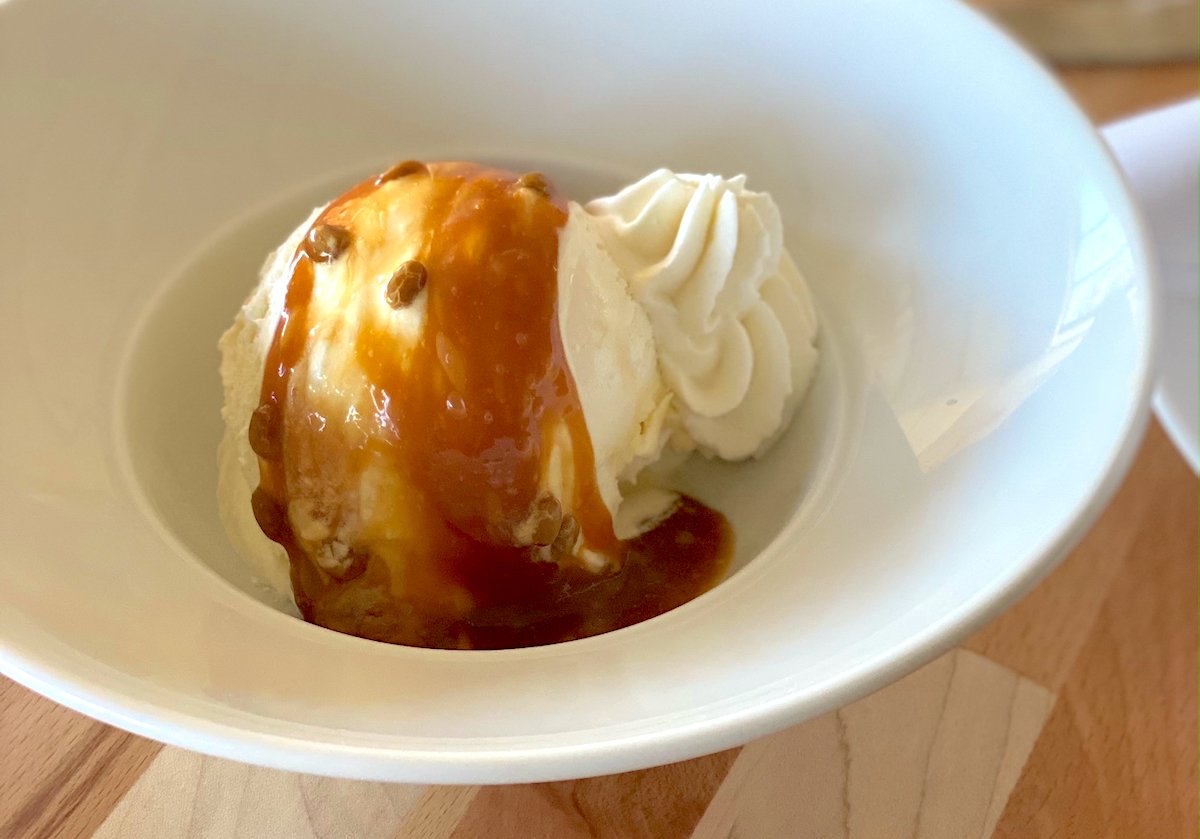 Fortunately or unfortunately, depending on your taste buds, Natto Day happens only once a year, making July 10 supremely special for lovers of the stinky bean. This year, pandemic be damned, we're celebrating on the grandest scale yet: Ten eateries around Honolulu are creating 26 all-new takeout natto dishes to mark 10 years of annual Natto Day feasts in Hawai'i.
The 10 restaurants include Kapa Hale in Kāhala, winner of Frolic's Readers' Choice poll for a spot in the illustrious lineup. Also new this year are Mama Kim's on King Street, Dell's Kitchen & Bakery and Mio Pastalogy in McCully. A surprise eleventh entrant is the nonprofit MOA Hawai'i, whose natural foods program manager, Aisha Asami, reached out just as planning for the event began. Inspired by Feast Mānoa's use of its own house-made chickpea natto, Asami is teaching a DIY natto-making class at MOA on July 10; it includes lunch and is open to the public (see details below).
Shoutout as always to my co-organizers, Scott Pang and Greg Sekiya, who bonded over the slimy bean and had no idea that 10 years ago, when they Facebook-messaged me with an idea for a Natto Day feast open to the natto-loving public, that it would become an enduring local tradition. When we pivoted from our usual multi-course dine-in format last year, turning the event into a six-restaurant natto takeout dine-around, Pang and Sekiya ate every dish from all six restaurants. Be like them this year—organize your friends and get all 26 new natto dishes from all 10 restaurants!
Now scroll on, natto fiends, for a taste of what's coming to Honolulu on July 10.
Dell's Kitchen & Bakery
Miso Eggplant with Seafood Natto, $13.50
Diced shrimp, bay scallop and imitation crab and natto spread on eggplant and topped off with miso glaze, Parmesan cheese and panko.
Natto Omurice, $13
Fried rice with shirasu, takana, natto under a soft egg omelet topped with kabayaki gravy and sprinkled with shiso and katsuoboshi bonito flakes.
Natto Epi, $3.50
Shredded mozzarella with shirasu-tsukudani mustard.
Takeout only. 1110 McCully St., (808) 840-0496, dellskitchenandbakery.com, @dellskitchenandbakery
---
Ethel's Grill
Super Neba Neba Natto Poke Donburi, $18.95
Natto with yamaimo mountain yam, okra, me-kombu, crunchy takuan, fresh nairagi poke*
*Bring a cool storage bag: Poke will be packed separately "so it's nice and cold when you top the natto bowl," says Ethel's Grill's Minaka Urquidi.
Prepared Natto, $7
Cheesy Natto Tapenade, $7
Seasoned natto with house-made olive tapenade and Parmesan cheese. Recommended with toasted baguette slices.
Wasabi Konbu, $7
Natto seasoned with katsuobushi, shio kombu and hon wasabi. Recommended with hot rice or pasta.
Takeout only. 232 Kalihi St., (808) 847-6467, @ethelsgrill_kalihi
---
SEE ALSO: What Restaurants Want You to Know: Here's How You Can Help Maxed-Out Eateries
---
Feast
Natto Age Dashi, $25
Tempura soft shell crab, quail egg, natto, kaiware sprouts
Natto, Cape Cod Scallop & Chicharron, $25
Pickled wasabi, Feast Umami Mayo, toasted bonito yuzu, summer pea tendrils
Disco Fries, $10
Natto bordelaise, grana padano cheese, french fries
Takeout only. 2970 E. Mānoa Road, (808) 840-0488, feastrestauranthawaii.com, @feast808
---
Kapa Hale
Natto Sweet: Miso Natto, $9
Miso ice cream, natto caramel
Dine-in only, brunch from 8 a.m. to 2:30 p.m. and dinner from 5 to 9:30 p.m.
Natto Sour: Tomato & Seaweed, $14
Kawamata tomato, wakame, jalapeno, natto ponzu
Dine-in and takeout, dinner from 5 to 9:30 p.m.
But Just Right: Pork & (Natto) Beans, $30
Pork belly schnitzel, creamy natto veloute
Dine-in only, dinner from 5 to 9:30 p.m.
Pre-orders and reservations preferred. 4614 Kīlauea Ave., (808) 888-2060, kapahale.com, @4614kapahale
---
Made by Aliyoko
Natto-misu, $10
Natto caramel mascarpone sabayon, shoyu chiffon, mocha natto crunchies
Mitarashi Natto Butter Mochi with kuromitsu black honey swirl, $5
Kinako Natto White Chocolate Chip Cookies, $5
*NEW* Azuki Natto Sando Cookies, $5
Matcha natto shortbread filled with scratch anko
Available for takeout on July 10 from 8 a.m. to 2 p.m. at Ethel's Grill, 232 Kalihi St. @madebyaliyoko

---
Mama Kim's
Natto Poke Deluxe, $15
Fresh 'ahi, nairagi and salmon mixed with natto, okra, shiso and house shoyu topped with yamaimo mountain yam and quail egg over sushi rice.
Takeout only. 1481 S. King St., 260-4109, @mamakimshawaii
---
SEE ALSO: Mama Kim's Fresh Sushi and Poke Bowls Spice Up Kāheka
---
Mio Pastalogy
Natto Carbonara Spaghetti, $11
Natto, soft poached egg, broccoli, bacon and mushroom. Dashi and garlic. Garnished with kizami nori and scallions.
1110 McCully St., 840-0497, miopastalogy.com, @miopastalogy
---
MOA Hawai'i
DIY Natto-Making Class with lunch, $30
Want to make your own natto? In-person class at lunchtime on Saturday, July 10 at MOA Hawai'i includes lunch of bolognese natto spaghetti (vegan option available) with garlic natto cheese bread and side salad. Sign up here by July 7.
The local nonprofit is also offering the following for takeout on July 10. All can be ordered online.
Take-home natto-making kit, $15
Bolognese Natto Spaghetti, $12
With garlic natto cheese bread (vegan option available)
Salad with natto dressing, $6
600 Queen St. C-2, 952-6900, moahawaii.org, @moahawaii
---
O'Kims Korean Kitchen
Kim Chee Natto Spring Rolls, $14.95
5 spring rolls atop spicy gochujang tossed salad
Dine-in and takeout, pre-orders preferred for takeout. 1028 Nu'uanu Ave., 537-3787, okimshawaii.com, @okims_honolulu
---
Tokkuri Tei
Natto gyu suji nikomi simmered beef tendon curry and natto mac salad, $11
Pre-order by phone by July 8 for pickup on Natto Day July 10 from 12 to 1:30 p.m. and 4:30 to 5:30 p.m. Call 732-6480 from Tuesday to Saturday between 11 a.m. and 1:30 p.m. and between 5:30 and 9:30 p.m.
Takeout only, pre-order required. 449 Kapahulu Ave., 732-6480, tokkuritei-hawaii.com, @tokkuritei
---
Zigu
Deep-Fried Spring Roll, $9.50
filled natto, cheese, jalapeno, shiso leaves
Chilled Aloha Tofu, $12
with natto, local myoga ginger, shiso leaves, local octopus marinated with wasabi
Sesame Pita Pizza, $17
with natto, vegan meat and miso sauce, vegan cheese, local vegetables
Regular menu natto dishes include Local Power Natto 'Ahi Poke with yamaimo mountain yam, okra, sea asparagus, radish, raw egg yolk and seaweed, $14.5; and Chilled Natto Soba topped with okra, yamaimo, pickled radish and green onion, $15.
Available for dine-in and takeout from July 5 to 18. 413 Seaside Ave., 212-9252, zigu.us, @zigu.hi
Poll
Vote for the special natto creation that whets your taste buds! But do it by midnight on Friday, July 9, 2021 HST: Voting ends then. Results TBA!