Your Weekend: The Best Family Fun in Hawai'i for March 9-16, 2022
Let them eat pie, head back to the library, watch a movie in a pool or sign up for summer programs this weekend on O'ahu.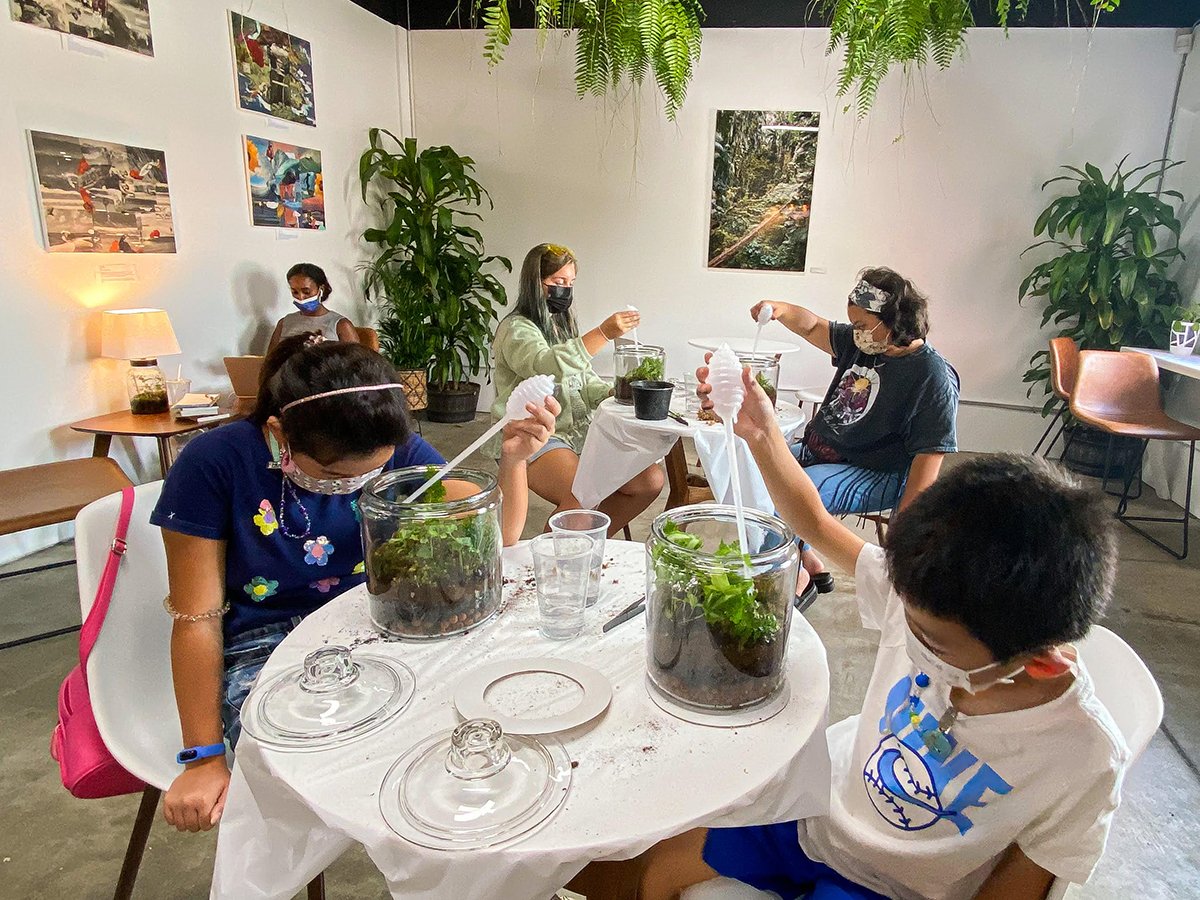 'Ohana Night at Windward Mall
Windward Mall's newest family-friendly event is 'Ohana Night, where you can bring the keiki for an evening of craft vendors and food trucks. There's good variety, so you can grab a plate lunch, pick up snacks to enjoy along the way and buy omiyage in one night. Expect indoor vendors like My Sweet World 808, Kissy Hawaiʻi, Zay's Keepsakes, Alohilani Gifts & Things, Jenny's Birria and Dipped By Dee. Outdoor vendors include Blue Truck Teppanyaki, Grandma's Pasteles, Celine's Best, Asato's, Str'Eats of Aloha and Waialua BBQ. Proceeds for this month's 'Ohana Nights will be given to Keiki O Ka 'Āina, a Honolulu-based nonprofit that offers cultural classes, parenting workshops, home visits and tuition assistance for eligible 'ohana.
All ages
Free
Noon to 8 p.m, Saturday, March 12
Windward Mall, 46-056 Kamehameha Highway, Kāne'ohe
(808) 235-1143, windwardmall.com
Wet 'n' Wild Hawai'i's Dive 'n' Movies
This weekend bring your Marvel fan kids to the water park where they can float in an inner tube the Hawaiian Waters Wave Pool and watch Shang Chi and The Legend of 10 Rings. The film screening, which will be on the park's brand-new 20-foot-high definition LED TV wall screen, is free with paid admission or a season pass. Showings are at noon and 6 p.m. If you've got younger kiddos who haven't quite entered the PG-13 realm yet, you might want to wait until next weekend's Encanto. (Showtimes are subject to weather.)
All ages
Included with a 2022 season pass or paid admission ticket
Two showings: Noon and 6 p.m., Saturday, March 12
Wet 'n' Wild, 46 Hawai'i, 400 Farrington Highway, Kapolei
(808) 440-2917, wetnwildhawaii.com
Plantoem Terrarium Workshop
Build your own live forest at this workshop for elementary and middle school students in Kaimukī. Kids will spend about 90 minutes with an instructor (while you run errands or shop) to create their own scenes in glass jars using moss and mini plants. Call quickly if you and the family are interested as this workshop does usually fill up a few days before the event.
6 to 12 years old
$55
1 p.m. Sunday, March 13
Plantoem, 3457 Wai'alae Ave., #203, Kaimukī
---
SEE ALSO: 🌱 Get Growing with the Family: 11 Tips to Start a Backyard or Lānai Garden in Hawai'i
---
Listen to the Royal Hawaiian Band Perform
After the past two years, things are returning back to semi-normal all over the city of Honolulu and that includes the Royal Hawaiian Band. So far, the band has only been performing in smaller ensembles of four to six performers. The city is bringing back the full band to perform with free concerts this March. Here's the schedule for this week:
11 a.m. Wednesday, March 9 at Ala Moana Center Stage
1 p.m. Thursday, March 10 at the Moana Surfrider Hotel
Noon Friday March 11 at 'Iolani Palace
8:15 a.m. Saturday, March 12 at Kapi'olani Park, National Kidney Foundation's Kidney Walk
For the full schedule, check out rhb-music.com.

Volunteer at Waimea Valley
View this post on Instagram
Get down and dirty with your 'ohana at Waimea Valley on Sunday, March 13—and feel good about helping restore native habitats in this sacred place. Volunteers need to bring water, lunch, gloves, rain gear, insect repellent, sunscreen, closed-toe shoes (required), hat, long pants, long-sleeved top, face mask and a positive attitude. (Waimea Valley also offers botanical tours at 12:30 p.m. Tuesdays through Saturdays.)
Kids 12 and up with parent or guardian present
Free
Register now for the workday on Sunday, March 13, 9 a.m. to 3 p.m. (You need to commit to the entire time.)
Waimea Valley, 59-864 Kamehameha Highway, Hale'iwa
(808) 638-5855
Register by emailing volunteers@waimeavalley.net
---
SEE ALSO: 🌈 Our Family Guide: Waimea Valley on O'ahu
---
National Pi Day
For National Pi Day on Monday, March 14, swing by the Hawaiian Pie Co. in Kalihi to pick up its annual special mystery box for $20. Here's the catch: Each box will be filled with a surprise 9-inch pie, which could be anything on the regular menu like a caramel apple pie; a monthly special like the Orange Dream Pie or the Kalo Krunch Pie, which is currently available on Fridays and Saturdays in March; or it can be a never-seen-before pie. There will also be a mini chocolate chess pie ($6.50) topped with a pi symbol for sale.
March 14, 10 a.m. to 2 p.m., 508 Waiakamilo Road, Honolulu, (808) 988-7828, hawaiianpieco.com
---
SEE ALSO: 🥧 We Tried Every Mini Pie at Hawaiian Pie Co.
---
Visit the Hawai'i State Library
Hooray! The Hawai'i State Library's main branch on South King Street is now open! It's been closed since the beginning of the pandemic, although staffers have been providing door services and managing hold requests. As of Feb. 28, book lovers can now browse for materials, use public Internet computers for up to two hour sessions per day, access free Wi-Fi, use printers and copiers and much more.
---
SEE ALSO: 📚 Hawai'i Checked Out a Record-Breaking 1 Million Books Online in 2020
---
Also, the entire library system is opening back on Wednesdays. Many local libraries have their own events and games going on, so folks can now get another day to enjoy all the free activities for keiki. You can check out the schedule here.
Sign Up for Summer Programs Now
Nine weeks of summer break. What are parents supposed to do? Sign up for one of the many—and varied—summer programs across O'ahu. Click here to see our list more than 40 enriching, academic and inspiring programs for your keiki.