Our Family Guide: Waimea Valley on O'ahu
Explore a jungle, swim beneath a waterfall and get hands-on with some Hawaiian cultural activities.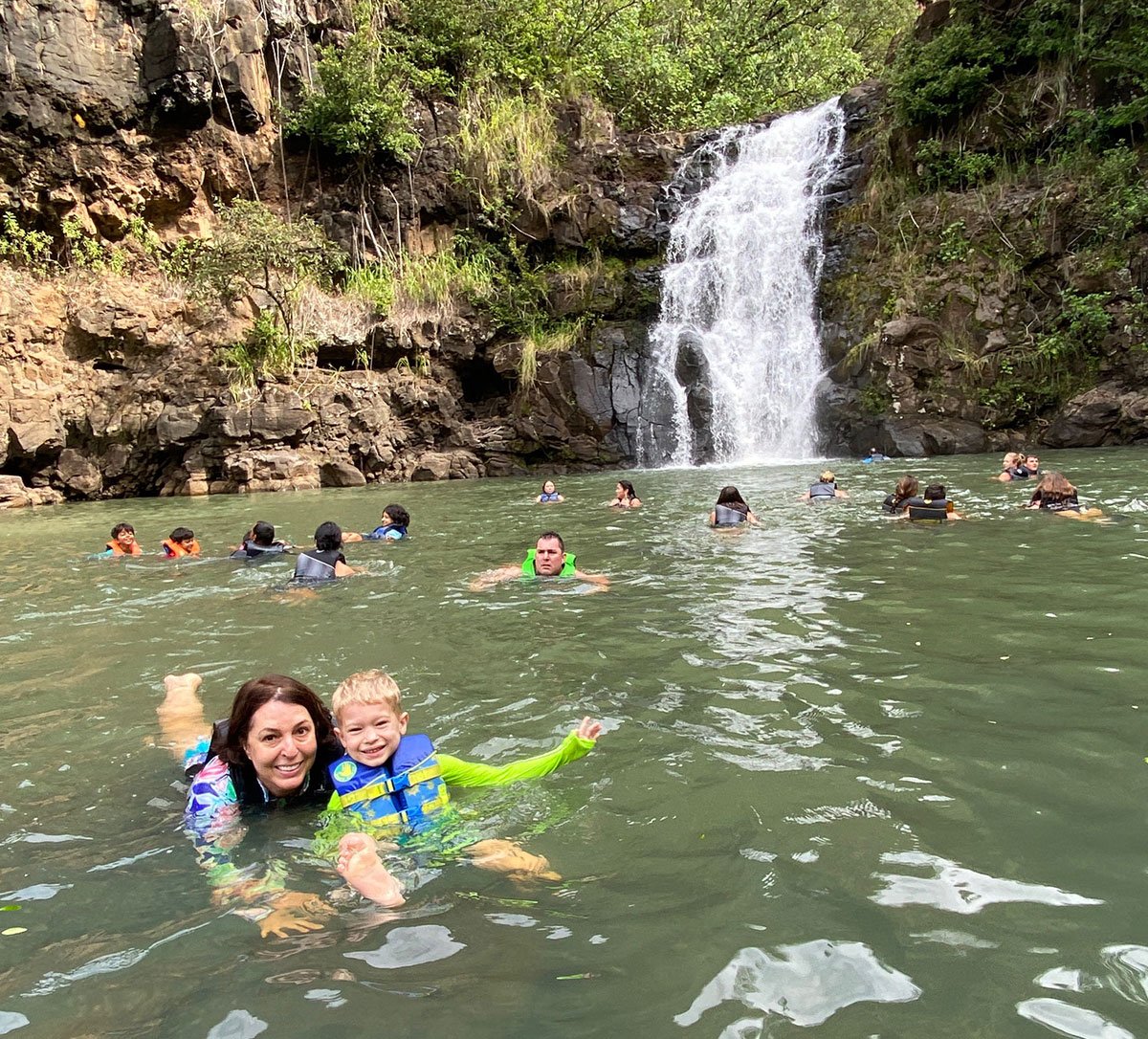 Where: Waimea Valley, a 1,875-acre botanical garden and cultural site on O'ahu's North Shore
Who: Our 'ohana with 5-year-old son and auntie and uncle in tow
When: A weekday morning during holiday break
We decided to take our family visiting from San Francisco to Waimea Valley, which ended up being a great excuse for us to (re)discover it again, too. Plus our 5-year-old son, Duke, was pumped up to swim in his first waterfall ever.
We arrived shortly after the valley opened and scored a great parking spot right up front. After applying liberal amounts of mosquito repellent and sunscreen, we were sticky but excited. We entered the visitor center to visit the bathroom and purchased our tickets. I was shocked and relieved to find that it wasn't crowded. Another surprise as we entered the lush botanical gardens was a juxtaposing view of two ginormous wind turbines turning in the hills overlooking the valley.
SEE ALSO: 🥾 We Tried It: Hanauma Bay State Park
Our mission (according to Duke) was to hike straight to Waihi waterfall. He was nervous about how far he'd have to walk, but the interesting plants—including the yellow lollipop plant—heiau sites and bridge views distracted him. It took us about 30 minutes to walk to the waterfall along a three-quarter-mile path with a gentle incline.
The waterfall was gushing due to recent rains, but it wasn't too intense for swimming. I normally do not let Duke swim in streams or waterfalls for fear of bacteria or sharp rocks, but I was reassured by the presence of lifeguards who require all swimmers to wear life vests, which are provided in adult and kid sizes. Bonus!
Be prepared: The water is cold! I was proud of Duke for swimming the distance from the shore to the waterfall and back before complaining of the temperature. Uncle won the prize for staying in the water the longest. The experience was thrilling, even for the adults.
Afterwards, we took advantage of an outdoor shower and changing rooms to put our dry clothes back on. Feeling refreshed and headed downhill, we easily made our way back to the visitor center, stopping along the way to visit Hawaiian cultural practitioners who were eager to share their crafts. Cultural activities vary but four sites are always around to explore: the Kauhale ancient Hawaiian settlement, kū'ula stones fishing shrines, Hale 'o Lono Heiau and a Hawaiian games site. Duke mastered blowing a conch shell and learned to play a short tune on an 'ukulele.
Our 7 Tips
Call ahead for waterfall conditions. Don't be disappointed when you arrive. Lifeguards make the decision at 9 a.m. each day if swimming will be allowed so you can call ahead to be prepared.
Wear water shoes. The entry to the pond and waterfall is rocky and muddy. Also don't forget a towel.
Snap a photo. The best picture op is on the bridge before you reach the waterfall. You'll be framed with the valley and waterfall behind you, that is if your keiki will stay still.
Grab some wheels. The paved path is stroller-friendly. You can also rent a wagon for $10 or hop on the golf cart shuttle, which costs $10 a person each way.
Pack a picnic. Lay out a picnic blanket in tucked-away Palm Meadow. The banyan tree in the center of the lawn creates plenty of shade and you will feel like you have the whole place to yourself.
Visit on Thursday for some extra foodie finds. On Thursdays from 2 to 6 p.m., you can explore the Hale'iwa Farmers Market. We found dim sum, fresh fruit slushies, pasta, burgers and more to snack on.
Wednesdays kids are free. Kama'āina Keiki Day means local and military kids 4 to 12 years old are free.
Waimea Valley
59-864 Kamehameha Highway, Hale'iwa
(808) 638-7766
Hours: Tuesdays through Sundays, 9 a.m.–4 p.m.
Prices: Kama'āina rates are $10 for adults, $6 for kids 4 to 12 years old. Kids 3 years and younger are free. General admission ranges from $12 to $20.
Parking is free and on-site.