Why We Like (Hanging Out at) Foodland Farms in Ala Moana
(Sponsored) Plenty of reasons, but we kept it to six.
F
oodland Farms has become one of our favorite stops whenever we're at Ala Moana Center. We love the super strong local vibe, hard-to-find products from Hilo to Hanalei and as far away as Italy, and all the new snacks in the Maikai brand line. Plus it's our favorite place at the mall to hang out with friends (yes, in a supermarket — more later).
Here's all the things we like best about this store. With two new Foodland Farms opening up in Pearl City this year and Kapolei next year, maybe some of these hits are coming to your neighborhood.
That poke bar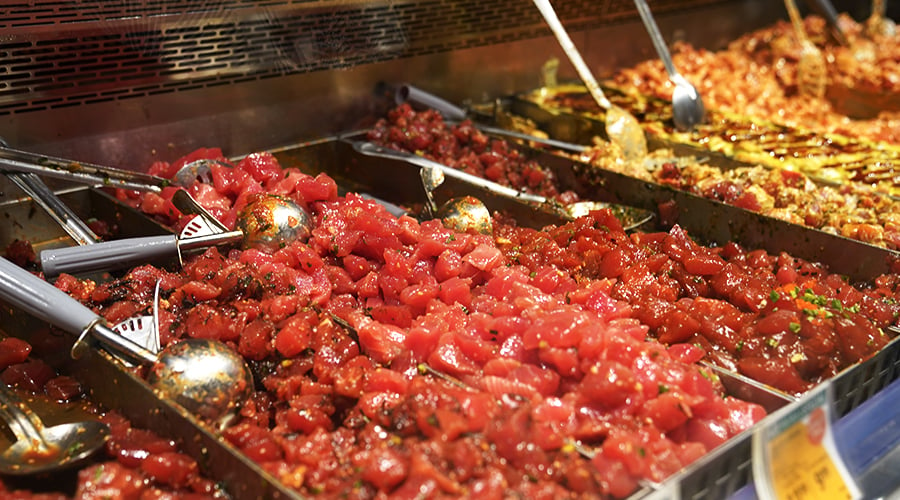 Foodland's poke bar is the real deal. Unique spins and solid representations of the classics have made this our go-to spot for pau hana pupus. The Sunrise Poke with avocado and unagi sauce is always a winner on a poke bowl. And the raw crab poke — is there anything more satisfying than that soft, salty-sweet, spicy crab meat right out of the shell? Also a pound of pulehu tako and a six-pack are a match made in heaven. So hard to choose.
Cheese bites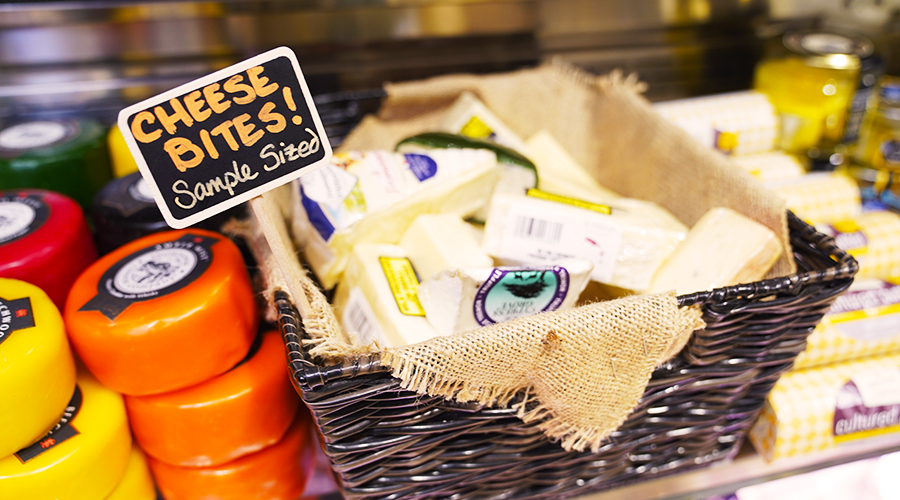 Didn't someone famous once say, "Give me cheese or give me death"? Well, they should have. Surrounding the R. Field wine bar inside the store are specialty products that you won't find in most other Foodland locations. Our favorite? Cheese bites — sample-size pieces left over from cutting up the larger wheels, and priced nicely so you can explore a little without making a big commitment. They make for a nice party platter or a platter for one, depending on how much you agree with what someone famous should have said.
The tote bags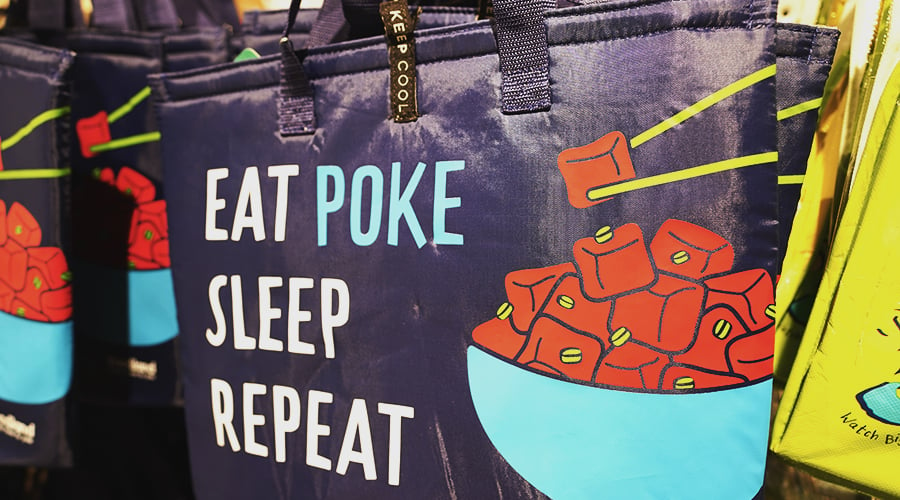 When a random stranger stops you to say how much she loves your shopping bag, you know you got a good one. From deconstructed poke bowls to every conceivable variation of Spam musubi, Foodland has made their reusable shopping bags collectors' items and omiyage-worthy purchases. These are a great way to rep the 808 and every time a new design comes out, we can't resist picking one up.
Housemade Portuguese sausages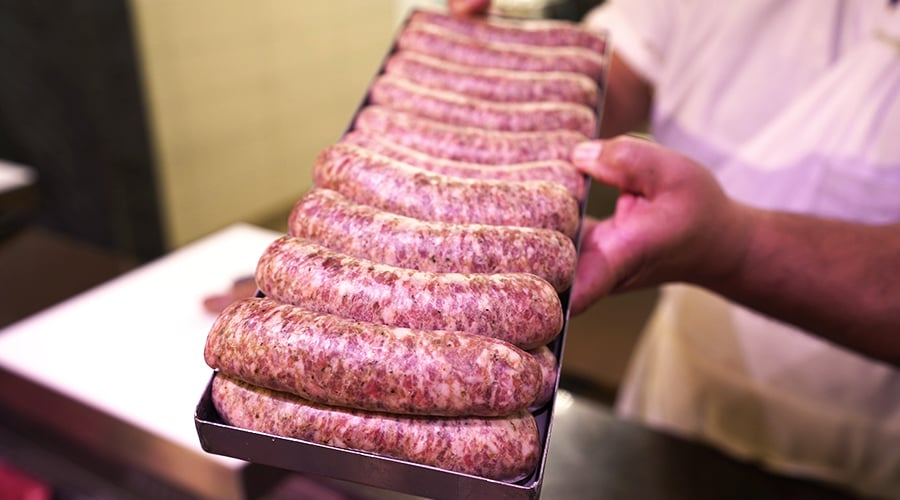 The meat department at the Ala Moana store produces some super tasty sausages, meatballs and other products you won't find in their other stores. The butcher tipped us off about the Portuguese sausage, and it does not disappoint. It's got all of the flavors of the Portuguese sausages that we know and love, but with the texture of a fresh Italian sausage. Brown it a little on the stove and finish it in a 350-degree oven until plump and the juices run clear when you poke it. It tastes great in sweet bread rolls topped with pickled onions and Maika'i brand Maui onion garlic mustard.
That Maui onion garlic mustard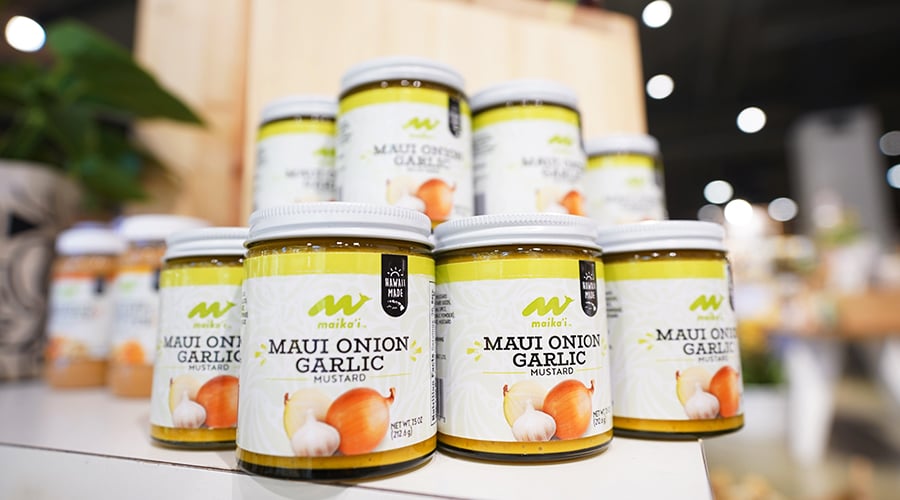 When we did a rundown of some of our early Maikai favorites, the one that stood out most was this mustard. Great in sandwiches and on hot dogs, pork chops and even just crackers or lavosh, it's got a little zing and all the earthiness and sweetness of Maui onions. Pair this with their housemade andouille sausage or a bratwurst, and you'll fall in love.
Exotic local fruits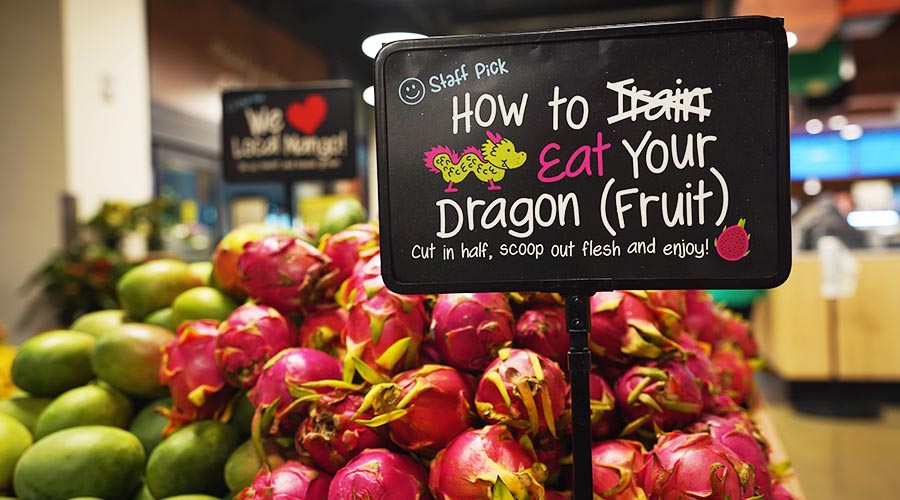 You've had mango, but have you had mangosteen? Soursop? How about Meli Kalima, one of the tastiest, sweetest pineapples ever? Hawaii's climate is ideal for growing all kinds of exotic fruits and lesser known varieties of familiar fruits, and when they're in season, you can find them at Foodland Farms. Take a chance on that jackfruit and you'll probably find something new to love.
There's a bar in here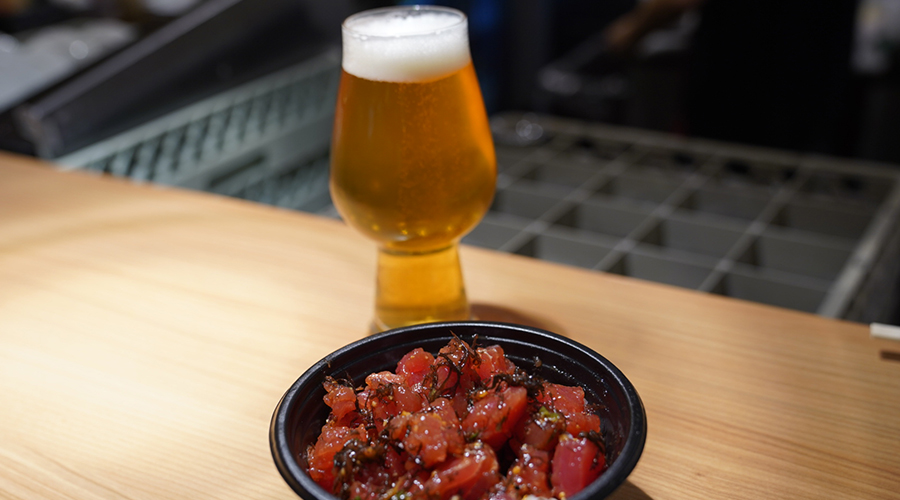 Most of us would never think to go to the grocery store to have a drink, but in a stroke of genius, Foodland has made a space that people love. It's a great place to unwind after shopping or for pau hana with friends, which we do more than you know. Order a glass and cuddle up to a charcuterie board or a half-pound of tako poke. More often than not, we've made new friends over pupus and a cold beer.
A little-known fact is that you can ring up and eat anything from the store at the bar except for alcohol off the shelf. Like cheese bites. With some Maui onion garlic mustard. Just throw the leftovers in your new signature tote bag. Genius, Foodland.