Where to park in Waikiki
Are you Waikiki-phobic? Newsflash: If you're going to eat, there's plenty of cheap or free parking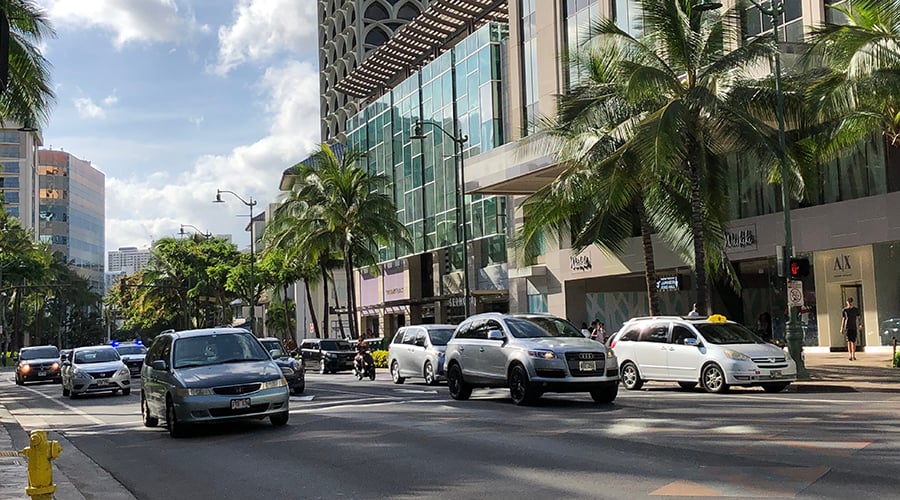 Are you afraid of Waikiki? Do you want to try one of the delicious new restaurants that have made this one of Oahu's hottest dining destinations, or a classic you keep hearing about?
No worries: There's plenty of parking to be had, especially if you're going in to eat. More and more lately, the Frolic team has been heading to Waikiki — to scope out new places, cover fun events, join friends for pau hana or get together with family. We have the scoop on the best parking deals around … and what each entails.
Note: If you're dining at a hotel restaurant — like Kai Market at the Sheraton Waikiki, Sansei at the Waikiki Beach Marriott, La Costa Italian buffet at the Sheraton Princess Kaiulani or Tiki's Grill at the Aston Waikiki Beach — validated parking is often free. Call the restaurant to find out.
See? With parking as easy as this, trekking to Waikiki can be a breeze.
See also: Where locals eat in Waikiki.
Ritz-Carlton Waikiki
If you're going to Dean & DeLuca to shop or for happy hour in the second floor lounge, you can enjoy one free hour of valet parking with validation.
Royal Hawaiian Center
Shop or dine at Royal Hawaiian Center and you'll get one free hour of validated parking. After that, it's $2 per hour for the next two hours. Note: There's a $10 minimum for your purchase.
SKY Waikiki/Top of Waikiki
If you're going to SKY Waikiki or Top of Waikiki, get validation from either with purchase and you get free validated parking at both Waikiki Shopping Plaza and Waikiki Business Plaza. I'll say that again — all you have to do is get a cocktail or pupu, or better yet, hang out for happy hour or surf and turf with a 360-degree view of ocean and city (Top of Waikiki revolves slooowly once every hour), and then bar hop or roam Waikiki all night. Free validated parking is until midnight from Sunday to Thursday, until 1 a.m. on Fridays and 2 a.m. on Saturdays.
Ross Waikiki
You can get two hours of parking with purchase (no purchase minimum). Why is this important? Because Ross is within a couple minutes' walk of eateries that don't validate: Waikiki Yokocho, Coffee or Tea?, Pau Hana Base, Seoul Tofu House, Paia Fish Market, Mahina and Suns … and by the way, so is Nordstrom Rack, below.
Hyatt Centric: Nordstrom Rack / Duke's Lane Market & Eatery / Basalt
If you're shopping at Nordstrom Rack, get two hours of parking with purchase (no purchase minimum). If you're shopping or eating at Dukes Lane Market & Eatery, get one hour of free parking with a minimum purchase of $10. Eating at Basalt? Enjoy up to four hours of free parking with restaurant validation. Note: Validation only covers the amount of time you're dining at Basalt.
Alohilani Resort
Eating at Morimoto Asia Waikiki or Momosan? Get restaurant validation and enjoy free parking for three hours. If you're staying longer, parking costs $9 per hour.
Embassy Suites / Wyndham Waikiki Beach Walk
Free lunch parking daily at Embassy Suites Waikiki or Wyndham at Waikiki Beach Walk from 10 a.m. to 3 p.m. with restaurant validation from Waikiki Beach Walk restaurants Yard House, Kaiwa Waikiki, Taormina Sicilian Cuisine, Giovanni Pastrami and more.
International Market Place
Herringbone, b. patisserie, Mitsuwa Market: Spend $10 or more and any shop or restaurant at Waikiki's redeveloped mega mall will validate your self-park or valet ticket for a free hour; after that it's $2 per hour for the next three hours.