See Inside the New Waikīkī Market and Piko Kitchen
Food Pantry's full-service grocery with malasadas, poke bowls, plate lunches and a restaurant opens today across from International Market Place.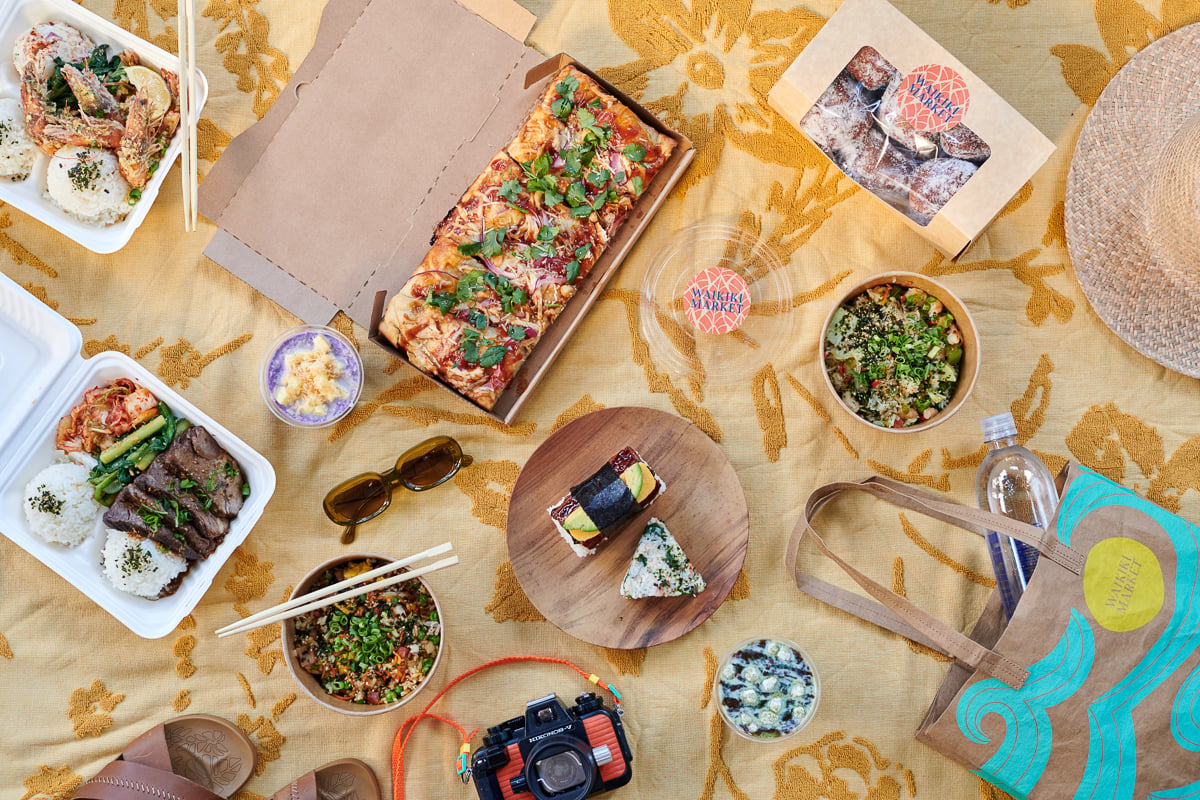 For nearly 60 years, Food Pantry was the only full-service grocery store serving visitors and locals in Waikīkī. It shuttered in March 2019 to make way for Līlia Waikīkī, a 28-story residential tower anchored by Food Pantry's successor, Waikīkī Market. The new grocery store opens today, Jan. 11, at 10 a.m. After attending a sneak peek earlier this week, we are stoked about this super local glow-up.
There's a two-part layout to Waikīkī Market, which is just across Kūhio Avenue from International Market Place. On the ground floor fronting Kūhiō, under quadruple-height ceilings, Piko Kitchen + Bar includes a commanding open-air bar area and cozy blue restaurant. Chef de cuisine Adam Kamahele, formerly of Kalapawai Café in Kailua, has created an all-day pau hana-style menu with his team.
Think oxtail boiled peanuts, ginger chicken bao buns, kalbi smashburgers and the like. These pūpū pair up with Lychee Frozés, Mixed Plate Margaritas and other new cocktails by Foodland's corporate mixologist Hailey Berkey, former owner of The Nook Neighborhood Bistro in Puck's Alley. From our sampling of smoky pipikaula and gingery 'ahi cakes, we're eager to return to try out the lineup for lunch and happy hour when the restaurant fully opens.
Upstairs, Waikīkī Market builds on Food Pantry and sister company Foodland's locals-first focus, with plenty of upscale touches throughout. It's a huge departure from the 60-year-old Food Pantry, and in a good way. The prepared food department, led by chef de cuisine Owen Imaizumi, rivals Waikīkī's crop of food halls: Counters inside the new grocery store hawk everything from musubi and plate lunches to locally inspired flatbreads, fresh malasadas and fresh poke. There's ample seating, both indoors and on the terrace overlooking Kūhio Avenue and the Piko Bar below.
Additionally, there's a large spirits and wine department, produce, meats, seafood and daily essentials in aisles that run the length of the store. Come spring, a second restaurant called 'Olili Waikīkī is set to open inside the store with views of the bustling streetscape below.
---
SEE ALSO: Have Drinks at Eleven, Foodland Farms Ala Moana's New Cocktail and Whiskey Bar
---
Overall, this glow-up dovetails with the direction the Sullivan Family of Companies has taken in recent years. Waikīkī Market is sophisticated and engaging, without losing touch with local tastes. It's the kind of store we might all wish we could have in our building.
Open daily from 8 a.m. to 8 p.m., 2380 Kūhio Ave. (parking entrance on Walina Street), waikikimarkethawaii.com, @waikiki.market