What is Hula, and What is Not?
A controversial declaration stating what it takes to be considered kumu hula made waves. And while it's gained support, not everyone agrees with its protocols.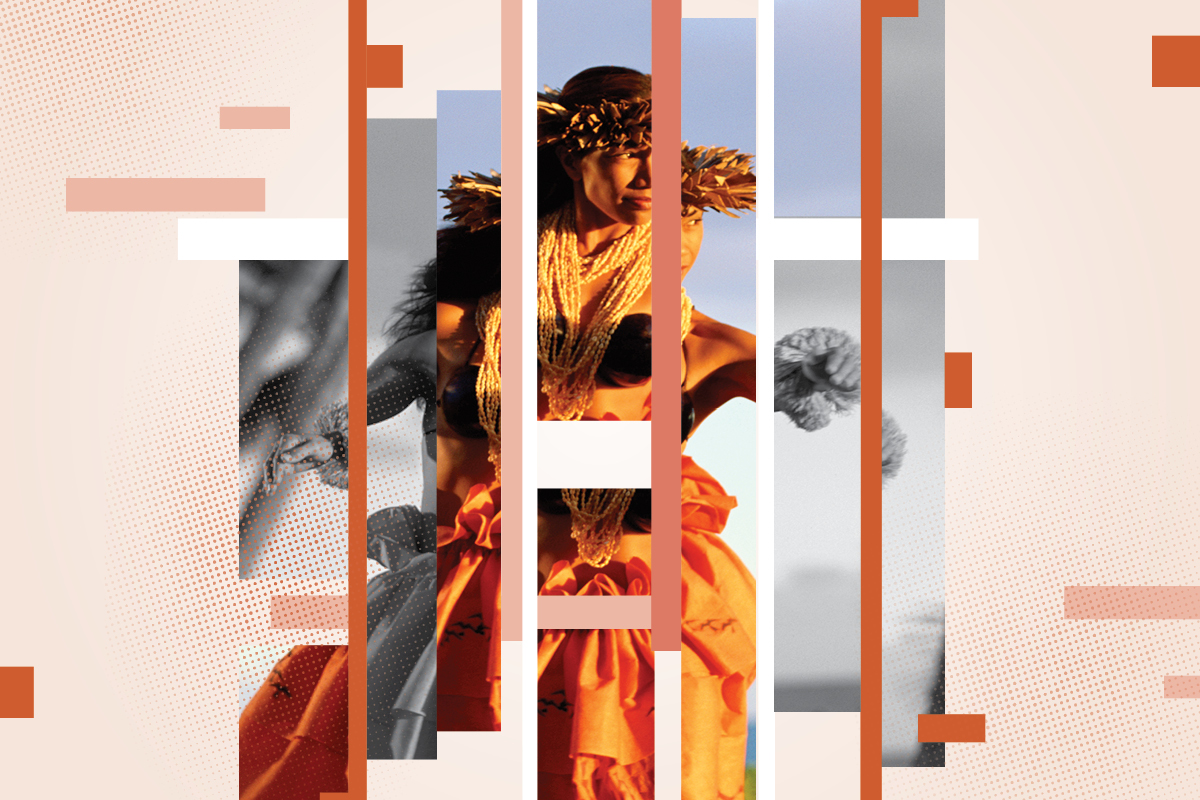 Although Hōkūlani Holt has a deep-rooted hula lineage (her mother, grandmother and aunts were master hula teachers), she was stunned when she was pulled aside 45 years ago by her mother and aunt and told it was time for her to become a kumu hula. "I said I don't want to," she recalls with a chuckle. "I was just 25, and I wasn't finished dancing." She also knew the stakes. "To be a kumu hula is to be responsible to the generations of kumu hula who have taught you and to the students you will teach."
As kumu hula of Hula Pā'ū O Hi'iaka on Maui, Holt is a galvanizing leader among her peers. In 2020, she helped convene kumu hula to develop culturally based health protocols for the pandemic. During discussions, however, the kumu voiced long-simmering concerns about the state of hula itself. Hula, they felt, was being irreparably harmed by widespread ignorance, misappropriation and exploitation. From performances that feature Tahitian dance described as "hula" to purported teachers who lack the requisite training, the group felt an urgent need to educate others about hula's cultural significance and elevate kumu hula as stewards of an esteemed tradition.
In August 2021, more than 160 kumu hula from across Hawai'i, the continental U.S., France, French Polynesia, Japan, Spain and New Zealand unanimously approved the Huamakahikina Declaration, a 17-page call to action that reinforces the "integrity, stewardship and protection of hula." While kumu hula had organized before, this was the first gathering to focus on what hula is and is not in the 21st century. The declaration, among other things, states that "any individual who has not been lineally acknowledged as a kumu hula … is not a kumu hula." Furthermore, any performance not sanctioned by a lineally acknowledged kumu should not be labeled as "hula." It drew a bold, and controversial, line in the sand.
Rooted in Hawaiian mythology, hula once flourished throughout the Islands under the patronage of the ruling ali'i. In the 1830s, however, the kingdom banned public performances of hula, which missionaries decried as promoting "lasciviousness." But the practice survived because kumu hula never stopped teaching and students never stopped wanting to learn. "Hula doesn't only maintain dance; it maintains flower-making, lau hala-weaving, mele and oli," Holt says. "It maintains many of the other Hawaiian cultural practices, such as health, dyes and fabric."
The role of kumu hula is traditionally bestowed upon a student by his or her teacher or approved within a family. Students often study for 10 to 20 years with their kumu before 'ūniki, or graduation, but the process is not the same for all hālau hula, or hula schools, and some forgo the 'ūniki altogether. "A kumu hula decides what the process is; there is not just one process to becoming a kumu hula," explains Holt, who learned hula as a young child from her mother, Leiana Long Woodside, and aunt, Kahili Long Cummings, before studying hula kahiko, or traditional hula, with Hoakalei Kamau'u.
Over the past decades, hula has exploded in popularity globally. It's taught in 44 U.S. states and 22 countries, according to mele.com, prompting the emergence of some instructors who lack critical cultural knowledge and training. While Huamakahikina welcomes all hula lineages, candidates for membership must submit their lineage for vetting by the Leo Kāhoa steering committee, composed of kumu hula from O'ahu, Maui and Hawai'i Island. "The eight of us come from diverse lineages," says Cody Pueo Pata of Hālau Hula 'o ka Malama Mahilani. "So when an application comes in, it's pretty easy for at least one of us to to say, 'Oh yeah, I know who this is.'" If not, the committee turns to the web and social media for verification. This process has rankled some in the hula community.
The name "Huamakahikina" comes from a line of a common hula prayer: "Kupu ka lālā, hua ma ka hikina (The branch sprouts, and fruits in the east)."
"The only person that can 'āpono, affirm or verify or proclaim, my students is me. No one else has the authority to say who is and who isn't a kumu hula," says Kawaikapu Frank Hewett of Kuhai Hālau Ō Kawaikapuokalani Pā 'Ōlapa Kahiko. "There is no need for a panel of people to affirm anyone. We already have that role and responsibility."
Hewett, a former student of Emma DeFries and Edith Kanaka'ole, believes that "no one should be handing out any kind of palapala or certificate because that's not the way it was done before." (Other kumu I spoke with voiced similar concerns but did not want to go on record.)
Holt acknowledges that some kumu hula may disagree with the tenets of Huamakahikina. "If they don't believe in some of the things in the declaration, that's OK," she says. "We're not the hula police. Are we going to take out an ad that says 'so and so is not lineally connected?' Absolutely not."
As to Huamakahikina's aims to offer funding and support to kumu hula, Hewett says he'd rather stand on his own. "I am always going to be independent, and I (teach hula) because it is my kuleana, my responsibility. I don't want anybody telling me what to do, why to do, when to do and how to do," he says. However, one thing he can agree on is that kumu hula who have dedicated their lives to teaching have not been uplifted to the level that they all should be.
To see the full Huamakahikina Declaration, visit huamakahikina.org/about-2
Many of the declaration's finer points still need to be worked out. For example, how would Huamakahikina monitor and correct instances of cultural misrepresentation in film, TV and social media? How might they bolster the financial stability of kumu hula? Volunteers have propelled Huamakahikina's work until now, but the coalition soon plans to file for nonprofit status and hire an executive director to continue raising awareness of hula's cultural importance in the Islands.
Already, the rise of Huamakahikina has led to increased support for hula in the community. In February 2022, Maui County Mayor Michael Victorino announced initial approval for a hula center to be built in Wailuku. The estimated $53 million facility, named Hālau of 'Ōiwi Art, or HOA, will be the first permanent space in Hawai'i dedicated to hula, the state's official dance. Plans call for a three-story structure that will house classes and rehearsal spaces for hula and its associated arts, helping to alleviate the difficulties kumu face in finding affordable spaces for teaching.
"Public support for this center is a direct reflection on what was said in the declaration," Holt says. She envisions that HOA can be a model for the rest of Maui and Hawai'i. "We want a hula center in every community, because there is hula in every community."
Huamakahikina is also gaining key support within state government. On Jan. 20, 2022, the coalition gave an informational briefing to the Hawai'i state Legislature. Sen. Jarrett Keohokalole, vice-chair of the Committee on Hawaiian Affairs, describes the declaration as a remarkable effort by a native community to "assert their right to self-determination in these traditional practices." It also serves as a valuable legislative resource. "Now we have a concrete document and framework that people can point to, so when organizations and companies want to legitimately engage with cultural practitioners, they know where to go."
He understands that some kumu hula may disagree with the declaration, but he says there's far greater risk in doing nothing. "If they do not take action, tomorrow we'll see a new generation of people on TikTok who decide they want to call themselves kumu hula and teach classes, to the detriment of legitimate practitioners who have deeply held spiritual and cultural connections to this practice," he says.
U'ilani Tanigawa Lum is a young attorney who helped draft the declaration. Last year, Kumu Hula Nāpua Greig of Hālau Nā Lei Kaumaka O Uka on Maui presided over her 'ūniki as ho'opa'a, or chanter. "What's really important about this declaration is the fact that kumu hula are starting the conversation," Lum says. "They're articulating what the challenges are, what hula is and how it's practiced, which lays the groundwork for advocacy, discussion and understanding. They're articulating who holds the kuleana—the responsibility and the privilege—of stewarding this practice of hula."