We Tried It: Self-Guided Tours at the Honolulu Museum of Art
Talk about art, see ancient artifacts and eat lunch at a beautiful courtyard on O'ahu.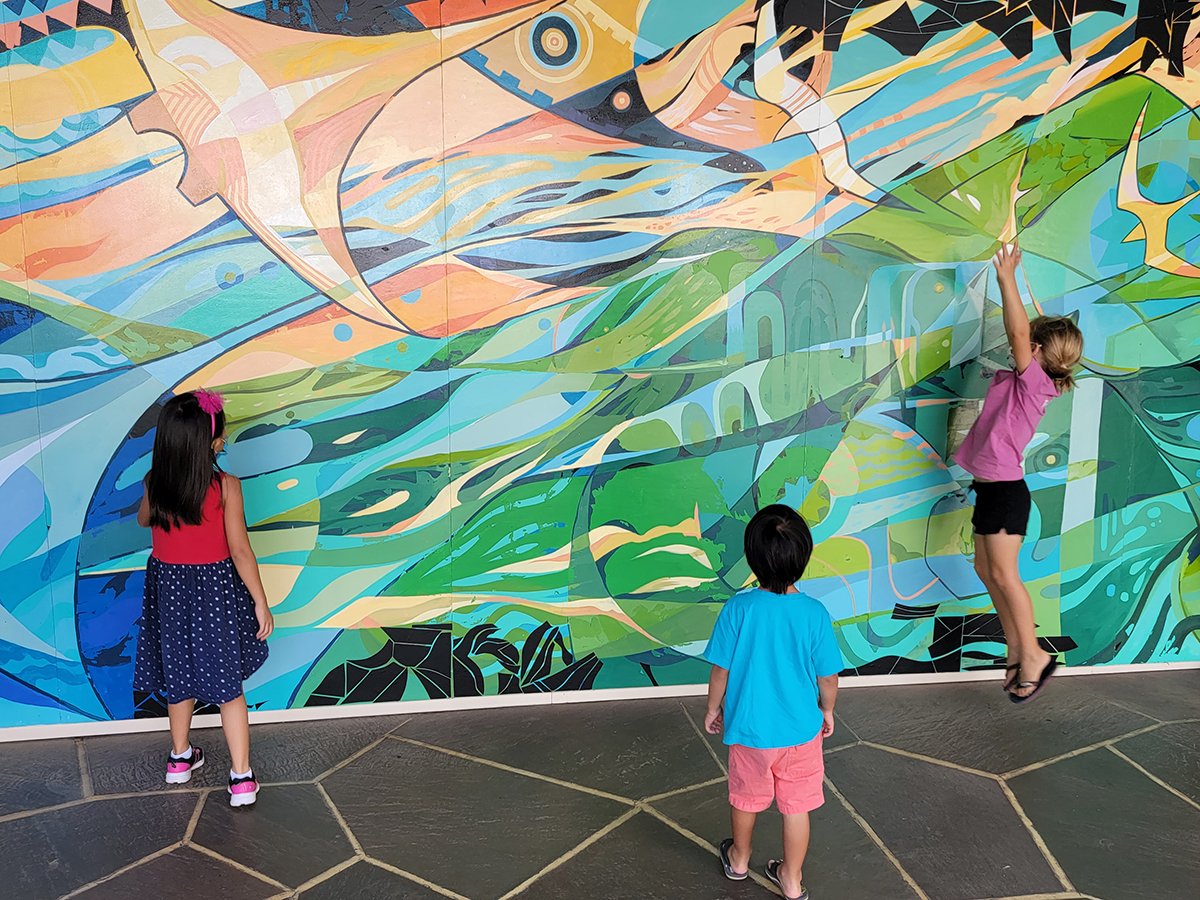 What: An art museum in town
Who: A mom, her 2-year-old son and 5-year-old daughter
When: Thursday at 10 a.m.
We've been homeschooling since the pandemic started in 2020 and one of the things we look forward to the most are the field trips with other homeschooling groups on Facebook (because, socializing). So, when we found out that homeschooling groups can go on self-guided tours for free at the Honolulu Museum of Art (HoMA), we hopped on the last slot available at 10 a.m.
I prepped the night before by printing out the self-guided tour pamphlet online. On Thursday, I packed my 2-year-old son, Noah, and my 5-year-old daughter, Anna, into my van and off we went, singing to the Encanto soundtrack all the way.
Once we met up with the homeschool co-op, we broke out into smaller groups. Ours had a total of five kids, including ours, ranging from 2 to 9 years old. We checked in and were given HoMA stickers. Before we entered, the museum attendant gave us three rules:
Don't touch the art. Some installations are not enclosed, so please keep kids away.
Only 10 people are allowed per exhibit room. Masks are required indoors.
If you're going to eat or drink, please eat outside and not in the rooms.
Our first stop was the Joanna Lau Sullivan Chinese Courtyard. The outdoor space is idyllic, with a peaceful koi pond, a small bridge designed across paved stones and a stone lion head trickling water into a separate fountain. Anna and Noah followed the rest of their friends, hopping back and forth across the bridge while the moms tried not to be helicopter parents—we were worried they'd end up falling into the pond!
The courtyard's right next to the Robert F. Lange Foundation gallery, which is currently showcasing Japanese woodblocks including Hokusai's Mount Fuji. For the little ones though, the biggest draw were the delicate Japanese hair pins on display, some made out of turquoise shells. ("This looks like something a princess would wear!") We moved on quickly to the next gallery and stopped along the way at a colorful mural called "Crossing Currents," which is part of HoMA's Joyful Return exhibit. We challenged the kids to try and find shapes in the abstract shapes. Noah found a "plane"—a seabird, actually—and Anna discovered a manta ray and fish.
The next installation was made up of yarn and pom-poms depicting an 'ōhi'a lehua tree, spanning an entire wall, above and over our heads. A museum employee told us the keiki are allowed to go ahead and touch the pom-poms, gently! "This is a hard one NOT to touch," they said, understandingly.
In the next exhibit, Noah and Anna a little creeped out in the Indonesia demonic face masks on the wall, so we didn't stay too long and went back out into Palm courtyard where there was a coffee bar. I got POG juice for the kids and a chai latte for me. The moms took a short break while the kiddos played on the cobbled stones.
The artwork for the Hawai'i Triennial 2022 was our next stop. In addition to a gigantic contemporary mural of crocodiles, mermaids, frogs and more, there's a mini theater showcasing the film Mud Man, but that was a bit too avant-garde for their taste. In the Arts of Hawai'i exhibit, the kids were all fans of the large foam and feathered "Stitch" character by Brett Graham. To be fair, they were just happy to see a beloved Disney character and not as concerned about the criticism within the art.
---
Read More: Hawai'i Triennial 2022 Kicks Off Feb. 18 with Works from 45 Artists and Collectives
---
We headed back home afterward, all three of us tuckered out. I can't wait to bring them back next time when they're both a little older so we can get into some more deeper discussions about art, but they had fun at the beautiful courtyards and playing with friends.
Our 5 Tips
Print out the tour pamphlet. While the language may not be quite 5-year-old friendly, there are some solid explanations of design including recognizing shapes and patterns. Depending on the ages of your kids, you could adapt them accordingly so it's easier for them to understand. The discussion questions were also great and sparked good conversation in the car ride home.
Wear comfortable shoes. I forgot how much walking you do at a museum. Be sure you and your kids have some comfortable shoes.
Consider a stroller. I wish I had brought a stroller for my 2-year-old. I had to carry him during some exhibits to make sure he wouldn't run and touch any of the installations. Today, my shoulder's not happy.
Watch the keiki. Speaking of, there are tempting installations, including large rocks in the Hawai'i Triennial 2022, that are hard for younger keiki NOT to touch. Keep a close eye!
Park at the HoMA school lot. Finding the HoMA parking can be tricky, especially if you're directionally challenged like me. Don't add the museum as your Google Maps destination. Instead, put down "1111 Victoria St."—the address of the Honolulu Museum of Art School parking. It costs $5 and the attendant will note your car and give you a ticket to keep. (You don't need to put it on your car dash.) The museum is across the street on South Beretania Street. This is a high traffic area with homeless people in the park across the street, so be sure to keep your kiddos close. There is also street parking available nearby.
Honolulu Museum of Art, 900 S. Beretania St, Honolulu, (808) 532-8700, honolulumuseum.org.