Fishing at Ho'omaluhia Botanical Garden
Editor's Note: Fishing at Ho'omaluhia Botanical Garden is still closed for the time being. Check their website for updates.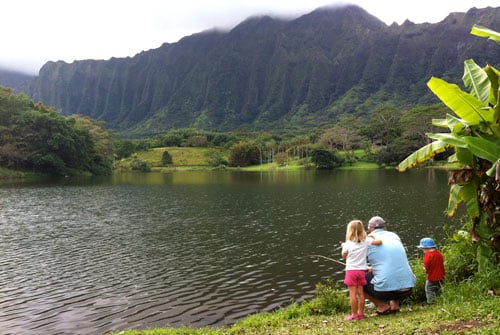 Ahh, the Great Outdoors. Nothing says family adventure like some time with Mother Nature, right? I had been hearing about how Ho'omaluhia Botanical Garden in Kāne'ohe offers free catch-and-release fishing every weekend, so I had to check it out with the kids.
I called ahead for some pointers. "Be prepared for rain, mud and mosquitoes," the guide warned me. Well, that sounds downright delightful. And totally reasonable for a 2- and 4-year-old. I packed up the gang and headed out.
Ho'omaluhia means "a place of peace and serenity," which it usually is, until my family showed up.
Here's how I imagined the scenario: We happily hike down to the lake, fishing poles in hand, all in our matching L.L. Bean fishing hats and cargo capris. My children frolic in the sunshine, catch a few fish and create beautiful childhood memories. I reel in a delicious bass, which my husband later sautés with a lemon-caper sauce and summer vegetables. Somebody hands me a trophy for the Outdoorsy Mother of the Year Award. (SPOILER ALERT: That's not what happened.)
What actually happened: We stopped by the visitor center first, where the friendly guides provided us with free bamboo fishing poles, a map and some tips, such as how white bread is the best bait. We began the 20-minute hike toward the lake. Two minutes in, the kids started whining, until we saw ducks. Lots of them. We busted out our stale bread and fed the hungry flock, much to my children's delight, although, the birds got a little too pushy, so my kids fled to the safety of a picnic-table top. Next, we trekked down to the lakeshore fishing area. We saw lots of families with older kids, clearly with more experience than we had, having a great time and pulling in fish after fish.
My family, not so much. We plunked in our lines (no casting is allowed) and waited. We could see the tiny tilapia and cichlids in the lake, mocking us and our inability to catch them. I have to admit, I was having more fun trying than the rest of my troop. ("Expert" tip: Two-year-olds don't understand fishing.) My kids gave up after a few minutes, more interested in snacks, and disappointed by our lack of luck. I'm not going to pretend there wasn't some crying. Or that my daughter didn't have to pee in the bushes. Or that my son didn't eat most of our bait. So we ditched the fishing, and instead enjoyed a picnic in the park.
Things may not have gone exactly as I imagined (but, in parenting, when do they ever?). In all honesty, it really was fun, and definitely worth a trip. Even if fishing isn't your thing, Ho'omaluhia Botanical Garden is still a great place to escape into nature for a bit. The park is gorgeous—spacious, quiet, relaxed, lush, peaceful—perfect for picnics and nature walks. Just wear good walking shoes, bring sunscreen, bug spray, water, snacks and your camera. The lovely scenery makes for great family photo ops.
If you do go fishing, stop by the visitor center first for your free bamboo poles. You can bring your own fishing gear, but you must use barbless hooks. Bring your own bait and have fun, whether the fish are biting or not.
Ho'omaluhia Botanical Garden, 45-680 Luluku Road, Kāne'ohe. Fishing on Saturdays and Sundays, 10 a.m. to 2 p.m., free. No live bait, no barbed hooks and no casting allowed. Preschool programs are offered the third Tuesday of every month, and include stories, crafts and nature hikes. For more info, call (808) 233-7323 or visit their website.