Hawai'i Triennial 2022 Kicks Off Feb. 18 with Works from 45 Artists and Collectives
Upcycled surfboards sprouting up in a garden, an art experiment partially served on a plate, a free store in a shopping center: Hawai'i Triennial 2022 is here and we're intrigued.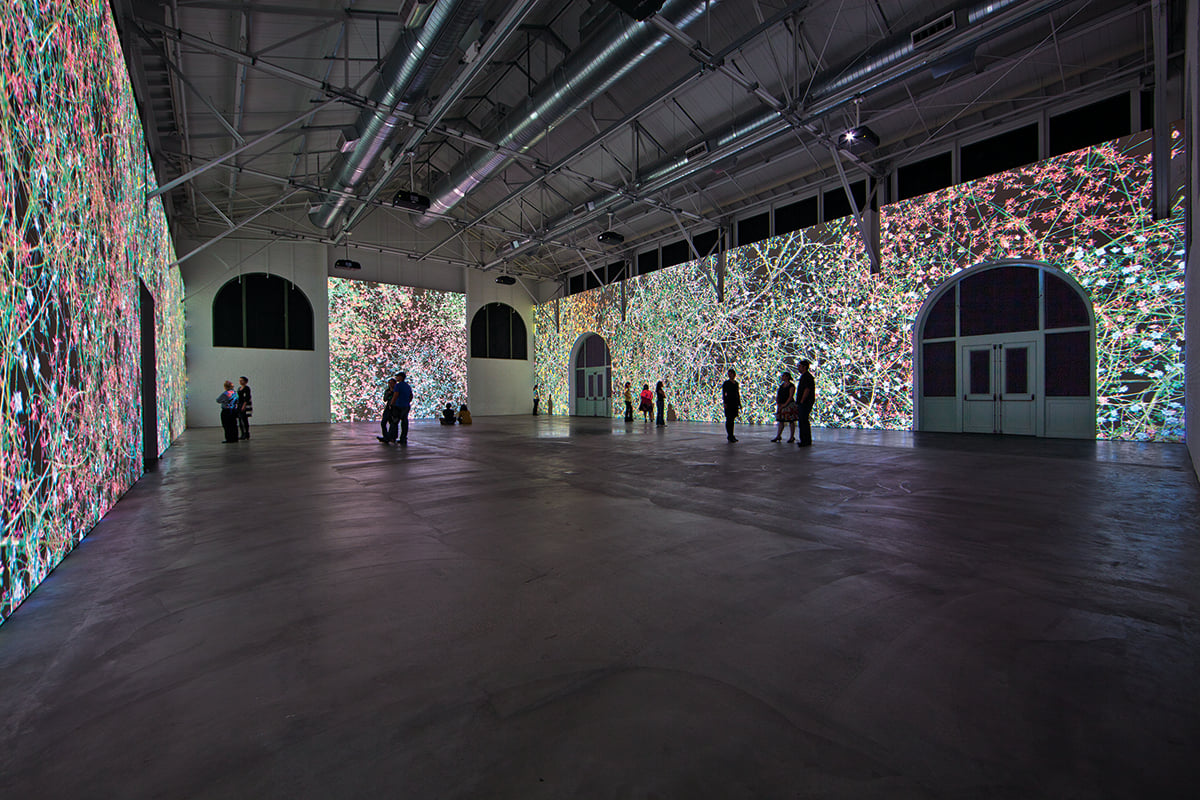 'Iolani Palace is about to become a piece of immersive digital art. Artist Jennifer Steinkamp, who is known for dynamic botanical-inspired video installations—as with her nod to Nobel Prize-winning scientist and avid gardener Marie Curie (above)—will project a new work on the palace for the Hawai'i Triennial 2022 this month. Steinkamp created images of about 70 flowers that grew in Uluhaimalama, Queen Lili'uokalani's garden, which the provisional government destroyed to diminish the queen's legacy after her death. The blooms will unfurl across the palace in a moving tribute. Steinkamp is one of 45 artists and collectives participating in the triennial.
From its launch in 2017, the Hawai'i Biennial became one of our most unexpected art events. Pieces popped up everywhere, from serene Downtown Honolulu botanical gardens to Waikīkī hotel lobbies. An old Sports Authority site was transformed into a hub of immersive and introspective works. In its second year, local and international creatives took over sidewalks in Chinatown, the entryway of Ali'iolani Hale and more than 10 other venues. So when we say this year's event, now a triennial, will surprise us on a new scale, that's no small statement.
Consider the opening installation: Artist Jennifer Steinkamp will send crystal-sharp images tumbling across the entire 80-foot-tall façade of 'Iolani Palace. The Los Angeles-based artist created 3D renderings of blossoms, pulled from Queen Lili'uokalani's handwritten inventory of Uluhaimalama, in 40 separate small movies—her studio walls are only 8 feet high—and will piece them together in Honolulu just four days before the showings Feb. 18, 19 and 20. Local historians provided Steinkamp context as to how the queen's garden became a symbol for Native Hawaiian people struggling to maintain their own nation against the powerful U.S. government. Read more about it here.
SEE ALSO: The History of Uluhaimalama, Queen Lili'uokalani's Garden
"The research was really aggravating, might be the word, because of what the United States did to steal Hawai'i," Steinkamp says. "It's completely disrespectful and a sad story and I just hope I can bring [Lili'uokalani] a little bit of honor.
"Often, my artworks are about taking a very negative subject and transforming it, looking for hope and optimism."
'Iolani Palace is not simply a backdrop, says its executive director, Paula Akana, which was a key point when her team was considering being a site for the event. "The Palace is a living component of culture and art in Hawai'i," Akana says in an email. The decision to highlight the queen's garden was another big factor in the palace's participation. "The flowers carefully wrapped in newspaper that she received while she was imprisoned at the Palace came from that garden. Because of Jennifer's choice, culture and art come together as one."
SEE ALSO: The 2022 Hawai'i Triennial is Opening a Store Where Everything is Free
Some of the other 45 artists and collectives in the triennial will also have limited runs at seven sites across the island. Australian artist Richard Bell will create a space for indigenous discussions and work, called Embassy, on the grounds of the palace on opening day, Feb. 18, then again at the Hawai'i State Art Museum in early May. In the café space on the first floor of HiSAM, local artist and vegan chef Marika Emi will invite people into three separate experiences or "social-practice experiments." Plant-based food, served in what Emi is calling small "editions," will tie in with art, service and publications to engage visitors in discovering alternate forms of nourishment. Those seatings are scheduled for three consecutive weekends beginning in late February. Other pieces, including Manila artist Leeroy New's walk-through sculpture crafted partially from upcycled surfboards at Foster Botanical Garden, will remain open until the triennial closes May 8.
The Hawai'i Triennial 2022 is Feb. 18 through May 8. Find the full schedule at hawaiicontemporary.org