The 2022 Hawai'i Triennial is Opening a Store Where Everything is Free
It's a good reason to clean up your clutter and donate to this Waikīkī installation examining exchange and engagement.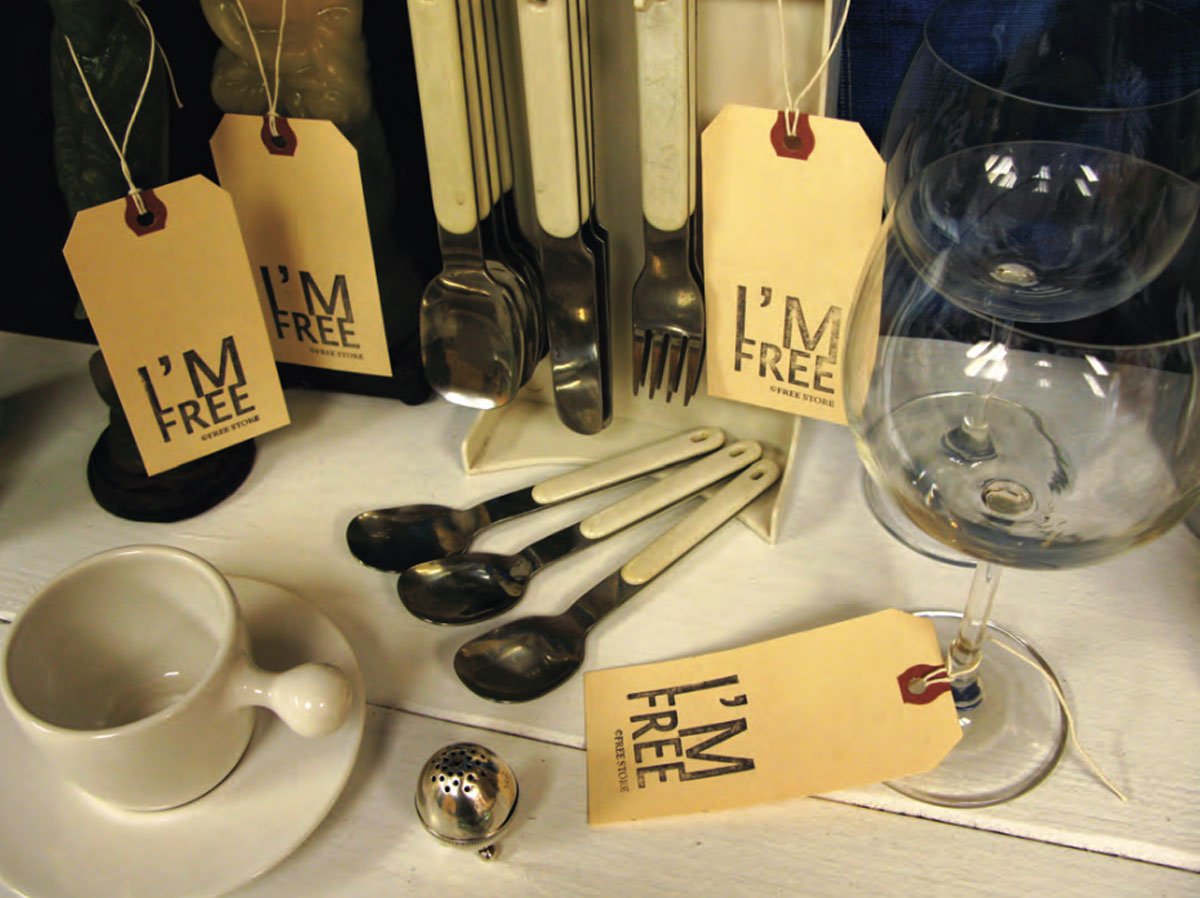 Dozens of flowers will be projected on the walls of 'Iolani Palace. A structure crafted from used surfboards, bamboo and found plastic bottles has quietly gone up at Foster Botanical Garden. In just a few weeks, intriguing experiences ranging from what appears to be a large inflatable bunny to a café serving food as a social experiment will pop up around O'ahu. And that is just a small slice of what the Hawai'i Triennial has planned this year. The event begins on Friday, Feb. 18, and runs for 2 ½ months with workshops, public events and other opportunities to interact with art. One surprise in store will be a shop that will not accept cash, checks or credit cards; everything is free.
The Global Free Store got its start in Manhattan's financial district in 2009. On Feb. 18, it will open its doors at the Royal Hawaiian Center, above the Cheesecake Factory on the third floor, with shelves full of donated items. Visitors can come through to select gently used books, toys, supplies and art crafted specifically for the space. Artists Athena Robles and Anna Stein, who collaborate under the name Double A Projects, created the concept that drew 2,000 people in New York as a way for the public to consider and discuss the idea of life without money.
SEE ALSO: See the Winners of This Year's Hawai'i Regional Scholastic Art Awards Exhibit at HiSAM
The Hawai'i Triennial team has already collected clothes, books, furniture and other household items to add to the store throughout its run. And the folks there are accepting more. Donations must be clean, unbroken, odor-free and in good working order. No illegal items are allowed, in case you're wondering. In exchange, contributors will receive an artist-made gift, a nod to the bartering system and generosity of others that often occurs during financially difficult times. You can bring items to the store on Fridays, 9 a.m.–5 p.m., before the opening on Feb. 18, then more regularly until it closes Feb. 27.
After that, you can still see other exhibits at the Royal Hawaiian Center, which is one of seven triennial sites on the island. A favorite of mine is the seemingly whimsical "Sometimes I Don't Feel Comfortable (2000–)" exhibit, by Momoyo Torimitsu. A pair of giant inflatable pink bunnies bent over by walls and ceiling is a discomforting sight, opening conversations about how the concept of cute confines women, especially in Japanese society.
SEE ALSO: Hawai'i Triennial 2022 Kicks Off Feb. 18 with Works from 45 Artists and Collectives
The Global Free Store is not the only work this year that requires community involvement. The triennial posted a photo on Instagram of 40 weavers working on a large lau hala mat for a piece at the Hawai'i State Art Museum. At Foster Botanical Garden, volunteers worked through late January with artist Leeroy New to put together his large-scale piece. They split bamboo, cleaned used surfboards and helped New construct the installation that people can walk through.
Both Foster Botanical Garden and Royal Hawaiian Center will hold official opening events on Sunday, Feb. 20. Go to hawaiicontemporary.org for the details and a full schedule of the 2022 Hawai'i Triennial.
SEE ALSO: The History of Uluhaimalama, Queen Lili'uokalani's Garden
Global Free Store will be open noon–7 p.m. daily, Feb. 18 through Feb. 27. Email fellow@hawaiicontemporary.org or call (808) 398-9860 for more information. Other exhibits at the center are open 11 a.m.–8 p.m. daily. Feb. 18 through May 8. Royal Hawaiian Center, 2201 Kalākaua Ave. Read more about the entire 2022 Hawai'i Triennial at hawaiicontemporary.org, @hawaiicontemporary.