We ate out at restaurants and here's what it was like
The view from 7 restaurants on the first weekend of dining in again.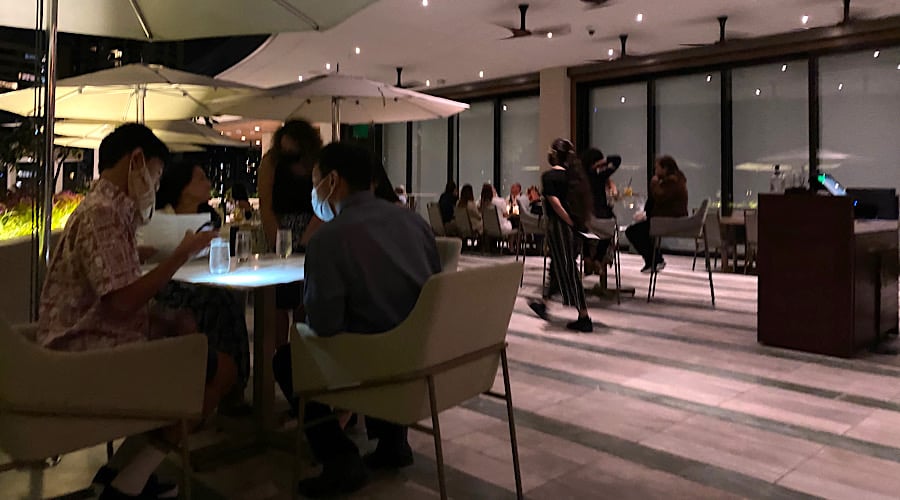 After months of missing the pleasures of eating out, many on the Frolic team headed back to the spots we've been dreaming about on the first weekend restaurants could reopen their dining rooms. Here's what we experienced at six eateries around Oahu and one on Maui.
22 Kailua
A close friend who twice indulged in 22 Kailua's pre-quarantine sushi omakase texted me immediately when the restaurant announced it was resuming the service starting June 5. 22 Kailua is usually fully booked at least one month in advance, so this was my chance.
Sushi was the thing I missed eating the most — it's not something that I can expertly prepare on my own, and there's something intangible about sitting at a sushi counter, awaiting the next ultra-fresh bite. Getting to try 22 Kailua's takeout omakase bentos during quarantine only heightened my anticipation for dine-in. And at $80 base price per person, 22 Kailua's omakase is one of the most reasonable on the island with anywhere from 10 to 14 courses.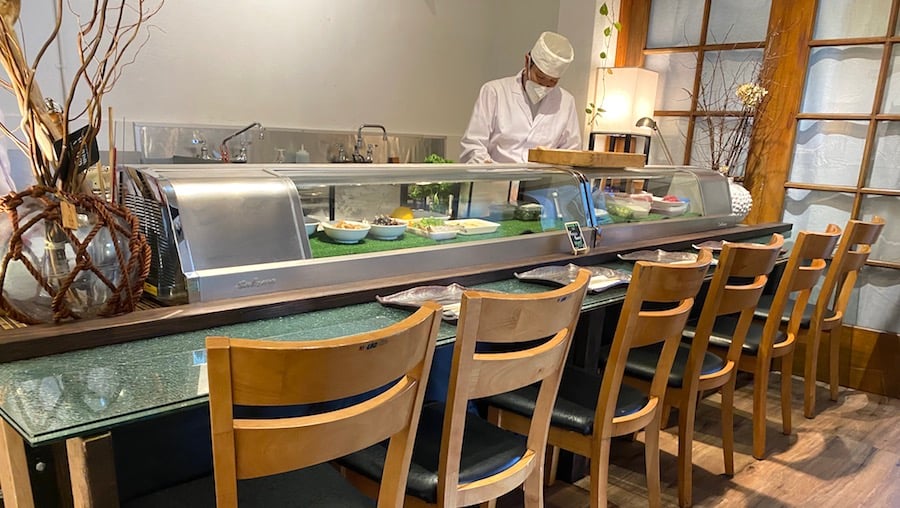 Our party of four would be the only ones at the tiny sushi counter — only four to seven people in the same group are allowed at a time for each of two seatings at 5 and 8:30 p.m. On select days, parties of two can sit at opposite ends of the counter. We were given disposable cups and carafes of water. The chefs behind the sushi counter wore masks and gloves.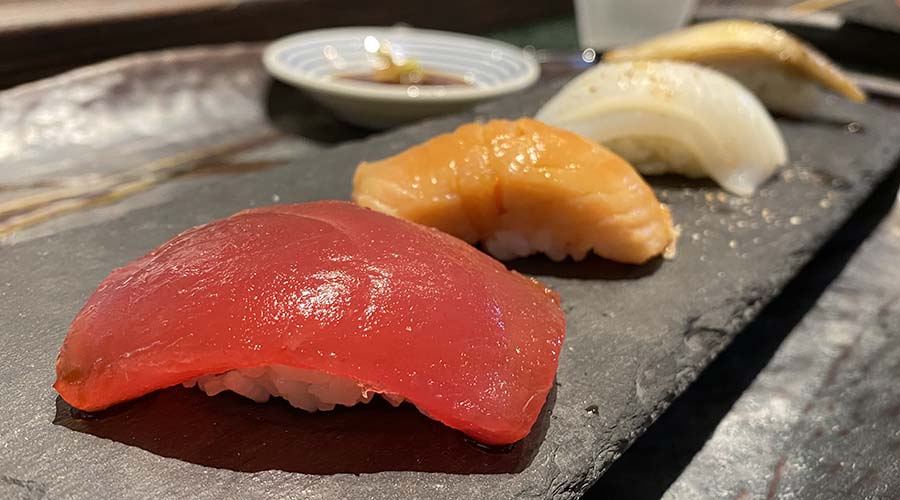 I could almost hear the hallelujah chorus as I savored bites of fresh maguro, salmon, ika and saba. Freshly fried tempura of ebi, broccoli and calamari were delicately battered. Other favorites among the courses included citrus oyster shooters with ponzu and ikura, and grilled unagi over sushi rice with tamago. My heart and belly were full. Talking story with the chefs and catching up with a friend I haven't seen in person in over two months was the closest thing to normalcy that I've felt in a while. It's also worth noting that our 5 p.m. omakase ended around 7:30, which gave the staff a full hour to clean and prep before the second seating. — Kelli Shiroma Braiotta
22 Oneawa St. • Kailua • @22kailua on Instagram
---
See also: Two-minute takeout: 22 Kailua
---
Gyu-Kaku Kalihi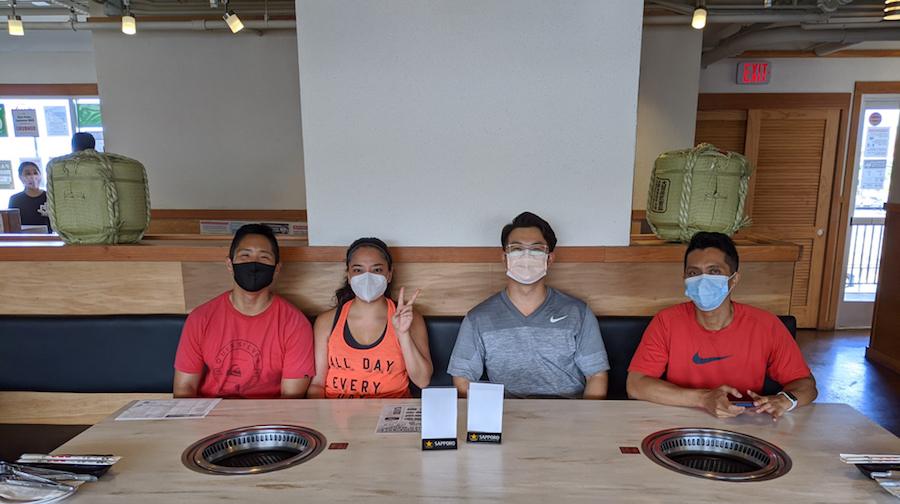 When I think Sunday brunch, I don't usually think yakiniku, but I'm glad we did. After an early morning hike this past Sunday, we were rather ravenous. One of the guys suggested all-you-can-eat at Gyu-Kaku, the closest one being Kalihi. Turns out they're not offering all-you-can-eat at the moment but you can still get their yakiniku. We made reservations and headed on down. We were excited to see how it would be since reopening for eat-in.
Upon arrival, Gyu-Kaku staff used a thermometer gun to screen each of us before we were seated. They only allowed seating at booths and removed all outside chairs. Meaning more space for walking, but fewer places to sit. We were the first to arrive and the place felt pretty empty, but we were treated to a great view of Kalihi, since Gyu-Kaku is on the second floor. As the morning progressed, more patrons started to trickle in, but it was still rather desolate when we exited. For which we were directed to their second entrance. One way in, one way out.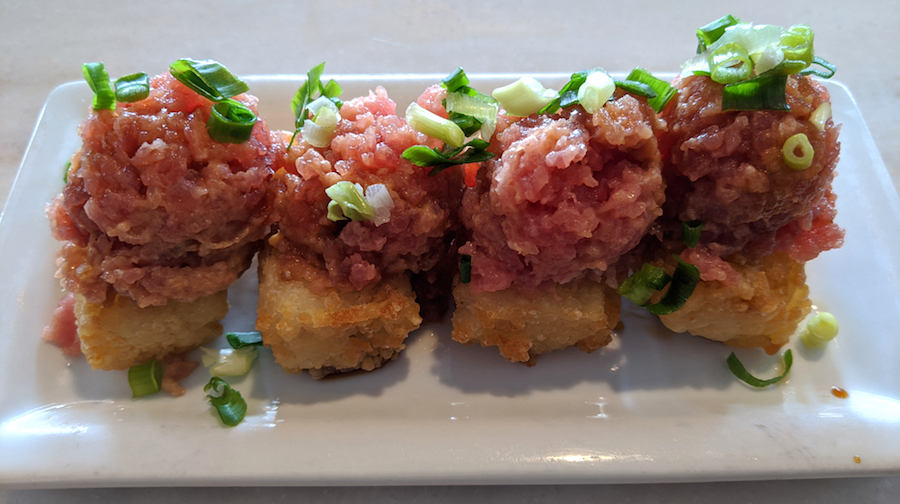 At the tables, they had placards with QR codes that could be scanned for their lunch, dinner and specials menus. They also had printed copies on paper flyers. Not all items they used to have were available, but the selection was still satisfying. Our server advised me to get their three BBQ items for $15.95. I had ordered pork belly, kalbi and chicken ala carte, but the special also included white rice, miso soup, salad and a fountain drink, making it a better deal. A more affordable option of two BBQ items for $11.95 is also available. Seated at a separate table with my wife, I scoped out what our hiker friends got. One ordered ahi tartare on fried squares of crispy rice. He said it was one of his favorites, so we had to try it for ourselves. It was tasty and also makes for a better photo than raw meat, lol.
The changes make the experience at Gyu-Kaku different, but not enough to detract. Could also be that at that point we were just so hungry and tired that we would've put up with anything to get some good food, lol. I'm going with the former. — Eric Baranda
Various locations
---
H Mart Market Eatery Food Hall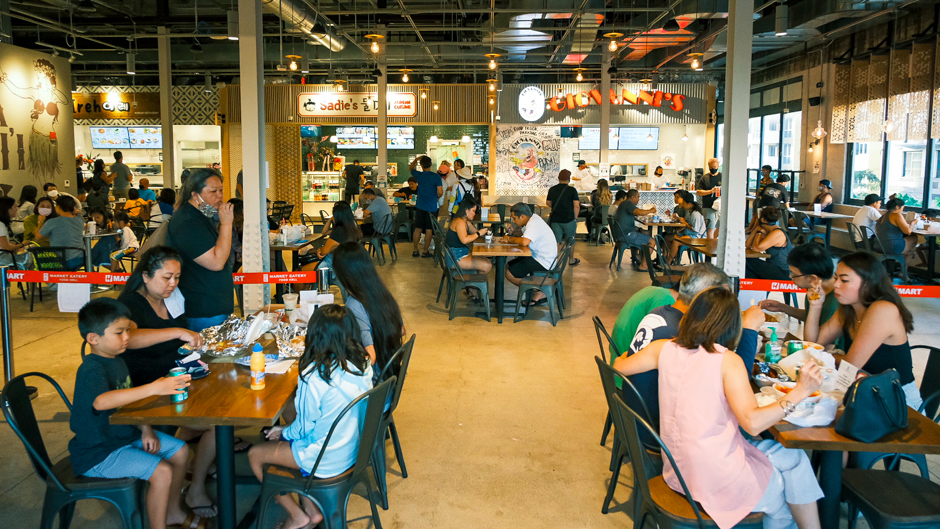 For someone with no plan as of Wednesday, I found myself dining out every day last weekend. On Friday I attended a media event, Saturday I ate out to support a restaurant client and Sunday I had a bite at H Mart's food hall before grocery shopping. My friend is a huge fan of Giovanni's garlic shrimp plates, now a fixture at H Mart, and was immediately sold on the idea. I'll admit, social distancing here could be much, much better, especially on the part of other people who seem to forget what six feet looks like. Thankfully they all remembered to wear their masks while walking around and a staffer sanitized our table and chairs before we sat down. The spacing between groups put me at ease, too.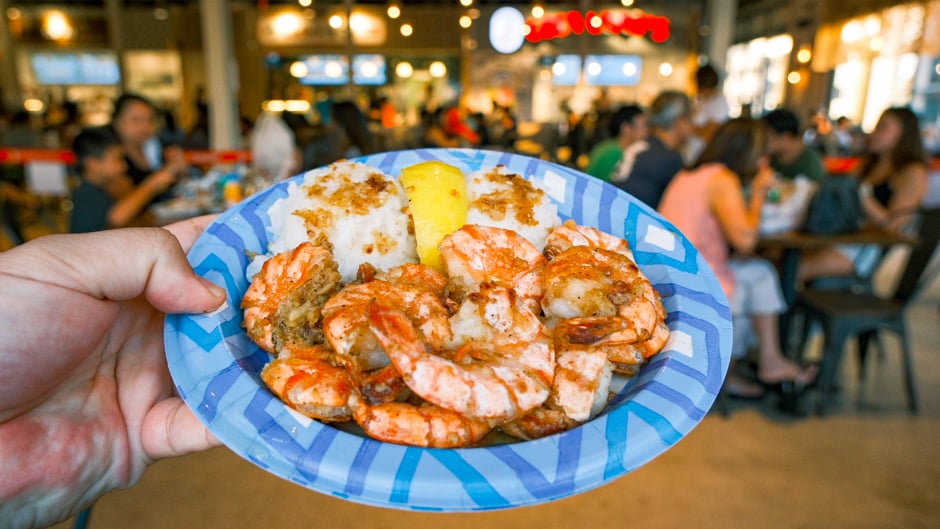 The mood was jovial. I noticed many families enjoying their dinners and friends who probably haven't seen each other in weeks catching up over plates of kalbi and garlic shrimp. A glimpse of normalcy goes a long way toward feeling that we're going to emerge from this stronger than ever. — Thomas Obungen
458 Keawe St. • Kakaako • 219-0924
---
See also: Foodflash: H Mart opens first Hawaii store and food hall
---
Nico's Pier 38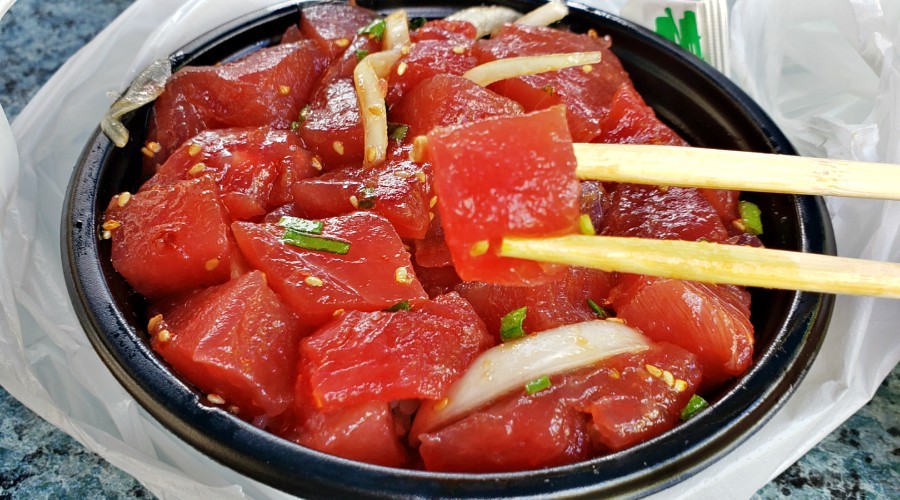 After two and a half months of seeing the ocean from my apartment but never getting close to it, I knew I wanted to eat a poke bowl from Nico's when they reopened for dine-in service. Their new setup is straightforward. After ordering, we are shown to the lanai dining area where only every other table is available for seating. We get 45 minutes to dine and chat so that other customers can also enjoy the convivial atmosphere. Overall, the staff is well trained in cleaning and disinfecting tables and chairs before the next group arrives. And as anticipated, my poke bowl is fresh and delicious, and the sea breeze hitting my face seasons it with a sense of gratitude and serenity. — Gregg Hoshida
1129 N. Nimitz Hwy • Iwilei • 540-1377 • nicospier38.com
---
Odori-ko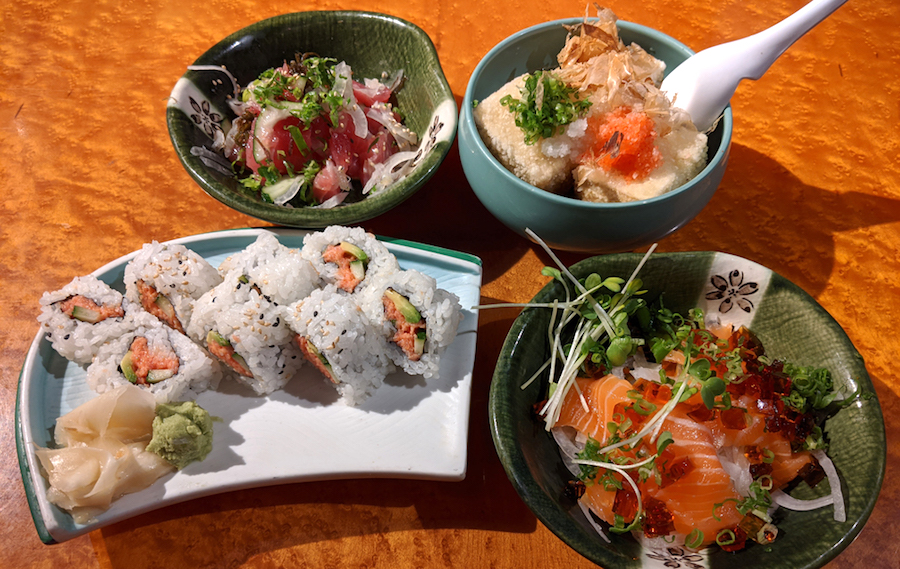 I think every couple has 'their place' and if we had to choose ours, it would be Odori-ko. When we first started dating, I'd pick up my wife after she finished work at 10 p.m. and often we'd have a craving for late dinner. Odori-ko offered an amazing happy hour menu for after hours. We've had many a delicious and enjoyable late night meal at our favorite happy hour haunt. So it made sense that the first place we headed when restaurants reopened would be here.
In keeping with tradition, we went for their late night happy hour menu, which starts at 9 p.m. With Odori-ko currently closing at 10, that didn't give us much time to waste. Luckily, the menu hadn't changed that much and our favorites were still available: yuzu poke, agedashi tofu, spicy ahi roll, salmon with ponzu jelly. We also got the ahi tartare and salmon kama, but were too busy eating to take pics at that point. The reason we were too busy was that the food was as delicious as we remembered. Plus we had a time limit, lol.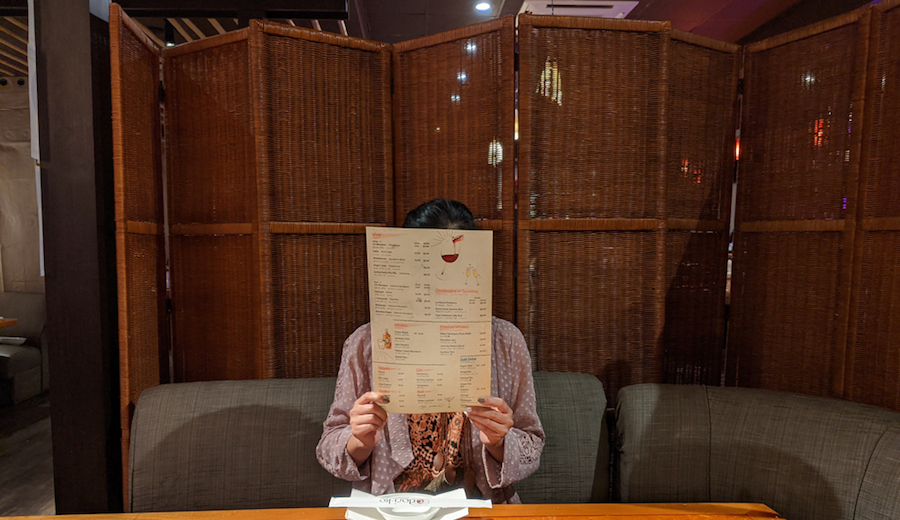 I made reservations beforehand, which was good. We parked on Kapiolani Boulevard and saw groups of people outside who I assume were waiting to get in. Inside, we saw that barriers matching the decor had been placed between booths and most of the seated areas. We found this pleasant and enjoyed the added privacy. Each table had a button installed for summoning a server, which was another added bonus. Next to our table was a station for utensils, napkins and takeout boxes which we were invited to use as needed. I don't think every table has a station, we just happened to sit next to the one for our area. When I went to wash my hands, bathroom signage advised having only two people inside at a time. We found the changes welcome.
The only thing that hadn't changed was the food. And we hope it never does. — Eric Baranda
1680 Kapiolani Blvd. • Ala Moana •  955-6555 • facebook.com/odorikokapiolani
---
Quiora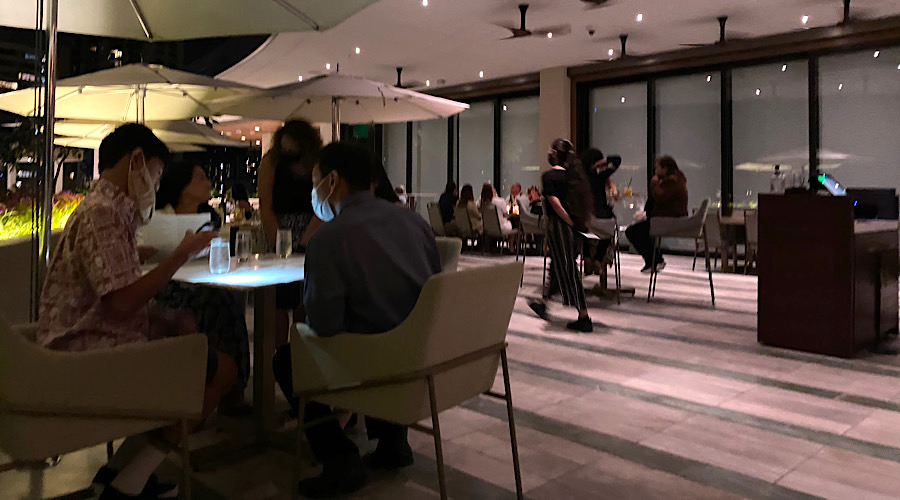 When a friend asked where I wanted to eat the day after Oahu restaurants reopened their dining rooms, it took me about three seconds to text back. I'd decided weeks ago on Quiora: It's open-air, there are zero crowds from parking to table, and they have cynar daquiris. All came to pass as I'd dreamed, with a few new touches. The restaurant is on the seventh floor of the Ritz-Carlton Waikiki; a masked staffer on the ground floor was waiting to call an elevator for me so I didn't have to push any buttons. Tables were spaced apart and bare. Disposable paper menus and water glasses came out when we were seated.
Fluffy meatballs in marinara and an insanely luscious osso bucco with sides of grilled broccolini and roasted potatoes with chimichurri were honestly better than I remembered, but the open view that stretched to the ocean and always slowed my pulse on this night made me teary. To the left, there were no lights at the Sheraton Waikiki; to the right, I couldn't even see the Hilton Hawaiian Village against the night sky. But the restaurant with its socially distanced tables was full of small groups celebrating their return and a happy staff smiling behind their masks, grateful to be back. That's how I felt, too. — Mari Taketa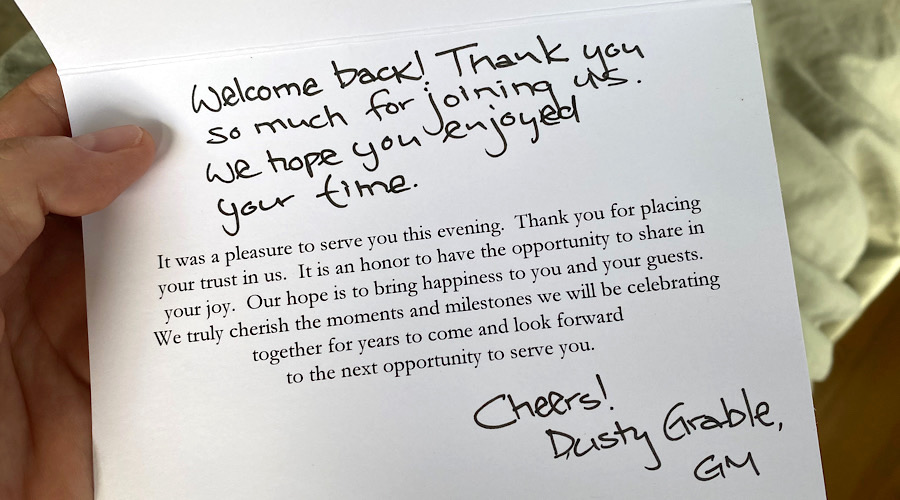 383 Kalaimoku St. • Waikiki • 729-9757 • quiorawaikiki.com
---
Sale Pepe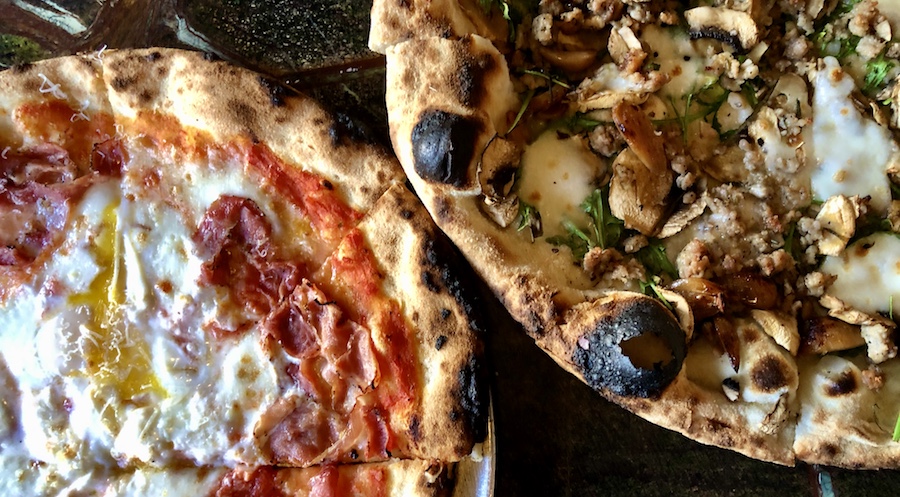 After months of stay-at-home home cooking and the occasional takeout meal, I made my first dine-in reservation at Sale Pepe, a little Italian restaurant in Lahaina. It's a longtime island favorite, so I wanted to support them and eat something delicious. I was also curious to see Lahaina without any tourists.
Prior to the quarantine, Sale Pepe always buzzed with energy, with tables set close together, lively chatter and friendly exchanges. With the new restaurant guidelines in place, there were just six tables set. This socially distant seating was the most noticeable change.
The dining experience was seamless. Hand sanitizer was at the host desk. We wore a face mask from checkin until seated, and could eat and chat at our table without a mask. If we got up for any reason, the masks needed to go back on. The staff wore masks, too. A contactless dinner menu was available by scanning a QR code set at our table, or a single-use paper menu was available upon request. We could also see the staff preparing takeout orders throughout the evening.
Sale Pepe hit all of the government guidelines for dine-in service, with exceptionally friendly service and delectable food as always. It was joyous to finally go out for a meal with friends. We felt very safe and welcomed — and our hearts and bellies were full. — Rebecca Pang